See the latest Australian dollar analysis here:
by Chris Becker
The latest inflation figures from the US may have thrown a spanner in the works of an easing Fed, upsetting bond markets overnight. More from CNBC:
U.S. underlying consumer prices increased by the most in nearly 1-1/2 years in June amid solid gains in the costs of a range of goods and services, but will probably not change expectations the Federal Reserve will cut interest rates this month.

The Labor Department said on Thursday its consumer price index excluding the volatile food and energy components rose 0.3% last month. That as the largest increase since January 2018 and followed four straight monthly gains of 0.1%. The so-called core CPI was boosted by strong increases in the prices for apparel, used cars and trucks, as well as household furnishings.

There were also increases in the cost of healthcare and rents. In the 12 months through June, the core CPI climbed 2.1% after advancing 2.0% in May.

The overall CPI edged up 0.1% last month, held back by cheaper gasoline and food prices. The CPI rose 0.1% in May. It increased 1.6% year-on-year in June after rising 1.8% in May.

Economists polled by Reuters had forecast the CPI unchanged in June and rising 1.6% year-on-year.

The Fed, which has a 2% inflation target, tracks the core personal consumption expenditures (PCE) price index for monetary policy. The core PCE price index increased 1.5 percent year-on-year in May and has undershot its target this year.
While the bond market reacted swiftly against the print, sending interest rates higher particularly 30 year yields, the print itself isn't that out of whack: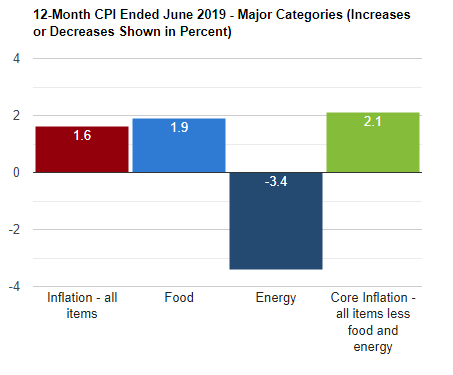 Its really about managing expectations because any roadblock against the Fed cutting rates will be disastrous for the edifice that is risk markets, now at record highs.
Meanwhile the USD advanced against Yen the most on the print while the Australian dollar cameback only slightly, almost reaching 70 cents after Fed Chair Powell's testimony to Congress the session previously: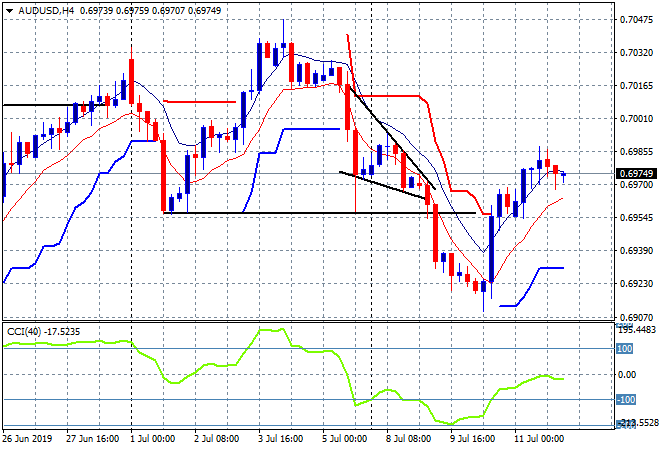 Not quite a rollover but the Pacific Peso remains precarious here against a possible USD reversal again. Today's Chinese trade and finance numbers could provide another external catalyst as well.
Latest posts by Chris Becker
(see all)