See the latest Australian dollar analysis here:
DXY was firm again last night. EUR is breaking down and CNY was firm: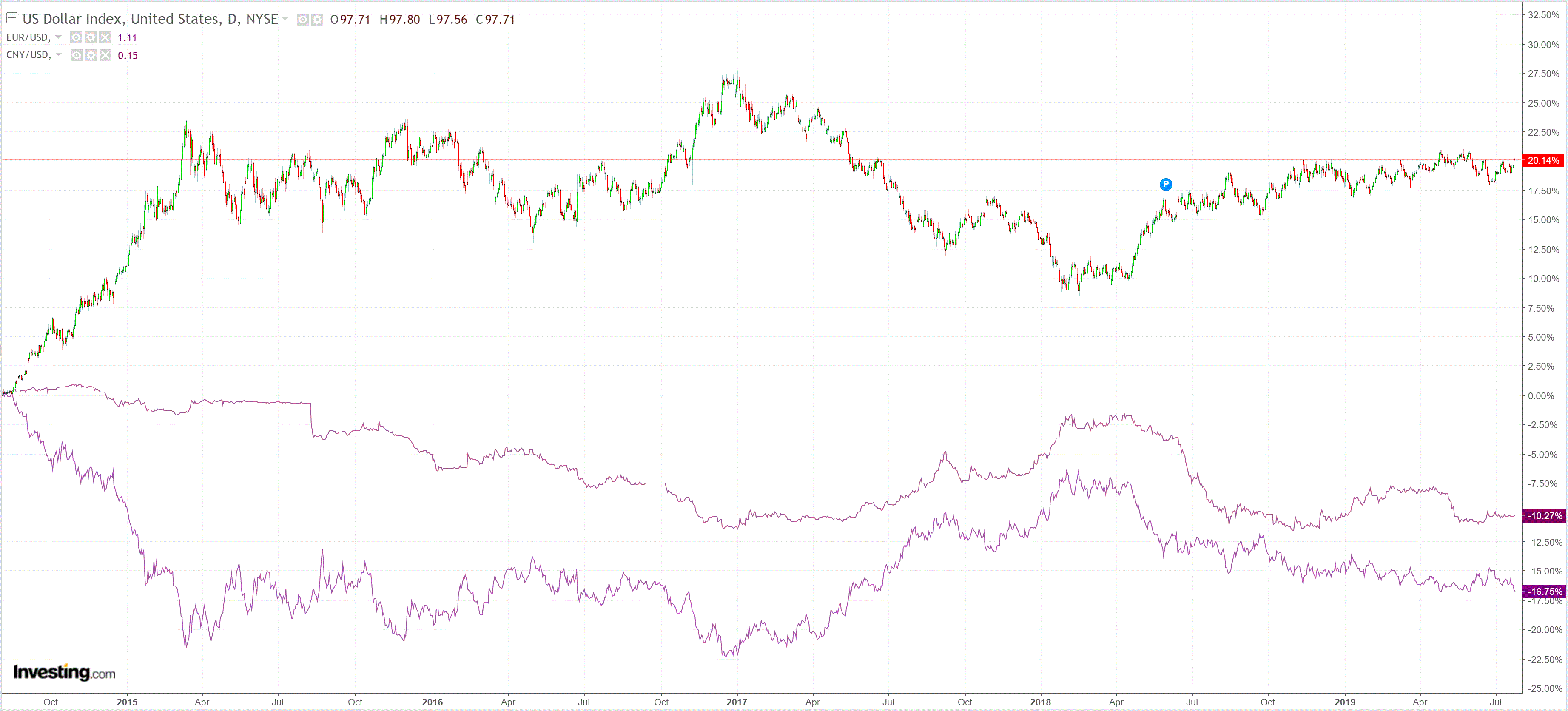 The Australian dollar was universally dumped: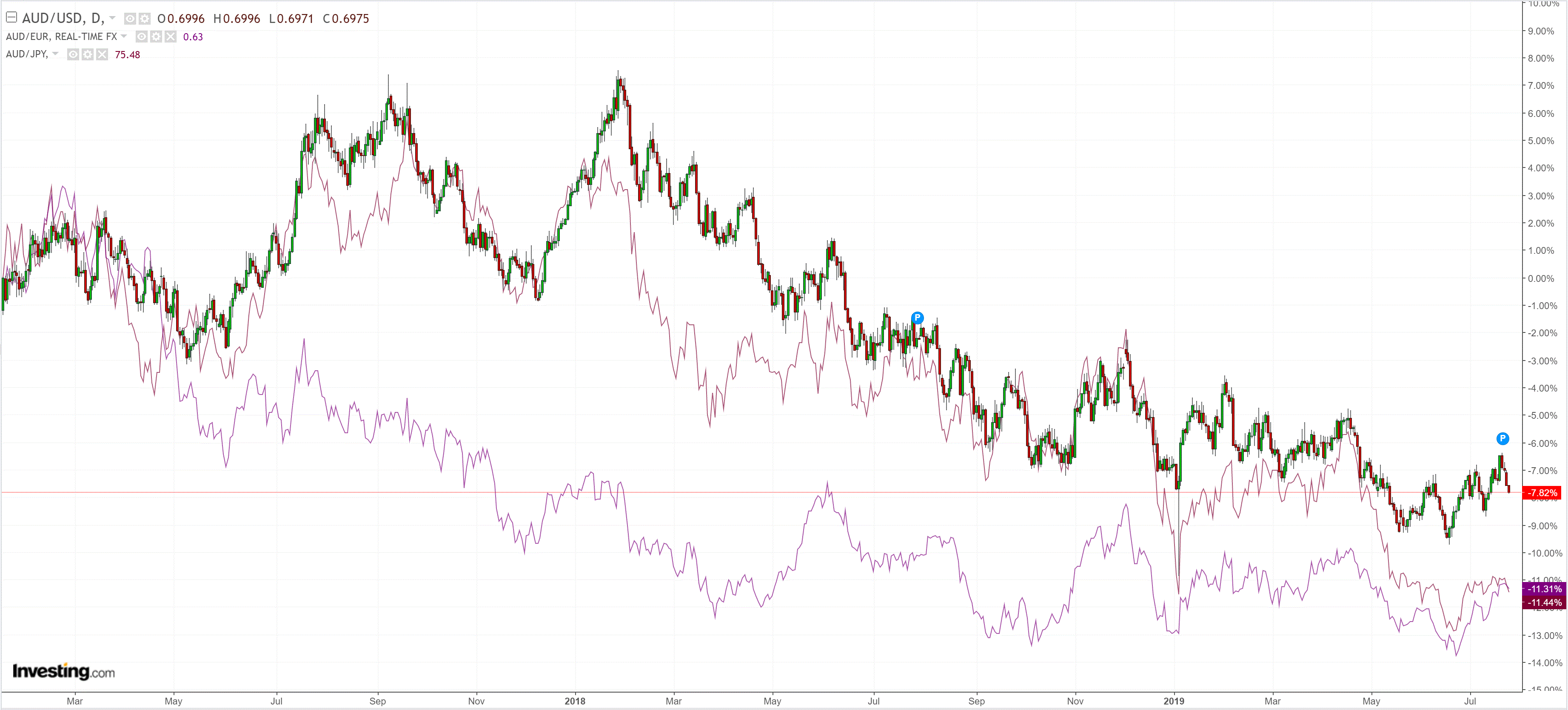 Gold held on: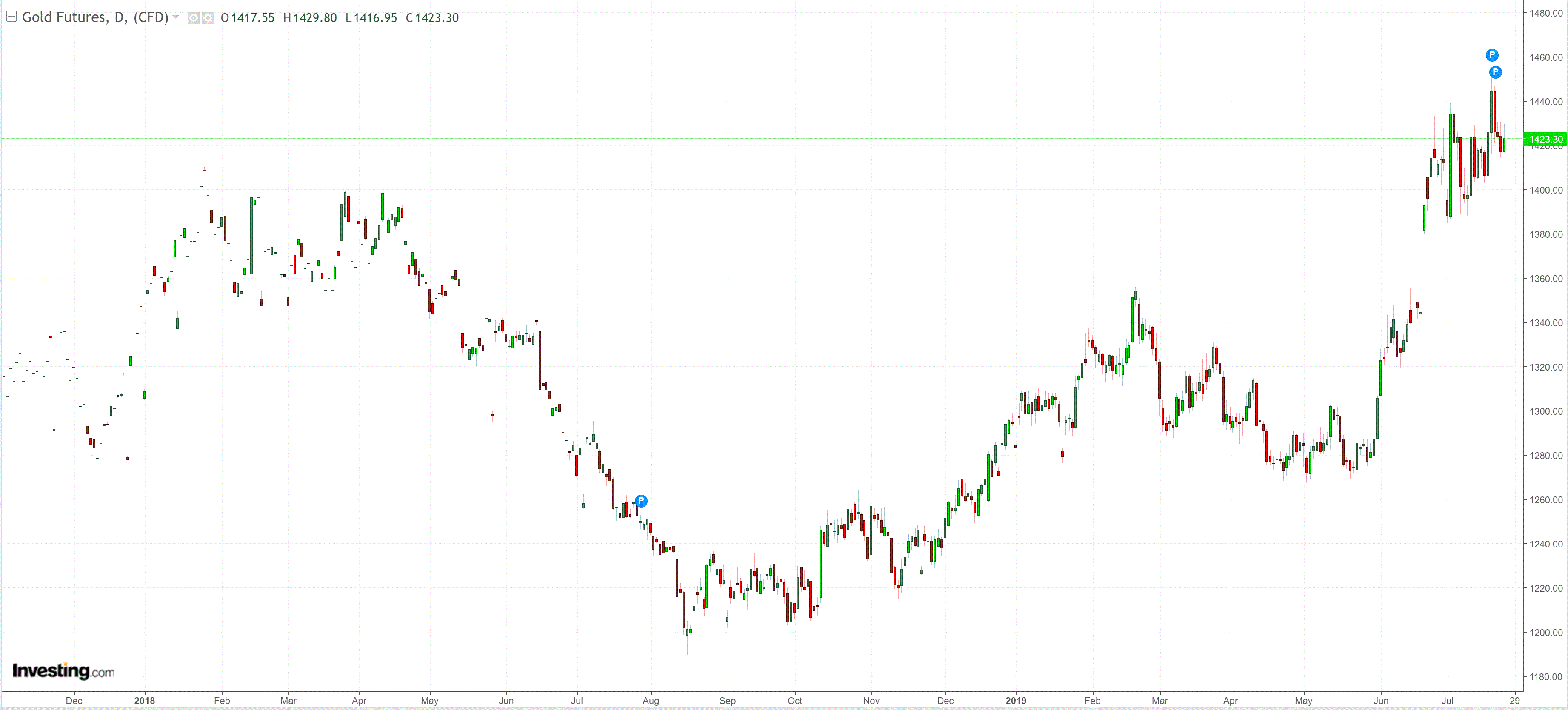 Oil let go as Kuwait and Saudi ramp up the Neutral Zone: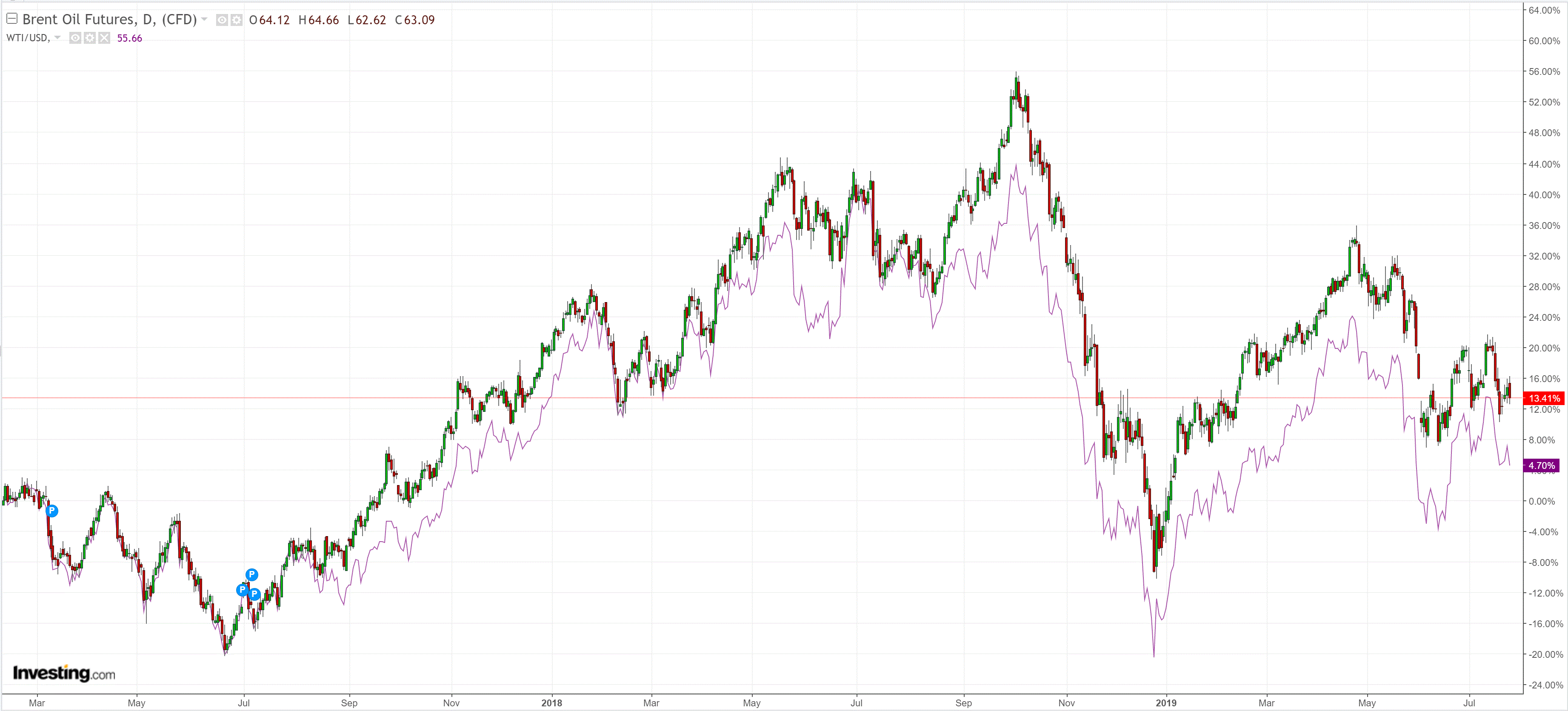 Metals partied:
As miners crashed with iron ore: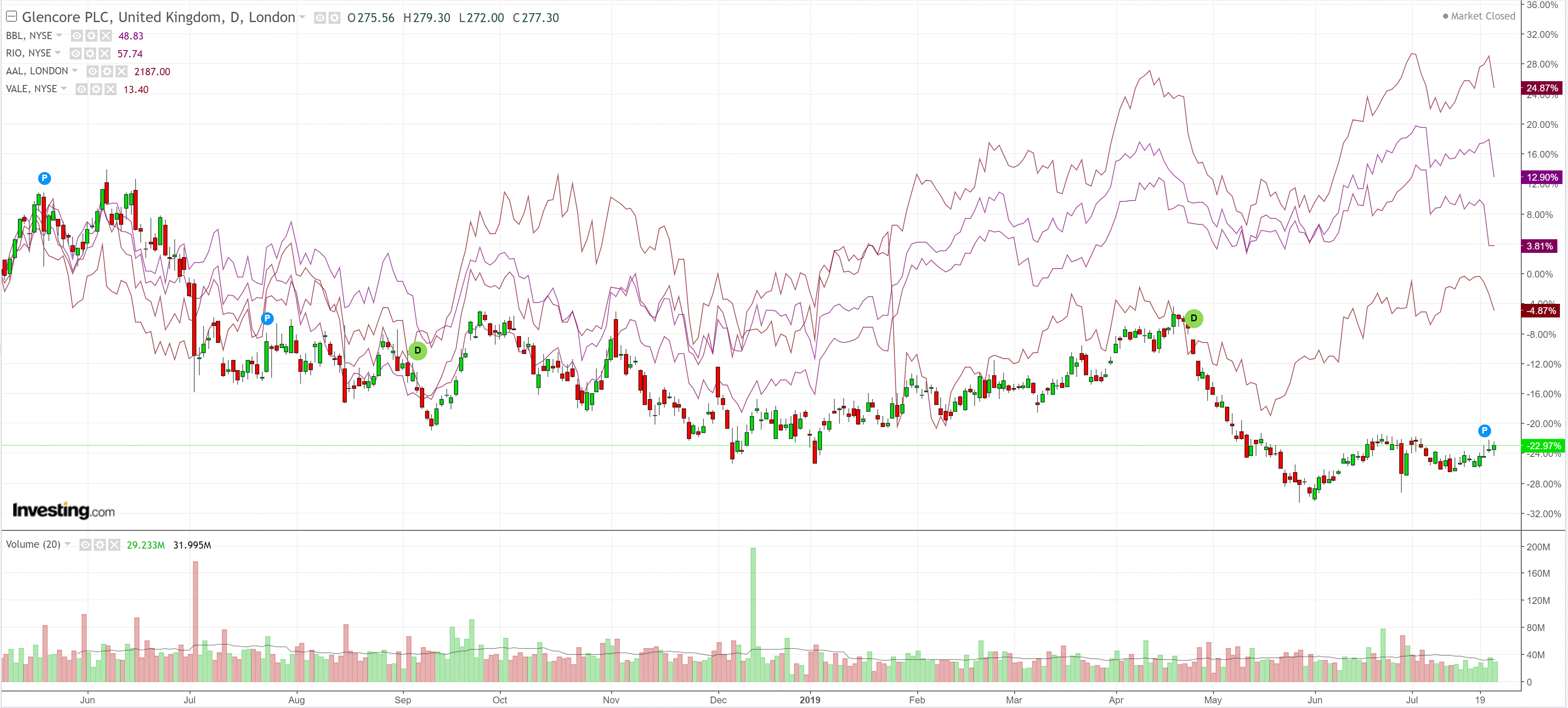 EM stocks were stable: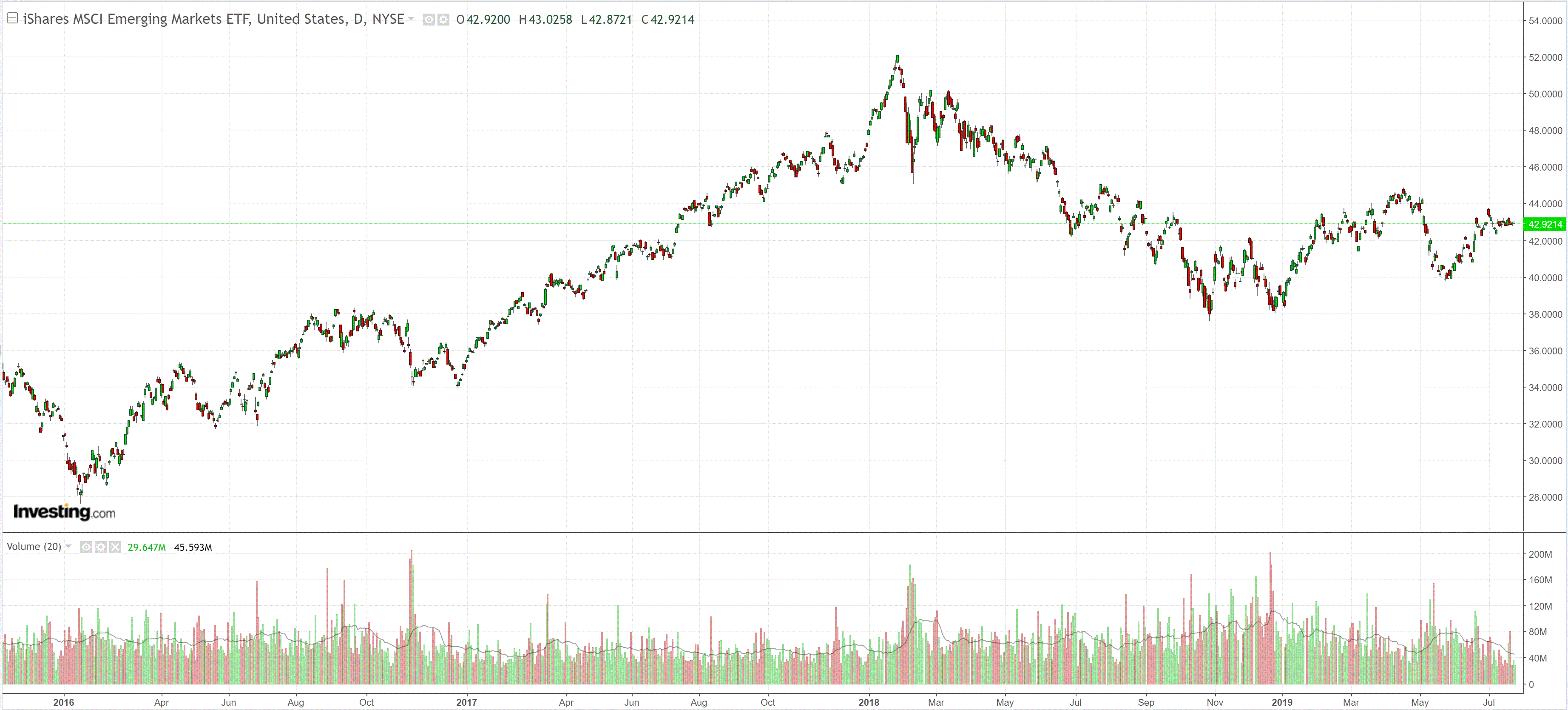 Junk jumped: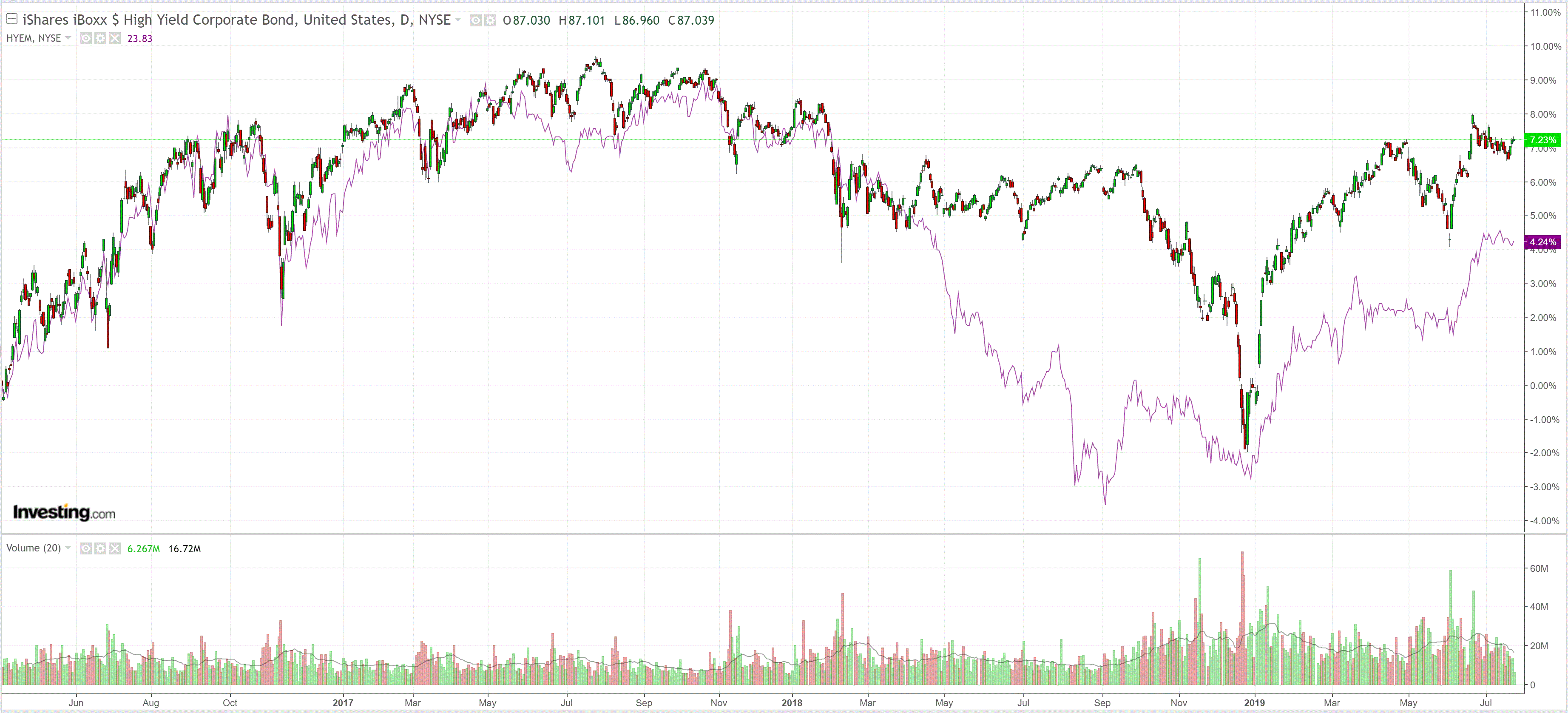 As Treasuries were bid: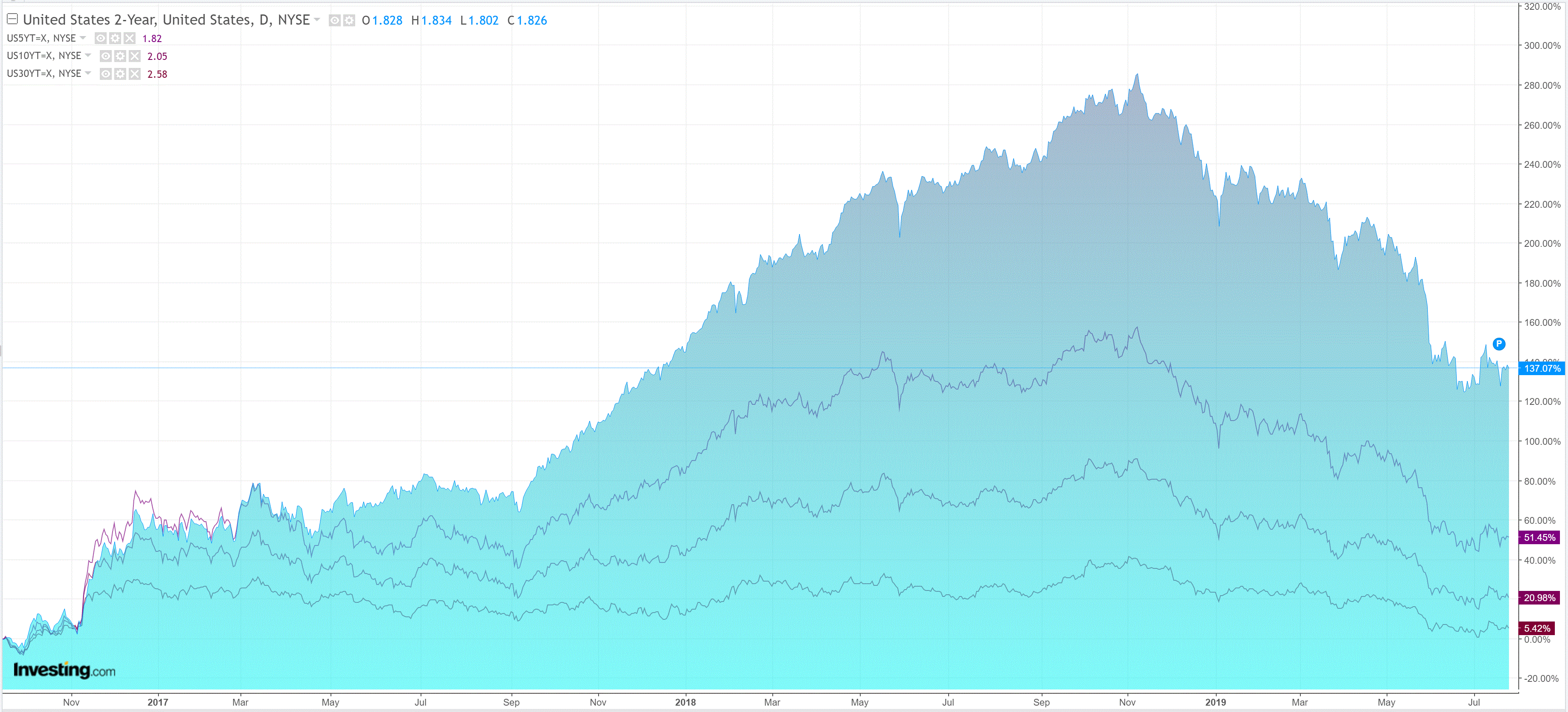 Bunds went mad: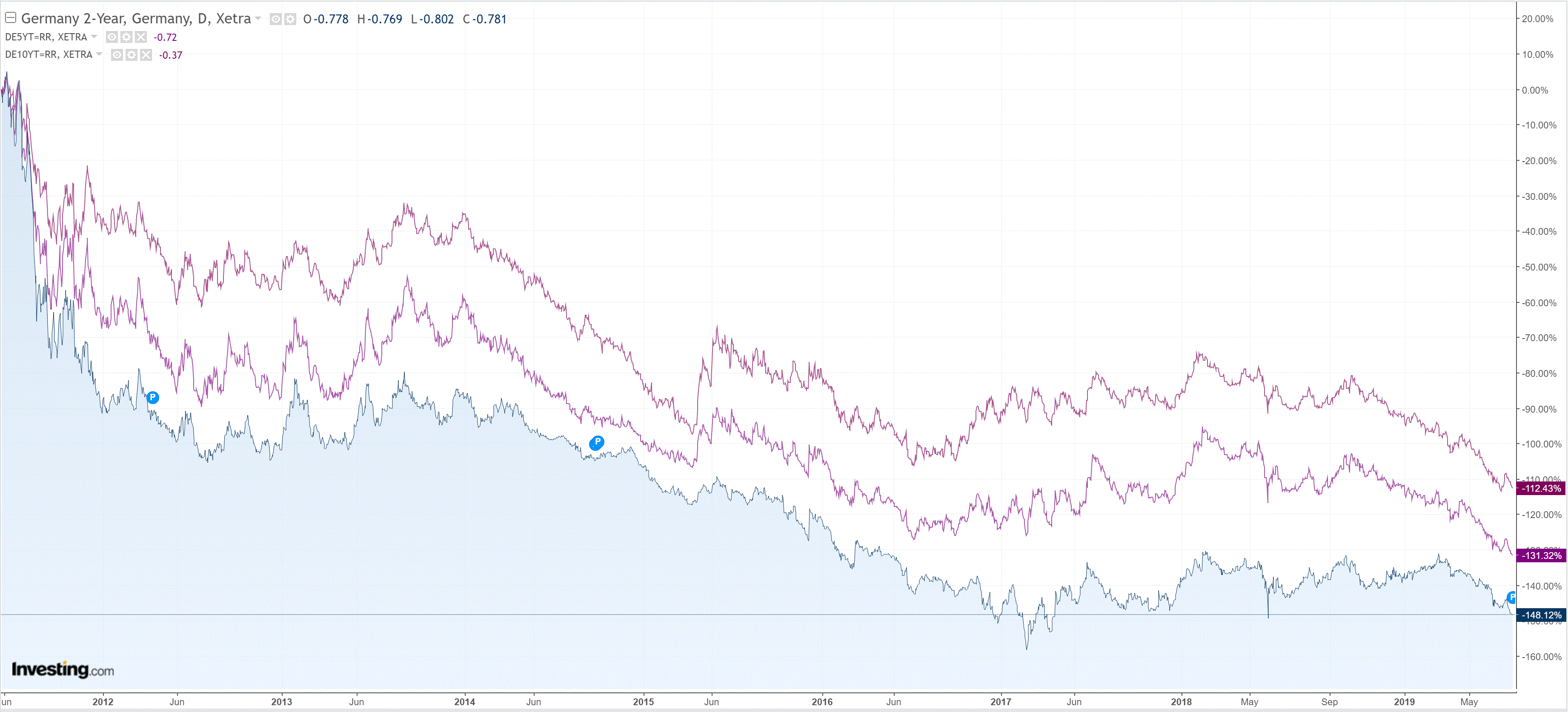 Aussie bonds are right at a new breakout: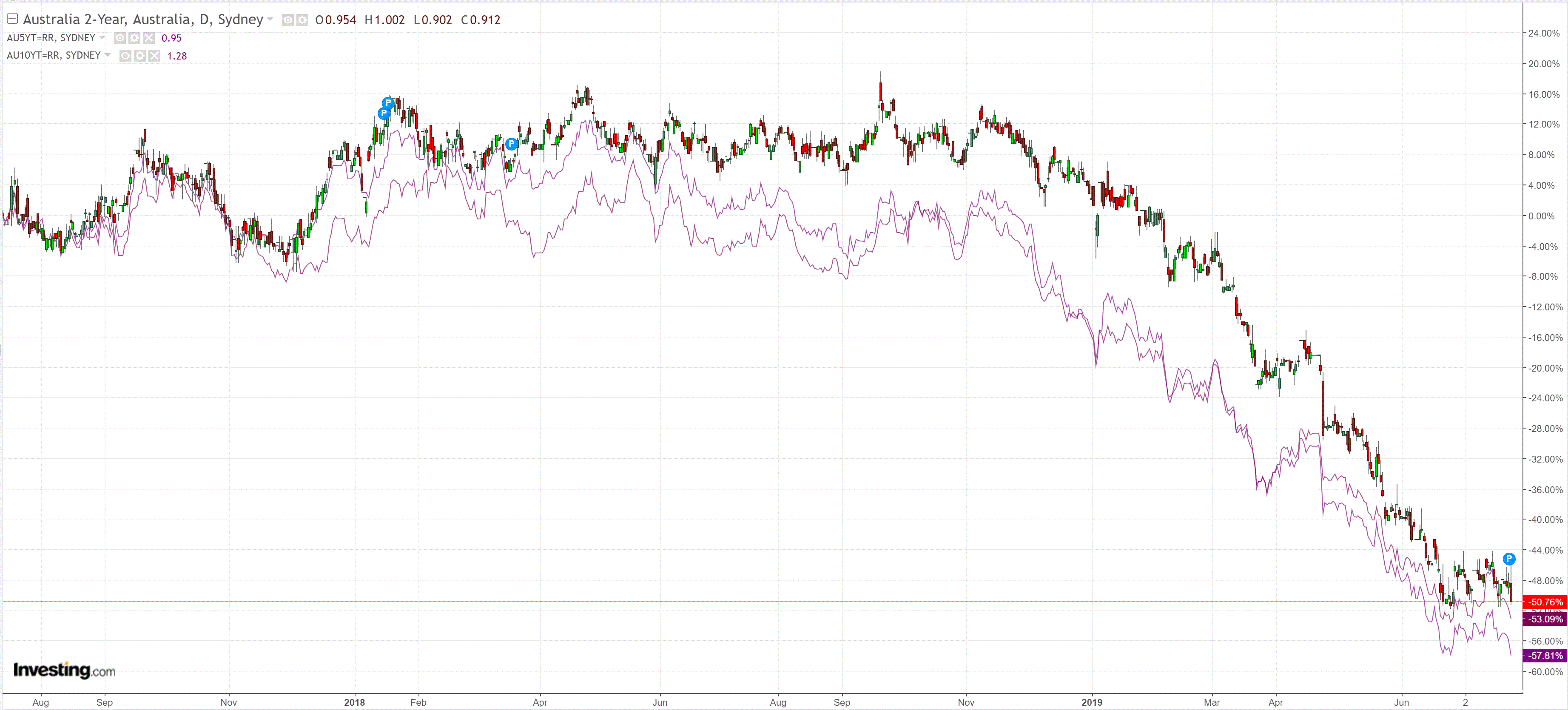 And the Nasdaq is flying free: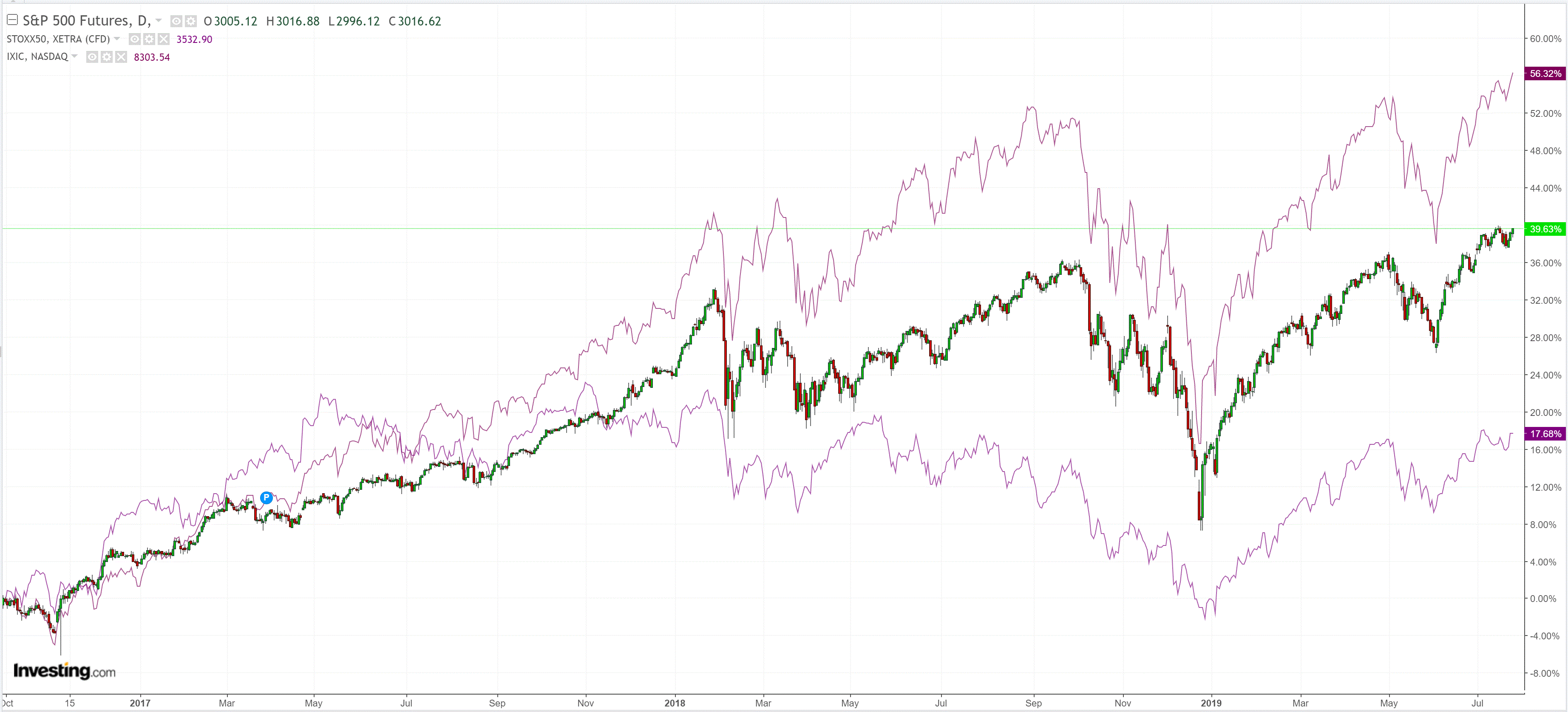 Driven by semis: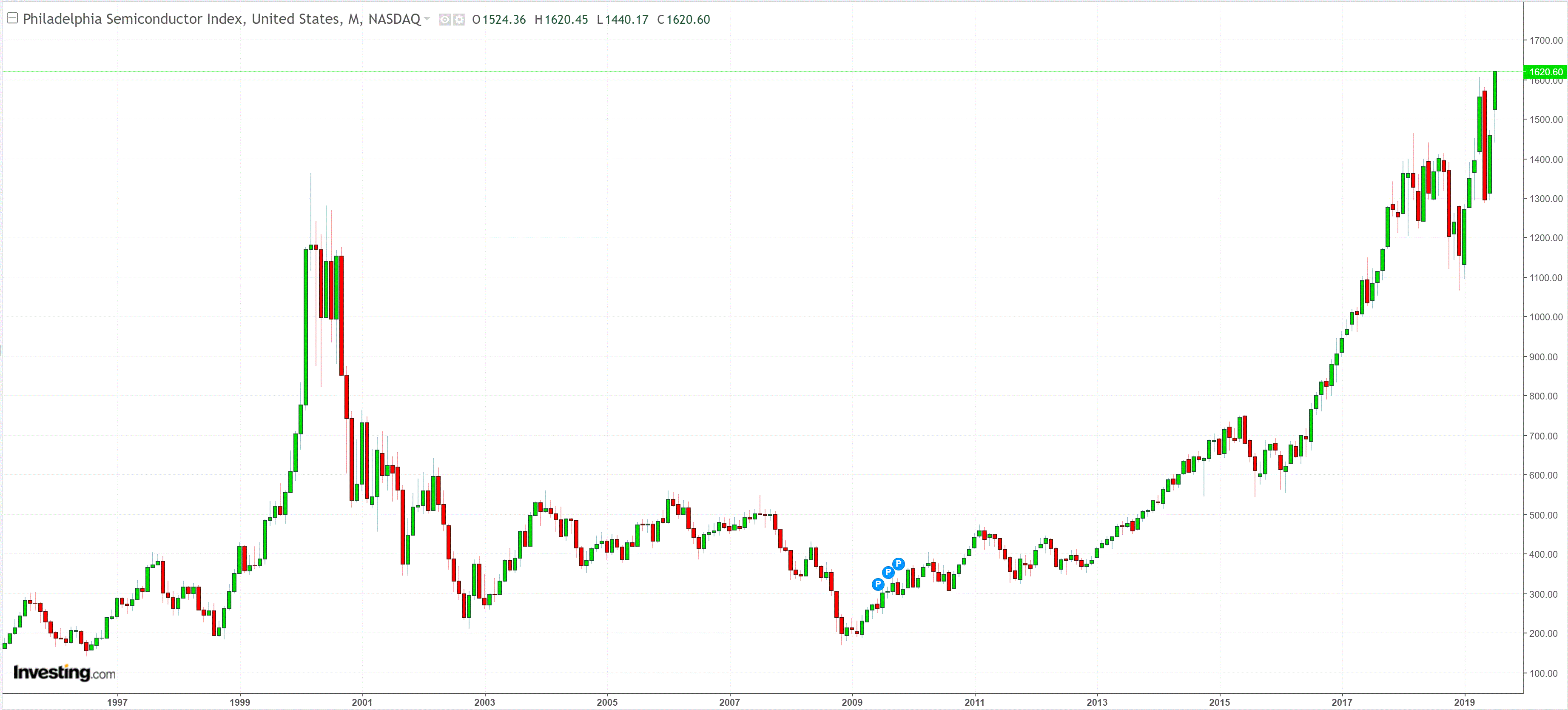 Europe is crashing towards recession as its externally led growth model is bashed by the Chinese and global slowdowns. Flash PMIs were all worse than expected:
▪ Flash Eurozone PMI Composite Output Index(1) at 51.5 (52.2 in June). 3-month low.

▪ Flash Eurozone Services PMI Activity Index(2) at 53.3 (53.6 in June). 2-month low.

▪ Flash Eurozone Manufacturing PMI Output Index(4) at 47.0 (48.5 in June). 75-month low.

▪ Flash Eurozone Manufacturing PMI(3) at 46.4 (47.6 in June). 79-month low.
The internals are worse: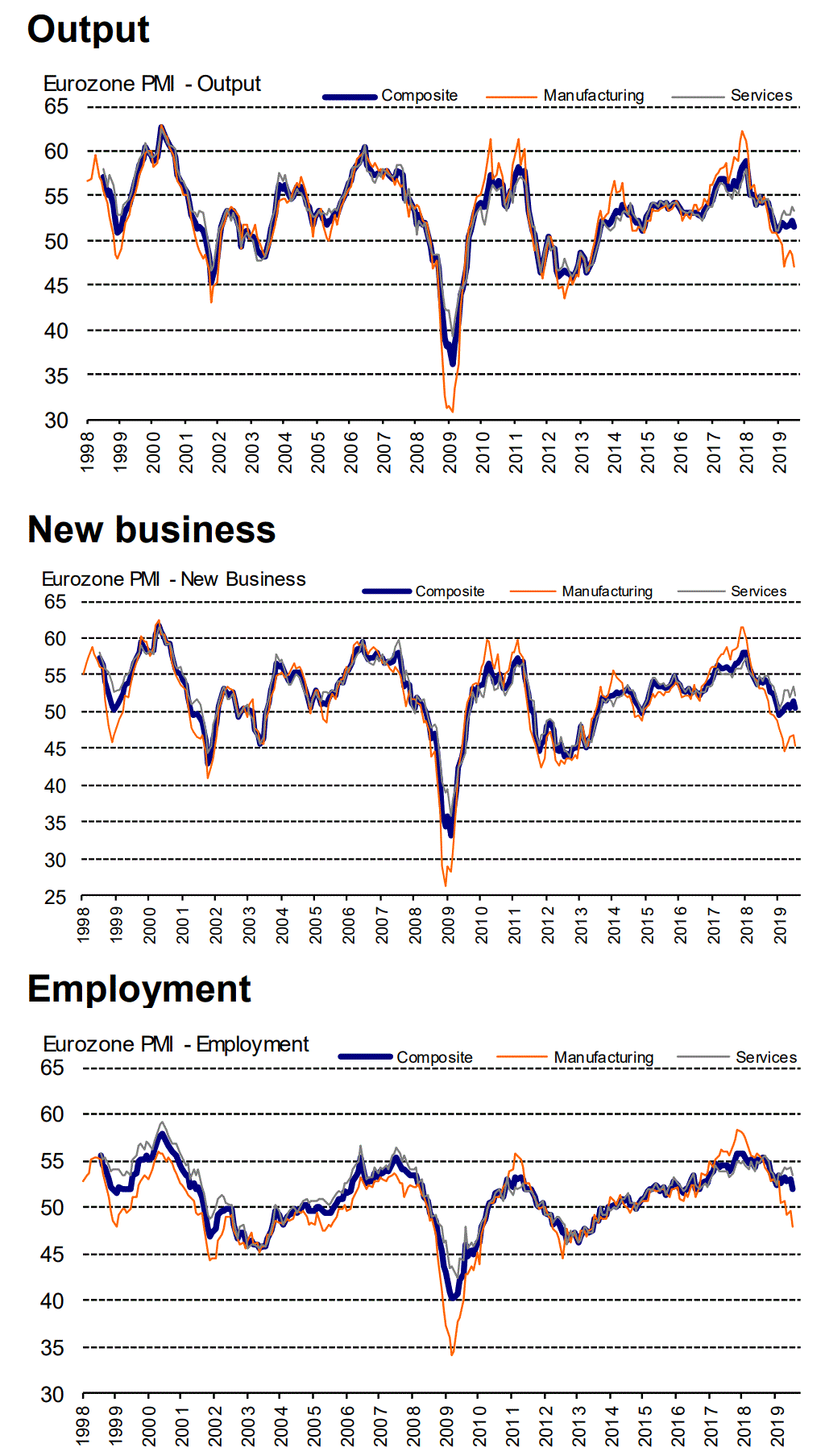 Pricing power is gone: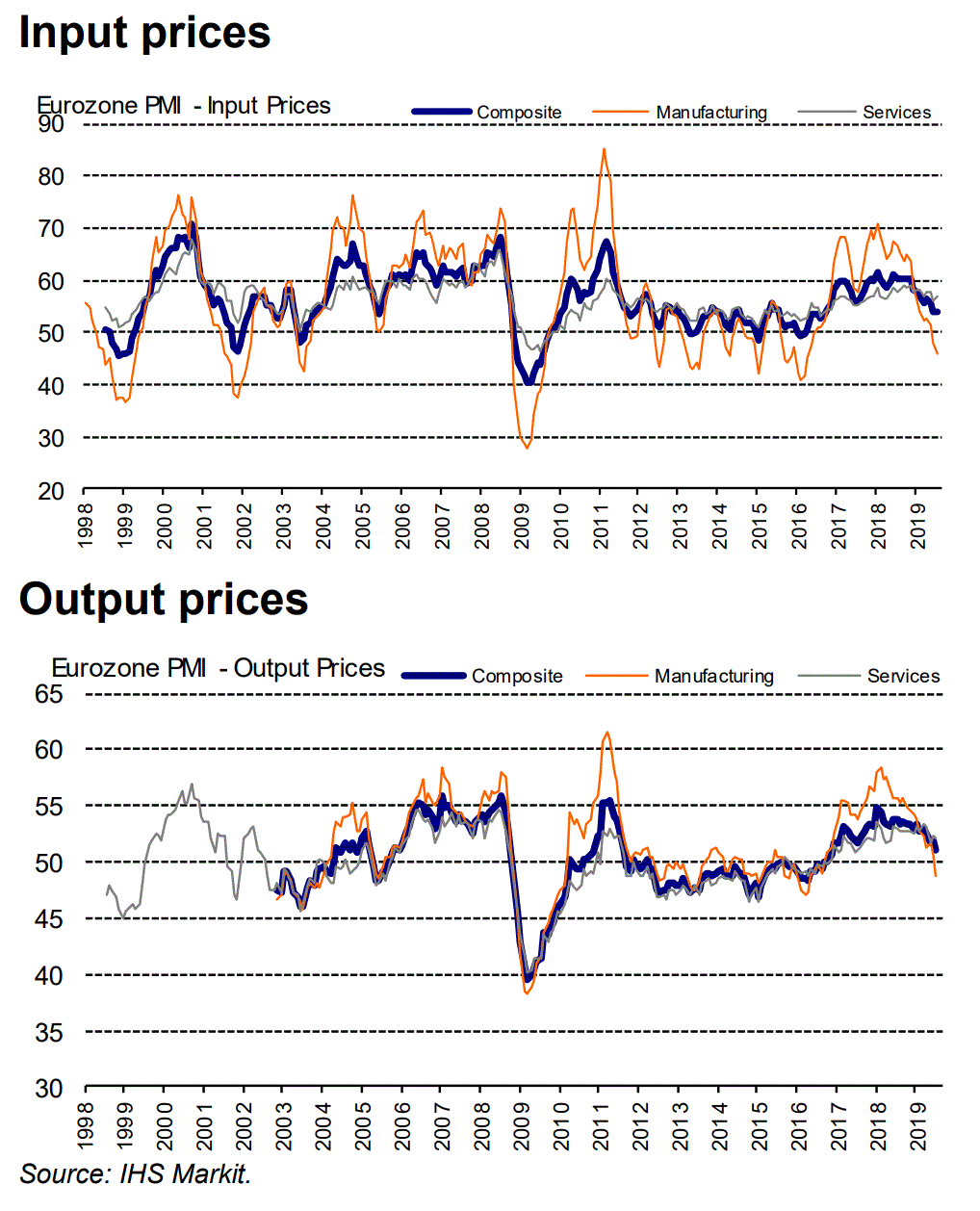 The WSJ summarises is elegantly:
The European Central Bank has convinced financial markets that it will act. The question is, among its grab bag of possible moves, will it do more than investors expect?

The central bank meets Thursday with expectations high that outgoing ECB President Mario Draghi will push to ease policy—or at least promise that it will do so in coming months. Markets have responded by sending bond yields into deeply negative territory.

…But riskier assets like cyclical stocks or lower-rated junk bonds haven't rallied. Investors still seem to doubt whether the ECB can boost the eurozone economy when its weakness has more to do with China and global trade than domestic demand.

"Investors are buying the return of loose policy, but they aren't buying assets linked to growth or inflation," said Alberto Gallo, head of macro strategies at fund manager Algebris. "Markets are pricing that there will be more QE, but that it won't work."
In my experience, when markets begin to think that way, Super Mario over-delivers.
Don't forget that, as well, that Europe still has to deal with Brexit. BoJo is stacking his cabinet with Brexiteers and he has every incentive to go after it as Nigel Farage eats his party. As things stand, Brexit will happen automatically on October 31 if nothing changes. Sure, there may be a European extension but what does that deliver BoJo politically? Why would he want it?
There are still technical difficulties in the hard Brexit, previously argued by Anatole Kaletsky:
With May gone and Boris Johnson or another fervent Europhobe almost certain to succeed her, could the prime minister find a way to bypass Parliament and unilaterally impose a no-deal Brexit?

A truly determined Brexiteer could have two ways of achieving this. He or she could trigger a general election and win an outright parliamentary majority, or else try to block parliamentary efforts to force an extension of the Brexit deadline.

On closer inspection, however, these options are also highly implausible. The idea that a new Tory leader – especially one as ambitious as Johnson – would jeopardize his lifetime goal and risk becoming the shortest-serving prime minister in history by calling an election before October 31 is a non-starter. The next British election probably will be held well before the constitutional deadline of summer 2022, but any new prime minister will want to show some achievement (especially on Brexit) and restore the Tory's abysmal poll ratings before taking this risk.

A similar precautionary principle will block the last possible route to a no-deal outcome: a new prime minister deciding somehow to bypass or overrule parliament. Even without any change in parliamentary procedures, there is a clear mechanism to prevent a prime minister from defying a majority of MPs: the opposition can call a vote of no confidence anytime. After recent Tory defections, only five or six additional rebels would be needed to bring down the government and force the general election that the new prime minister would be desperate to avoid.

Fanatical Brexiteers argue, however, that a prime minister genuinely determined to deliver a no-deal Brexit could, and should, go nuclear: suspend parliament and refuse to call MPs back until after the October 31 deadline, when Brexit will happen automatically under current law. If you believe that the UK is turning into Zimbabwe or Venezuela, you should expect a no-deal Brexit. Otherwise, forget about it.
Hyperbole aside. This is no longer implausible. All BoJo has to do is look busy, like he's trying to prevent it with a better European deal, and then throw his hands up October 31 and declare that "I tried".
It will still come as a shock to Britain: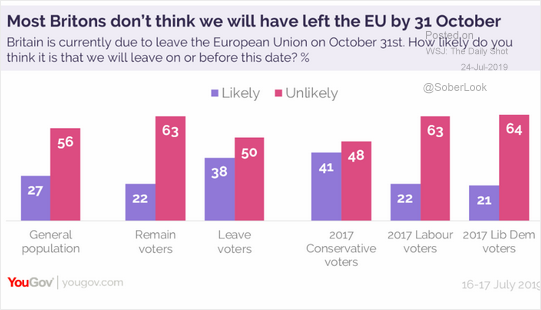 With considerable economic fallout mitigated by a much lower GBP: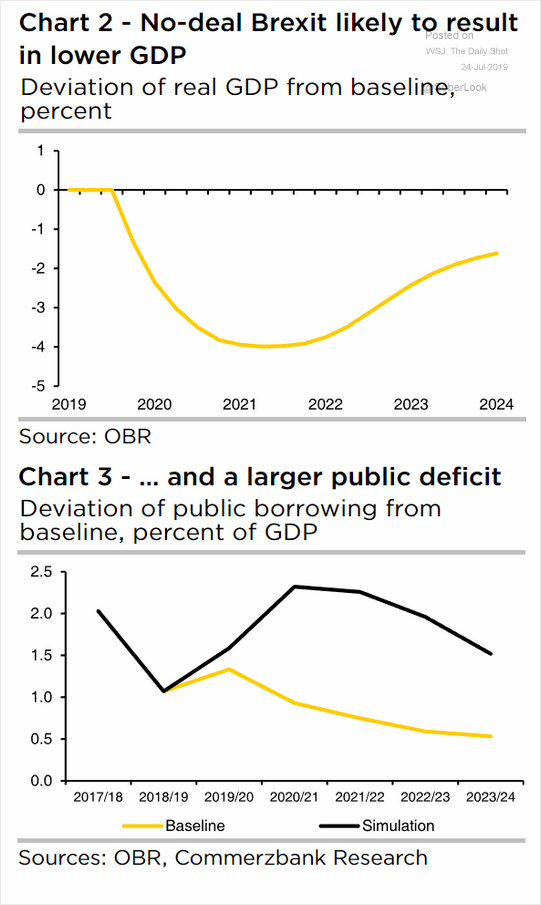 But the real risk is some kind of financial dislocation and contagion as Europe crashes into a recession that craters the EUR, sends DXY to the moon, and slams the brakes on the global economy.
In that event the Australian dollar will head swiftly towards the 0.50s.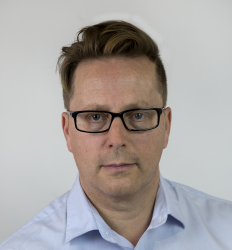 Latest posts by David Llewellyn-Smith
(see all)