See the latest Australian dollar analysis here:
DXY was soft Friday night. CNY and EUR firm: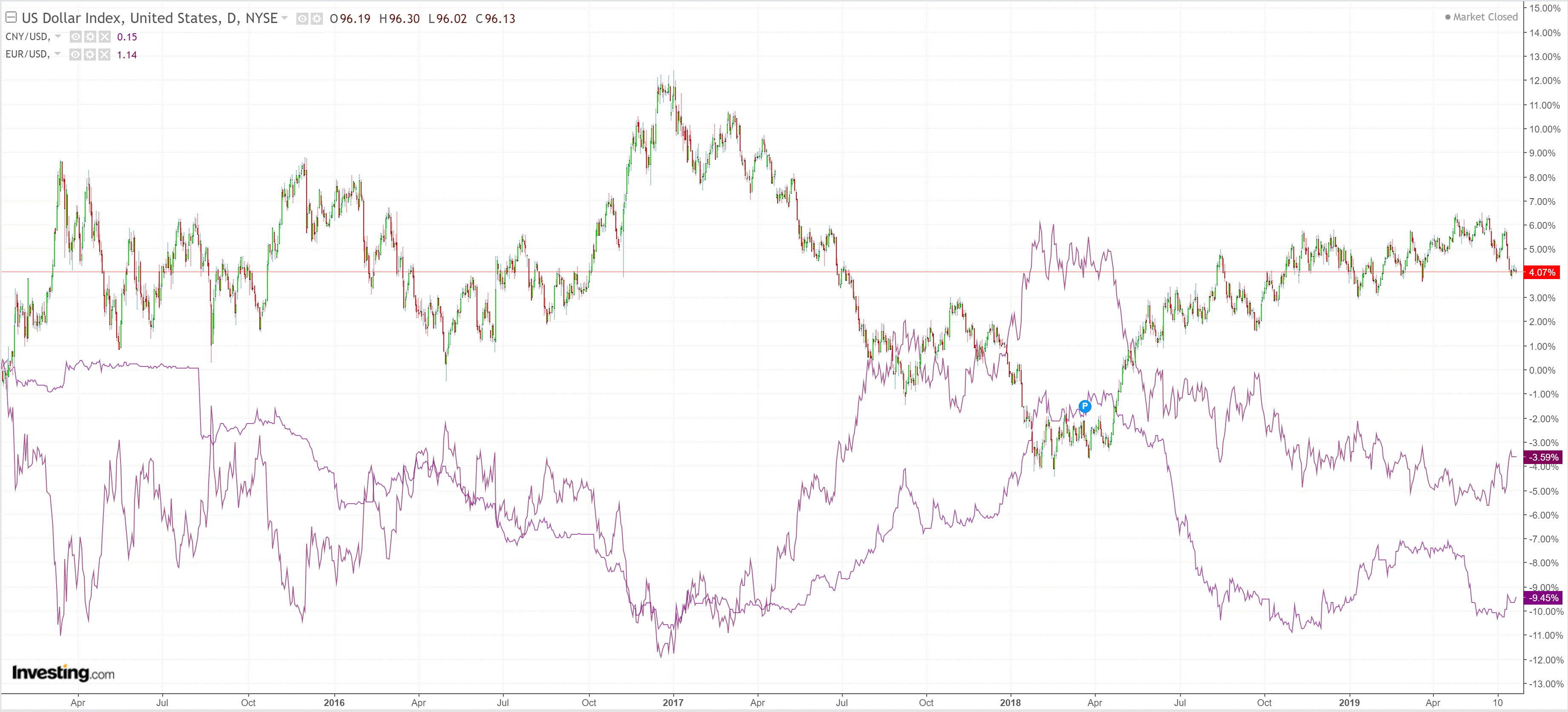 The Aussie dollar continued its charge as trade war fears ease: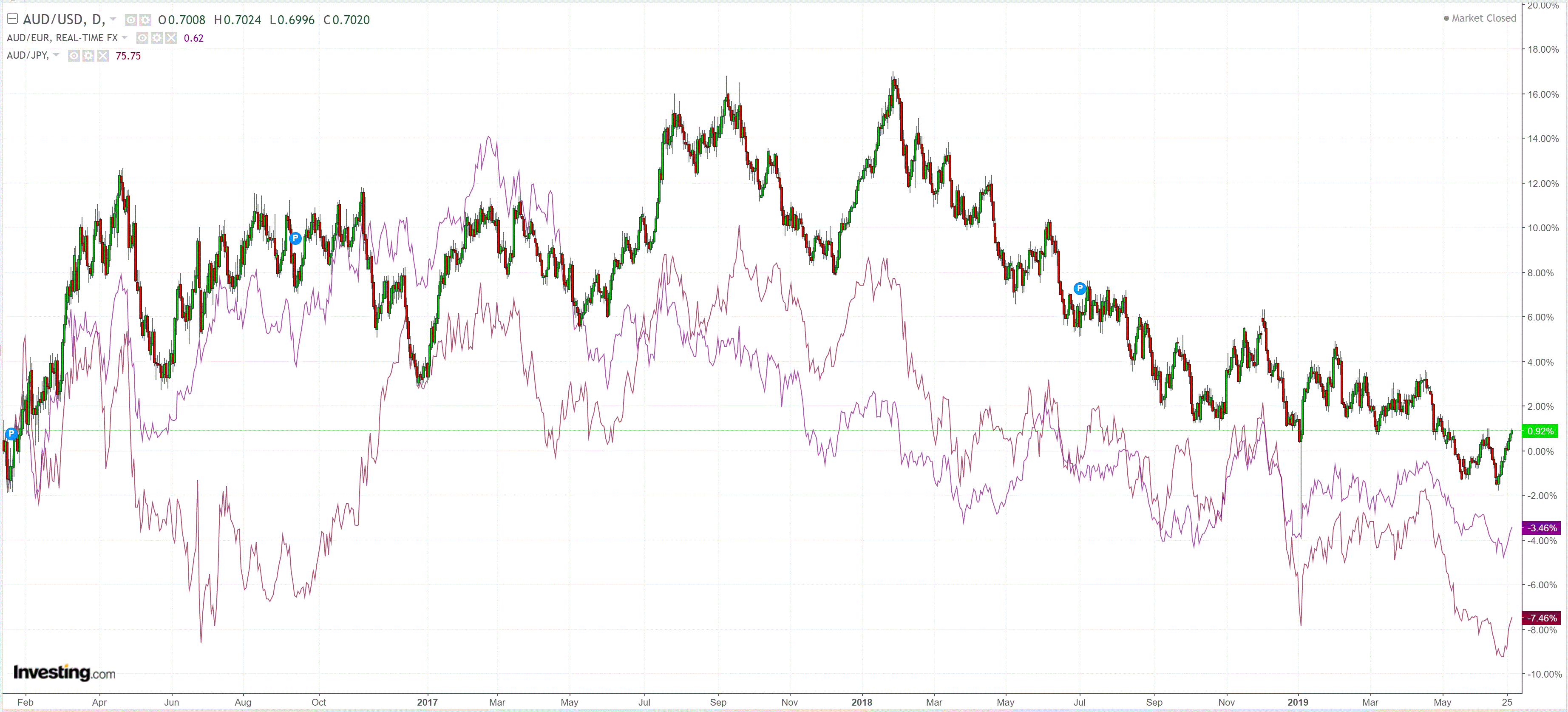 Even so, the market moved more short: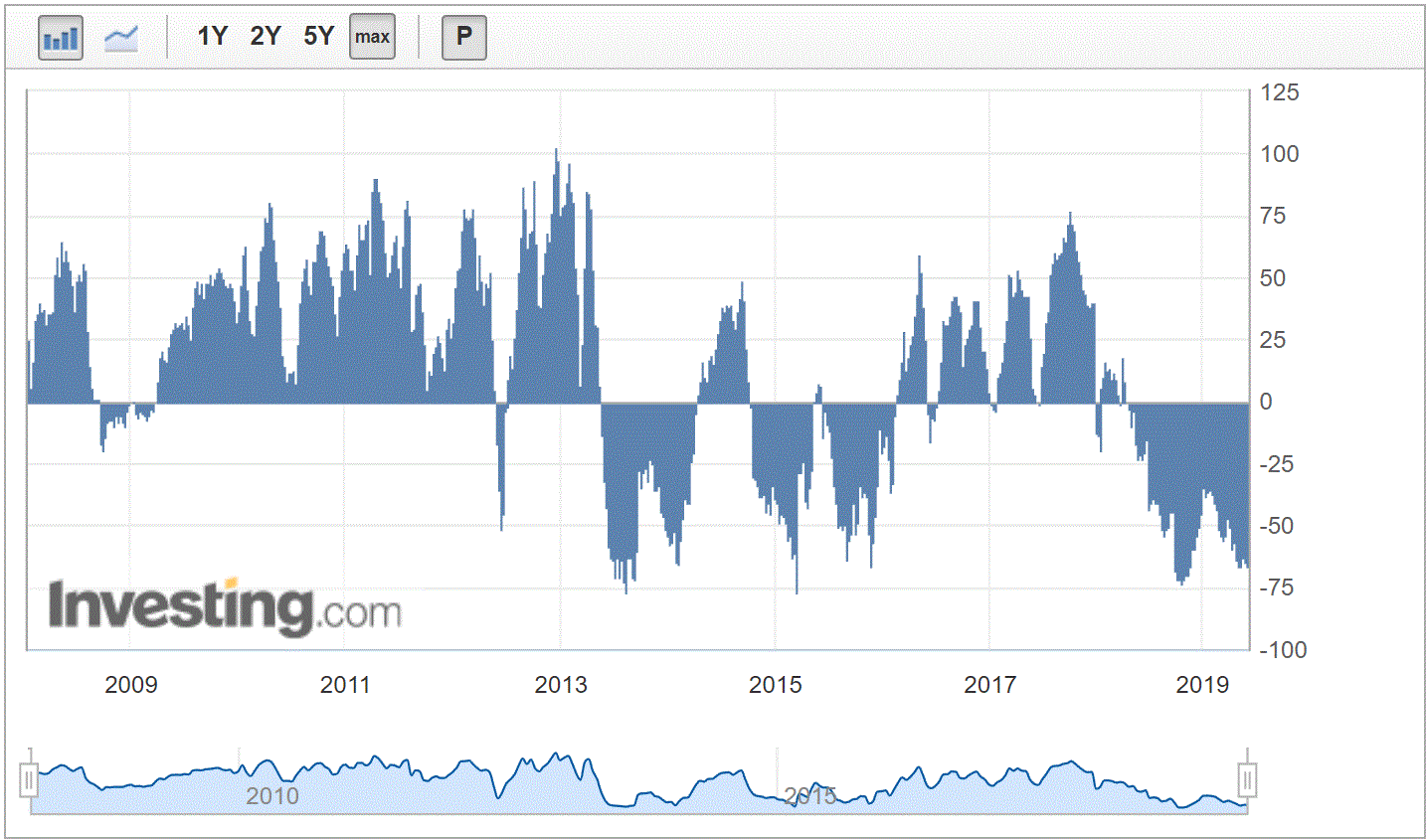 Gold eased: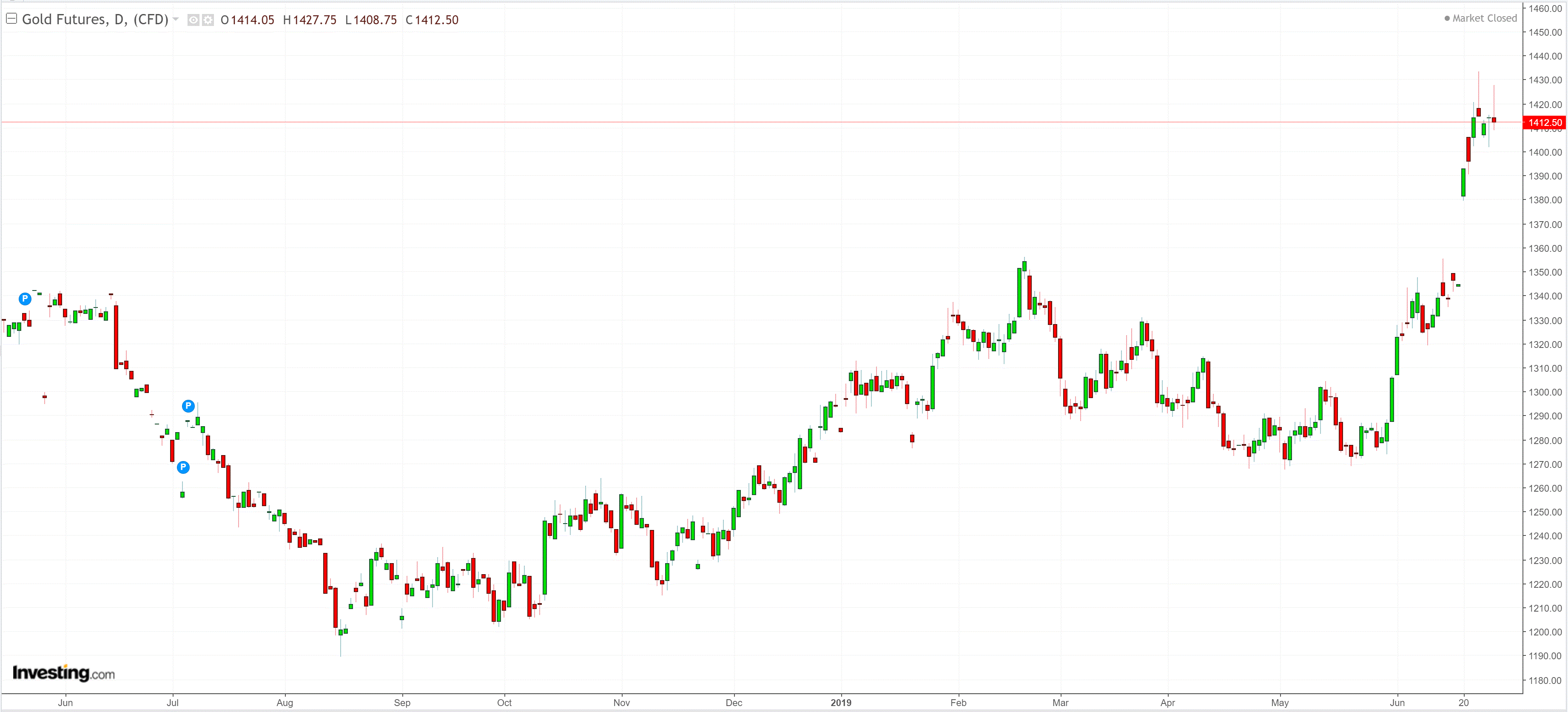 Oil too: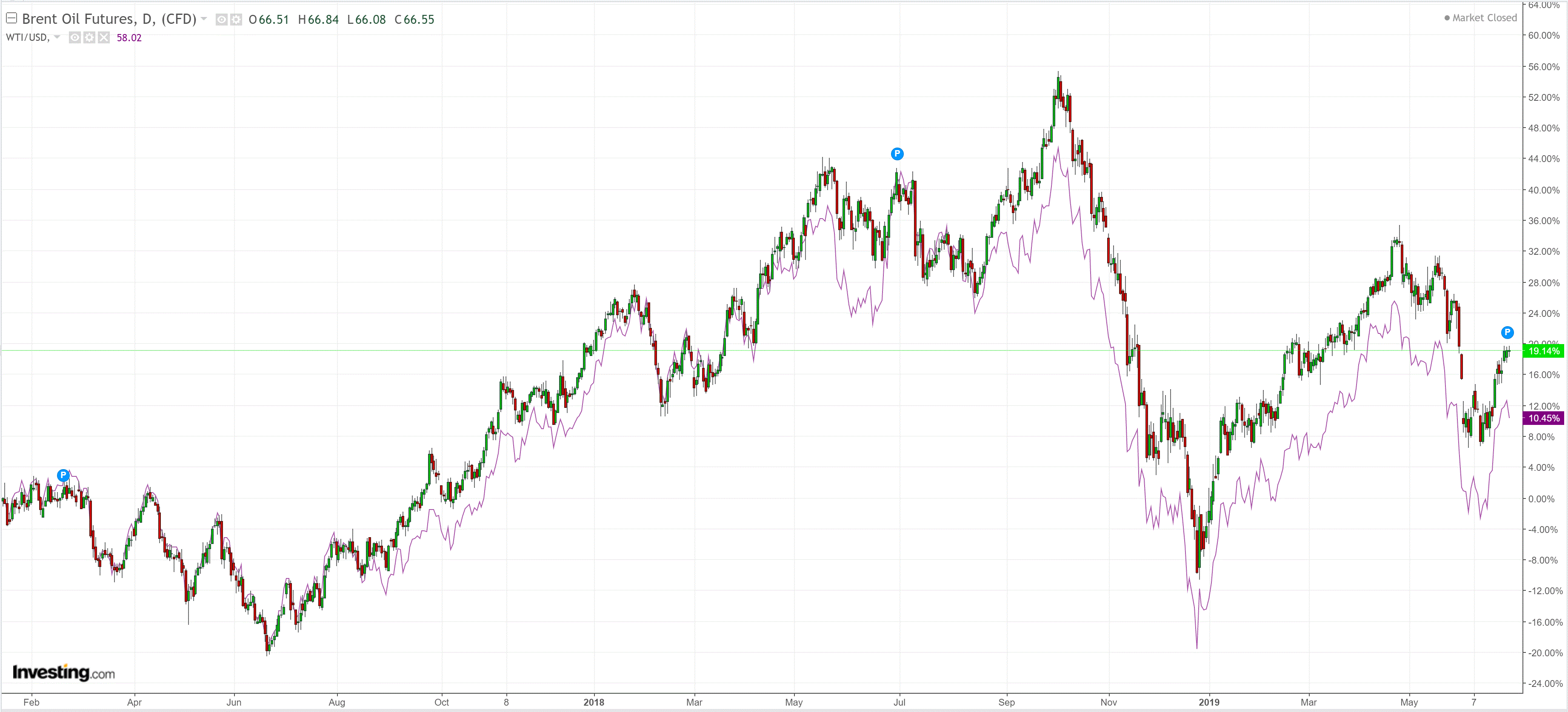 And metals: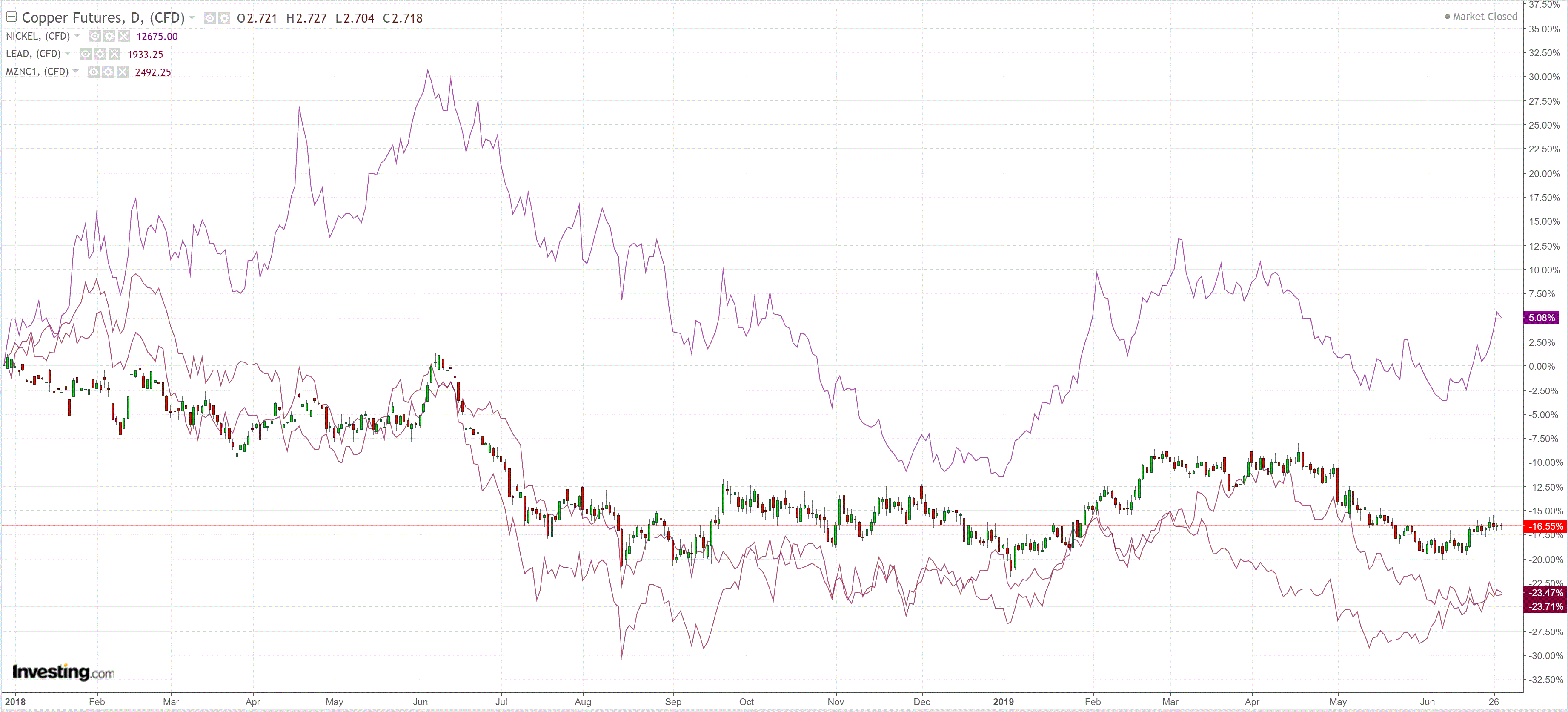 Miners to the moon: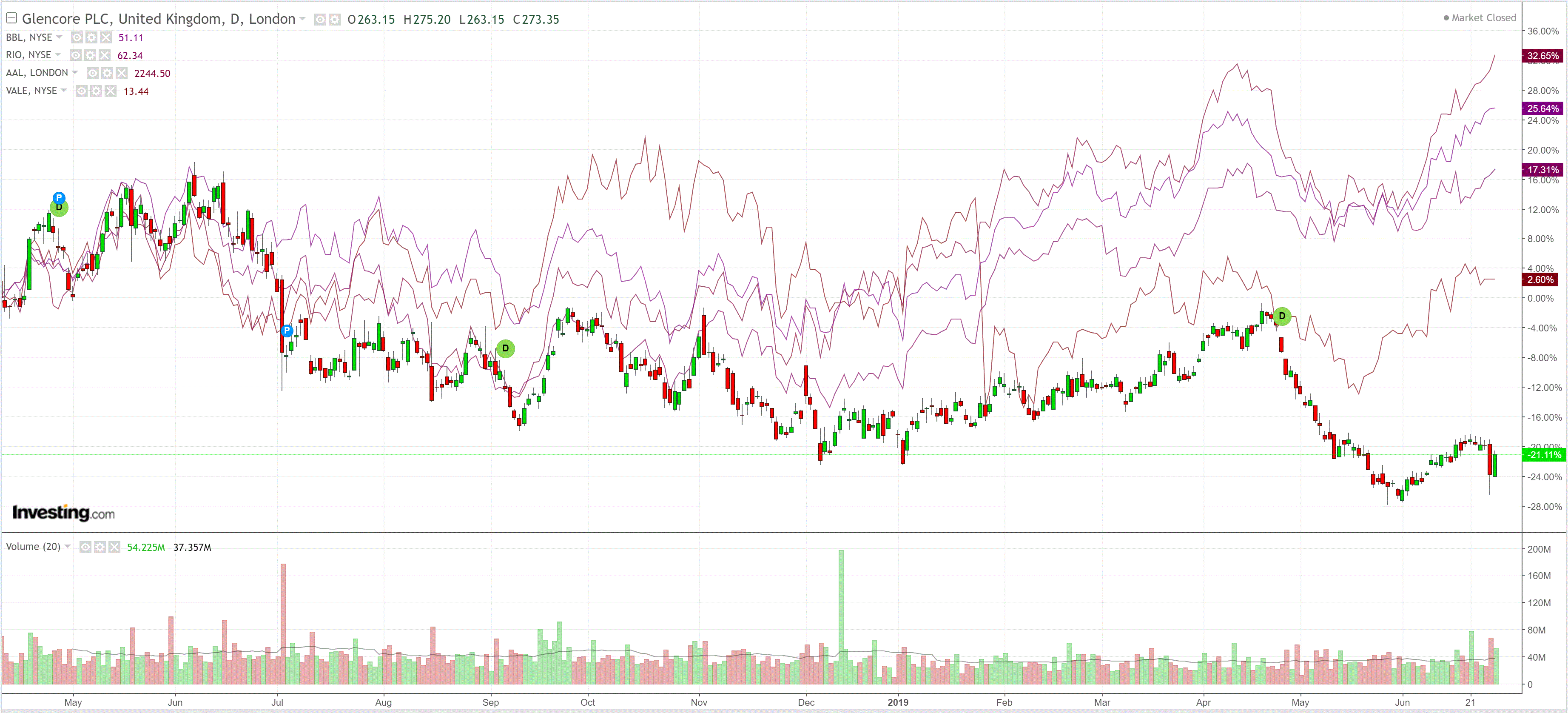 EM stocks appear poised: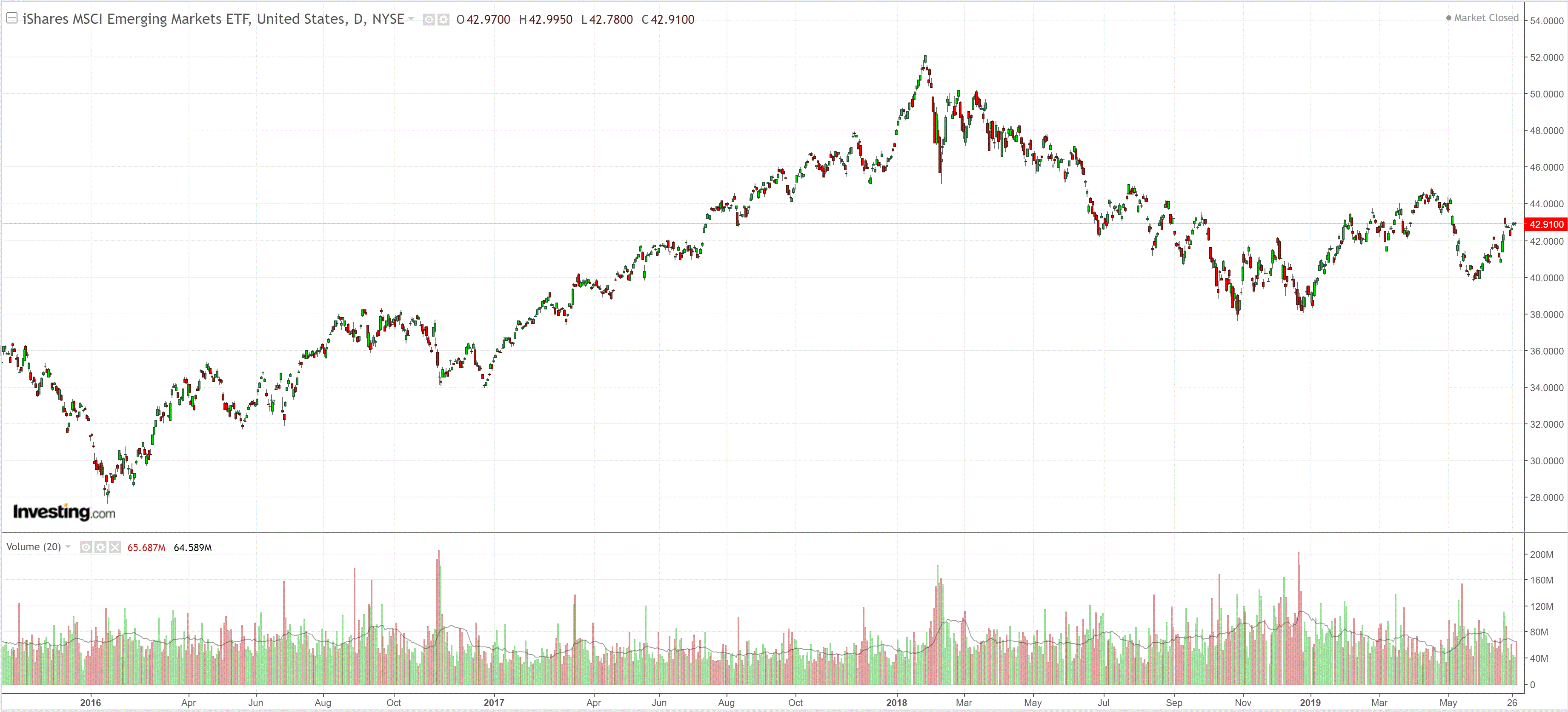 As junk ripped: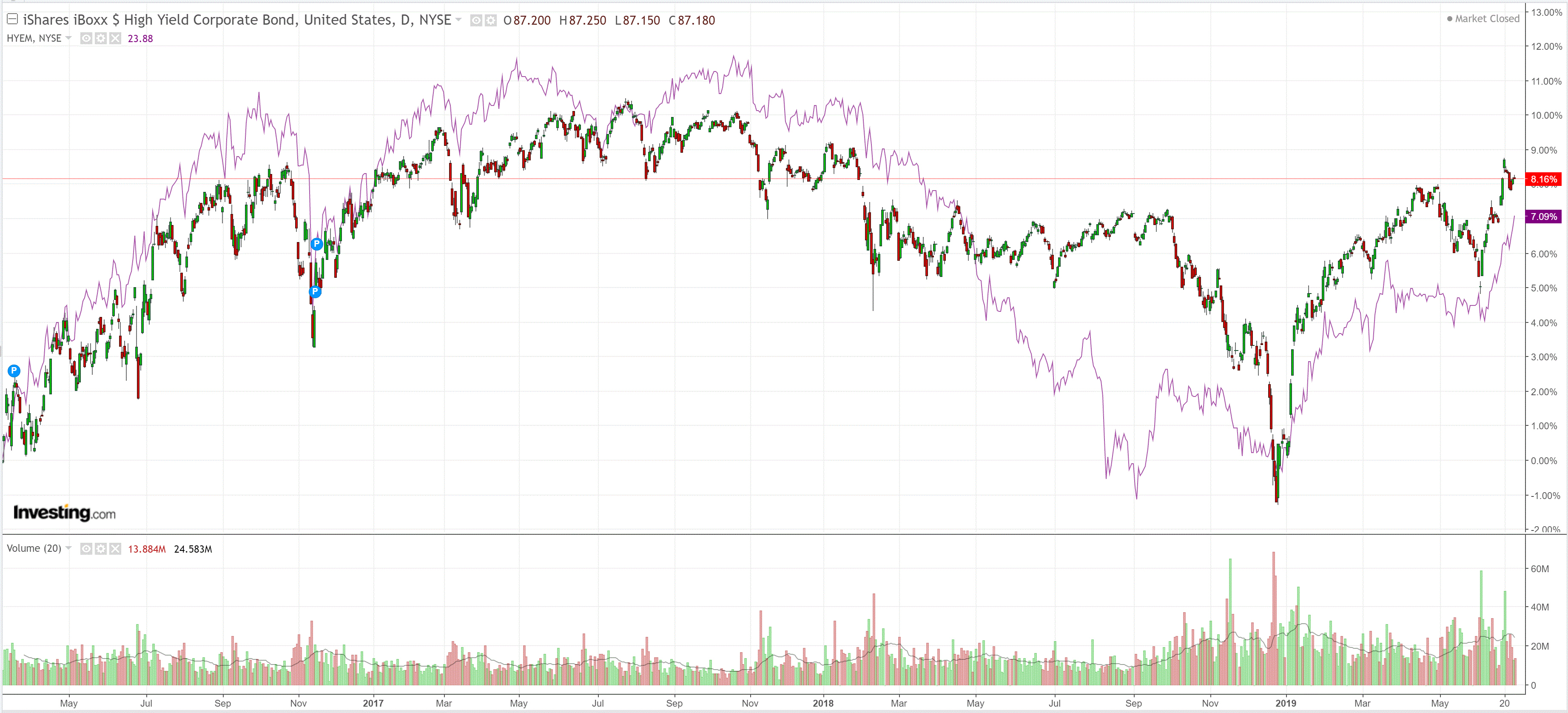 Treasuries were mixed: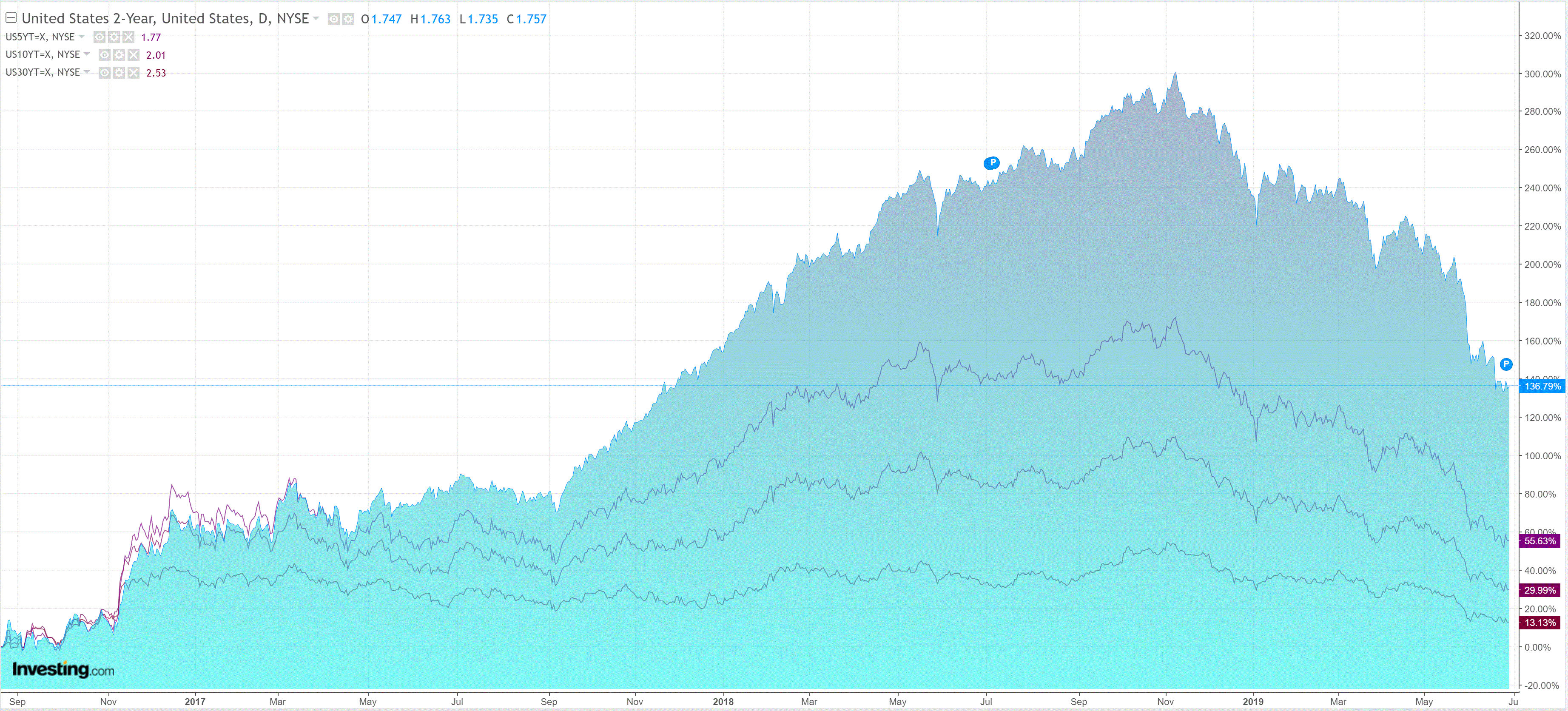 Bunds bid: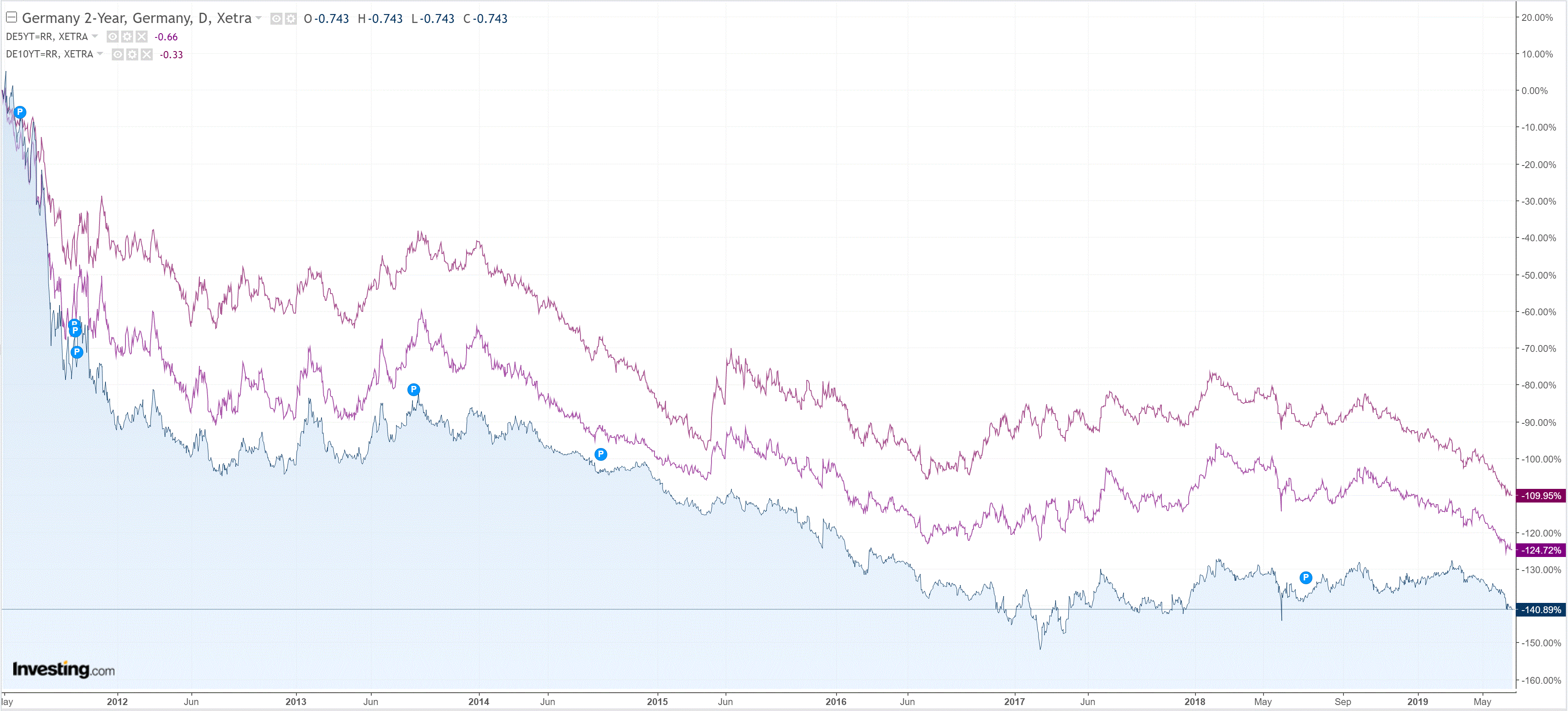 Aussie bashed: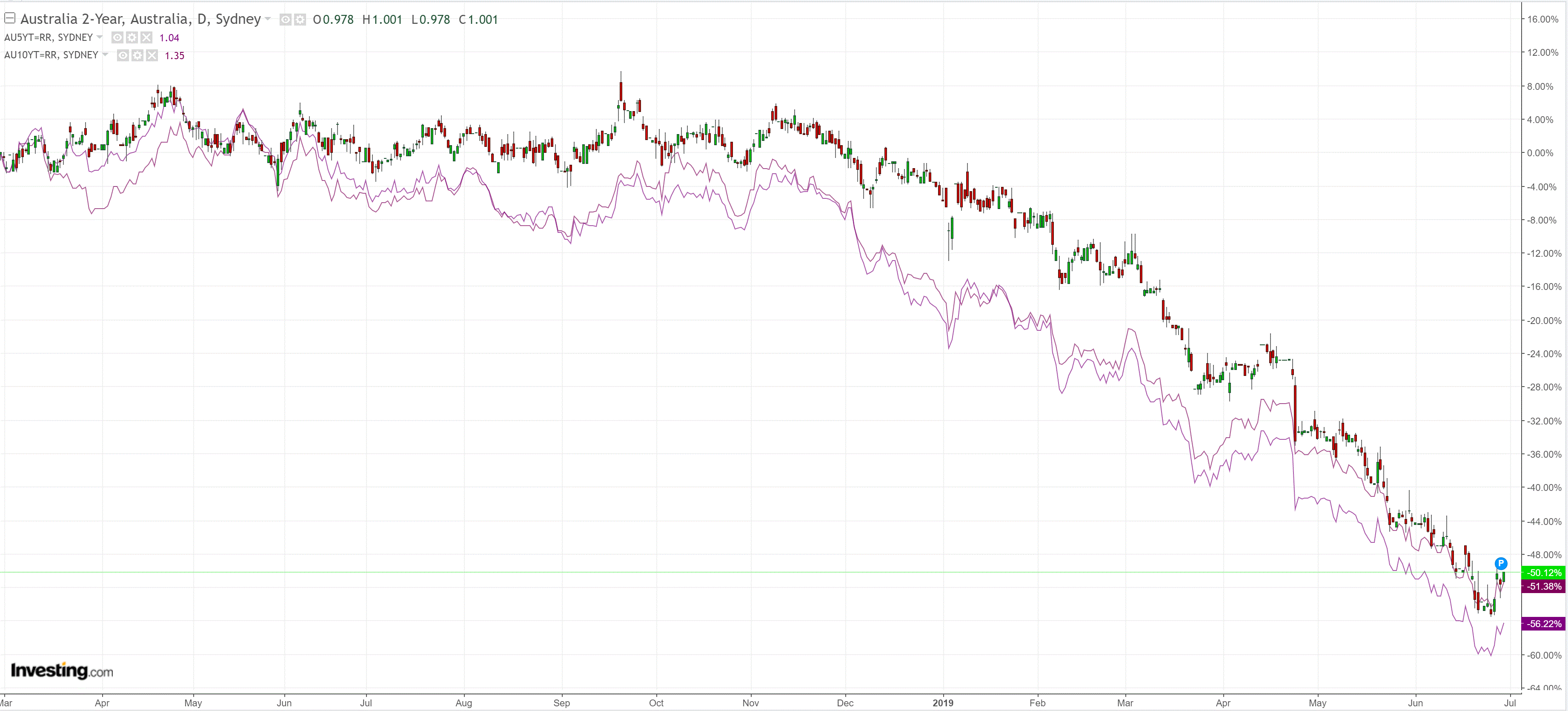 And stocks were firm: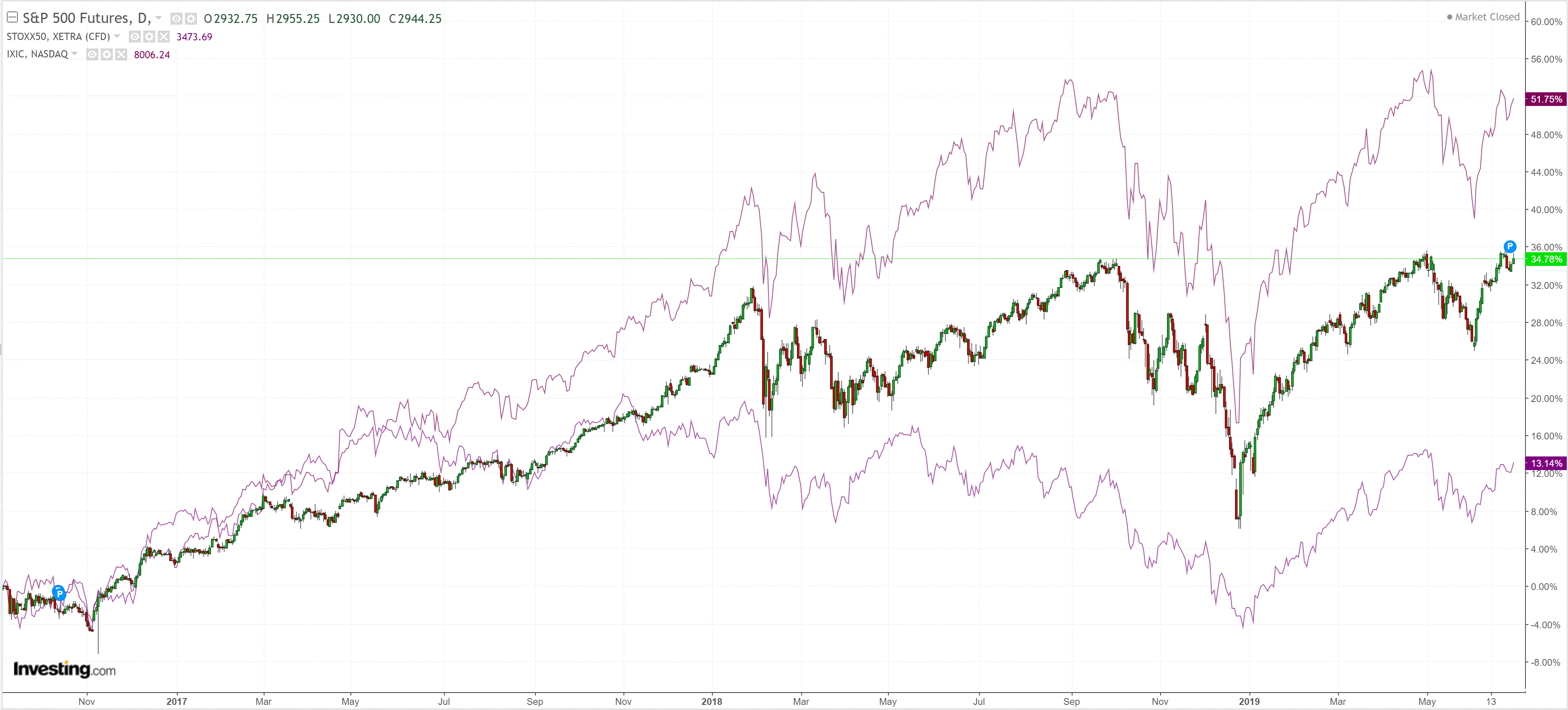 Markets have been pricing some kind of trade war cease fire and that what they got at the G20, via Bloomie:
The U.S. and China declared a truce in their trade war on Saturday, as Donald Trump said he would hold off imposing an additional $300 billion in tariffs and the world's two largest economies agreed to resume negotiations.

After a high-stakes meeting with Chinese President Xi Jinping, Trump told reporters on Saturday that he also would delay restrictions against Huawei Technologies Co., letting U.S. companies resume sales to China's largest telecommunications equipment maker. Trump later tweeted that his meeting with Xi was "far better than expected."

After Trump and Xi met at the G-20, the two governments plan to restart trade talks that broke down last month. As part of the arrangement, the president said Xi promised to buy "tremendous" amounts of U.S. agricultural products, but Chinese official media reports said only that Trump hopes China will import more American goods as part of the truce.

…"U.S. companies can sell their equipment to Huawei," Trump said. "We're talking about equipment where there's no great national security problem with it."
So, handsets but no 5G and Trump has given up little. Likewise China which can always buy soybeans or not. This is a public relations deal that gives enough face saving cover to both to resume talking and that's about it.
Whether we get any further is in the lap of the gods. I doubt it given the fundamental issue is clearly not the trade imbalance but Chinese cheating for development purposes. Neither side can budge on that. But both can pretend to give respective markets a lift.
There was some pretty good data out of the US Friday that was overshadowed by trade. PCE was strong:
Personal income increased $88.6 billion (0.5 percent) in May according to estimates released today by the Bureau of Economic Analysis. Disposable personal income (DPI) increased $72.6 billion (0.5 percent) and personal consumption expenditures (PCE) increased $59.7 billion (0.4 percent).

Real DPI increased 0.3 percent in May, and real PCE increased 0.2 percent. The PCE price index increased 0.2 percent. Excluding food and energy, the PCE price index increased 0.2 percent.
This underlines a developing dichotomy in the US economy between businesses and consumers. The latter remain very happy: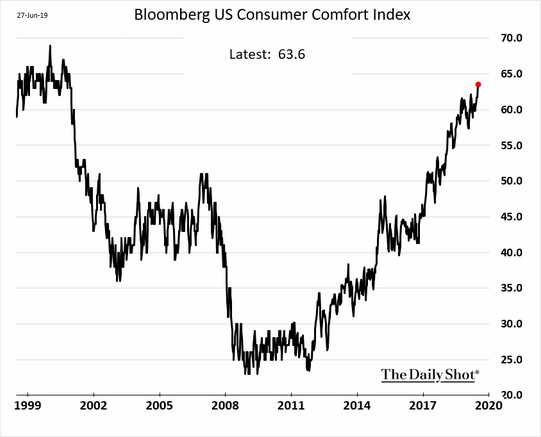 But the former very unhappy: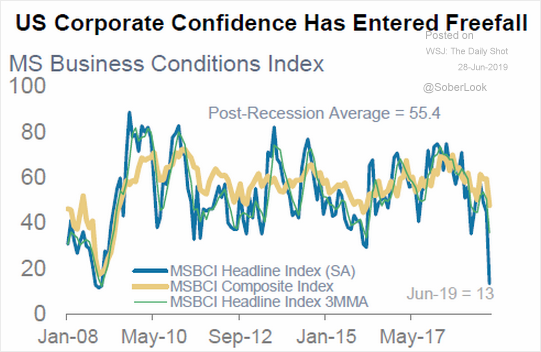 So long as El Trumpo can keep jawboning markets higher then the split may be sustainable. But there is little doubt that, despite any trade war cessation, industrial recession is stalking the US: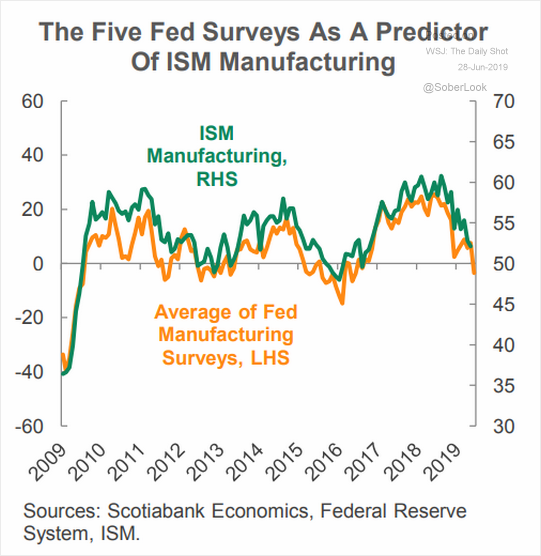 As both China and European industry likewise slide away: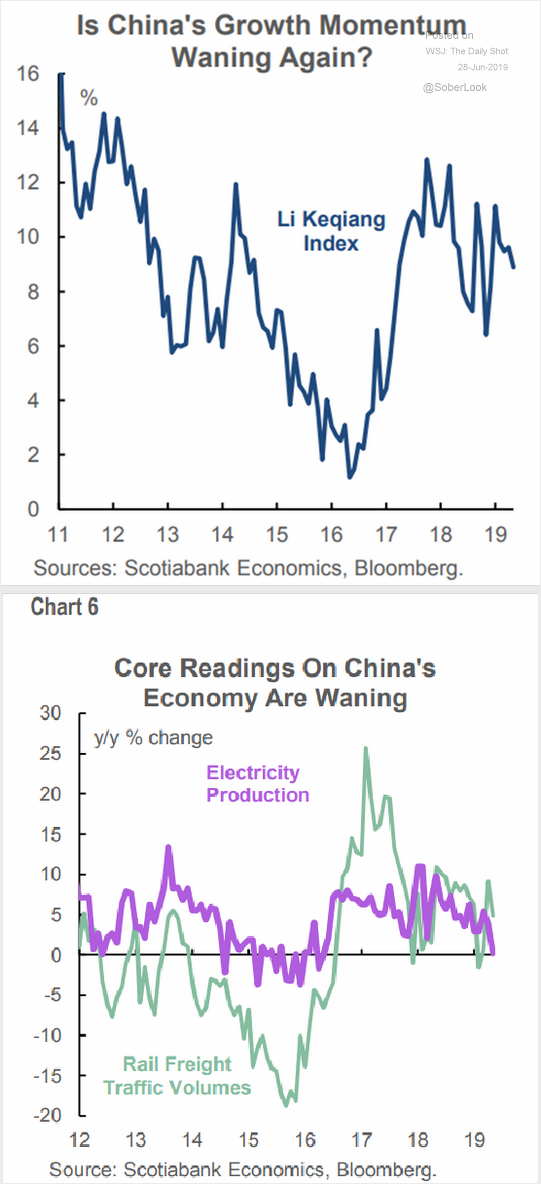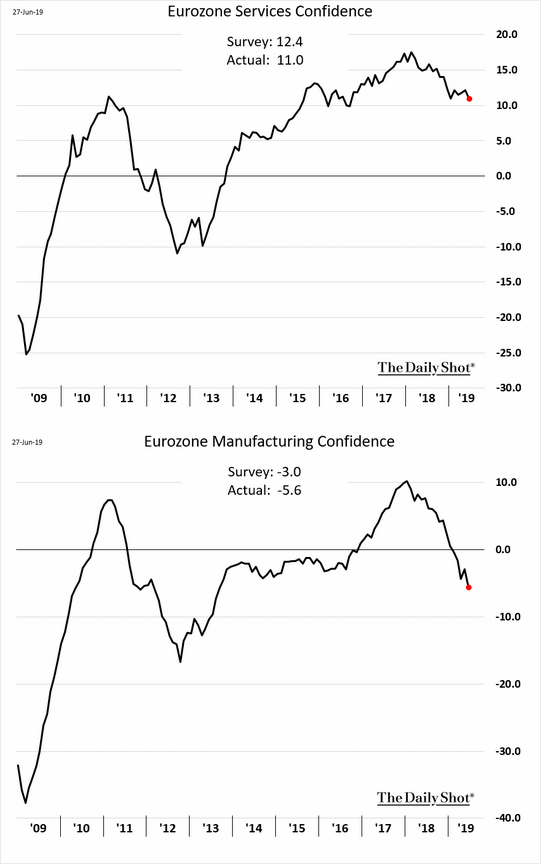 So, the Aussie dollar has already lifted on trade war hopium and there may be a little more of that ahead. But the short term may now be governed by fundamentals and central bank reactions to them. Growth is still slowing globally which is negative for the AUD. There is more stimulus ahead which is AUD positive. Except the RBA is leading it, a negative. The Fed will cut but so will the PBOC and ECB, a negative and positive. But maybe less than before the trade truce which is negative. And bulk commodities will begin to ease as Vale returns volumes anyway, also negative.
The FT sums up the confusion nicely:
"Every single central bank is trying to ease at the same time and given the pivot by the Fed and [the fact] that it has more room to cut than others . . . that means a flat to weaker dollar," said Russ Koesterich, a portfolio manager at BlackRock.

In addition, all central banks — not only the Fed — have much less room to cut than before. George Saravelos, global head of FX research at Deutsche Bank, noted that the last time the US central bank embarked on an easing cycle the key rate was more than 5 per cent while the ECB started cutting from 4 per cent.

"The problem is, the bottom is not very far," he said. "This is not an environment where previous easing cycles can be trusted to stick to the same playbook as before."
I'd guess the AUD can move higher on trade war relief but not very far.
Latest posts by David Llewellyn-Smith (see all)