See the latest Australian dollar analysis here:
DXY is approaching breakout even as we approach the Fed. EUR is weak and GBP free falling: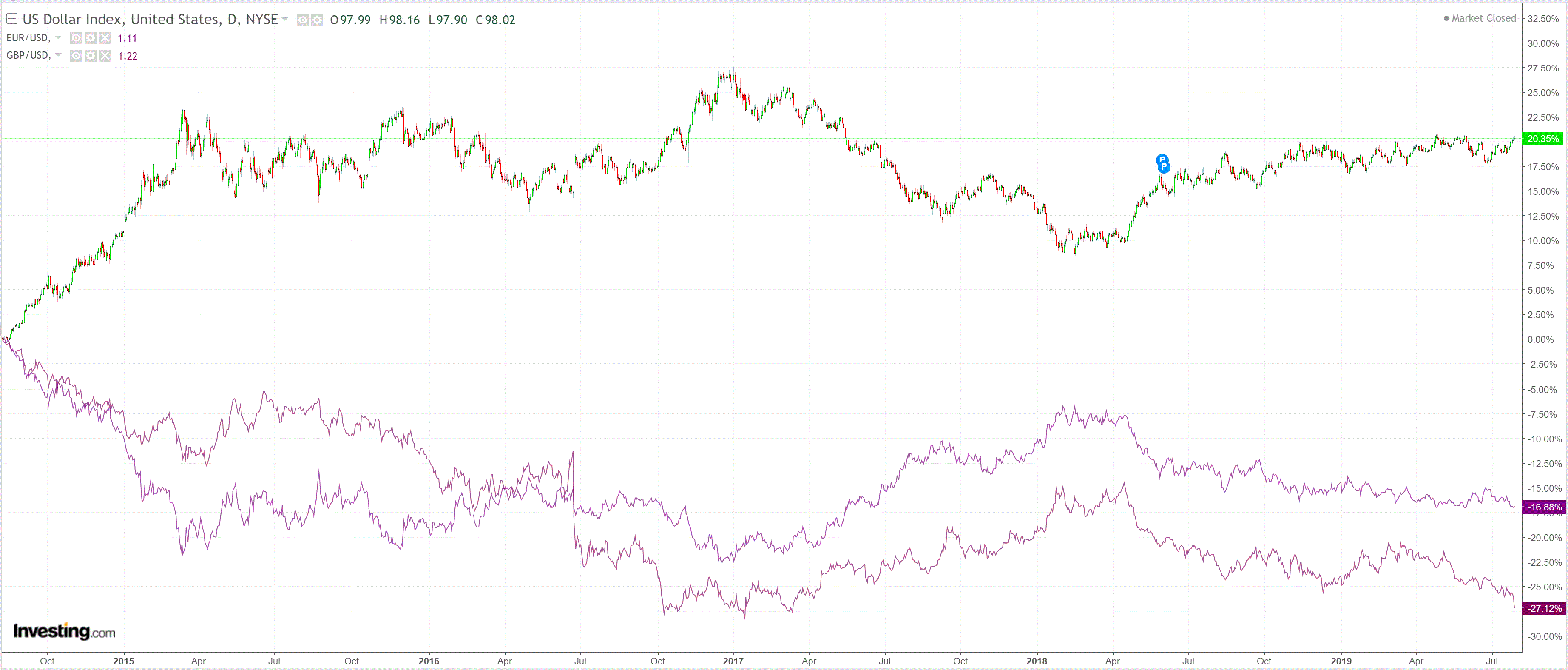 The Australian dollar just keeps falling: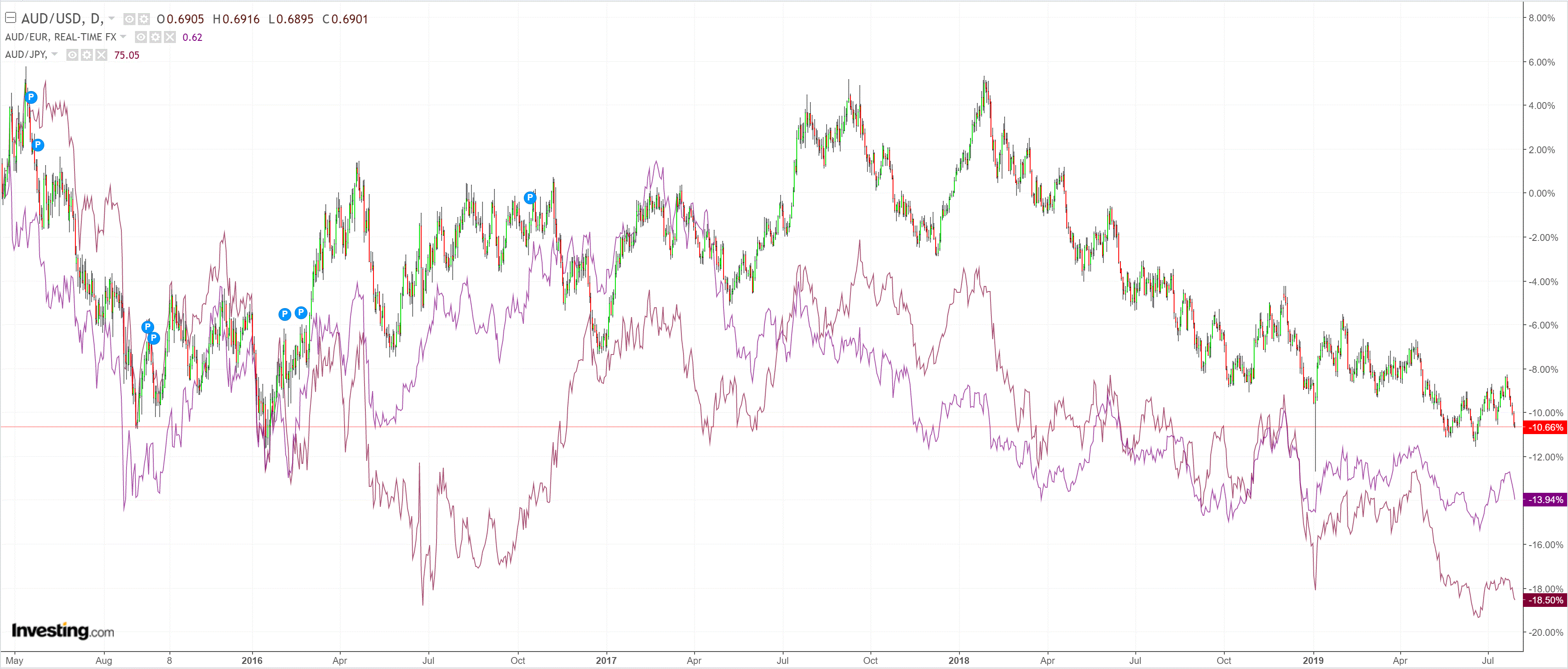 Gold was strong in the circumstances: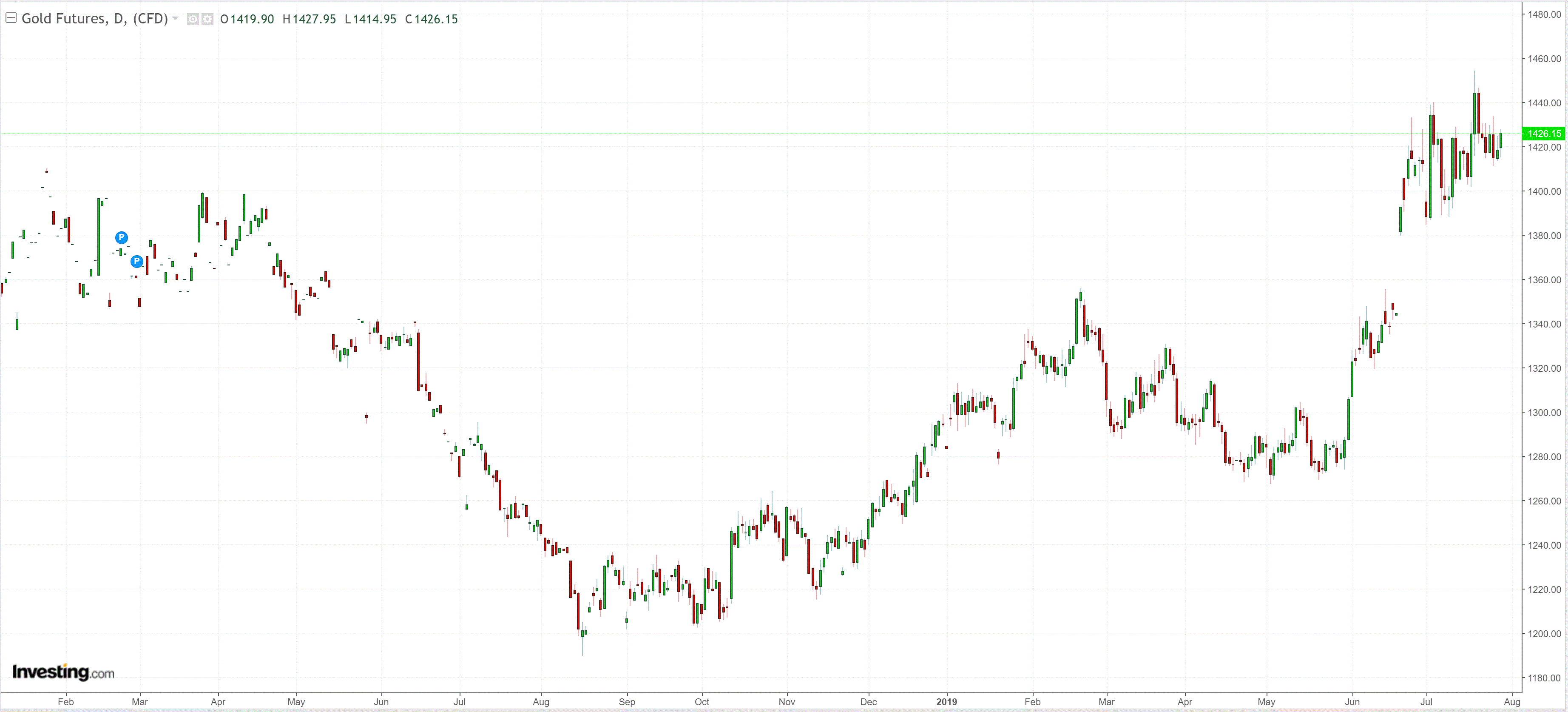 Oil too: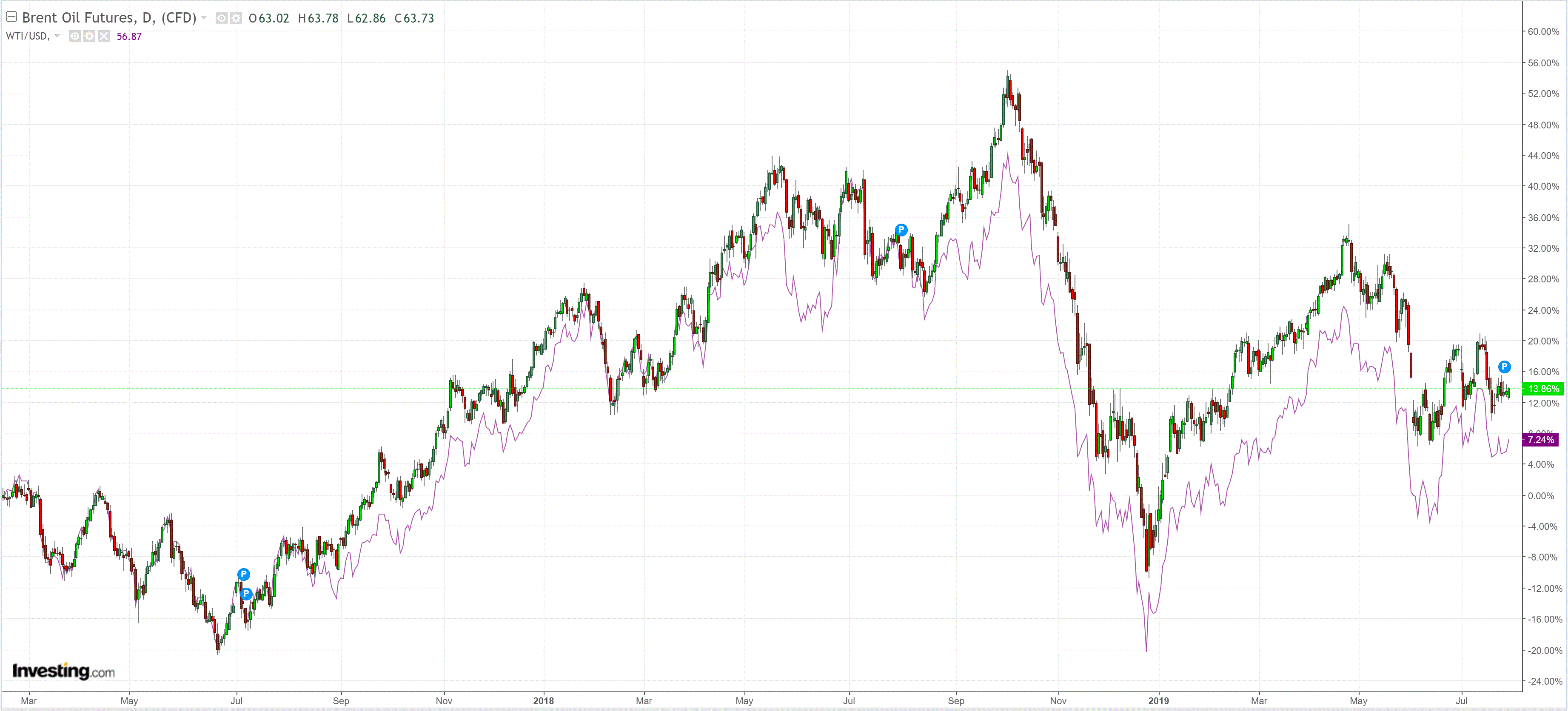 Metals are confused: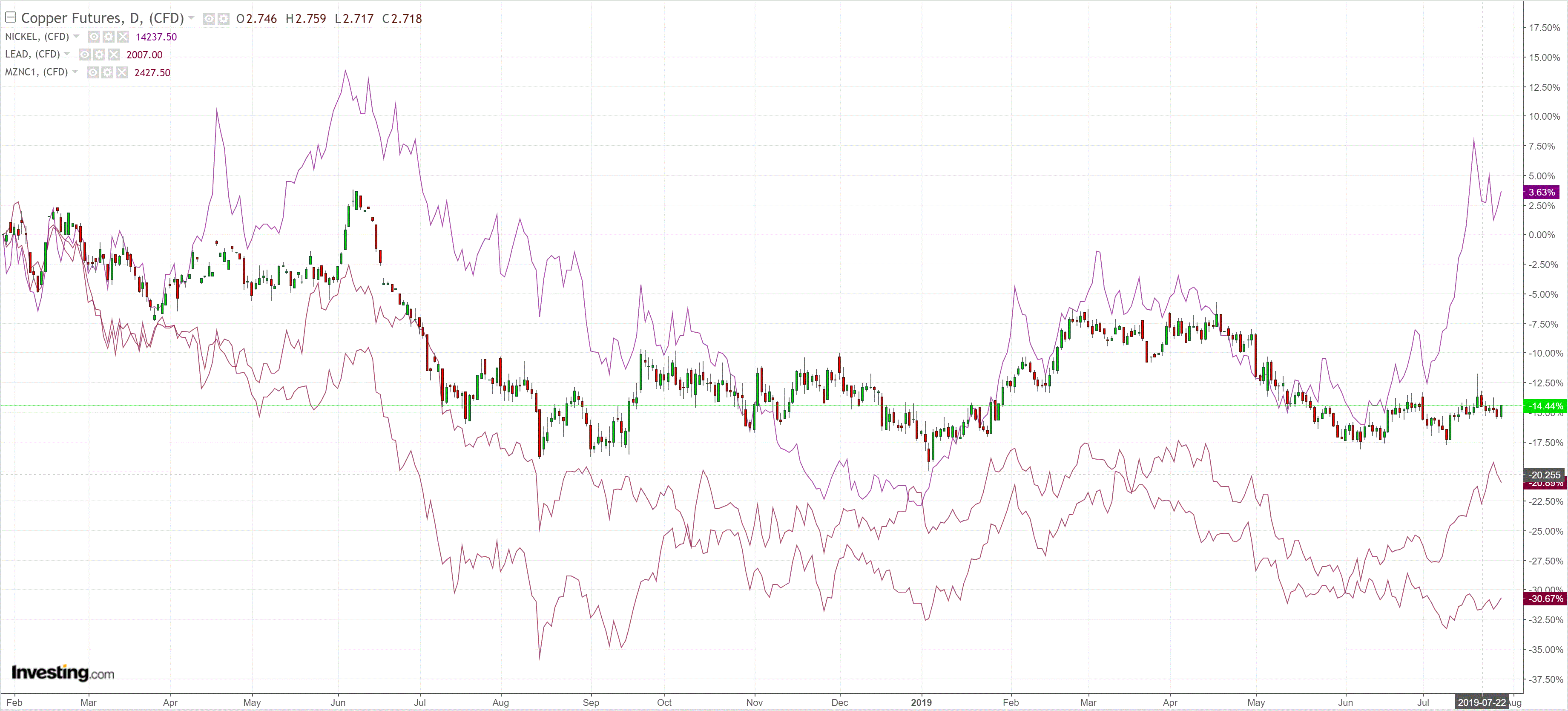 Miners were mostly higher: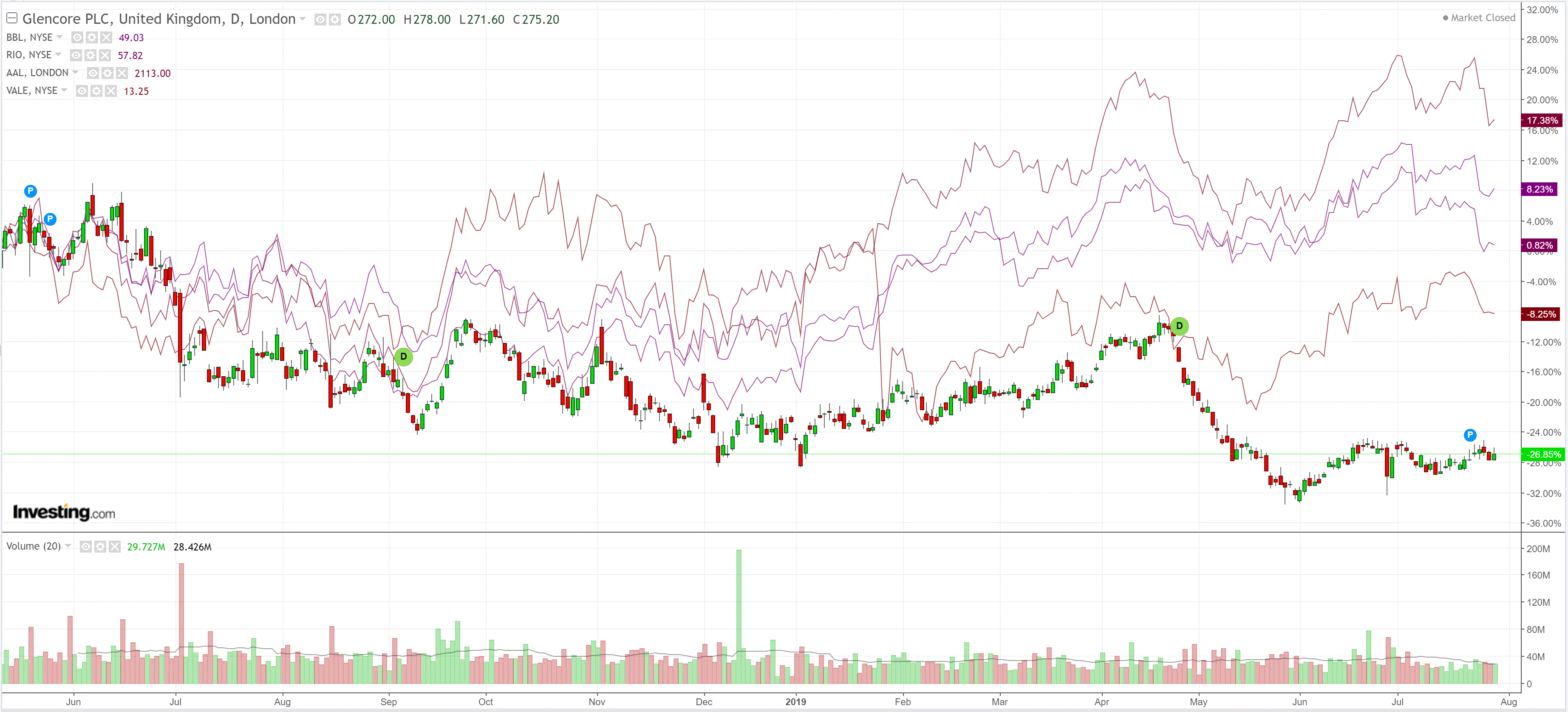 EM stocks went the other way: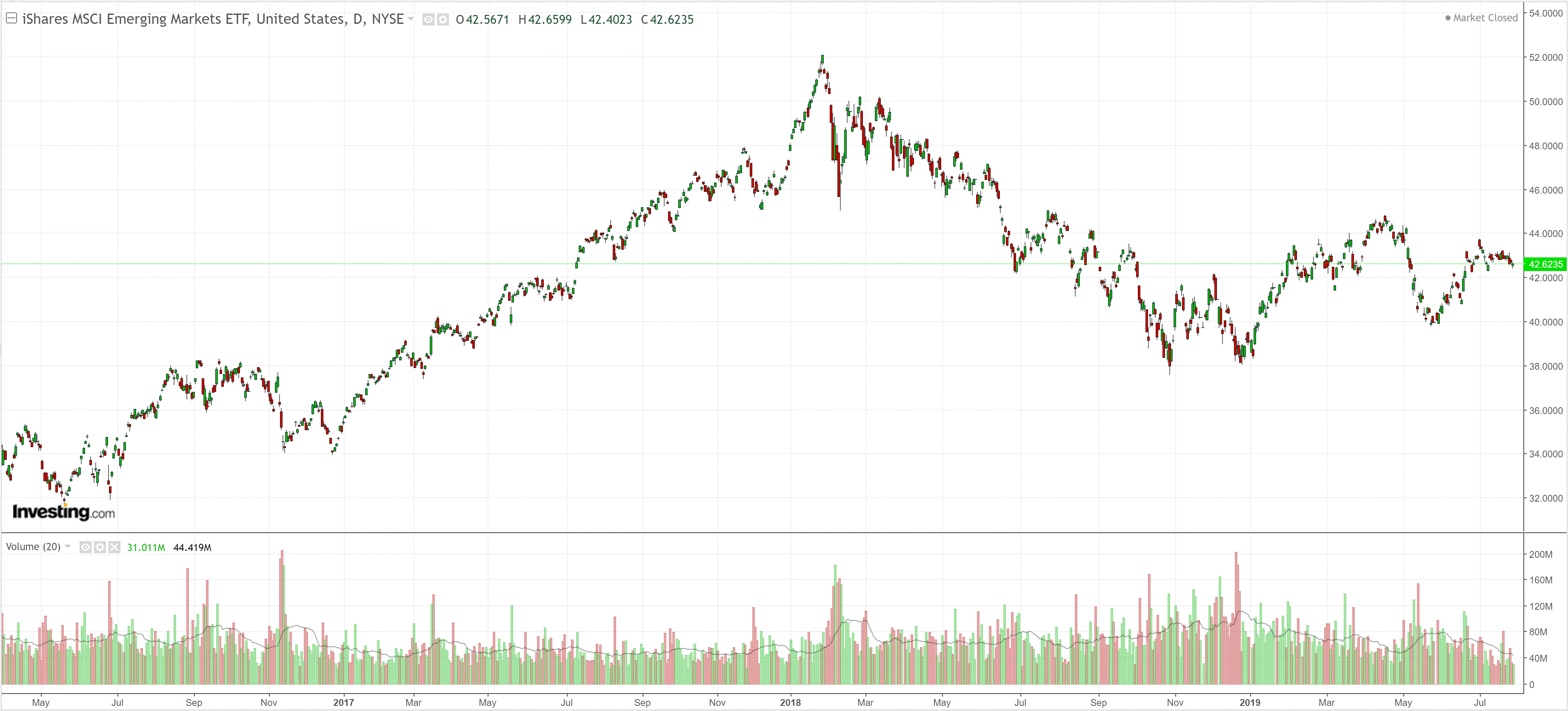 With junk: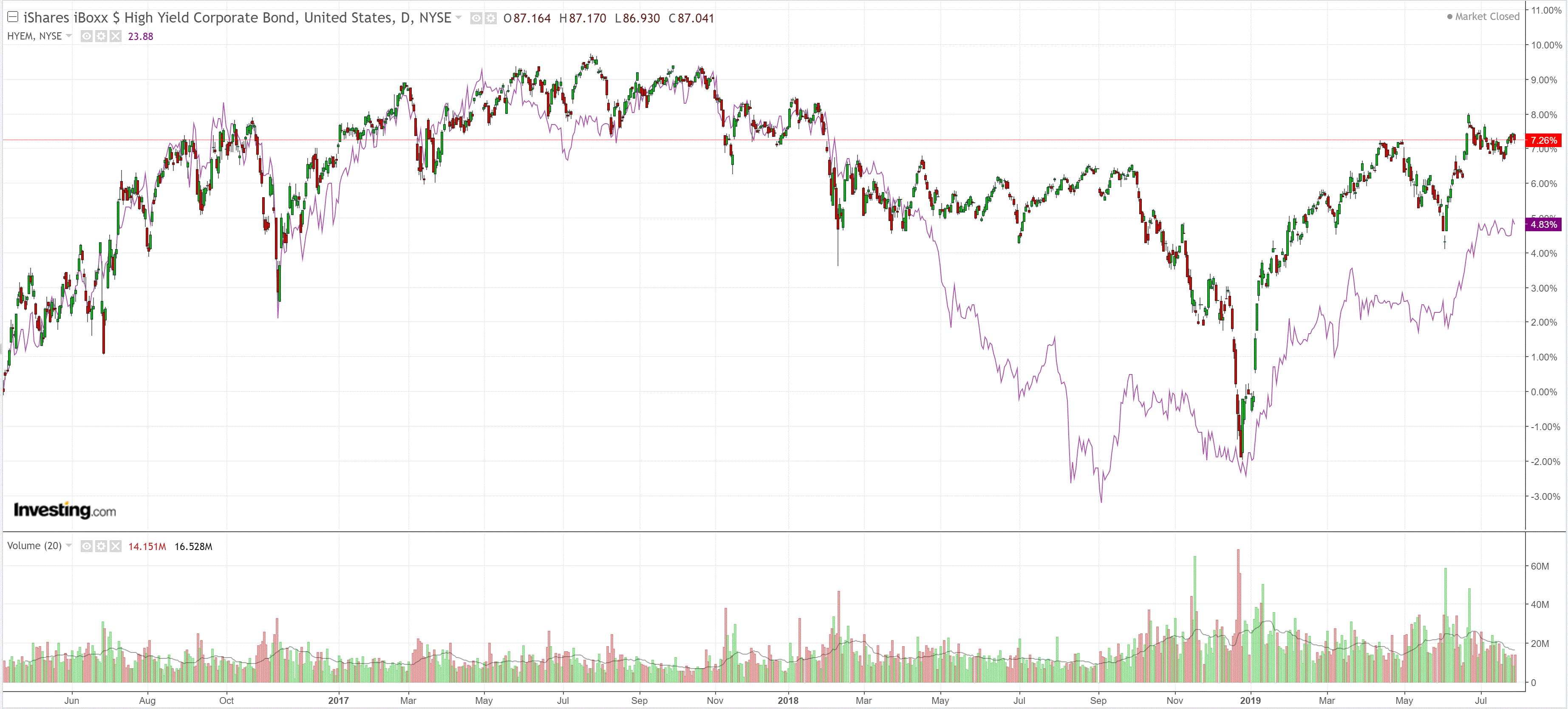 Despite a Treasury bid: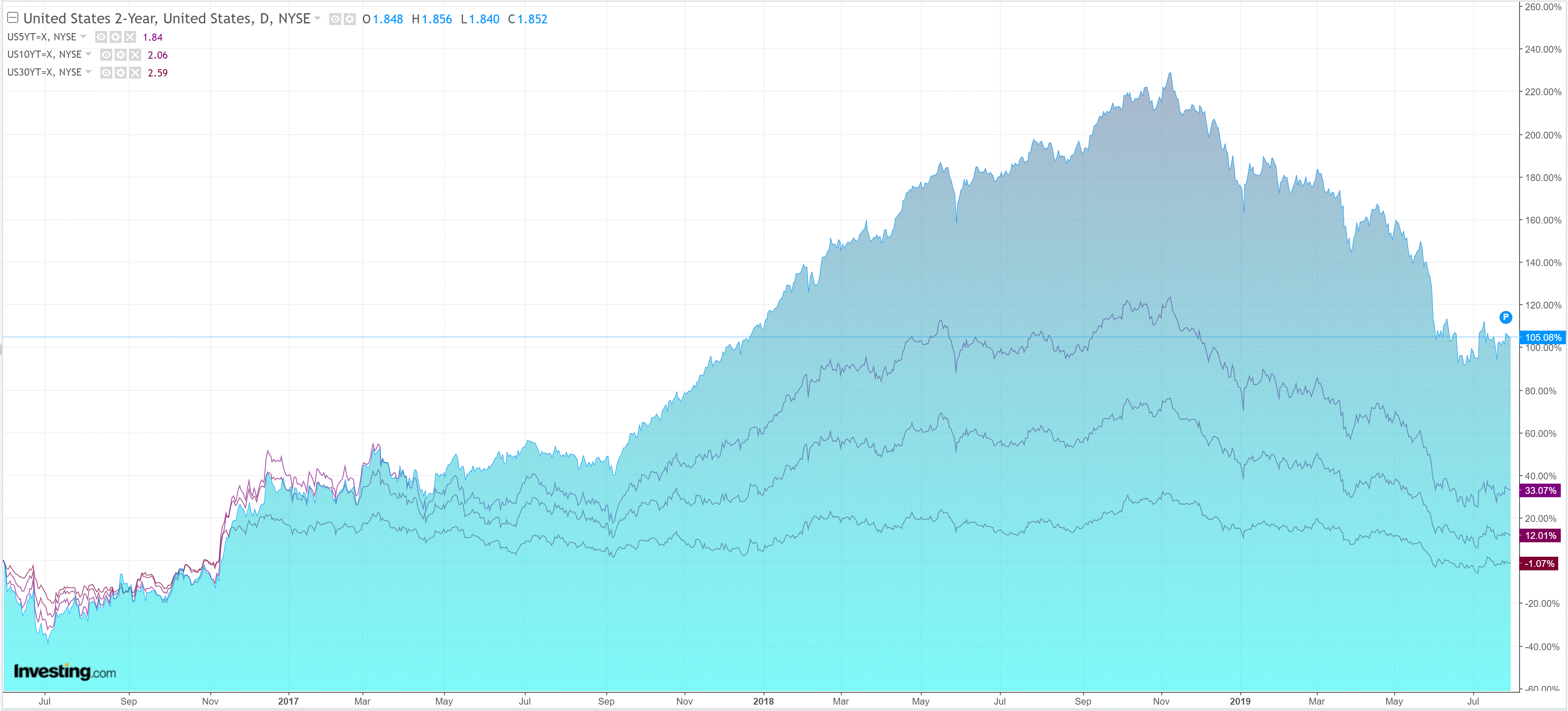 And bunds: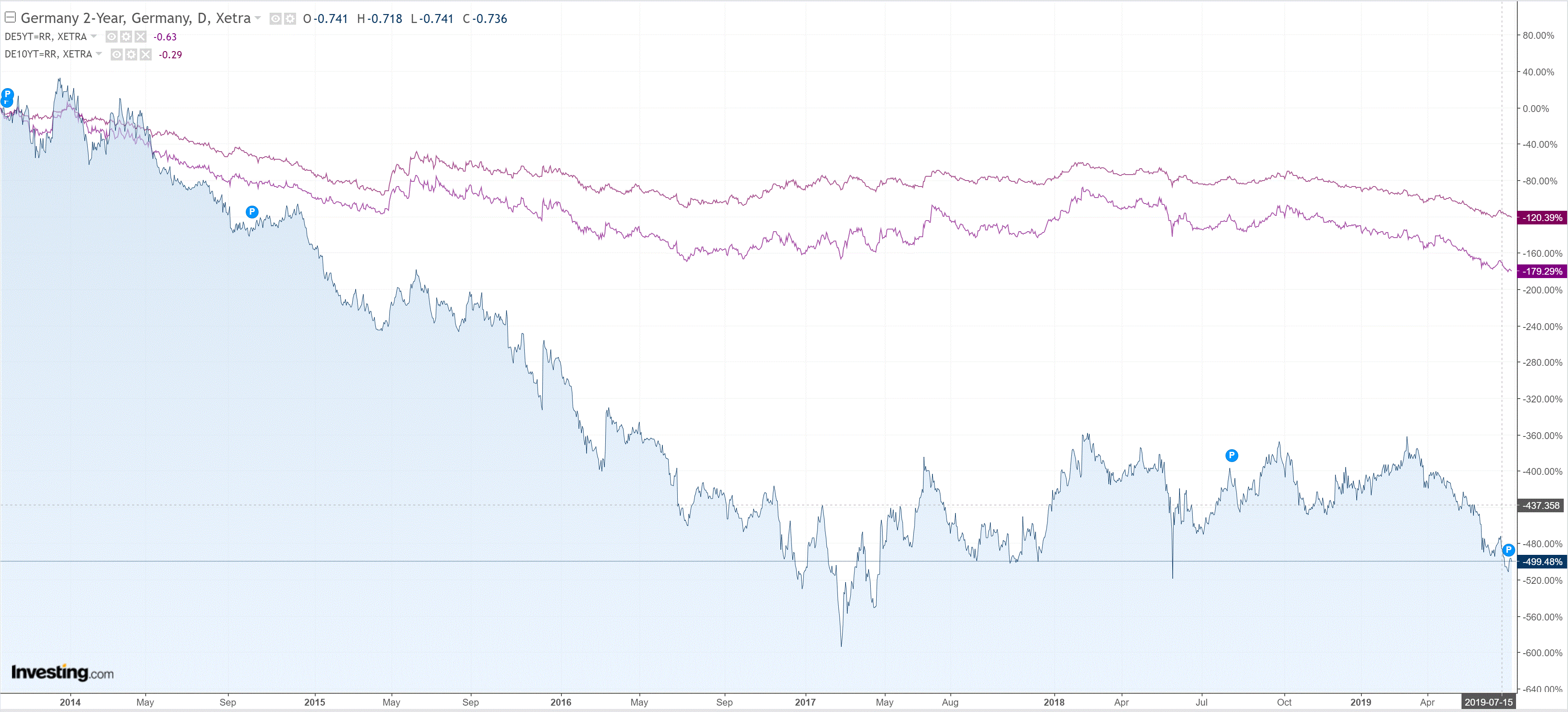 And more record highs for Aussie bonds: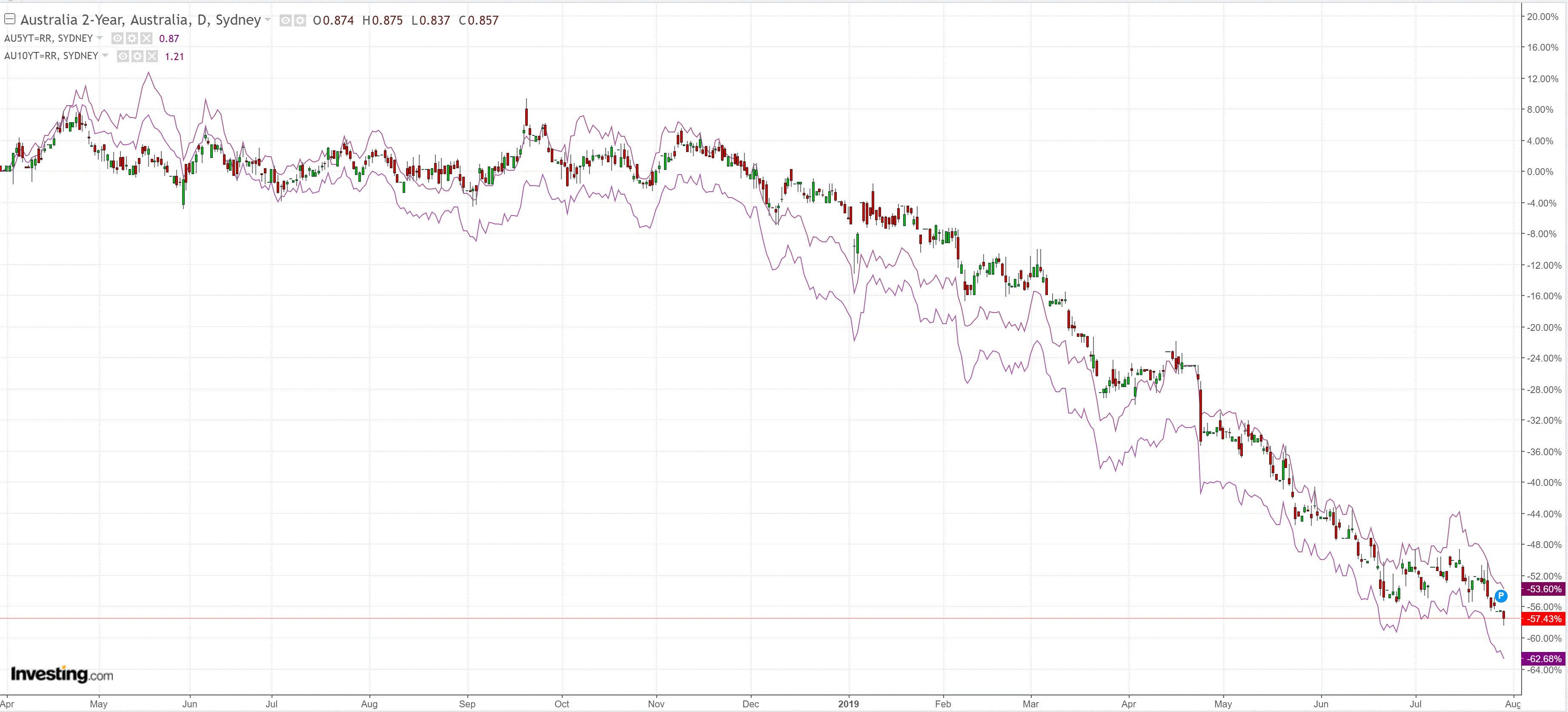 Stocks eased a touch: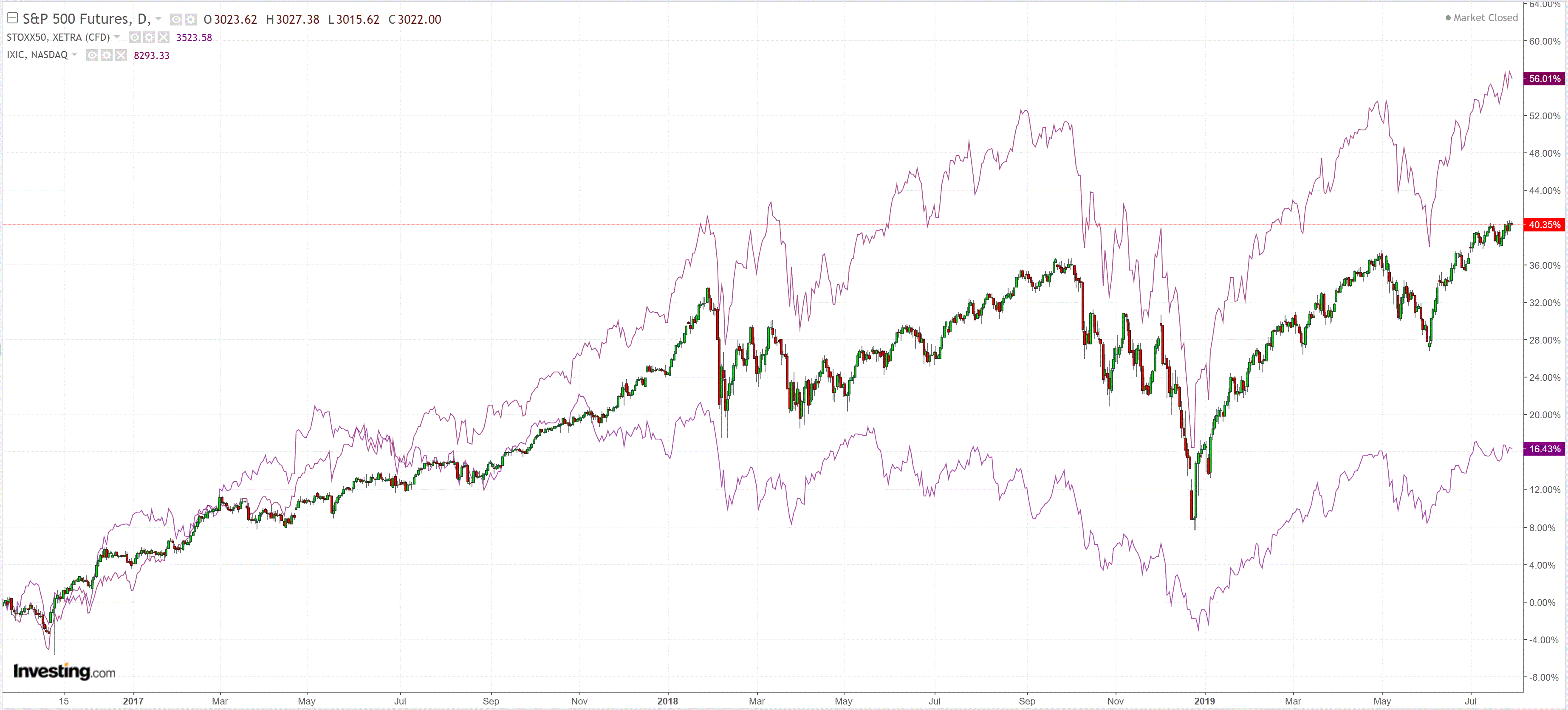 Westpac has the wrap:
Event Wrap

The Dallas Fed manufacturing index bounced back in July, largely as expected to -6.3 from -12.1, an encouraging stability signal though the index remains well down on the thirteen-year highs hit in mid-2018.

No-deal Brexit risks continue to grow. Newly installed UK PM Boris Johnson said he would not commence talks with EU leaders until they first agreed to reopen the deal struck with predecessor PM May, and scrapped the backstop guarantee for the Irish border. Senior UK officials also said that ministers were "turbo-charging" no-deal preparations.

Event Outlook

NZ: Building permits for June are expected to have risen just 0.2%.

Australia: Jun dwelling approvals are anticipated to increase 0.2% (Westpac fcs -1.0%), having shown signs of levelling out in recent months after a 30% drop in 2018.

Japan: The BOJ policy meeting is expected to be on hold. The focus will be on forecast updates and guidance at Governor Kuroda's press conference with the BOJ having expressed willingness to increase stimulus if their baseline expectation disappoints, albeit caveated by wariness on the side effects of even easier policy.

Europe: Jul European Commission business surveys are expected to show declines in both economic confidence and the business climate indicator. Q2 French GDP is seen to increase 0.3%, ahead of the Euro Area release on Wednesday.

US: Jun personal income is expected to lift 0.4% with personal spending up 0.3%, while annual core PCE inflation rises to 1.7%yr from 1.6%yr. Jul Conference Board consumer confidence is expected to remain buoyant, edging up to 125.0 from 121.5. US trade representative Lighthizer and his team will meet their Chinese counterparts in Shanghai for two days of trade talks.
So, can the Fed be dovish enough to reverse the free fall in EUR and GBP? Tim Duy does not think so:
It's fairly clear that the Fed will cut interest rates this week, and also fairly clear that they will choose 25bp over 50bp. More interesting will be the guidance we get from the statement and Powell regarding the direction of policy going forward.Where we sit now is that the flow of economic data remains insufficiently pessimistic to justify a rate cut relative to historical Fed policy moves. Yes, data has softened such that the economy appears to be growing closer to trend. No, data does not indicate impending recession. It is not evident to even everyone at the Fed that a rate cut is even necessary.

Moreover, relative to a few months ago, economic pessimism should have lessened. It should be evident at this point, for instance, that any fears of flagging consumer spending were overblown. And, similarly, the housing market is not heading into a 2006 downturn. Some downside risks have even been not just minimized (seems the trade wars are at a bit of a lull) but outright eliminated. The spending deal both nearly eliminates fiscal drag next year while ensuring that the debt ceiling will not be an issue for two years. Assuming the Fed had fiscal drag built into their forecasts, those forecasts will need to be upgraded accordingly.

Still, the Fed will follow through on the rate cut for a number of reasons.It was about risks not about the data, and those risks have not entirely dissipated. Brexit remains an open, festering wound ready to go gangrene. And the lull in the trade wars is almost certainly temporary. Some of the improvement over the first half of the year is attributable to the Fed's dovish shift: Financial markets remain buoyant and mortgage rates are lower. The Fed will need to follow through with a rate cut to maintain those benefits. With inflation low, the risk of policy error from a 25bp cut is fairly low. And the Fed's forecasts indicate downward revisions of the natural interest rate, hence policy was tighter than they thought. More succinctly, the December rate hike was simply a small mistake than needs to be rectified.

Unless the data deteriorates or risks intensify, the case for future rate cuts quickly weakens.Powell and his colleagues will need to take this into account in their communications, beginning with the press conference. Powell needs to repeat the mantra that the Fed will aim policy toward sustaining the expansion to maintain a sufficiently dovish tone that keeps financial market participants thinking that rate cuts remain more likely than hikes. At the same time, however, he won't want market participants to get too far ahead of the Fed and thus will emphasize the data dependent nature of policy. There is lots of room for error when trying to thread this needle, so the press conference might be volatile as Powell flips between the risks and the data.

I think the Fed will be attempting to signal that absent a substantial improvement in the data, the ongoing risks will justify another 25bp rate cut (it would still be a hard sell for the hawks) and that this is expected to be that baseline scenario. But anything more than another 25bp requires more evident deterioration in the outlook or an intensification of risks.Powell will not want to feed into any perceptions that the Fed is already locked into 75bp or more of easing.

Bottom Line: Look for 25bp from the Fed this week with a signal that they are prepared to do more but that they remain data dependent and are not committed to a specific policy path.
That seems right to me. If so, tomorrow we may see a brief curve steepening and a higher DXY plus lower still AUD. So long as the US economy outperforms, and two insurance cuts should promote that still further, then DXY has only one way to go. Add the European growth free fall and intensifying Brexit risk, which is a reminder of the bad old days of structural EUR weakness, and capital must dodge Europe for the time being, with the risk of a flood of it if Britain crashes out of Europe.
In short, the AUD is being Brexited as well as DXY dominates and external risk rises for all.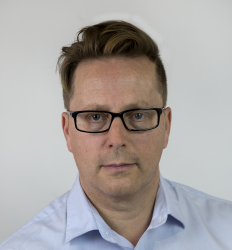 Latest posts by David Llewellyn-Smith
(see all)