by Chris Becker
While the latest new car sales figure highlighted a systemic underyling economic weakness in Australia, there is a glimmer of hope: electric!
From the VFACTS data by Jason Murphy at The New Daily comes this interesting chart: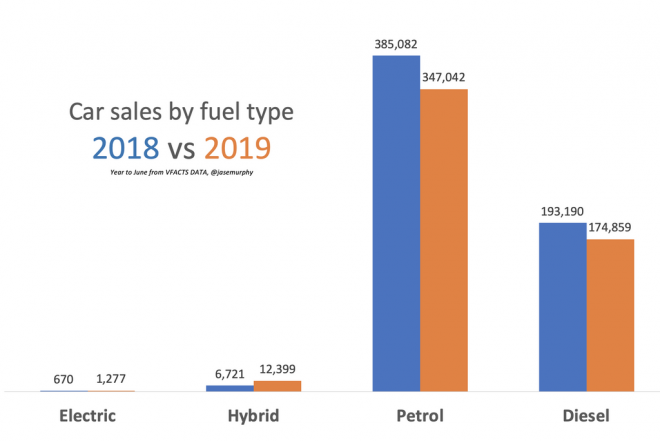 Electric-only car sales have nearly doubled from barely nothing to something to talk about, while hybrid care sales have achieved a similar lift but with more relative punch, as over 12,000 new hybrids hit the streets vs. 60000 less gas guzzlers. By the way, this figure only includes dealer sales and hence does not include Tesla deliveries, which bypass the traditional dealer floor. The Tesla Model 3 is just about to hit the Australian road in a few months in a big way, possibly doubling the total number of new electric cars sold each year.
All this while electric/hybrids get almost zero help from government or local subsidies, with the higher cost cars (due to the battery investment) inflicted by a ridiculous luxury tax and charging stations provided by Tesla and other manufacturers at their own cost, while gas guzzling SUVs still get tariff protection.
Contrast to the darling of the electric transition crowd: Norway, where nearly HALF of all new car sales are completely electric.
From IE:
Based on data released by the Norwegian Road Federation,  48.4% of the vehicles sold in the first half were powered by a completely electric engine. That's an increase from 31.2% for all of 2018.

According to data from the International Energy Agency (IEA), Norway electric car market share stood at 39% in 2017, while Iceland was in second place with 12% share and Sweden rounded out the top three with 6% share.
There is an obvious reason why electric cars do so well and its a combination of policies that both promote a transition towards clean energy consumption but also securing the nation against external threats from the oil complex. This stems from a completely different mindset in how to lead and protect your country, because unlike Australia, the Norwegian government retains nearly all of the profits of its fossil fuel extraction industry and then re-invests for longer term national and strategic goals. Versus pissing it up against a wall on higher house prices and big bonuses for BHP businessmen.
By heavily subsidising electric vehicles, plus the construction of charging infrastructure and of course, producing local electricity using renewable energy, Norway will be insulated from any future climate change crisis or need to tap into petroleum reserves due to an external threat to oil supply.
Say, like if Iran blocked the Straits of Hormuz or China flexed its muscles around the Straits of Malacca.
Australia in contrast, has barely any strategic supply at hand.
From the ABC:
According to the Government's Australian Petroleum Statistics, Australia has 26 days of petroleum supply, 28 days of jet fuel, and 21 days of diesel.

We are the only member country to fail to meet our International Energy Agency obligation of 90 days' supply of oil stocks — and not just by a whisker.

While we can't replicate the boom in oil production the US has managed, there are other things we could have done, and could still do, to reduce our vulnerability.

We could build up domestic stockholdings, protect some domestic refining capacity, and more proactively encourage research and uptake of alternative energy sources.

All of these things have benefits beyond a Middle East scenario, and yet previous governments have consistently refused to factor strategic considerations into the issue of fuel supply, instead preferring short-term economic rationalism.
Indeed. Instead of leading the nation into the 21st century, successive Australian governments have clung to the notion that "she'll be right mate" while ignoring the tail risks inherent in being wed to a fossil fuel economy. Beyond the feel good nature of driving electric cars, Australian roads should be full of them so we are not beholden to fight wars alongside the US in securing the Persian Gulf or worrying about a potential Chinese blue water navy cutting off our lines of communications to the north.
Given there is no domestic car industry to protect any longer as the economy splutters along, real investment by the Federal Government in electric infrastructure – including power generation to replace coal power plants, electric car chargers up and down the East coast, and subsidies for electric vehicles – would be a long lasting investment in the country's security and future.
Latest posts by Chris Becker
(see all)