Roy Morgan has released new research showing that Australia's tourism industry is growing only because of strong population growth:
It's Official: Australian population growth since 2000 is powering the travel industry as proportionally fewer Australians are taking a holiday today than two decades ago.

In 2000/01 some 10.7 million Australians each year had at least one holiday, including 10.3 million who took a domestic holiday and 2 million who travelled overseas on holiday. Some Australians took both domestic and overseas holidays.

Today, around 13.7 million Australians take at least one annual holiday, including 12.6 million taking a domestic holiday and 5.5 million travelling overseas. This represents an increase of 3 million Australians (+28%) travelling on holiday compared to 2000/01. However this increase in travellers is driven entirely by population growth.

Our propensity to travel is less than it was in 2000/01 – the proportion of Australians taking trips has dropped from 69.3% in 2000/01 to 66.8% today, down 2.5ppts. We are taking shorter holidays and fewer holidays each.

The chart below shows the Australian population aged 14+ has grown by 5.1 million over the past two decades representing an increase of 32.8% and out-pacing the growth in holidaymakers.

A closer analysis also shows that while Australians taking domestic holidays has only increased by 2.3 million (+22.8%) since 2000/01 far more Australians are taking more expensive overseas holidays now than two decades ago, up by 3.5 million, and more than doubling – up by 169.3% since 2000/01.

Michele Levine, CEO, Roy Morgan, says:

"Australia's strong population growth over the last two decades is the single biggest factor driving the growth in travel. Australia's population during the last two decades has grown from 15.5 million Australians aged 14+ in 2000 to 20.6 million today, an increase of 5.1 million (+32.8%).

"This rate of population growth exceeds the relative growth in Australians taking holidays, whether domestic or overseas, which has increased by 3 million to 13.7 million, up by 28%.

"Comparing the growth in Australians taking domestic holidays with those taking overseas holidays highlights the changing travel patterns of Australians. Proportionally fewer Australians are taking holidays, now 61.2% of Australians have taken a domestic holiday in the last year compared to 66.3% two decades ago – a fall of 5.1ppts.

"However overseas holidays are booming and over a quarter of Australians (26.5%) have taken an overseas holiday in the last year, up from only 13.1% in 2000/01 – more than doubling.
This is classic partial analysis. Separate data from the ABS also shows that Australia is running a strong tourism deficit, with around 2 million more Aussies holidaying overseas than overseas visitors coming to Australia: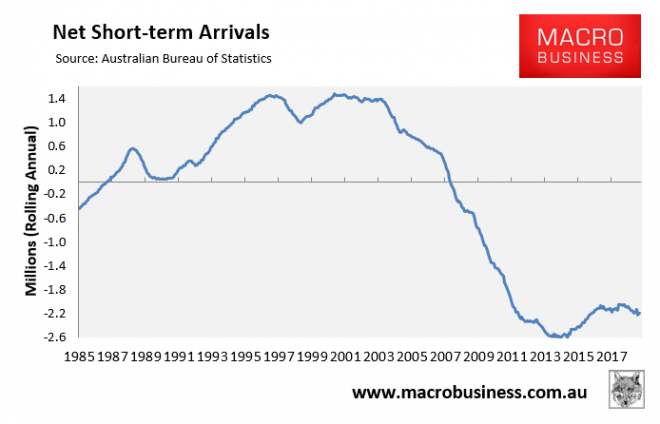 Notice the turn since the Australian dollar began to fall in 2011. Yet it is clearly not enough. It's remarkable that amid a supposed Chinese inflow boom the sector still can't make money. The industry needs a much lower currency to prosper which, ironically, is prevented by the inflow of immigrants which artificially props up domestic demand and crowds out external.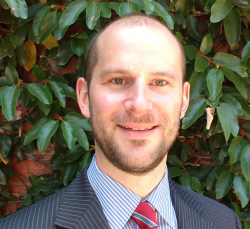 Latest posts by Leith van Onselen
(see all)