After last week's final auction clearance rates for Sydney and Melbourne hit two-year highs, CoreLogic's preliminary auction clearance rate for the weekend's auctions rose above 70% for the first time in over a year: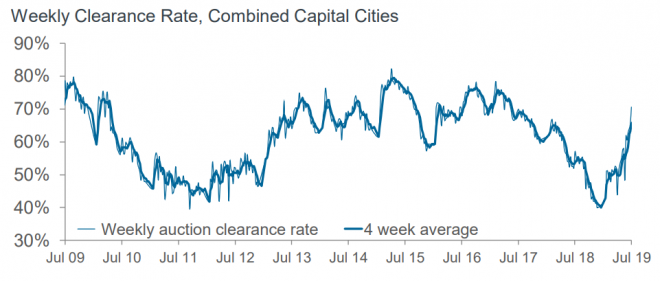 However, auction volumes have fallen by more than a quarter – 901 aucti0ns were held over the weekend versus 1,257 in the same weekend last year:

According to CoreLogic:
Capital city auction markets record the highest preliminary clearance rate in over a year…

There were 901 homes taken to auction across the combined capital cities this week returning a preliminary clearance rate of 70.6 per cent. Last week saw 847 homes taken to auction with the final clearance rate coming in at 65.4 per cent, the first time we have seen a final clearance rate hold above 65 per cent since March last year.
When the final results come in on Thursday, the national clearance rate will fall into the high-60s, whereas Sydney's will fall into the mid-70s and Melbourne's to the high-60s.
Nevertheless, the rising clearance rate is pointing to firming prices across both cities: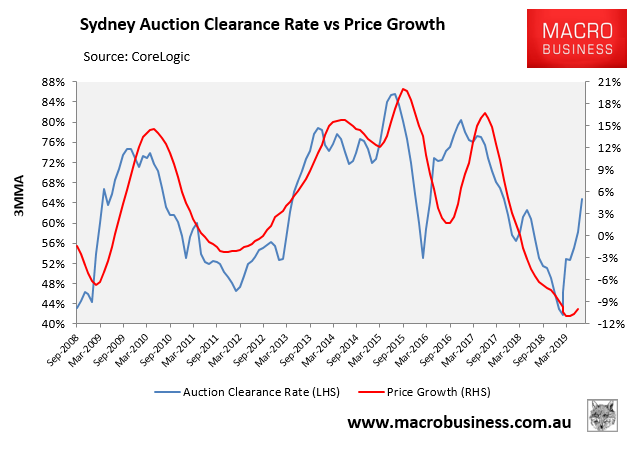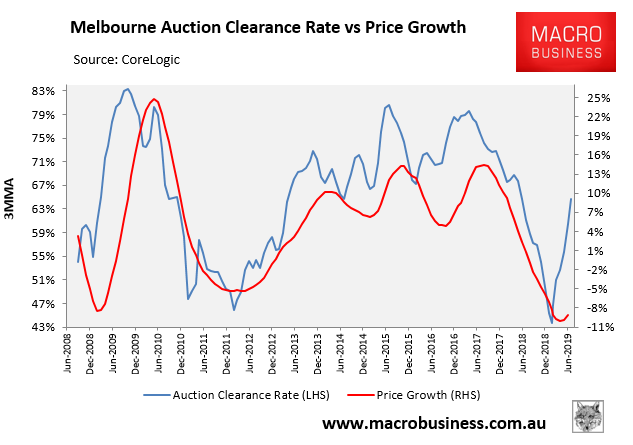 Leith van Onselen is Chief Economist at the MB Fund and MB Super. Leith has previously worked at the Australian Treasury, Victorian Treasury and Goldman Sachs.
Latest posts by Leith van Onselen (see all)