by Chris Becker
APRA is ordering the remainder of Megabank to hold a little more capital in reserve in case of bad things. From Martin North:
APRA has written to ANZ, National Australia Bank (NAB) and Westpac advising of an increase in their minimum capital requirements of $500 million each. The capital add-ons will apply until the banks have completed their planned remediation to strengthen risk management, and closed gaps identified in their self-assessments.

The increase in capital requirements follows APRA's decision in May last year to apply a $1 billion dollar capital add-on to Commonwealth Bank of Australia (CBA) in response to the findings of the APRA-initiated Prudential Inquiry into CBA…

APRA Chair Wayne Byres said: "Australia's major banks are well-capitalised and financially sound, but improvements in the management of non-financial risks are needed. This will require a real focus on the root causes of the issues that have been identified, including complexity, unclear accountabilities, weak incentives and cultures that have been too accepting of long-standing gaps.
More wet lettuce stuff from APRA.
All three banks have responded in kind that this extra $500 million would lower their Tier 1 capital ratio by a few basis points, not enough to hit dividends and still an improvement on previous years: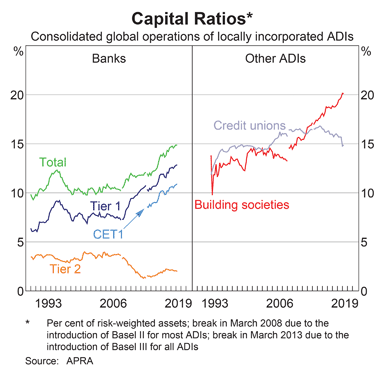 But that implies the bank asset's are materially improving, which they aren't as the economy slows: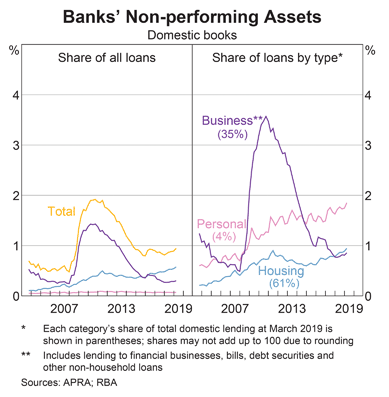 This is really just window dressing as profitability remains obscenely high and weasel words from bank executives that they are "improving delivery of service" while doing nothing to reduce the sovereign risk their massive mortgage books have on the country.
APRA needs to do a full root and branch assessment of Megabank's "assets", lending standards and risk culture.
Bank share prices have barely moved – relatively speaking – on the new charges, with only ANZ down by 1% or so as the rest of the market floats along.
Latest posts by Chris Becker
(see all)