The owners of Sydney's Mascot Towers apartments, which was evacuated over the weekend amid severe cracking, have been given until 1 August to pay a special levy worth thousands of dollars for each unit owned. From SBS News:
A document from strata management company Strata Choice, formally advising owners of a meeting on Thursday, reveals they will need to pay a special levy of $1.1 million, equating to thousands of dollars per unit, by August 1.

The document breaks down costs, without GST, into $254,000 for propping, $250,000 for engineering, $176,000 for legal fees, $100,000 for the estimated cost of the evacuation, $70,000 for new carpets, $5000 for a media consultant and others…

An update from building management on Monday night reiterated that a claim on the building's insurance policy to fund temporary accommodation had been knocked back.

It's been reported that the building is too old for warranty cover.
Stephen Goddard from the Owners Corporation Network claimed that high-rise faults are widespread and many owners are facing hefty remediation bills, whereas apartment expert and columnist, Jimmy Thomson, claims newer buildings are being built to lower standards and have some kind of problem. From The ABC:
Stephen Goddard, spokesman for the Owners Corporation Network [said]… "Consumers have nowhere to go in these sorts of situations, there's nobody for them to sue, there's nowhere for them to turn," Mr Goddard said.

"People have more consumer protection buying a fridge than a million-dollar apartment"…

Mr Goddard said 80 per cent of all new apartment buildings were constructed with structural defects, many of which do not appear until the six-year warranty has passed.

"Anybody looking to purchase in a building less than 10 years of age is foolish because the defects will not have yet surfaced," he said.

"Don't buy anything less than 10 years old. You never buy off the plan, it's unsafe to do so," he said, adding that buyers should not assume any modern apartment building had been built to code"…

Apartment expert and columnist, Jimmy Thomson, said many new buildings seemed to be constructed to lower standards as builders and developers attempt to cut costs.

"We all know that every new apartment block in Sydney has problems of some sort — most of which can be fixed."
What an unmitigated disaster. When viewed alongside the proliferation of flammable cladding, Australia is possibly facing a systemic problem effecting potentially thousands of apartments built this century: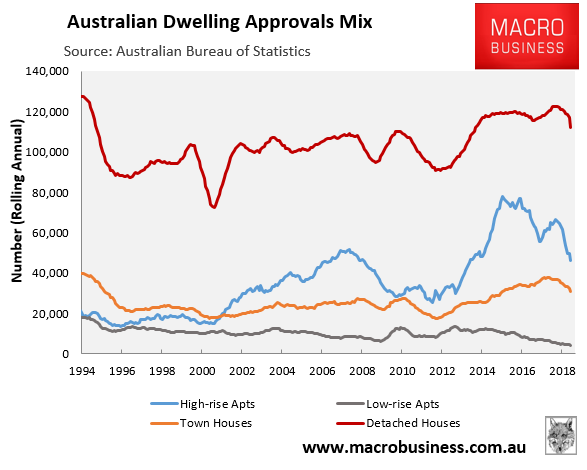 It's time for a Royal Commission into building regulations, standards and practices. The whole development system needs to be turned upside down.
Leith van Onselen is Chief Economist at the MB Fund and MB Super. Leith has previously worked at the Australian Treasury, Victorian Treasury and Goldman Sachs.
Latest posts by Unconventional Economist (see all)