The Australia Institute (TAI) has released new research estimating that the final stage of the Morrison Government's unlegislated income tax plan, stage 3(a) will, over the five years after it is introduced in 2024-25, deliver a $33 billion benefit to those earning more than $180,000:
Key findings:
Those earning more than $180,000 will get $33 billion benefit from stage 3(a) of the tax cut over the five-year period from when it first starts in 2024-25. Those earning over $200,000 will get $26 billion over the same period.
83% of the Stage 1(a) tax cut goes to middle-income taxpayers. Low-income taxpayers get 13% and the remaining 4% goes to high-income taxpayers.
The proportion of the benefit flowing to middle-income earners falls from 83% in stage 1(a) to 61% in stage 2(a), while high-income taxpayers share goes from 4% to 26%.
Stage 1(a) is expected to cost about $15 billion over four years from 2018-19 to 2021-22.
Stage 3(a) is expected to cost $95 billion over five years from 2024-25 to 2028-29.
The below chart summarises the distribution of the tax cuts by stage and income: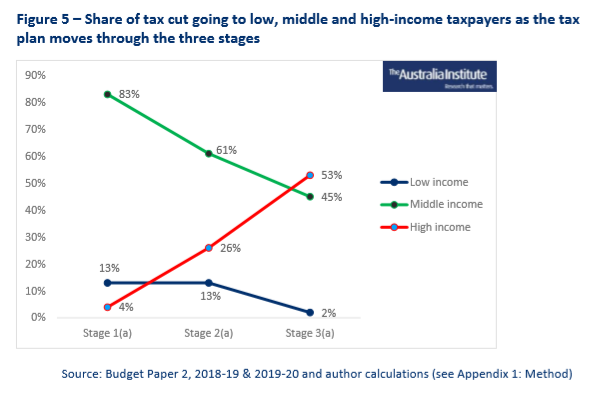 These tax cuts will take Australia straight down the path of the very wealth and income division that is destroying Western politics.