Back in April, the Committee for Adelaide demanded that the appallingly low salary floor for 'skilled' migrants be lowered to reduce costs for business:
Committee for Adelaide member and prominent migration agent Mark Glazbrook told parliament "a successful migration program… needs to be based on demand and it needs to be based on the relevant industry settings" – something the proposed SA migration agreement was not…

He suggested the threshold salary for participants was too high, noting the existing minimum salary level for temporary skilled migrants was $53,900…

"That is above what a lot of people get paid in regional areas and in different occupations," he said…

He said a "big issue" with the SA plan was the lack of a clear pathway to permanent residency…
The Committee for Adelaide got its wish, with the Marshall Government inking a deal with the federal government to bring migrant slave labour into South Australia:
A migration deal struck by South Australian Premier Stephen Marshall and Prime Minister Scott Morrison has come under fire after it was revealed overseas workers could get a visa older, on 10 per cent less wages and with lower English requirements.

Mr Marshall and Mr Morrison signed a special visa deal for the state, called a designated area migration agreement or DAMA, as part of the Premier's push to grow the South Australian population and address skills shortages in regional areas…

Opposition leader Peter Malinauskus [said]… migrants could be paid 10 per cent less than the current yearly threshold for skilled migrants — $53,900 — in a move he said will make it harder for locals in regional SA to get a job…

"The actual concessions vary from occupation to occupation, but in general terms they can include up to a 10 per cent reduction in the salary threshold which is nationally set at $53,900″…

"Concessions also include a reduction in the English language requirement, where appropriate, and increasing the age limit from 44 to 50…

Business SA, the Property Council, business leaders and regional mayors have all welcomed Mr Marshall's push to deal with skills shortages in regional parts of the state.
Migration SA then released details of this DAMA, with 174 occupations approved and "concessions such as English language, salary, skills and experience and age to facilitate pathways to permanent residency… offered in a range of selected positions":
There are 60 occupations on the Adelaide Innovation and Technology Agreement which supports the Adelaide City Deal. These occupations provide employers in the defence, space, and advanced manufacturing and technology industries with the ability to access and retain a highly-skilled workforce…
Concessions offered on this Agreement address specific challenges including, attracting a skilled workforce by offering pathways for permanent residency in South Australia. Following the required period of time on a temporary skilled visa talented individuals may be enabled to meet permanent residency by accessing the age concession when applying for the Employer Nomination Scheme (subclass 186) visa, subject to the occupation and concession being on the DAMA occupation list at time of application…

There are 114 occupations on the South Australian Regional Workforce Agreement which provide employers in key regional growth industries of agribusiness, health and aged care, hospitality and tourism, mining and construction sectors with the ability to access and retain a skilled workforce…

Concessions for occupations vary and include:

Up to 10% reduction of the Temporary Skilled Migration Income Threshold (TSMIT), which is set nationally
English language concessions at IELTS (or equivalent in another accepted English language test) 4.5 with no less than 4.0 in any of the four test components
Skills assessment concession
Age concession to enable pathways to permanent residency.
SBS' resident Immigration expert, Chaman Preet, noted that the DAMA includes lower skilled occupations and provides pathways to permanent residency, thus will be very enticing for migrants:
'If we have a look at the list, there are various occupations which are very interesting. For instance occupations like Accommodation and Hospitality Management, Aged and Disability Care, Baker, Café and Restaurant Manager pro etc. provide pathways to permanent residency.

'Then there are occupations which normally may not lead to permanent residency through general skilled migration such as Dentist and Dental Assistant are available with skill concessions,' she told SBS Hindi…

"Concessions in English language, salary, skills, age and experience widen the opportunities for migrants," said Ms Chaman Preet.
Now, South Australia's Industry Minister, David Pisoni, is spruiking his plan for more skilled migrants to fill imaginary skills shortages across the state. From the Adelaide Advertiser:
As two new specialised skilled migrant visas are set to begin on July 1, Mr Pisoni told The Advertiser the consistent feedback the State Government received from employers, particularly in rural and regional areas, was the significant challenge in attracting and retaining many skilled workers…

"This is holding back businesses which want to grow, but it also presents an opportunity for targeted skilled migration to help overcome this challenge. "By getting skilled workers into the regions and businesses that need them, we will see our state's economic growth boosted, our exports growing, and more jobs created"…

The Advertiser revealed last month SA employers would be able to recruit migrants with greater ease across more than 170 occupations – ranging from bakers and bar staff to biochemists and mathematicians – under the two new visa programs…
Just when you though Australia's 'skilled' migration settings couldn't get more farcical we get this.
The appallingly low $53,900 wage floor for 'skilled' temporary migrants is apparently too high, even though it is $32,700 below the current average full-time Australian salary of $86,600, as well as way below the median full-time wage of $68,620, both of which comprise skilled and unskilled workers.
It is also unreasonable to expect migrants to be able to speak good English, and to come to Australia at an age where they can contribute for a decent period of time before transitioning to permanent residency, retiring, and claiming health and aged care benefits.
Nor does SA need more low wage migrants when its labour underutilisation rate is running at 14.8%, with underemployment above the 1991 recession: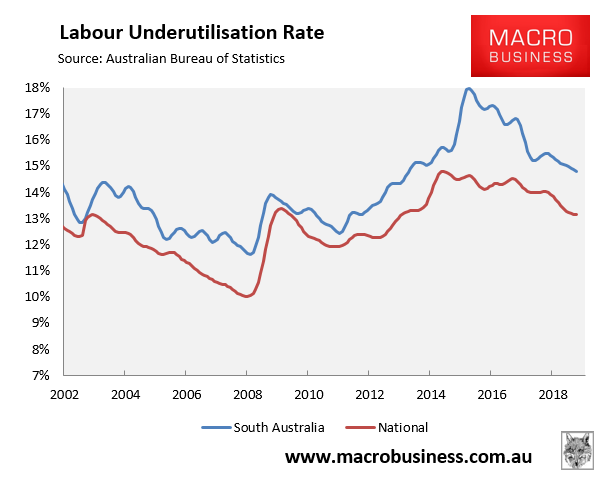 Clearly, the Committee for Adelaide and State Government wants to turn South Australia into a migrant slave special economic zone that is allowed to shred wages and employment standards with impunity.
Prepare for the crush-loading of Adelaide.