The latest Roy Morgan Research (RMR) unemployment estimate for May jumped 1.4% to 10.3%, and was also down 0.5% year-on-year: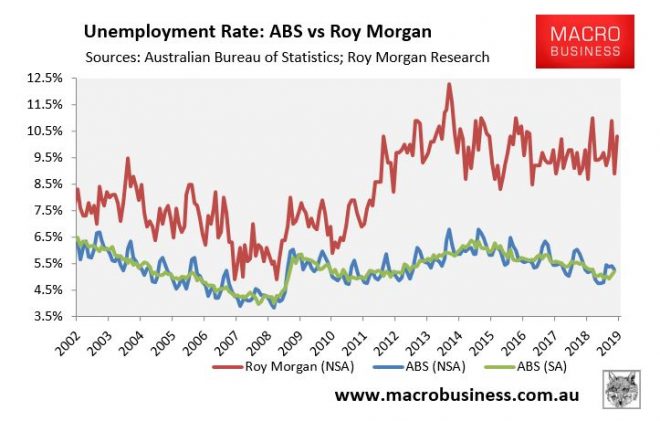 Labour underutilisation also rose to 19.5%.
Below are the key points from the release:
In May 1.37 million Australians were unemployed (10.3% of the workforce) with an additional 1.22 million (9.2%) now under-employed.
The workforce, which comprises employed Australians and those who are unemployed and looking for work, was down year-on-year by 166,000 to 13,295,000. The decreasing workforce was driven by a fall in employment which fell 219,000 to 11,926,000 in May 2019;
The fall in employment was driven by a significant decrease in part-time employment of 375,000 to 3,911,000. However, over the past year full-time employment was up by 156,000 to 8,015,000;
Now 1,369,000 Australians (10.3% of the workforce) are unemployed, up 53,000 on a year ago and the unemployment rate was up by 0.5%;
An additional 1,223,000 Australians (9.2% of the workforce) are under-employed, working part-time and looking for more work, a decrease of 28,000 in a year (down 0.1%);
Roy Morgan's real unemployment figure of 10.3% for May is significantly higher than the current ABS estimate for April 2019 of 5.2% although Roy Morgan's under-employment estimate of 9.2% is comparable to the current ABS underemployment estimate of 8.5%;
Roy Morgan's total unemployment and under-employment of 2,592,000 Australians (19.5% of the workforce) in May, an increase of 25,000 in a year (up 0.4%) seems large but the biennial ABS survey the 'Barriers and Incentives to Labour Force Participation' claims a comparable figure of 2.7 million Australians aged 18+ would like a job or to work more hours – including 1.1 million people the ABS said wanted a job but excluded from the Labour Force;
Of interest this is the fourth consecutive year that the unemployment rate has increased month-on-month in May after daylight savings ended the month before in April.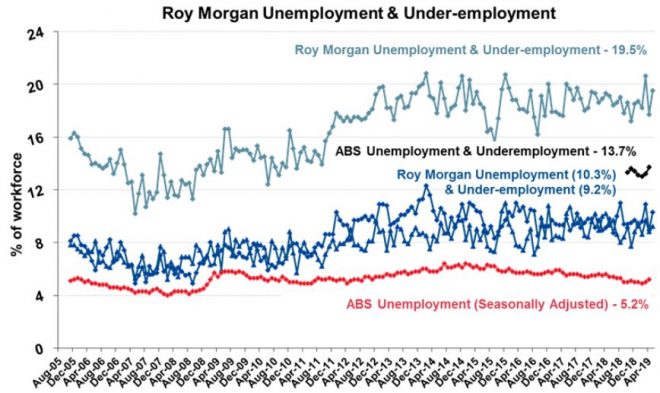 As explained each month, RMR measures employment differently from the ABS:
According to the ABS definition, a person who has worked for one hour or more for payment or someone who has worked without pay in a family business, is considered employed regardless of whether they consider themselves employed or not.

The ABS definition also details that if a respondent is not actively looking for work (ie: applying for work, answering job advertisements, being registered with Centre-link or tendering for work), they are not considered to be unemployed.

The Roy Morgan survey, in contrast, defines any respondent who is not employed full or part-time and who is looking for paid employment as being unemployed…

Since Roy Morgan uses a broader definition of unemployment than the ABS, it necessarily reports a higher unemployment figure. In addition, Roy Morgan's measure tends to be far more volatile, owing to the fact that it draws on a smaller sample than the ABS and is not seasonally adjusted.
The difference between the ABS unemployment rate (5.3% NSA as at April) and the unofficial RMR measure has narrowed to 5.0%: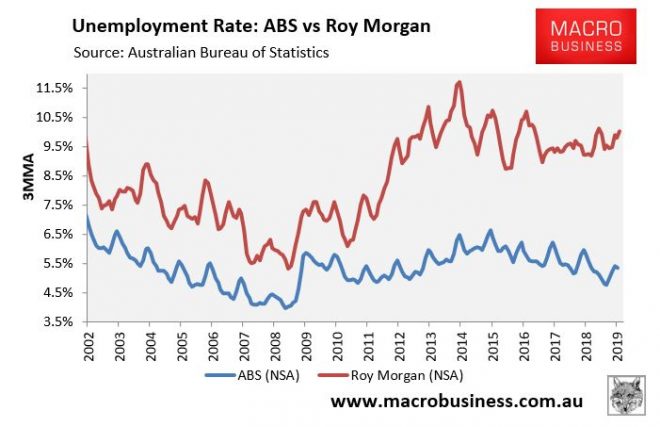 There's a bit of seasonality in this this rise. That said, the fact that unemployment rose 0.5% year-on-year suggests that the labour market is softening.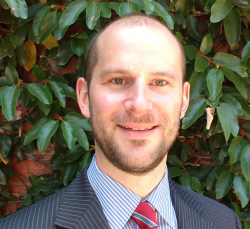 Latest posts by Leith van Onselen
(see all)