PwC tax partner Paul Abbey has suggested that state governments could progressively phase out stamp duty on residential property sales in favour of a tax regime based on land values. Abbey has proposed that buyers could opt to pay stamp duty immediately or pay an annual transfer duty replacement tax at a fixed rate of about 0.5%. Abbey notes that land tax is widely acknowledged as being more efficient than stamp duty. From The AFR:
"There's a strong recognition that land tax is a more effective means of taxing land than stamp duty and that it eliminates a lot of the defects, but the issue that everyone struggles with is how do you make an effective transition?

"One of the ways you could think of making that transition is making it optional.

"Across all the states and territories, you would find politicians in government and opposition who would say moving away from stamp duty and to land tax is what should be done."
Not a bad idea. All economists know that stamp duties are incredibly inefficient. Not only do stamp duties hinder labour mobility by discouraging workers from relocating closer to employment, but they also unnecessarily penalise people that move to homes that better suit their needs.
Treasury's discussion paper on tax was clear in its dislike of stamp duties and support of a broad-based land tax:
Conveyancing stamp duties… have a high excess burden because they discourage the exchange of residential and business properties…

Stamp duties are some of the most inefficient taxes levied in Australia… they are levied selectively on activities or products and are taxed on the total transaction value, rather than the 'value added' component. Such transaction taxes are more likely to discourage turnover of taxed goods, as taxpayers attempt to reduce or avoid paying the tax…

Because revenue growth is driven by property prices and numbers of transactions, stamp duties on conveyances are a highly volatile tax, with revenue collected from stamp duties on conveyances fluctuating by over 50 per cent in previous years. Stamp duties on conveyances add to the costs of buying and selling property and can discourage businesses from undertaking productivity enhancing purchases of existing land and capital. The outcome can be retention of land for relatively unproductive purposes…

Stamp duties also impact on consumers by increasing the cost of buying and selling houses. As house prices increase over time, unadjusted progressive tax rates also increase the tax burden associated with stamp duty. For example, the burden of stamp duty on a median-priced house in Melbourne has almost doubled over the past 20 years — from 2.67 per cent of the sale price in 1988 to 5.16 per cent in 2011.

This clearly adds to transaction costs and contributes to Australia's high (by international standards) costs of moving. These costs can discourage householders from moving to housing that best suits their needs and can be an important barrier to labour mobility. A number of reviews have found that, by dampening the number of house sales, stamp duties can also add to commuting times.183 Stamp duty can also be inequitable — those who move more frequently face higher costs than those who move less frequently, even if their circumstances are otherwise similar…

Modelling also suggests that broad-based land taxes, such as municipal rates, have a low economic cost (Chart 2.9). This is because land is immobile (unlike other capital) and cannot be moved or varied to avoid tax. The model applies this assumption to both domestic and foreign ownership of land. Land taxes paid by foreign and domestic landowners are only redistributed to the domestic households, providing a benefit to Australian households and generating a negative marginal excess burden for a broad-based land tax shown in the chart.
However, the transition from stamp duties to land taxes is politically difficult, and Paul Abbey's solution would smooth the way.
That said, only between 4% and 8% of the housing stock is transacted annually: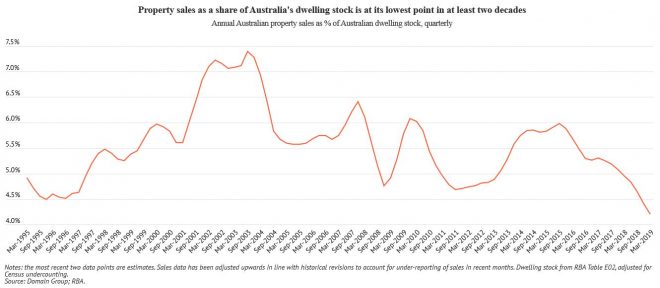 Given stamp duties are typically levied at around 5% of the purchase cost, it would be cheaper on average to pay them up front rather than choosing the 0.5% annual land tax option.
Nevertheless, giving home buyers the option is a good idea and would mitigate resistance to reform.