Former Productivity Commission chairman Peter Harris says the federal government should consider adopting key recommendations in the 'Shifting The Dial' report, which the Commission released in 2017. In particular, he has called for state governments to phase out stamp duties on property transactions in favour of a land tax, arguing that this would help to boost productivity and stimulate economic growth. Current PC chairman Michael Brennan has also advocated the abolition of stamp duty. From The Australian:
Scott Morrison is being urged to encourage the states to replace stamp duty with new land taxes in a move former Productivity Commission chairman Peter Harris says would drive a productivity explosion across Australia…

"Those reforms in particular would be replacing stamp duty over time with a land tax. It's a much more stable form of revenue with a much broader base than just housing sales. It would take a 10- to 20-year transition but the federal government could make a revenue guarantee by ­effectively borrowing on their ­behalf as they shift from stamp duty to land tax which would provide stability in their revenue base. Ratings agencies would completely understand the transfer and wouldn't treat this as ­unproductive debt" [Peter Harris said].
All economists know that stamp duties are incredibly inefficient. Not only do stamp duties hinder labour mobility by discouraging workers from relocating closer to employment, but they also unnecessarily penalise people that move to homes that better suit their needs.
Stamp duties are also highly inequitable. As shown in the below Domain chart, between 4% and 8% of the housing stock is transacted annually. As such, we have a bizarre situation where a small minority of the population are paying taxes that support services for the whole community – all for the privilege of moving to a home that better suits their needs!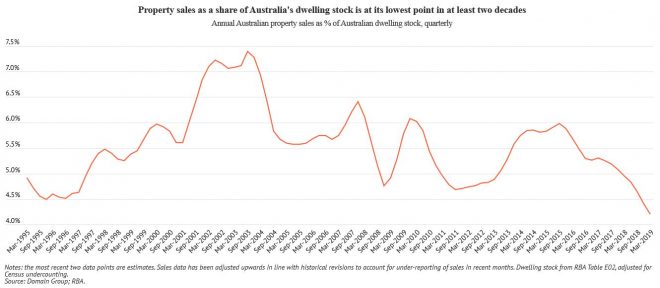 Moreover, the big swing in sales volumes makes stamp duty receipts highly volatile and pro-cyclical. When times are good, as they were between 2013-14 and 2017-18 (see next chart), states are flush with cash. But when the economy and housing market slows and stimulus is required (as is the case currently), states are more likely to be forced into austerity.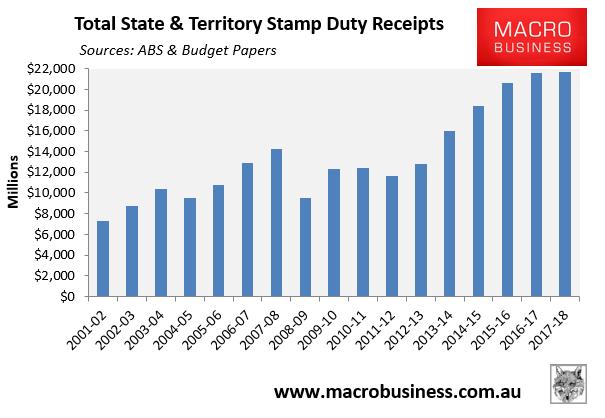 A broad-based land tax would also help make infrastructure investments self-funding for governments, since any land value uplift brought about through increased infrastructure investment (e.g. new roads, trains, etc) would be partly captured by the government via increased land tax receipts. Land taxes would also penalise land banking and vagrancy, effectively increasing the supply of land in the process and bringing new homes to market more quickly.
Treasury's discussion paper on tax was clear in its dislike of stamp duties and support of a broad-based land tax:
Conveyancing stamp duties… have a high excess burden because they discourage the exchange of residential and business properties…

Stamp duties are some of the most inefficient taxes levied in Australia… they are levied selectively on activities or products and are taxed on the total transaction value, rather than the 'value added' component. Such transaction taxes are more likely to discourage turnover of taxed goods, as taxpayers attempt to reduce or avoid paying the tax…

Because revenue growth is driven by property prices and numbers of transactions, stamp duties on conveyances are a highly volatile tax, with revenue collected from stamp duties on conveyances fluctuating by over 50 per cent in previous years. Stamp duties on conveyances add to the costs of buying and selling property and can discourage businesses from undertaking productivity enhancing purchases of existing land and capital. The outcome can be retention of land for relatively unproductive purposes…

Stamp duties also impact on consumers by increasing the cost of buying and selling houses. As house prices increase over time, unadjusted progressive tax rates also increase the tax burden associated with stamp duty. For example, the burden of stamp duty on a median-priced house in Melbourne has almost doubled over the past 20 years — from 2.67 per cent of the sale price in 1988 to 5.16 per cent in 2011.

This clearly adds to transaction costs and contributes to Australia's high (by international standards) costs of moving. These costs can discourage householders from moving to housing that best suits their needs and can be an important barrier to labour mobility. A number of reviews have found that, by dampening the number of house sales, stamp duties can also add to commuting times.183 Stamp duty can also be inequitable — those who move more frequently face higher costs than those who move less frequently, even if their circumstances are otherwise similar…

Modelling also suggests that broad-based land taxes, such as municipal rates, have a low economic cost (Chart 2.9). This is because land is immobile (unlike other capital) and cannot be moved or varied to avoid tax. The model applies this assumption to both domestic and foreign ownership of land. Land taxes paid by foreign and domestic landowners are only redistributed to the domestic households, providing a benefit to Australian households and generating a negative marginal excess burden for a broad-based land tax shown in the chart.
While the economic arguments for land taxes are clear, the politics is messy. Hence, this reform continues to wither on the vine.
Leith van Onselen is Chief Economist at the MB Fund and MB Super. Leith has previously worked at the Australian Treasury, Victorian Treasury and Goldman Sachs.
Latest posts by Leith van Onselen (see all)