Last night the EIA cut its oil demand outlook:
The US Energy Information Administration on Tuesday cut its outlook for 2019 oil prices by $3.50/b for WTI and $2.95/b for Brent in response to rising uncertainty about global oil demand growth.

Register Now EIA now expects Brent to average $66.69/b in 2019, down from $69.64/b in last month's outlook. It held its 2020 Brent outlook steady at $67/b.
EIA sees WTI averaging $59.29/b in 2019, down from $62.79/b in last month's outlook, and $63/b in 2020, unchanged.

"Demand-side concerns became the most salient issue during the past month and contributed to volatility and price declines for risk assets such as commodities and equities," EIA said in its Short-Term Energy Outlook.
The oil canary is dead in the cage amid rising production and inventories plus declining demand: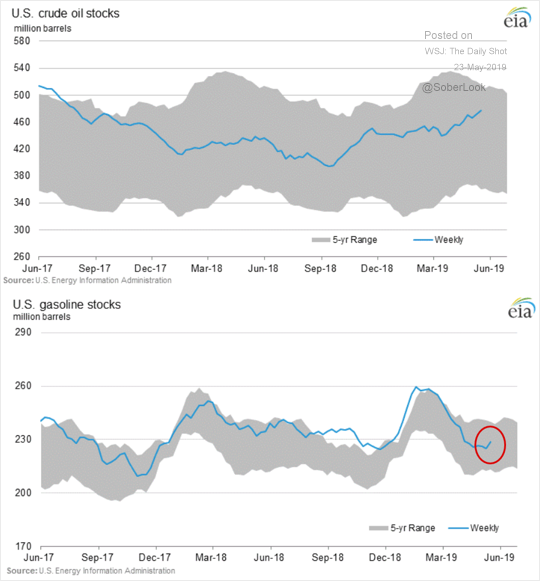 US production is off its face, via John Kemp: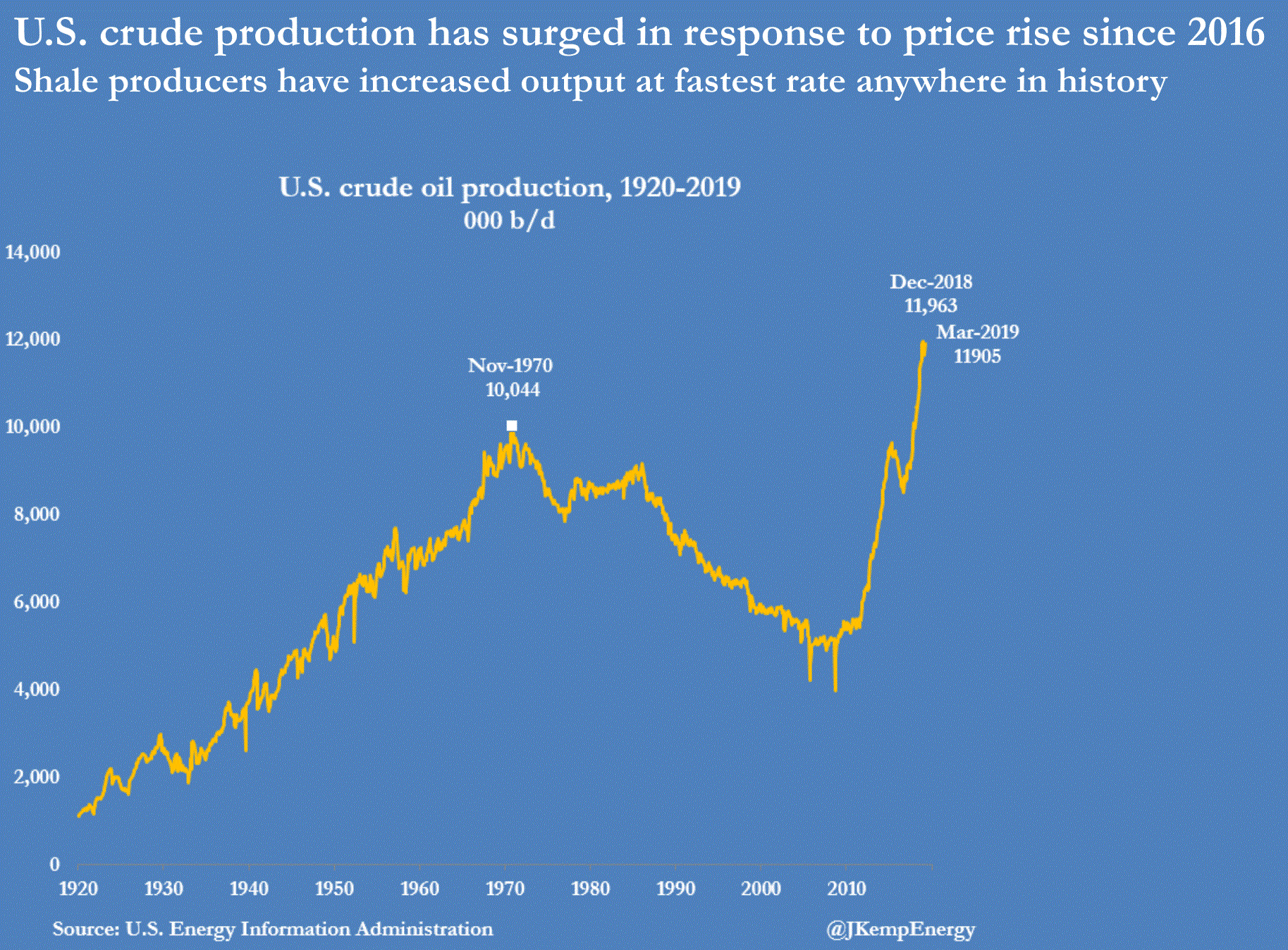 OPEC is snookered again, via Bloomie:
Uncertainty over oil supply and demand fundamentals is making it tougher for Russia and Saudi Arabia — the architects of the OPEC+ deal — to reconcile their differences over the framework for an extension of their output pact into the second half, according to Goldman Sachs Group Inc.

Current demand growth "neither will support exiting the production agreement, nor is bad enough to reinforce more cuts," Goldman Sachs Head of Commodity Research Jeffrey Currie said in an interview in St. Petersburg. Combined with uncertainty over Iranian exports and growing U.S. shale output, it "becomes increasingly difficult to know what production levels will balance the market."

"It's much easier to unify a position, when there is a supply disruption or a strong demand, then both Russia and Saudi Arabia want to grow production," Currie said on the sidelines of the St. Petersburg International Economic Forum on Friday. But now "it's a very middling environment. This makes those tensions between Russia and Saudi Arabia more apparent."
That will leave Saudi carrying the bag again. Will it cut unilaterally? Enemy Iranian oil is almost certainly still leaking out:
Iran's oil exports will greatly depend on how China will proceed with its crude oil imports from the Islamic Republic, if at all, after the U.S. removed all sanction waivers for Iranian oil customers, IHS Markit said in an analysis on Tuesday.

Despite the U.S. push to drive Iranian oil exports to zero, China is not expected to totally cut off its crude imports from Iran, according to Fotios Katsoulas, Liquid Bulk Principal Analyst, Maritime & Trade at IHS Markit.

…China's total crude oil imports dropped in May from a monthly record in April, as Chinese refiners drastically reduced Iranian oil imports after the end of the U.S. waivers and as some state refineries were offline for planned maintenance.

Seng Yick Tee, an analyst with Beijing-based consultancy SIA Energy, told Reuters that the key reason for the lower Chinese crude oil imports in May was the sharp drop in imports from Iran as the U.S. ended all sanction waivers for Iranian customers on May 2, including for Iran's biggest oil buyer China.

China has been Iran's ninth biggest oil supplier this year, down from the seventh spot last year, IHS Markit has estimated.

China has criticized the U.S. decision to end the sanction waivers and some Chinese refiners may continue to buy Iranian oil as the U.S.-China trade war deteriorates and Beijing could simply brush off the U.S. sanctions on Iranian oil.
Which may put Saudi off but it has the power to do it: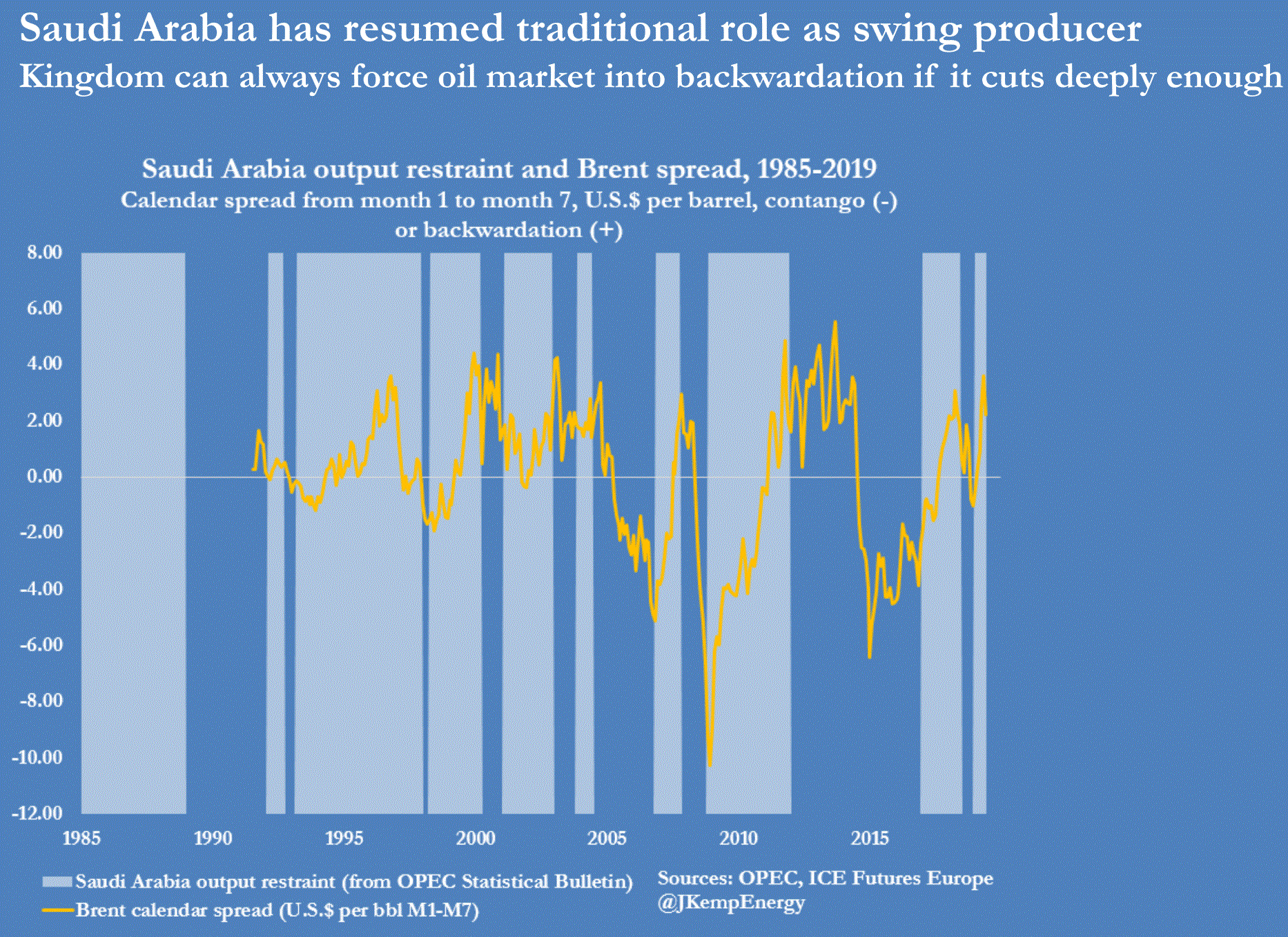 Markets have been running down the long in the lead up to the meeting but there's room for more selling: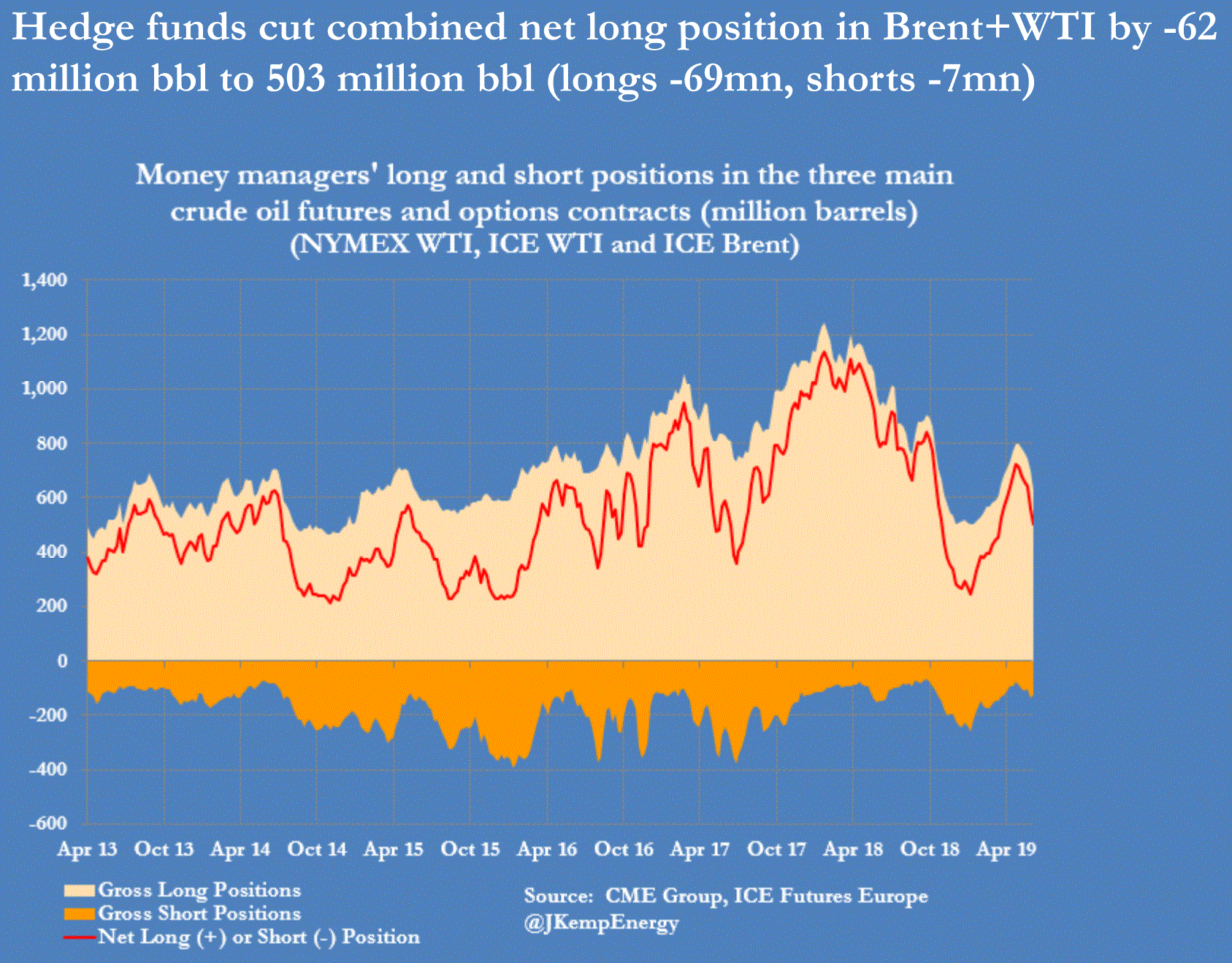 But swing US production is also beginning to slow: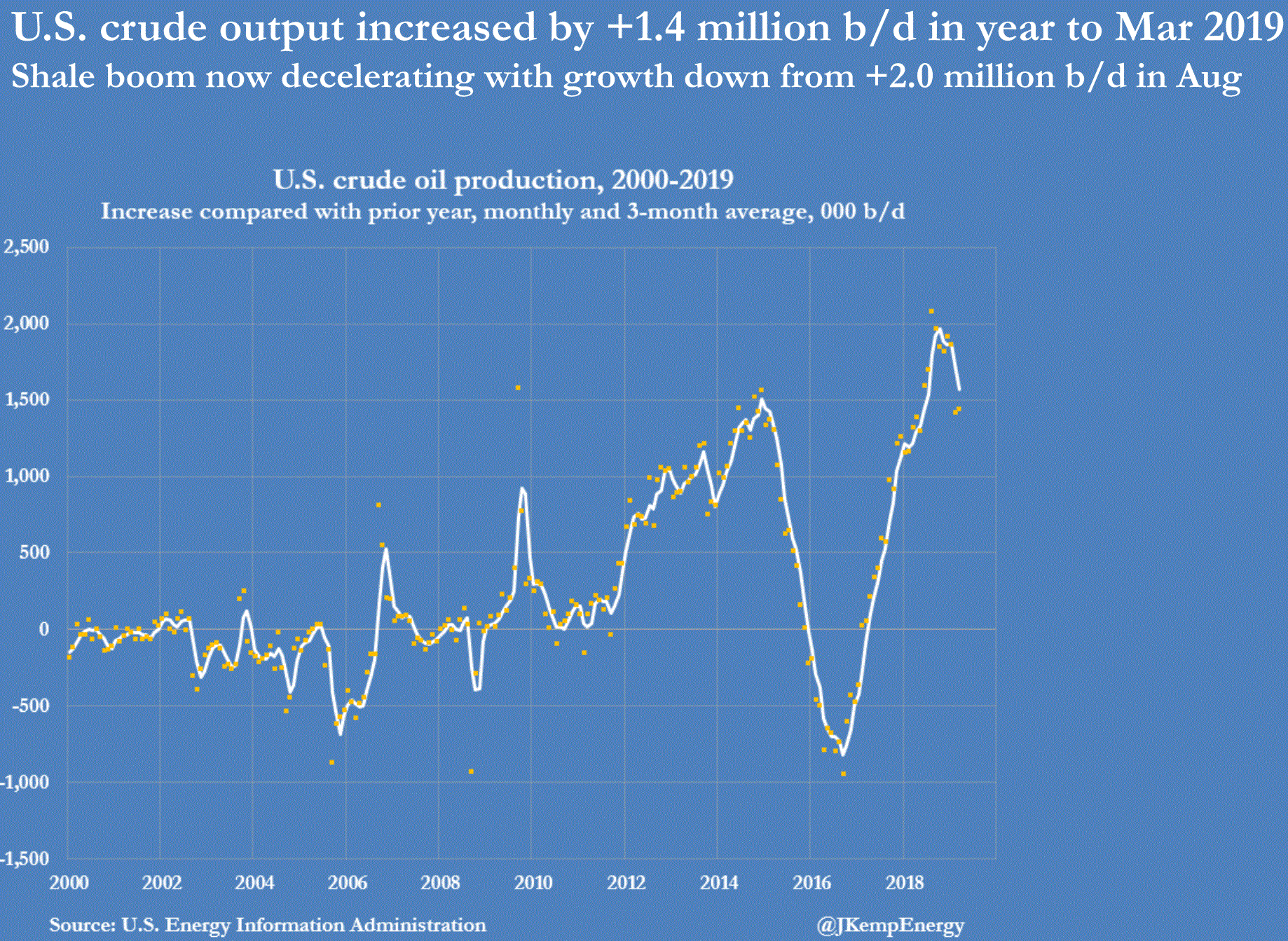 With more ahead: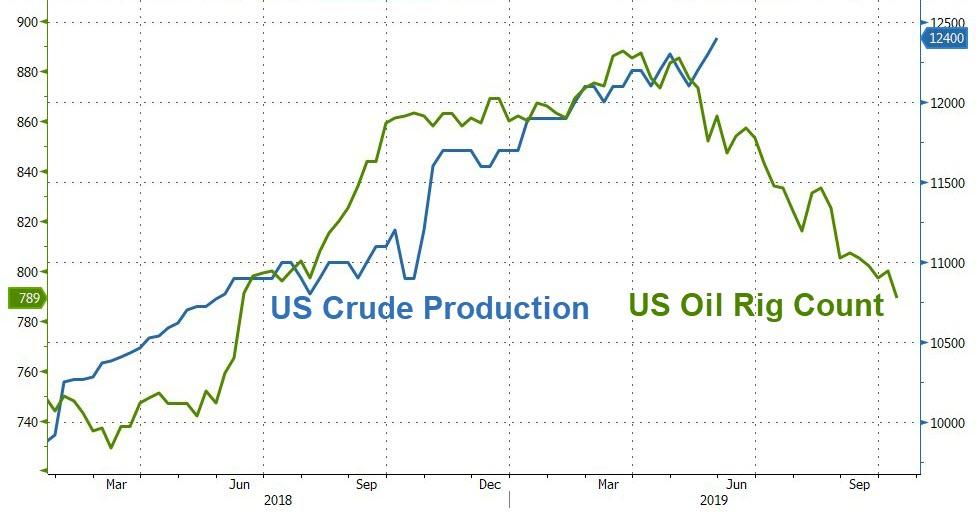 So, with OPEC about to meet and the Fed about to cut, oil may be about enjoy a reprieve. If so, it will lift the USD. If not, sink it.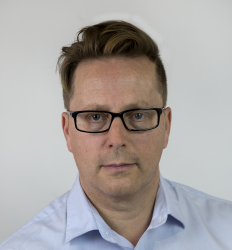 Latest posts by David Llewellyn-Smith
(see all)