The NSW Budget was released yesterday, which downgraded the state's stamp duty receipts by a further $232 million over the forward estimates, and marked a $10.6 billion plunge in stamp duty revenue since 2017.
The below charts iuulstrate how NSW's stamp duty projections have been downgraded over the past year.
First, here's last year's Budget projections: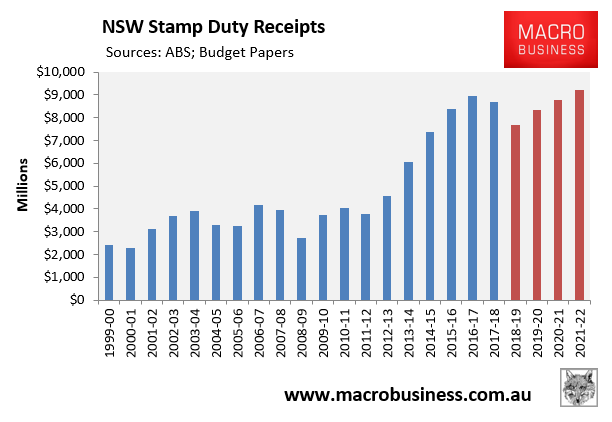 Here's the Mid-Year Budget Update: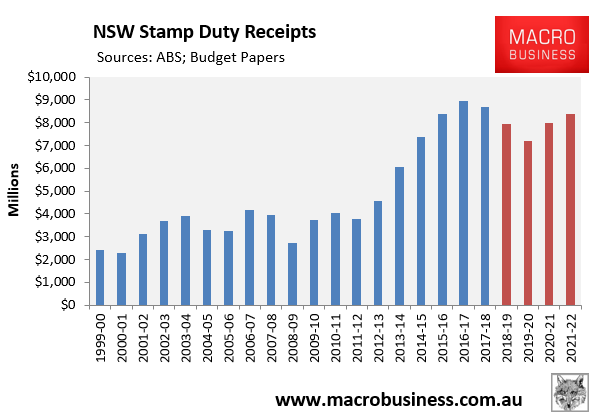 And here's the latest Budget projections: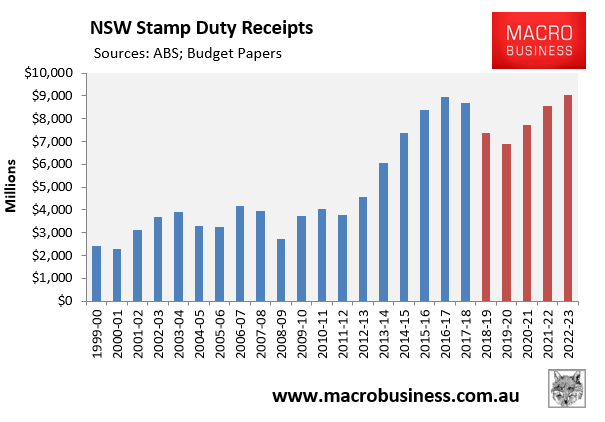 The slump in stamp duty receipts has roughly halved the projected surplus from $1.4 billion a year ago to only $802 million by the end of this financial year. However, the surplus is projected to rise over the forward estimates:

The revenue downgrade has prompted the NSW Government to slash public servant jobs, with between 2,000 and 3,000 positions facing the axe, representing about 1% of the public sector workforce.
At the same time, the NSW Government has earmarked $93 billion of infrastructure investment over the next four years, as well as a significant boost in front-line service delivery staff, including: 4,600 additional teachers, and 8,300 health staff (5,000 nurses and midwives, and 3,300 other health professionals), and 1,500 new police over the next four years.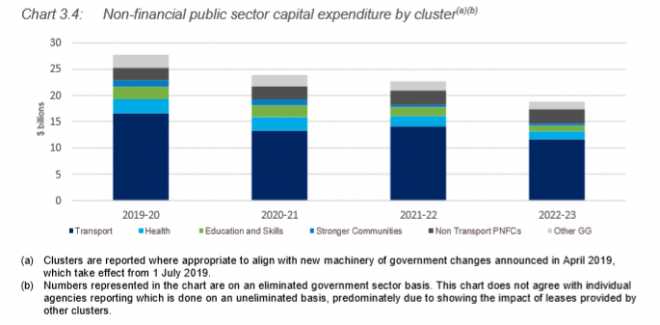 Finally, debt levels are projected to increase to $12.3 billion in 2019-20, and then to $38.6 billion in 2022-23. Running a surplus at the same time as debt explodes is made possible by costing infrastructure investment as an item on the balance sheet without it impacting cash flow.
Elsewhere, the NSW Budget's economic assumptions remain optimistic, with growth to strengthen (despite lower population growth), unemployment to remain at current low levels (despite the dwelling construction bust), and wages growth to strengthen (albeit at nowhere near the ludicrous rates forecast in the federal budget):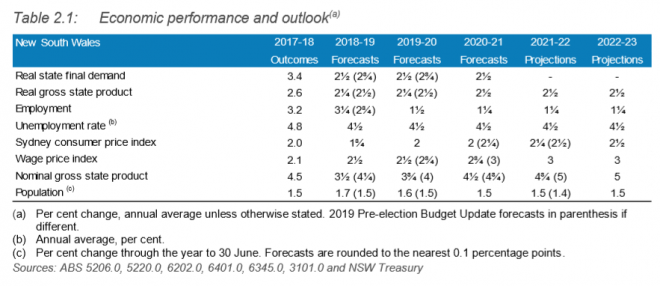 The forecasts around the unemployment are especially optimistic given that we are already at the cyclical peak and the labour market has turned for the worse. Also, the Budget itself warns a "bigger drop in construction activity [is] looming":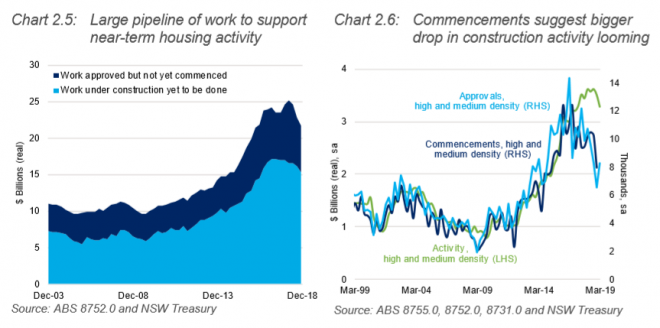 It also warns that "household spending has pulled back", weighed down by softer house prices: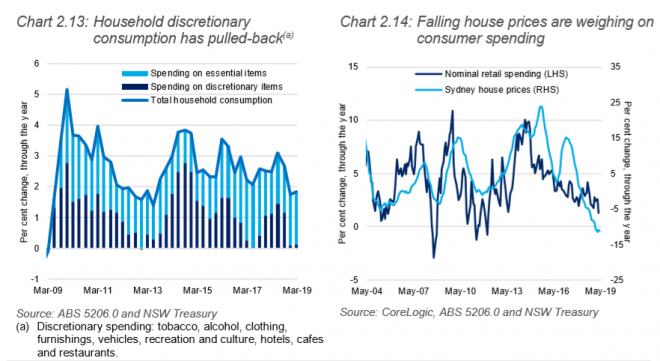 Thus, headline unemployment should rise from here, not remain at current low levels.
Leith van Onselen is Chief Economist at the MB Fund and MB Super. Leith has previously worked at the Australian Treasury, Victorian Treasury and Goldman Sachs.
Latest posts by Leith van Onselen (see all)