New South Wales Planning Minister Rob Stokes says he hopes to ensure that all local councils in the state adopt the 'missing middle' scheme by the end of 2019. The scheme aims to speed up approvals for higher density developments in suburban developments. Stokes has told the Urban Development Institute of Australia NSW annual luncheon that he is very keen to cater for the 'missing middle', and that there needs to be a greater variety of housing provided for within the residential sector. From The AFR:
"I am very passionate about providing for the missing middle … there is a large gap between historical housing supply and what the community wants…

Mr Stokes' vision is in line with the federal housing minister's Michael Sukkar's plan to work better with councils to reduce red tape and to come up with smarter density for more homes…
Let's remember that Sydney is Australia's immigration capital, with 77,100 net overseas migrants arriving in 2017-18 alone: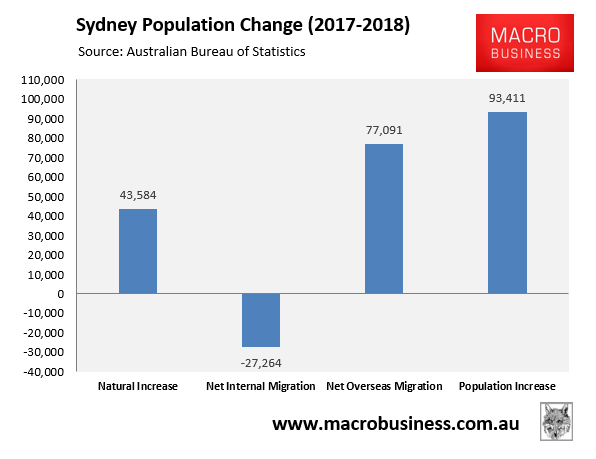 Immigration is also projected to drive all of Sydney's 4.5 million population increase over the next half century: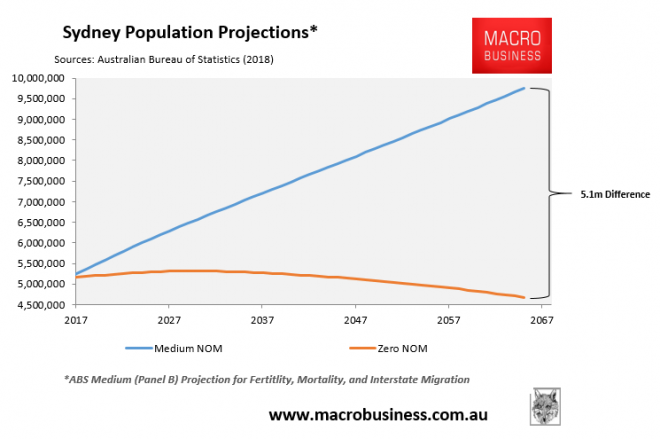 Stokes' plan for greater density is really about stuffing people into high-rise apartments, as projected by the Urban Taskforce: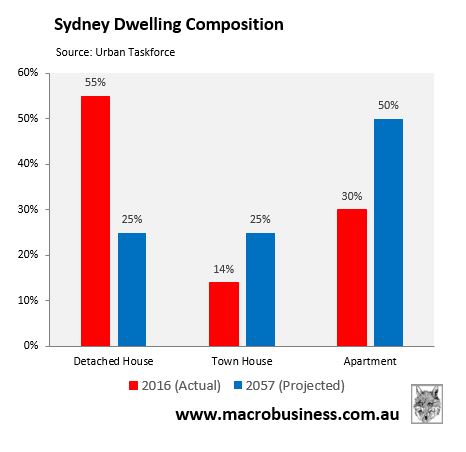 Basically, Sydney is facing a dystopian future whereby only the wealthiest residents will be able to afford a detached house with a backyard, whereas the poorest residents will be forced to rent high-rise apartments.
Is this the future that we want to bestow on future generations?
Cut immigration.
Leith van Onselen is Chief Economist at the MB Fund and MB Super. Leith has previously worked at the Australian Treasury, Victorian Treasury and Goldman Sachs.
Latest posts by Unconventional Economist (see all)