Via the AFR today comes Government lies on energy:
…Centre Alliance supports stages one and two of the tax cuts and stage three in principle but believes they could be eaten up by rising energy costs.

Senator Cormann said on Tuesday the government had an aggressive set of policy measures aimed at lowering power prices.

This includes the introduction of price benchmarks on July 1, legislation threatening forced divestment of power companies that engage in anti-competitive conduct, underwriting new projects to boost competition in the baseload generation sector and a feasibility study into building a coal-fired power station in Collinsville, Queensland.
This is all bullshit. Why would divestment lower prices when it is the structure of energy production that is the problem? We rely on gas production as peaking power. It therefore sets the marginal cost of electricity in the wholesale power bid stack. It doesn't matter who owns it. The price of the fuel sets the price of power bid.
Nor will a new coal power station help. It is NOT dispatchable. It must run all the time or not at all. By the time it is built ten years hence, the price of renewables plus batteries will be much lower anyway.
The truth is the Coalition does not want to let its energy terrorism agenda go. It's voter base has made a values not economic judgment for more coal and less renewables. High power prices, ironically, keep it in power.
The real problem and solution is the gas price. CA should not budge until the Government is forced to introduce tougher domestic reservation. That will crash both gas and power prices.
The first step is to enforce the existing ADGSM which should currently be below $5Gj – bench-marked to Asian spot and export net back – but is instead at $10Gj. There is a good prospect that the next few years will see Asian prices remain very low, via Barrons:
Natural gas prices have slumped 20% in the past year, and prices of liquefied natural gas, otherwise known as LNG, just hit a three-year low as supplies have risen faster than demand. Now one analyst sees a "looming global price crash" that will ripple through the energy sector.

As more countries, particularly in Asia, switch to natural gas from other fossil fuels, demand has been rising. But supply appears to be rising even faster. Citi analyst Anthony Yuen says that natural gas supplies have built up much faster than most analysts expected. Yuen expects "a 25% surge in global LNG supply from 2018 to 2020, with more than half from the U.S." The U.S. Energy Information Administration predicted late last year that LNG export capacity from the U.S. would double by the end of 2019.

The supply glut has caused prices to fall around the world, with U.S. Henry Hub prices falling to the mid-$2 range per million BTUs from $4.80 in the fourth quarter of last year, and a natural gas futures contract in Asia dropping from $12 in the fourth quarter of 2018 to $4 per million BTUs today. Natural gas supplies are rising so quickly that European gas storage may be full two months earlier than expected, Yuen estimates.
Cameron LNG in the US and Shell's Prelude pirate ship have only just opened production and there is much more coming, from the EIA: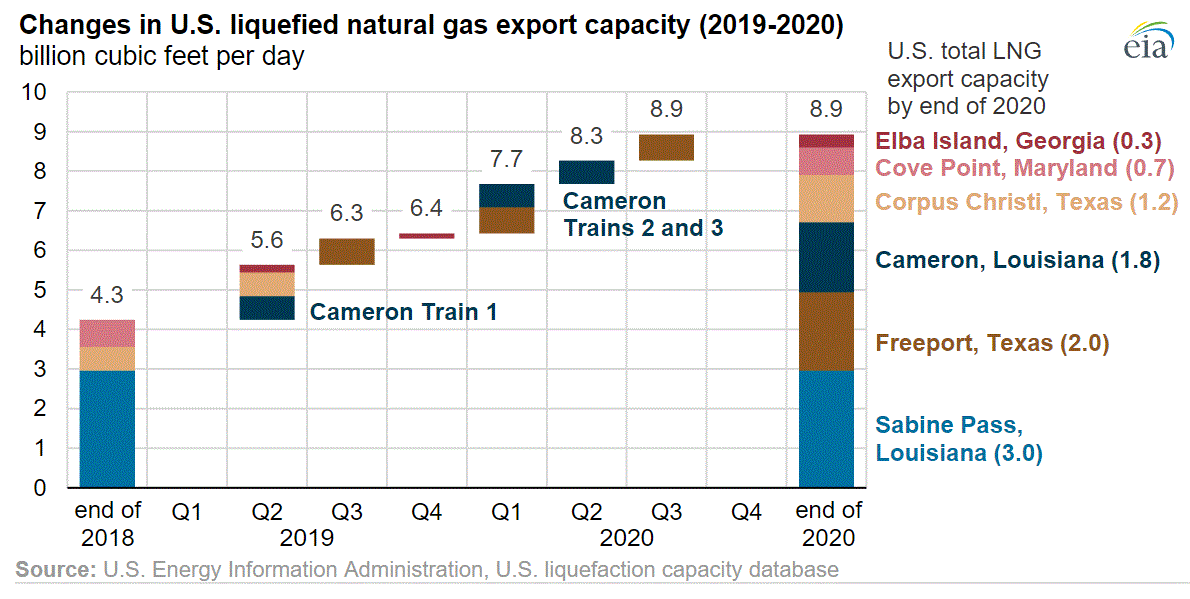 The second step is to toughen the ADGSM further with a fixed price cap at $6Gj.
Let the gas export cartel take the economic pain it caused through misallocated capital into over-investment of LNG export capacity, not everybody else.
David Llewellyn-Smith is Chief Strategist at the MB Fund and MB Super. David is the founding publisher and editor of MacroBusiness and was the founding publisher and global economy editor of The Diplomat, the Asia Pacific's leading geo-politics and economics portal.

He is also a former gold trader and economic commentator at The Sydney Morning Herald, The Age, the ABC and Business Spectator. He is the co-author of The Great Crash of 2008 with Ross Garnaut and was the editor of the second Garnaut Climate Change Review.
Latest posts by David Llewellyn-Smith (see all)