Another report has come to light about how Victorians are being gouged by hidden infrastructure costs:
Victorians are paying billions of dollars to a private consortium for a major road [Peninsula Link] that was contracted to be built for just $651 million nine years ago…

Treasurer Tim Pallas was roads minister in 2010 when he signed a 25-year deal to build the road with the Southern Way consortium, made up of eight international banks and Lendlease.

The expected cash cost of construction at the time was $651 million. The government said then that, if inflation and other costs were factored into the deal's 25 years, the road would ultimately cost $849 million.

But the leaked document shows Southern Way will get more than four times that amount, reaping $2.75 billion over two and a half decades…

[The report] shows taxpayers have already paid Southern Way $780 million – easily enough for VicRoads to have just built the road without any future obligations besides maintenance costs…
Peninsula Link mirrors the shenanigans of the WestGate Tunnel, which will also see Victorians paying many times the cost of construction to private toll road company Transurban, according to the Parliamentary Budget Office:
The report shows, by 2044-45, tolls on the new West Gate Tunnel and on the existing CityLink would be worth $7.5 billion in today's dollars.

In nominal terms not adjusted for inflation, the report estimates toll revenue from the CityLink extension and new tolls on the West Gate Tunnel would generate $37.3 billion in 2044–45.

It shows motorists who use CityLink five days a week, for 48 weeks a year, will be paying an extra $15,000 a year.

"The present value of tolls paid by the intensive user to 2044–45 would rise from $36,227.80 to $51,873.60, in 2018-19 dollar terms, an increase of $15,645.90 or 43.2 per cent," the report said…
Separately, columnists at The Age are shaking their fists at the extraordinary cost of Melbourne infrastructure projects:
Melbourne has never had a transport construction boom such as this. Toll roads, underground rail lines, level crossing removals, railway stations, all built at a pace that would have been unimaginable a few years ago.

But it isn't coming cheap…

Soon, the most expensive transport project in the state's history, the North East Link toll road, will begin construction at a cost of $15.8 billion – enough to build 790 new primary schools.

And yet Premier Daniel Andrews says it will be dwarfed by the Suburban Rail Loop, a 90-kilometre rail line around Melbourne. Price tag? $50 billion…

By the end of the financial year, they [the Labor State Government] will have spent $47 billion on major works…

Melbourne's population is growing like never before, and there is widespread agreement: we need bigger, better infrastructure.

But are we getting value for money, and why do we pay so much for the projects politicians say we need?

Victoria's three key projects – the North East Link, the West Gate Tunnel and the Metro Tunnel – have a collective cost of $33.5 billion. It will take multiple generations to pay these projects off.
There are multiple reasons for the escalation in the cost of Melbourne's infrastructure projects, which are being mirrored in Sydney.
Tacit corruption and lack of due process are obvious reasons that are well knows. A bigger reason is that it is inherently very expensive to retrofit a built-out city like Melbourne to cope with a much larger population: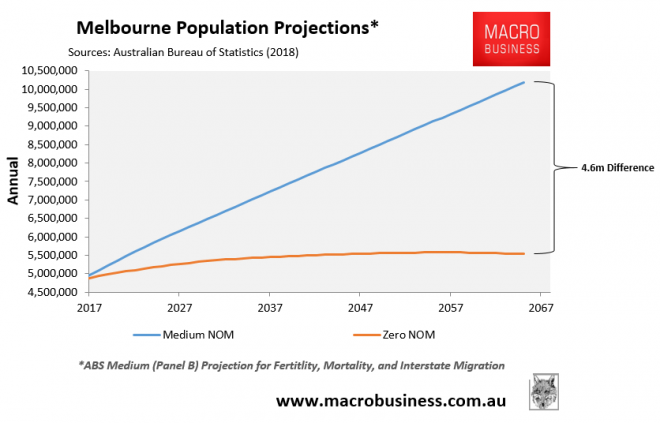 The reason is simple: there is a lack of greenfield land. This means that new infrastructure projects require expensive technological solutions like tunnelling alongside land buybacks, which dramatically raises their cost.
To illustrate these costs, check out the below chart showing that road construction through undeveloped greenfield land (blue) is many times cheaper than tunnelling under existing brownfield land (red):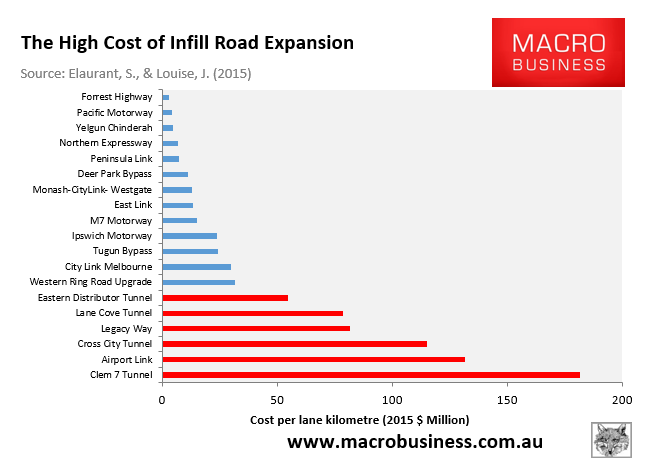 More recent examples are equally stark. The WestConnex project in Sydney will reportedly cost $17 billion for 33 kilometres ($515 million per kilometre) while Melbourne's West Gate Tunnel is expected to cost $6.7 billion for 5 kilometres of highway ($1.34 billion per kilometre). In contrast, the 155 kilometre Woolgoolga to Ballina highway upgrade , costs $4.9 billion, or just $31 million per kilometre (approximately 11 times less than WestConnex, and 29 times less than the West Gate Tunnel, on a "per lane" basis).
The same goes for water, whereby technological solutions like water desalination and recycling is many times more expensive than dam water: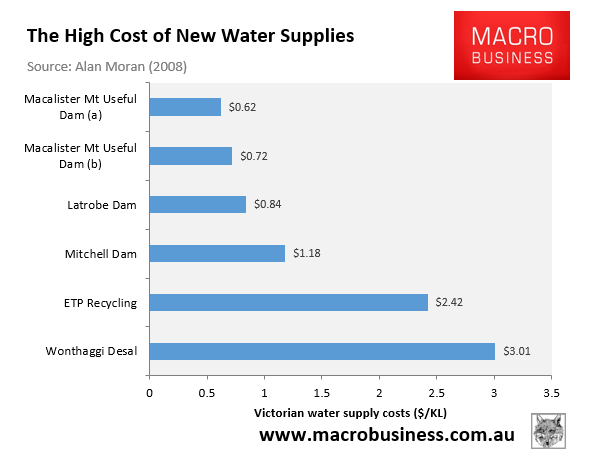 In short, growing Melbourne's (and Sydney's) population via mass immigration will necessarily dramatically raise the cost of infrastructure. If The Age columnists do not like this, then they should argue for lower immigration and population stabilisation.