No, it doesn't. So why is it involved in this, via Domain:
Reserve Bank governor Philip Lowe has urged key Senate crossbenchers to pass the Coalition's $158 billion income tax cut package to get more disposable income flowing to stimulate a slowing economy.

…In private briefings with the crossbench last week, Dr Lowe acknowledged the central bank had little room to move if Parliament failed to pass the cuts in July.

"They only have another five goes and then they are down to 0 [per cent]," said Centre Alliance senator Rex Patrick, who asked for the briefing from Dr Lowe.

"It is clear that they are a little bit concerned about the economy because they have just reduced interest rates. It is fair to say that the Governor was supportive of the tax cuts."
The tax cuts package is deeply politiced and regressive, via The Australian Institute:
The Australia Institute (TAI) has released new research estimating that the final stage of the Morrison Government's unlegislated income tax plan, stage 3(a) will, over the five years after it is introduced in 2024-25, deliver a $33 billion benefit to those earning more than $180,000:

Key findings:

Those earning more than $180,000 will get $33 billion benefit from stage 3(a) of the tax cut over the five-year period from when it first starts in 2024-25. Those earning over $200,000 will get $26 billion over the same period.
83% of the Stage 1(a) tax cut goes to middle-income taxpayers. Low-income taxpayers get 13% and the remaining 4% goes to high-income taxpayers.
The proportion of the benefit flowing to middle-income earners falls from 83% in stage 1(a) to 61% in stage 2(a), while high-income taxpayers share goes from 4% to 26%.
Stage 1(a) is expected to cost about $15 billion over four years from 2018-19 to 2021-22.
Stage 3(a) is expected to cost $95 billion over five years from 2024-25 to 2028-29.

The below chart summarises the distribution of the tax cuts by stage and income:
The first round of cuts makes sense. But not the rest. So why is the RBA supporting it? This is not an independent central bank.
This is only the latest in a long line of oversteps by the central bank into the fiscal arena. Last year the Lunatic launched a campaign in support of the very mass immigration economic model that has killed off inflation. One example was RBA boffin Professor Ian Harper spruiking the supposed riches that supposedly come from Australia's mass immigration 'Big Australia' policy at the Melbourne Institute/The Australian Economic and Social Outlook Conference:
"Migration of course is right at front and centre here. We benefit an enormous amount from migration," he said…

"It's no longer the case…that Australia is a great quarry and farm," Mr Harper said.

"The bulk of Australia's growth is being driven by services….in our great cities," he said, noting that 80 per cent of economic output is produced by cities.

"What drives productivity growth…is innovation," Mr Harper said. "The source of this creativity…is when we are together. When we stimulate each other. The more diverse we are…the more creative we are," he said.

"These are the debates that are presently live for us."

"Importantly, in my view, we need to make our cities work. What matters for us is how we manage the accessibility and the liveability of our cities," he said.
So where is this innovation and income boom? Absolutely nowhere: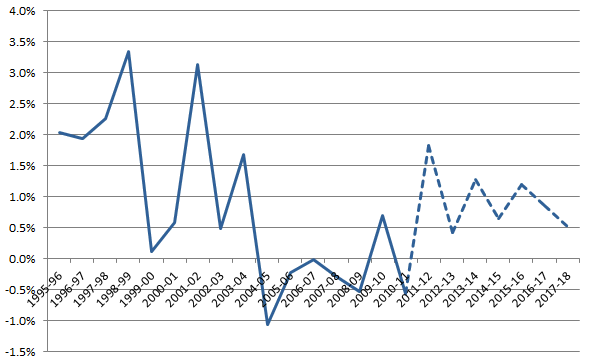 Then, last year, as the Hayne Royal Commission unearthed rampant corruption in the economic model championed by the RBA, what did it do? This, from The Australian:
Reserve Bank governor Philip Lowe is understood to have met the big four bank chiefs in recent weeks to caution them against an overzealous tightening of credit supply in response to lending rules and the Hayne royal commission.

A key message conveyed was that, while prudent lending was the aspiration, the banks were in some instances turning away good loans or not taking enough risk to warrant even a small tick-up in ­arrears, senior sources at the big four banks said. The meetings were conducted separately with each bank.

The major lenders are walking a fine line, though, as they seek to meet responsible lending requirements and move away from controversial benchmarks such as the Household Expenditure Method to assess loan serviceability.
And this:
The Reserve Bank of Australia and Treasury have privately cautioned the Morrison government that any regulatory response to the financial services Royal Commission must be careful to avoid putting the brakes on lending to home buyers and business.
The Lunatic RBA is just another example of corruption in the Aussie political economy. It would sell its mother to protect the property bubble economic model from any kind of national interest adjustment.
That it enjoys and deploys some kind of reputational purity is a reflection only of the desperation in the national consciousness for any clear thinking and trustworthy institution.
Yet it consistently misuses even that to prevent any kind of economic reckoning arising from its own monetary blunders.