The Reserve Bank of Australia (RBA) has released a new bulletin article, entitled Competition and Profit Margins in the Retail Trade Sector, which notes that retail is one of the softest sectors in Australia and effectively pins the blame for Australia's weakening retail sales on bargain hunting by consumers:
The retail sector has undergone significant structural change since the early 2000s, including the rise of online shopping and the entrance of new international firms into the market. Firms suggest these changes have increased competitive pressures and that, in response, they have had to adjust their pricing behaviour to compete for sales and market share. While firms in other industries also report changes in the level of competition over time due to similar factors, liaison has identified the retail sector as being particularly affected. Survey-based measures also suggest that business conditions in the retail sector have been weaker than other industries in recent years (Graph 1).

Firms suggest that consumers in the retail sector are increasingly price sensitive… Consumers are able to easily compare the price of products across multiple firms and determine which is offering the lowest price… In response, (retailers) have had to adjust their pricing behaviour, typically by increasing the size or depth of discounts on their products as well as the frequency…

We find that net margins have declined for both food and non-food retailers over recent years (Graph 4)…
While not entirely wrong, the RBA has failed to mention that the Australian consumer is being squeezed, which is one of the reasons why they are looking for bargains.
Who could blame them? Real household disposable income has barely increased this decade: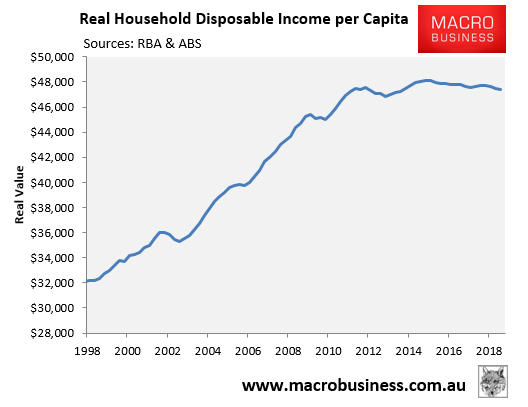 And households have only managed to maintain their spending by eroding their savings: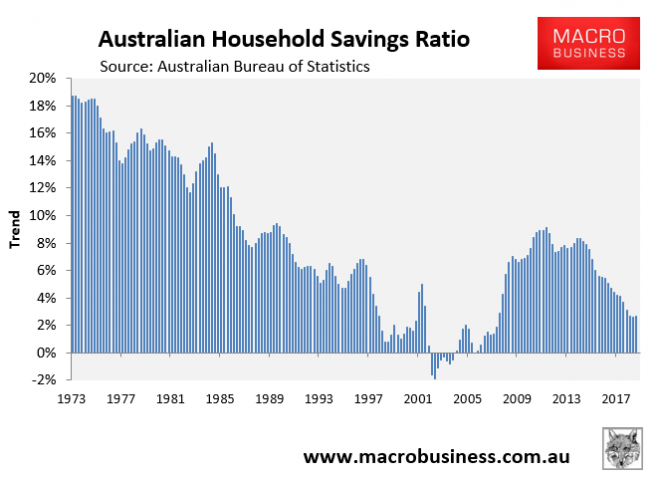 Moreover, now their wealth is being hammered by falling house prices: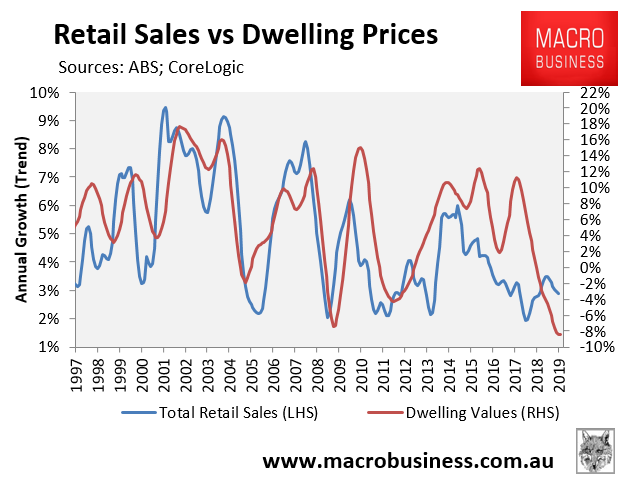 Besides, it is not just retail prices and margins that have been smashed, but actual sales volumes as well: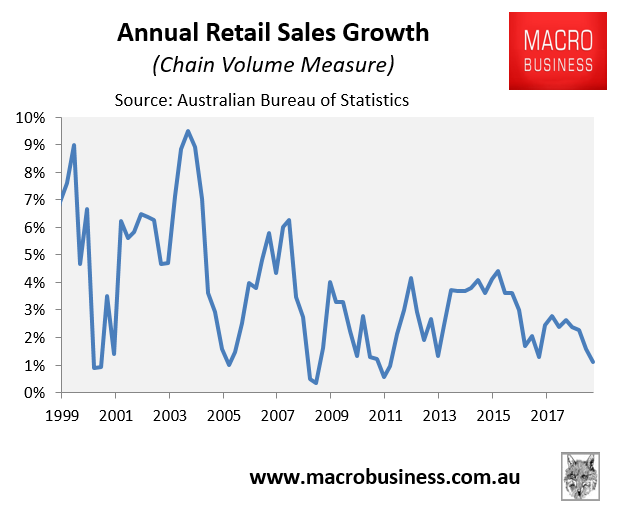 The Australian consumer is sick, owing to the income recession, and this is impacting all consumer-facing sectors like retail and new car sales. The problems extend well beyond increased competition and bargain hunting.
Leith van Onselen is Chief Economist at the MB Fund and MB Super. Leith has previously worked at the Australian Treasury, Victorian Treasury and Goldman Sachs.
Latest posts by Unconventional Economist (see all)