Poor old Josh Recessionberg, he never expected to win and his cupboard is bare, via the AFR:
The federal government is prepared to expand its economic policy agenda beyond the measures it took to the election to boost Australia's lagging productivity performance, Treasurer Josh Frydenberg says.

…"We're firmly sticking to all our election commitments and my priority is seeing through the growth agenda, as outlined in the budget, that's critical for me," he said.

"At the same time, I'm open-minded to new ideas and I'll be having discussions with my international counterparts about productivity enhancing reforms in their own economies."

…He declined to nominate specific policy areas which could be looked at but was mindful the government promised before the election, for example, not to revisit plans to cut the company tax rate for big business.
So, what's it going to be? About all he can do is steal Labor's accelerated capex write down scheme.  The essential reforms to boost productivity are all poisoned:
cutting negative gearing and boosting capital against tax;
reducing immigration;
tax concession reforms;
horizontal tax equalisation reforms;
competition and innovation reforms.
Infrastructure spending takes years and they don't want to do it anyway. There are no productivity reforms coming.
Recessionberg has no answers for wider growth, either, because his entire economic model is running out of gas. He has two strong dollar policies in yesteryear's houses and holes paradigm: to recycle commodity revenue as tax cuts and incentivise property speculation with the income.  There'll be more room to cut taxes by year end but that's going to get much harder next year as bulk commodities come back and domestic demand remains sluggish. Recessionberg will deploy year's FHB guarantee but that will be up against tight credit post Hayne RC.
Recessionberg literally has no answers for growth.
But Labor does, accelerated tax cuts, via Domain:
Labor would consider reversing its opposition to $20 billion of the Coalition's planned income tax cuts if the government agrees to bring them forward to July to stimulate the economy.

The cuts, worth $2600 for workers earning up to $120,000 a year, were not scheduled to come into force until 2022, under the second stage of the Coalition's three-part tax plan.

Prior to the election, Labor had opposed stages two and three of the tax cuts, with then shadow treasurer Chris Bowen describing them as "fiscally irresponsible".
All very middle class stimulus. Welcome to your new "aspirational" Labor Party.
As argued many times before, I am torn on the tax cuts question. Given the nation's total failure to reform the tax code and the global oversupply of resources, the only benefit for households from commodity booms these days is via tax cuts. We haven't had any since the LNP came to power even as bulk commodity prices soared: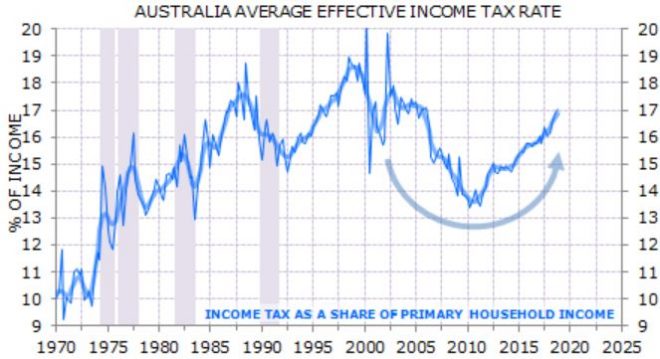 So it is fair enough to give some back as bulk commodities rescue the Budget.
Yet it makes no sense to lock in structural spending with cyclical revenues boosts. Nor does it make much sense to use income tax cuts as counter-cyclical fiscal stimulus, given a lot of it will be saved in inclement circumstances.
It would make more structural sense to give commodity gains back to the public via infrastructure, which is also equitable for future generations given dirt is non-renewable – but in cyclical terms that will take too long.
I guess it's not a terrible compromise.