The Australian Government's latest official temporary visa data revealed that international student numbers hit an all-time high 613,000 in the year to March 2019: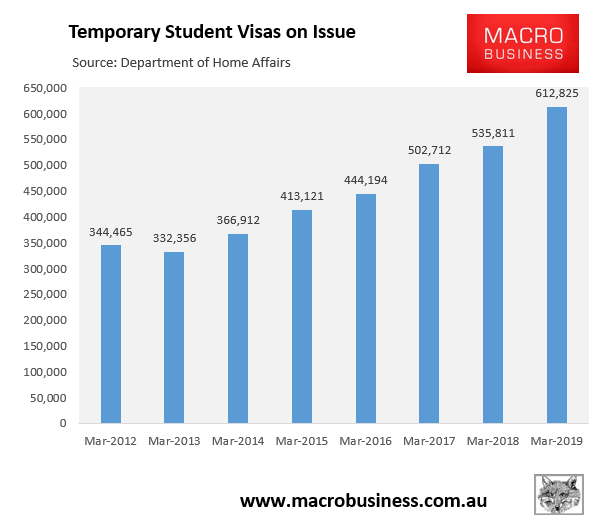 The number of student visas on issue as at March 2019 were 77,000 (14%) higher than March 2018 and 285,000 (84%) higher than March 2013.
This growth has been driven by students from India and Nepal, whose number of commencing students ballooned by 50% and 28% respectively over the past year.
As noted last week, the pivot to India and Nepal suggests the international student bubble is about to burst. Students from these nations tend to study at lower quality (second tier) tertiary institutions or private colleges, often for the primary purpose of obtaining employment and future Australian permanent residency. These students are also overrepresented in cases of academic misconduct, plagiarism, and students failing their courses.
The fact that Australia's universities have pivoted to these lower quality students is a sign that they are scrapping the proverbial 'bottom of the barrel' and compromising student quality for revenue.
To add insult to injury, competitor nations are ramping-up their efforts to attract international students which, other things equal, could divert students away from Australia.
For example, in April the Canadian Government announced plans to expand its presence overseas in a bid to significantly increase the volume of international students studying in Canada from 572,415 in 2018:
Officials from universities, colleges and the federal government are now in the early stages of developing an "aligned" strategy that will broaden campaigns in other parts of the world… in places with expanding economies and large populations of young people…

Denise Amyot, president and CEO of Colleges and Institutes Canada, said… immigration policy changes in Canada have helped it compete with other countries in attracting the world's increasingly mobile post-secondary students. The policies, she added, have sped up visa processing times, permitted foreign students to work in Canada while they study and improved a graduate's chance of obtaining permanent residency.
Now, one of the leading candidates to become the new British Prime Minister, Home Secretary Sajid Javid, wants to aggressively lift the numbers of international students and migrants into the UK:
Sajid Javid has said he wants to see an end to tough rules on overseas students being allowed to stay in the UK to work, arguing for what he called a more "flexible, sensible attitude" to immigration…

"I want to see more international students come to our country," Javid told an event in London organised by the thinktank British Future.

"If they're coming here, studying in our great universities, if they want to work afterwards we should make it easier for them to stay and work… It makes no sense to send some of the brightest and most enterprising people in the world straight home after their time here".

His announcement has been welcomed by Jo Johnson, the former universities minister who is seeking to amend the immigration bill to change the six-month limit back to its previous timeline of two years…

I don't just mean economically, but I include that, and culturally, every way – if we didn't have the approach to immigration we've had of successive governments over the last few decades."
These expansion efforts overseas come at the same time as Australia's largest international student market – China – is increasing investment in its own universities and lifting its standards, which should stem the flow of Chinese students arriving in Australia (other things equal).
As we keep saying, Australia has no natural advantage in university education. Instead, standards have been continuously lowered in order to grow international student numbers (and profits), including by going easy on language skills and passing underperforming students. Accordingly, the value of an Australian degree has been badly eroded in the international market-place, which should adversely effect international student numbers down the road.
In short, the volume of international students flowing into Australia's universities are likely nearing its peak as competitor nations offer sweeter enticements in post-study work and residency, source countries improve their education standards, and Australian tertiary institutions lose their prestige value after lowering their standards.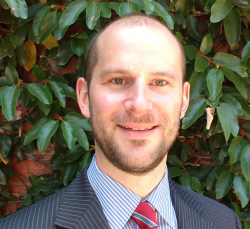 Latest posts by Unconventional Economist
(see all)