Here is the problem, via The Australian:
AGL Energy says big gas users on the east coast face years of elevated prices, with the high cost of moving Queensland gas to southern states, expensive LNG imports and developing new domestic supplies locking in high tariffs for industrial buyers.

Australia's biggest electricity generator — working to develop its own LNG import plant in Victoria's Mornington Peninsula — says there are no quick fixes to reset the nation's gas market despite Australia holding some of the world's largest reserves of the fossil fuel. Instead, industrial and commercial users need to adapt to gas prices starting from $10 a gigajoule, which is roughly three times historic levels, AGL says.

"There just isn't the availability of gas for the market and that's having a consequential impact on price, both near and longer term," AGL's head of wholesale markets Richard Wrightson told The Australian ahead of Credit Suisse's inaugural energy conference in Sydney today.

"There are no silver bullets to bring prices down. When you talk to a lot of the large industrials, they're looking for the heady days of four or five years ago when they could buy gas for $4 a gigajoule or even less. But those days are truly gone. Prices are not coming down."
Why is AGL so keen to see high gas prices? Let me explain.
A few years ago it had a lively gas exploration and production business. But through 2016/17 it closed it and sold the assets to the east coast LNG export cartel. Why would it do such a thing, given it has some gas-fired power generators? Isn't that raising its own costs?
No. Owing to our wholesale electricity bidding system, the price of gas sets the marginal price of electricity in the National Electricity Market where AGL has most of assets. So by helping drive up the cost of gas, it also drove up the price at which it can sell electricity. And given it has a suite of legacy coal assets, as well as shiny new renewables, both of which operate at much lower cost than today's gas-juiced power prices, AGL's profits boomed.
AGL's share price almost perfectly tracked the gas price higher from 2015 and it didn't flame out until we installed the Australian Domestic Gas Reservation Mechanism (ADGSM) in mid-2017 which halved the gas contract price from $20Gj to $10Gj, though it was still 300% higher than the historical average: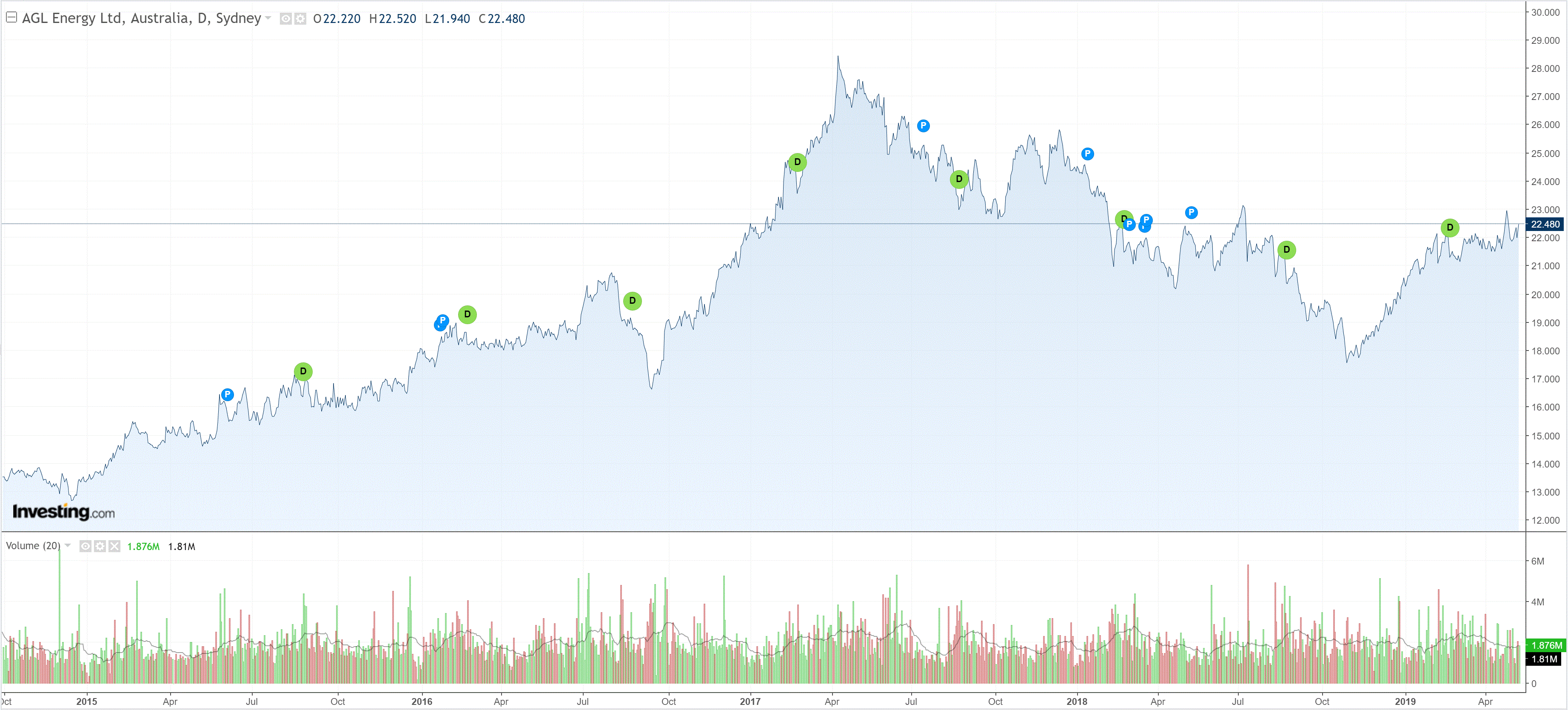 But is not the end. Now AGL is planning to import LNG via a regasification plant in Victoria to fill the supply hole it helped create. It likes to argue that this is about market forces to stop the gas price going too high. But nothing could be further from the truth.
LNG imports are expensive. The gas will come in at around $10Gj, even with Asian gas prices very low today. The future will see those prices rise with the Asian gas price and even more as the Australian dollar falls.
As well, once imports begin, AGL will argue that the ADGSM is defunct, that the market has got it 'sorted', and lobby for reservation to be killed off. Once that happens, LNG imports will become the marginal price setter in the Australian gas market which will very likely mean much higher prices ahead. AGL will then be able to charge for the importation of the very gas that is delivering its power assets rentier returns.
It is a truly marvelous vision of vertically integrated energy gouging, up there with Enron for rat-cunning.
But there is a much less evil alternative. Also at The Australian:
Finance Minister Mathias Cormann has held a "brainstorming session" with key Senate crossbencher Rex Patrick on measures to reduce gas prices, as the government attempts to win support from Centre Alliance for its flagship income tax cuts package.

Senator Patrick, who with Centre Alliance colleague Stirling Griff holds two crucial Senate votes, was in Perth on Monday to discuss short- and long-term ­options to lower the domestic gas price, including tools to make the price more transparent.

Resources Minister Matthew Canavan and energy experts also attended the daylong meeting, where Senator Patrick demanded action on gas prices and suggested a change to the Australian Domestic Gas Security Mechanism.

…"We want something (gas prices) fixed. That's not to say we want something fixed immediately before we would consider tax cuts," Senator Patrick said.

"We're now in a situation where, after the (introduction of the) ADGSM, supply is not the problem. There is enough gas, it's now down to the price. The government has been looking at this as well. Now the government will go away and conduct its own analysis on each of those options (discussed on Monday).

"There's no point giving everyone a tax cut to stimulate the economy and give them disposable income to only have that chewed up by rising energy costs."
Lower gas prices are easy. Just use the same method as WA. Toughen the ADGSM, give it a fixed price cap if necessary: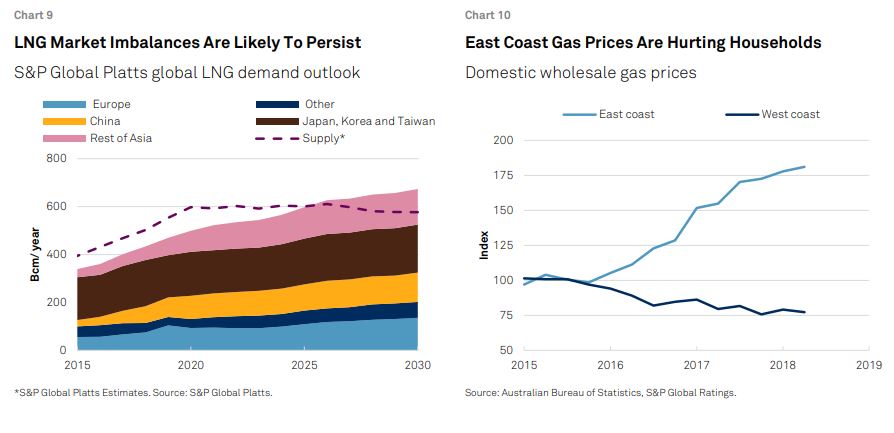 AGL's evil empire collapses.
David Llewellyn-Smith is Chief Strategist at the MB Fund and MB Super. David is the founding publisher and editor of MacroBusiness and was the founding publisher and global economy editor of The Diplomat, the Asia Pacific's leading geo-politics and economics portal.

He is also a former gold trader and economic commentator at The Sydney Morning Herald, The Age, the ABC and Business Spectator. He is the co-author of The Great Crash of 2008 with Ross Garnaut and was the editor of the second Garnaut Climate Change Review.
Latest posts by Houses and Holes (see all)