The Australian's Judith Sloan has penned an article today attacking claims of "generational injustice":
Intergenerational injustice is a myth… what do we mean by intergenerational injustice? The Grattan view is that people on the same income should be taxed in exactly the same way irrespective of their age.

It doesn't matter to the researchers that the income of young people is overwhelmingly sourced from wages and salaries whereas retirees' incomes are mainly made up of returns to ­assets that have been accumulated, often from post-tax income or from compulsory super­annuation.

…it is often mentioned that young people are now finding it increasingly difficult to buy a house and it has been predicted that some people may never become homeowners.

In reality, the changes in the rate of home ownership have not been as dramatic as some of the media would make out…

To intergenerational injustice, I say bunkum.
The data speaks for itself.
The older generation has been fortunate to maintain high rates of home ownership while younger generations' home ownership rates have plummeted: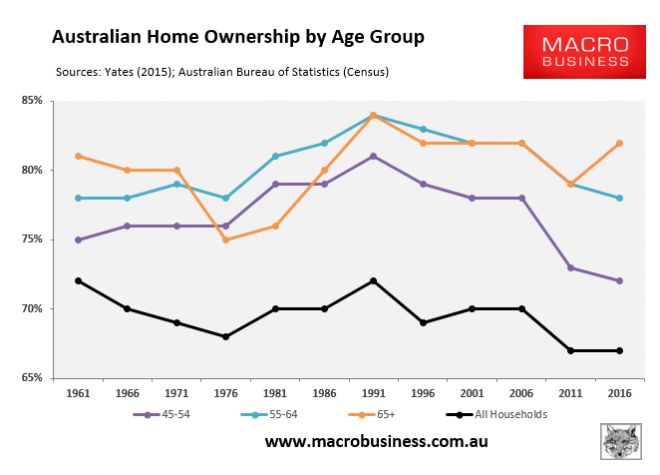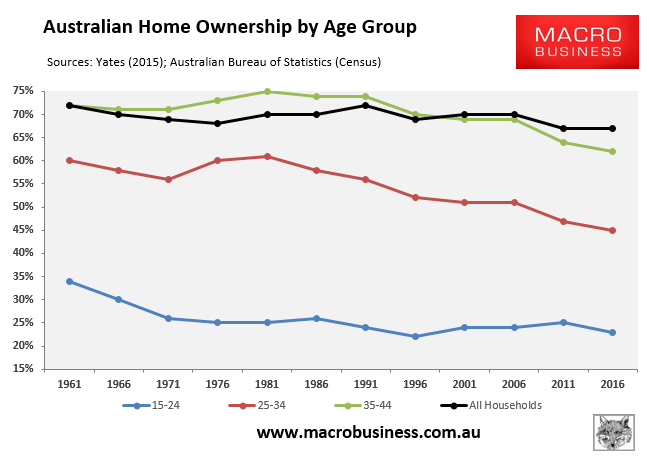 The older generation has also been fortunate to enjoy the biggest increase in net wealth, according to the HILDA survey:

Largely because they have enjoyed the biggest gains in home equity: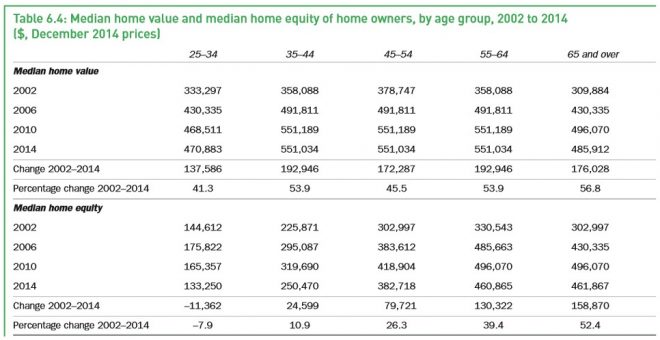 Moreover, while younger generations are paying similar rates of tax as older generations did:
The number of seniors paying tax has halved:
Not only do fewer seniors by number pay income tax, but on average senior households also pay a lower amount of income tax in real terms today than senior households 20 years ago:
Budget transfers have also, overwhelmingly, benefited over-65s:
And these giveaways come despite older generations accumulating the most wealth:
In short, "generational injustice" is no myth
Leith van Onselen is Chief Economist at the MB Fund and MB Super. Leith has previously worked at the Australian Treasury, Victorian Treasury and Goldman Sachs.
Latest posts by Unconventional Economist (see all)