Via Domain comes some "exclusive" fake news:
More than two thirds of the final stage of the Coalition's $158 billion income tax cut package will flow to workers earning under $180,000, new figures show, as the Morrison government moves within striking distance of its first policy victory since the election.

The Coalition has refused to hand over costings that would detail the benefits that would flow to high-income earners to Labor, but confidential analysis by the independent Parliamentary Budget Office challenges Labor's pre-election claims the third stage would only benefit the "top end of town".

The analysis, commissioned by the Greens, shows those earning over $180,000 will see $29.7 billion in benefits out of the $95 billion total cost of the third stage of the package.
OK, let's ask where does the "top end of town" start, via the Census: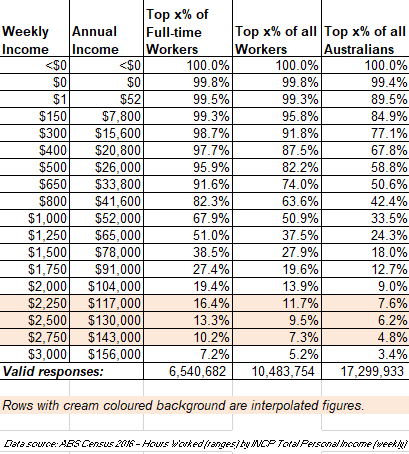 Only 7.2% of Australian workers earn $156k and only 3.4% of the populace. I can't find how many earn $180k but we can safely say that it is SFA.
So why is Domain misrepresenting tax cuts as fair, and not oriented to the "top end of town", if you earn below $180k? Better go ask its private equity, extreme high income owners. Or, perhaps it's just to porn more realty, as usual.
Based upon the facts I'd say that the "top end of town" is anyone above $100k and that's being kind to our beleaguered rich folk. Thus this: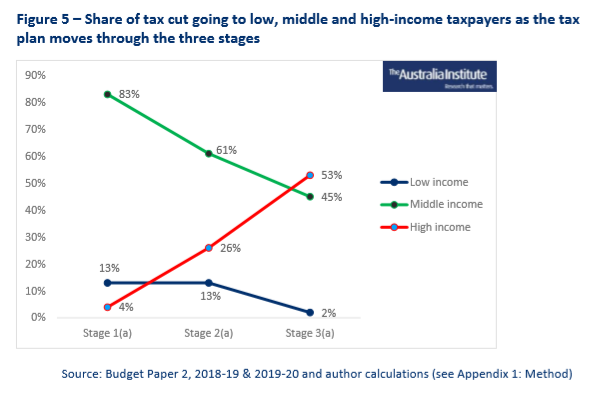 The Coalition's tax cut package is massively regressive and would reduce the annual tax bill of people on the highest incomes by more than $11,000 from 2024-25 if the third stage proceeds.
Latest posts by David Llewellyn-Smith (see all)