Via the ABC:
Developers are offering special deals like paying 12 months of a buyer's mortgage, $50,000 "bonuses" and even furniture vouchers in a bid to help clear Sydney's apartment glut.

An oversupply of apartments, falling property prices and restrictions on foreign investors mean developers have turned to targeted social media campaigns in a bid to lure customers.

St Trinity Property Group is advertising 12 months mortgage free on its "luxury apartments" in Blakehurst, 20 kilometres south west of the CBD.

In another advertisement, Arden Group says it will pay the stamp duty for buyers of its Elora The Hills development, in the north west of the city.

Belle Property International is offering up a $15,000 Freedom Furniture voucher for its apartments and another, Tailor's Walk in Botany, is advertising a "$50,000 bonus".

Property analysts say the deals are common in an over-supplied market such as Sydney, with 54,000 new apartments built in 2018 and 2019 expected to be up for grabs by the end of the year.

SQM Research chief executive and property analyst Louis Christopher said developers would do anything to avoid reducing the asking price.

"If they do that [reduce the price] it will reduce the valuations on all other properties within that development, and therefore the settlement risk rises accordingly," he said.

"But buyers should be aware, that they are still paying for it in some form, and it generally comes in form of over-valuation."

The spotlight is on Sydney's developments after a tower in Mascot was evacuated on Friday after cracks were discovered in the building's beams.

Developers 'spruiking like mad'

The State Government is in the process of overhauling the building industry, including increasing the rights of people living in strata buildings, following a report into cracking at the Opal Tower at Sydney's Olympic Park in December.

Sydney's median unit price in May was $678,199, with prices falling about 6 per cent over the past 12 months — less than the 10 per cent drop seen in house prices.

Yet some in the real estate industry are predicting Sydney's property downturn will reach a floor this year — and start turning early next year — as confidence is triggered by the Morrison Government's re-election, an interest rate cut and an easing in lending restrictions.

Property analyst Martin North from Digital Finance Analytics said the real estate sector needed a "hard dose of reality".

"Since the election they've been spruiking like mad," Mr North said.

"But from the data I'm seeing, investors are not interested in coming on board and the demand is not coming through."

Mr North said although average unit prices have fallen only six per cent, there were pockets of Sydney, such as Hurtsville and Ryde, where the falls had been severe.

"In Ryde, unit prices have dropped more than 30 per cent, essentially something that developers can't cover," he said."

What I'm interested in is why people are still taking them on — it's quite mysterious."

The developers mentioned in this story have been contacted for comment.
Here's more via The AFR:
"Settlement risk is now very real and developers should be worried," said Colin Sacks, who runs the country's biggest DIY website, forsalebyowner.

"In the last few days we have had a plethora of calls from people who bought properties off the plan a few years ago."

"It's now time to settle and they either can't settle or simply don't want to.

This creates huge risk for developers who need these buyers to pay up to fund the project," Mr Sacks said.
The news comes as new CoreLogic data shows that settled sales across Melbourne have plummeted by 27.4% over the last year alone: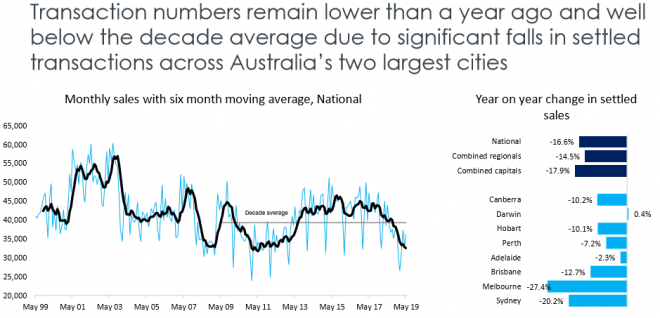 Moreover, according to CoreLogic, the proportion of off-the-plan settlement values where the valuation was 10% lower then the contract price has surged to more than one in five, up from around one in 10 a year earlier. At the same time, around half of all settlement valuations have come in below their contracted value.
So clearly, many off-the-plan buyers are facing negative equity and are being forced to stump up additional funds to bridge the shortfall between current market valuations and the contracted prices. And this has dramatically raised settlement risks.
Not only are some buyers unable to finance the shortfall and are attempting to offload the contracts at a loss, others whose valuations are more than 10% underwater will consider losing their deposits and simply walking away.
Amusing stuff. There's long way down yet for supply. And demand might actually get worse as Chinese students disappear.
Expect many developers to go into liquidation as settlements fail.
David Llewellyn-Smith is Chief Strategist at the MB Fund and MB Super. David is the founding publisher and editor of MacroBusiness and was the founding publisher and global economy editor of The Diplomat, the Asia Pacific's leading geo-politics and economics portal.

He is also a former gold trader and economic commentator at The Sydney Morning Herald, The Age, the ABC and Business Spectator. He is the co-author of The Great Crash of 2008 with Ross Garnaut and was the editor of the second Garnaut Climate Change Review.
Latest posts by David Llewellyn-Smith (see all)