New figures show that fewer than 157,000 people began traineeships or apprenticeships during calendar 2018, a decline of 3.7% year-on-year. The number of people completing such courses in 2018 fell by 5.5% in 2018, and crashed 43.5% over the last five years. Jenny Lambert of the Australian Chamber of Commerce & Industry has urged Skills Minister Michaelia Cash to take action to address the decline. From The AFR:
"These latest apprenticeship stats show that action taken to date has not been sufficient to address the decline. Clearly the arrangements between governments through the Skilling Australians Fund are not working," Ms Lambert said.

"This has to start with getting all governments on the same page about the future of vocational education and apprenticeships."
Here's more evidence that Australia's tertiary education system is busted. While the number of domestic students studying at Australia's universities has ballooned:

The number of people doing traineeships or apprenticeships has collapsed – a trend that is projected to continue: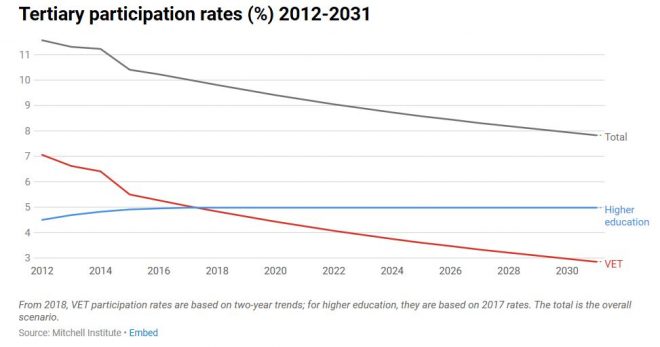 There is also a gaping funding imbalance between universities and vocational education and training (VET), as shown by the Mitchell Institute:
These imbalances have led to an oversupply in the labour market, as evidenced by skills shortages among managers and professionals running at recessionary levels, according to the Department of Jobs and Small Business: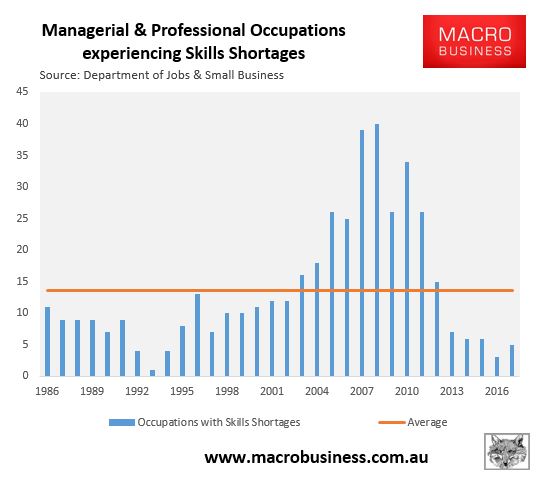 By contrast, shortages among technicians and trades are running well above-average levels: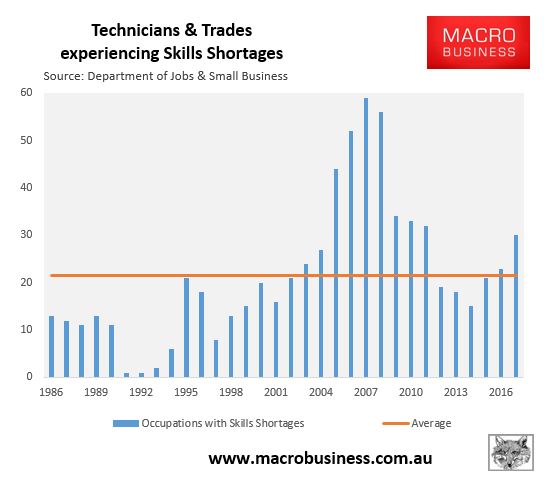 In a similar vein, wages growth was stronger among VET qualified people than the university educated between 2010 and 2015, also suggesting an oversupply of university graduates: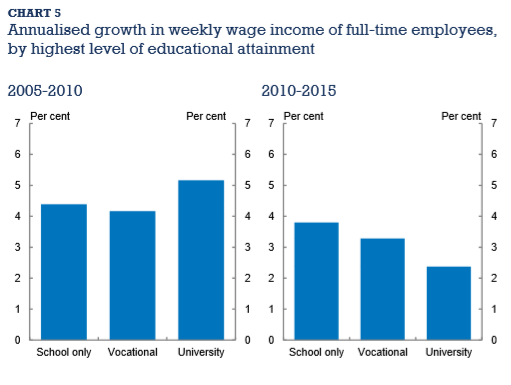 Australia's governments must fix this imbalance ASAP by shifting funding away from the oversupplied university sector towards publicly run TAFEs.