Victorian Premier, Dan Andrews, has tacitly admitted that the state is unable to build infrastructure fast enough to keep pace with manic immigration-driven population growth. From The AFR:
"We are pretty well at full-tilt with sand, gravel and concrete," Mr Andrews told The Australian Financial Review's National Infrastructure Summit in Melbourne on Thursday.

"…he [federal minister Alan Tudge] is right to say some of the projects that we are building are years away because they are the biggest projects that have ever been built."

"I wish we could do it in a shorter period of time but the size and scale of some of these investments are so big it does take a long time. And maybe that's one of the reasons they weren't started years ago"…

[Andrews] also said Victoria's infrastructure boom – with $100 billion in projects over the next decade – meant there would not be enough raw materials to build another mega-project.
Melbourne's population is projected to more than double to 10.2 million people over the next 48 years, driven almost solely by immigration: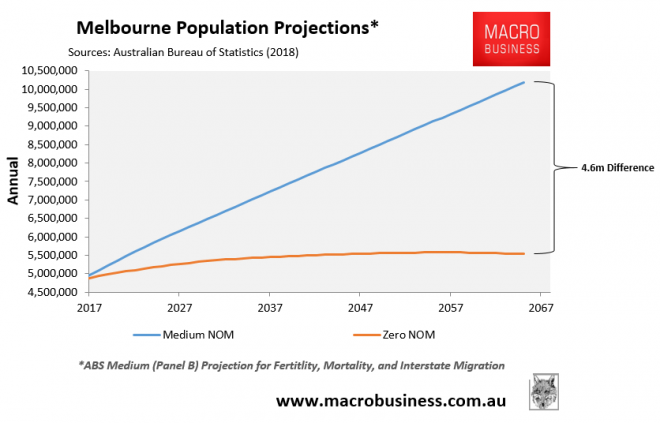 This means that infrastructure will never keep up, no matter how much money and resources are thrown at the problem.
The reason is simple: there is a lack of greenfield land. This means that new infrastructure projects require expensive technological solutions like tunnelling alongside land buybacks, which dramatically raises their cost.
To illustrate these costs, check out the below chart showing that road construction through undeveloped greenfield land (blue) is many times cheaper than tunnelling under existing brownfield land (red):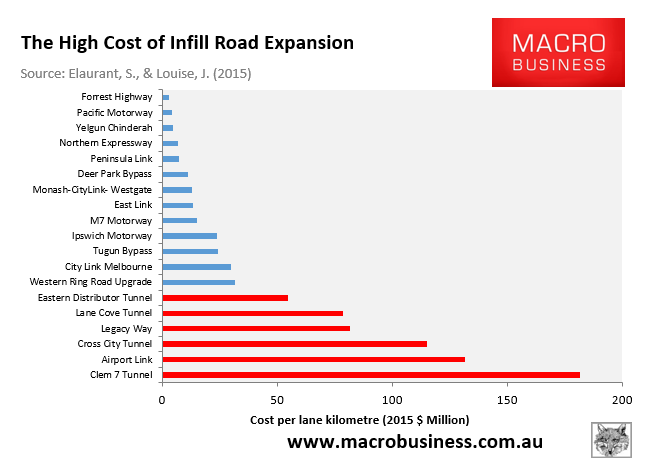 More recent examples are equally stark. Melbourne's West Gate Tunnel is expected to cost $6.7 billion for 5 kilometres of highway ($1.34 billion per kilometre). In contrast, the 155 kilometre Woolgoolga to Ballina highway upgrade costs only $4.9 billion, or just $31 million per kilometre (approximately 29 times less than the West Gate Tunnel on a "per lane" basis).
The same goes for water, whereby technological solutions like water desalination and recycling is many times more expensive than dam water: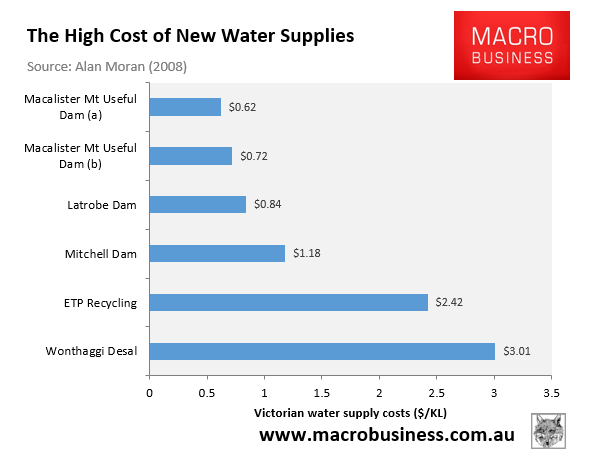 This is why Infrastructure Australia explicitly projected that all liveability indicators – traffic congestion, travel times, access to jobs, schools, hospitals and open space – will all worsen as Melbourne's population balloons: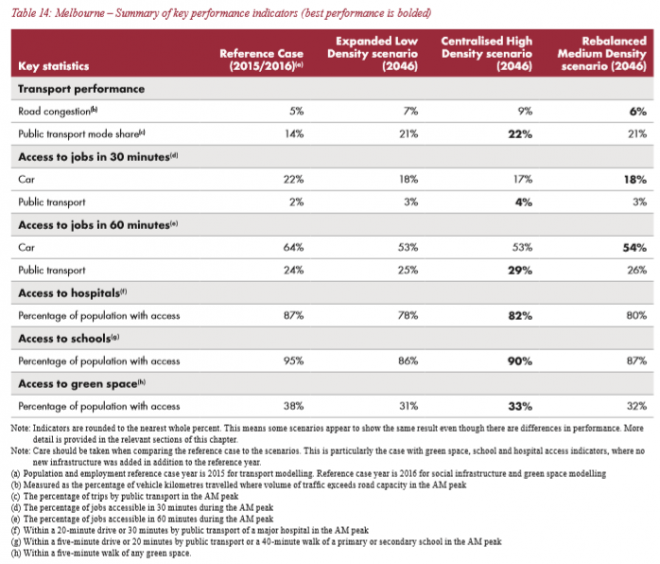 Not even Infrastructure Australia believes that Melbourne can build its way out of trouble. It's simply not possible when the population is projected by the ABS to grow by 110,000 people per year indefinitely.
Leith van Onselen is Chief Economist at the MB Fund and MB Super. Leith has previously worked at the Australian Treasury, Victorian Treasury and Goldman Sachs.
Latest posts by Leith van Onselen (see all)