The sudden sharp decline in Chinese tourists and international students has caught Australian authorities off-guard, raising painful memories of when booming Japanese arrivals slowed suddenly in the late-1980s. From The AFR:
…the narrative that the boom is going to last forever is no longer accurate. China's economy is slowing and its middle-class consumers are becoming increasingly cautious when it comes to spending.

Many are rethinking expensive family holidays to long-haul destinations… Fewer are visiting Australia to buy property…

Beijing's decision last week to issue a travel warning to travellers visiting the United States shows it will not hesitate to use its tourists and students against countries it falls out with politically. There is no sign that is happening with Australia yet, although some travel operators in China say negative media reports about the bilateral relationship are putting some of their customers off…

But investors who point to the huge contribution tourism makes to the Australian economy believe the slowdown has taken authorities by surprise and conflicts with earlier assumptions the boom would last a lot longer. As with the Japanese, there is no guarantee they will keep coming forever. This also applies to Australian universities' reliance on Chinese students.
The below chart tells the tale. After more than doubling over the past five years, Chinese visitor arrivals have declined for 10 consecutive months, down 7% over that period and the lowest figure recorded since April 2017: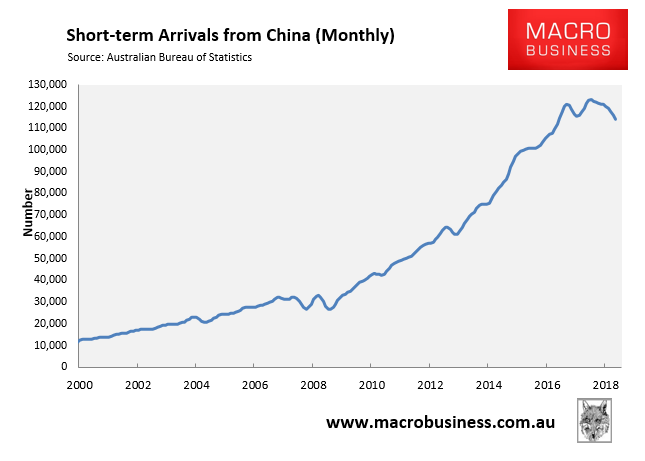 As we noted earlier this week, there are several possible explanations of why Chinese tourist and student arrivals are falling.
First, political tensions between Australia and China are rising, which may be reducing the flow of both Chinese tourists and students.
Second, China is increasing investment in its own universities and lifting standards, which comes at the same time as Australian university standards have plummeted.
Third, other nations are competing strongly for the lucrative Chinese dollar, and this increased competition could be limiting both tourism and student inflows into Australia.
Fourth, China may be making moves internally to limit the outflow of people and capital in order to protect the value of the yuan.
Either way, Chinese arrivals look to have passed their peak, meaning Australian tourism operators and universities will need to find a new cash cow to milk.
Leith van Onselen is Chief Economist at the MB Fund and MB Super. Leith has previously worked at the Australian Treasury, Victorian Treasury and Goldman Sachs.
Latest posts by Unconventional Economist (see all)