For well over a decade, Australia's business lobby has argued that a strong intake of skilled migrants is required to overcome perceived chronic shortages in the labour market.
However, the data has never supported this assertion.
First, the Productivity Commission's (PC) 2016 Migrant Intake into Australia report showed that while the majority (two-thirds) of Australia's permanent migrant intake is comprised of the 'skilled' stream, roughly half of this category is in fact made up of secondary family members of the primary skilled migrant. Accordingly, the overwhelming majority of Australia's immigration program is actually unskilled (note: the below PC chart does not include the 16,000 strong unskilled humanitarian program):
…within the skill stream, about half of the visas granted were for 'secondary applicants' — partners (who may or may not be skilled) and dependent children… Therefore, while the skill stream has increased relative to the family stream, family immigrants from the skill and family stream still make up about 70 per cent of the Migration Programme (figure 2.8)…

Primary applicants tend to have a better fiscal outcome than secondary applicants — the current system does not consider the age or skills of secondary applicants as part of the criteria for granting permanent skill visas…
Second, according to the federal government's own data, skills shortages across both managers and professionals are running near recessionary levels: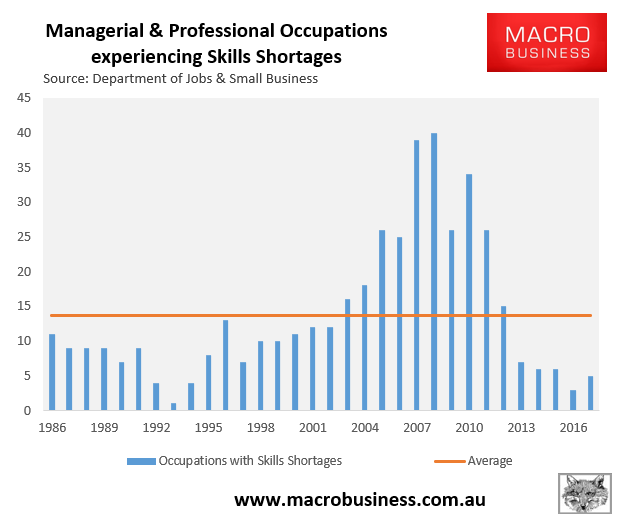 This is important because three-quarters of 'skilled' permanent and temporary visas issued in 2017-18 were for managers and professionals, meaning that Australia's skilled visa system is adding further capacity to an already heavily oversupplied labour market.
To highlight this farce, the top five occupations granted skilled permanent visas in 2017-18 were:
Accountants (3505)
Software Engineer (3112)
Registered Nurses (1561)
Developer Programmer (1487)
Cook (1257)
None of these professions was deemed to be in shortage over the four years to 2017, according to the Department of Jobs and Small Business.
Third, the pay levels of so-called 'skilled' migrants is ridiculously low, and is unambiguously contributing to Australia's historically low wage growth.
According to the Department of Home Affairs, the median full-time salary of skilled visa holders 18 months after being granted the visa was $72,000 in 2016, which was below the population average of $72,900 (which comprises both skilled and unskilled workers).
In a similar vein, the salary floor for Temporary Skill Shortage (TSS) visas has been frozen at the ludicrously low level of $53,900 since 2013-14. Accordingly, TSS visa holders earned a median income of only $59,436 in 2016, which is $13,464 below the median full-time Australian salary of $72,900 in 2016.
Finally, the latest Characteristics of Recent Migrants survey from the ABS showed that skilled migrants (as well as all classifications of migrants) experienced higher rates of unemployment in 2016 than the Australian born population: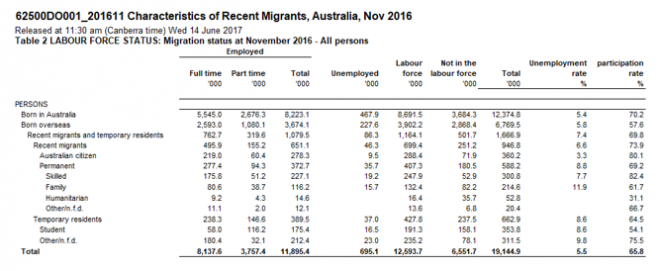 With this data in mind, SBS News published an interesting case study highlighting how Australia's 'skilled' visa system is being systemically rorted:
When 37-year-old Karnvir Singh was offered a full-time job as a chef at a Gold Coast Indian restaurant he couldn't believe his luck…

The father-of-one migrated from Punjab in India to Australia in 2007 to study hospitality management.

"Cooking is my passion. Sometimes I cook at home because I can't stop myself," he said.

He married in 2014 and he and his wife, who also moved to Australia, had a daughter three years ago.

But after working at the restaurant for more than three years, his life was turned upside down when his employer requested that he work without pay. He said his boss initially promised him it would only be for a few weeks.

"When I asked him to pay me, he started blackmailing me… I had my [visa] application with the Immigration Department from his restaurant, he said if I am going to ask him more and more about wages he is going to withdraw my [sponsorship] nomination," he said.

Mr Singh was working on a 457 visa and his employer promised to sponsor him for permanent residency under the Employer Nomination Scheme (subclass 186 visa). But it didn't happen…

Carina Garland, assistant secretary of the Victorian Trades Hall Council said those on temporary visas are particularly vulnerable to exploitation, especially when their employer is their sponsor.

"There's a whole range of cases where employers use the power they have in Australia over those on temporary work visas to steal their wages," she said.

The Fair Work Ombudsman told SBS News in a statement that in 2017-18 they assisted 2,158 workers in workplace disputes involving a visa holder. That equates to 20 per cent of the total number of disputes dealt with…

In Mr Singh's case, he says he is deeply embarrassed the boss he trusted was from his own country…

Ms Garland said it wasn't uncommon for exploitation to come from members of the same migrant community…

Mr Singh's visa application was cancelled by his former employer when he left, but he is now on a bridging visa while he challenges the visa decision in the courts, separately to his Fair Work claim against his former employer.
This has all the hallmarks of a shambolic 'skilled' visa system, namely:
A migrant employed on a TSS visa in a profession that isn't actually 'skilled' (i.e. cook);
Brought wife to Australia;
Exploited by a migrant employer;
Refuses to go home now that his TSS visa has been revoked and his profession is no longer deemed in shortage; and
Stays on a bridging visa while he challenges the Australian Government in the courts in a bid to gain permanent residency.
Any objective assessment of Australia's 'skilled' immigration program would conclude that it is a giant farce that is failing to meet its original intent, is depressing wages, crush-loading the cities, and is damaging overall amenity and liveability. It needs fundamental reform.
Leith van Onselen is Chief Economist at the MB Fund and MB Super. Leith has previously worked at the Australian Treasury, Victorian Treasury and Goldman Sachs.
Latest posts by Unconventional Economist (see all)