The latest official temporary migrant statistics from Australia's Department of Home Affairs shows there were around 613,000 international student visas on issue as at March 2019, and increase of 77,000 (14%) from the year prior and up 280,500 (84%) since March 2013: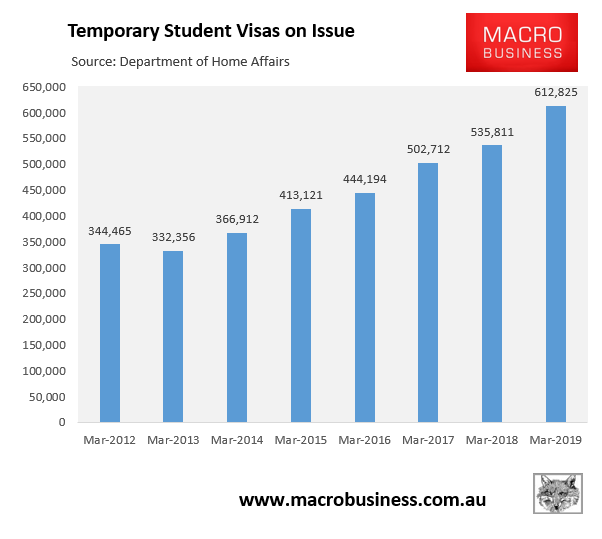 As shown in the next chart from ABC Four Corners recent expose, this growth in international students was driven by China, whose numbers have ballooned from around 95,000 in 2015 to 153,000 as at 2018 – more than double international students from India (72,000) and around five times the numbers from Nepal (28,000):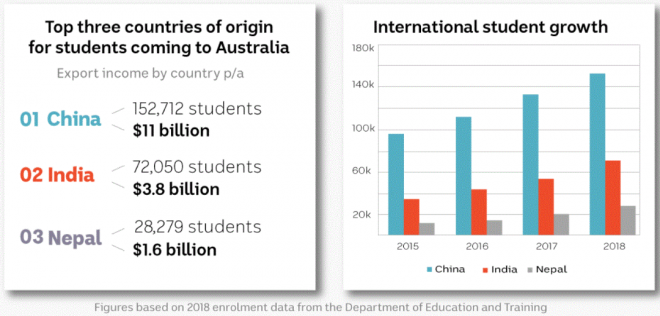 According to the Department of Education and Training, Chinese students also accounted for $11 billion of Australia's $32 billion in education earnings in 2018.
Times are changing, however, with the latest official government data suggesting that the Chinese international student boom is ending, replaced by students from India and Nepal:
New federal government data shows that the total number of Chinese students commencing courses in the first semester of 2019 is only 1.5 per cent higher than last year.

This compares to growth of 7.4 per cent last year, and 17 to 19.8 per cent growth in the previous two years… [However] overall numbers continue to grow, driven by strong interest from India and Nepal.

More than 199,000 international students commenced courses in the first three months of this year (corresponding to the start of the first semester), 9.6 per cent higher than last year. The number of commencing Indian students rose by 50 per cent to nearly 29,000 and the number of Nepalese students was up 27.6 per cent to nearly 13,000.
Yesterday, the Australian Bureau of Statistics (ABS) released its monthly overseas arrivals and departures statistics, which supported the view that Chinese student numbers have peaked.
As shown in the next chart, the total number of international student arrivals dipped slightly to 604,000 in the year to April 2019: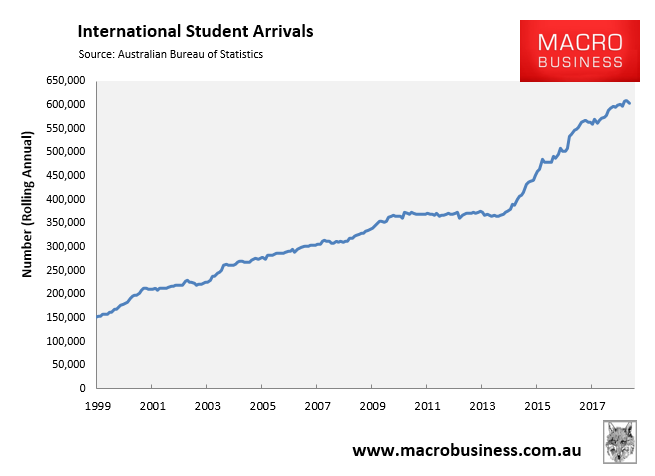 However, the bigger story is that Chinese visitor arrivals – which includes both students and tourists – have fallen for 10 consecutive month, down 7% over that period: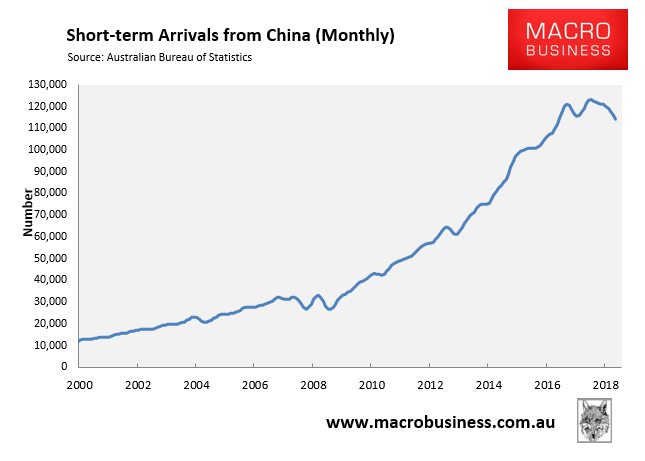 Indeed, the last time Chinese arrivals were this low was April 2017.
As we have noted previously, there are a variety of reasons why Chinese student and tourist arrivals are declining.
First, at the same time as Australian university standards have plummeted, as highlighted in last month's Four Corners report, China is increasing investment in its own universities and lifting its standards.
Second, political tensions between Australia and China have been rising, which could be reducing the flow of both Chinese students and tourists.
Third, China could also be taking actions internally to prevent the outflow of people and capital in a bid to protect the value of its currency.
Fourth, other nations are also vying for the lucrative Chinese international student trade, and this increased competition could be limiting inflows into Australia.
The policy response so far has been to shift focus to lower quality students from Indian and Nepal, where instances of academic misconduct, plagiarism, and underperformance are more common. And with Australia's universities and private colleges now scraping the bottom of the proverbial international student barrel, Australian university standards will likely be lowered even further to keep international student numbers (and fees) rolling in.
The policy response for tourism is currently unknown.