See the latest Australian dollar analysis here:
DXY was firm last night, EUR and CNY soft: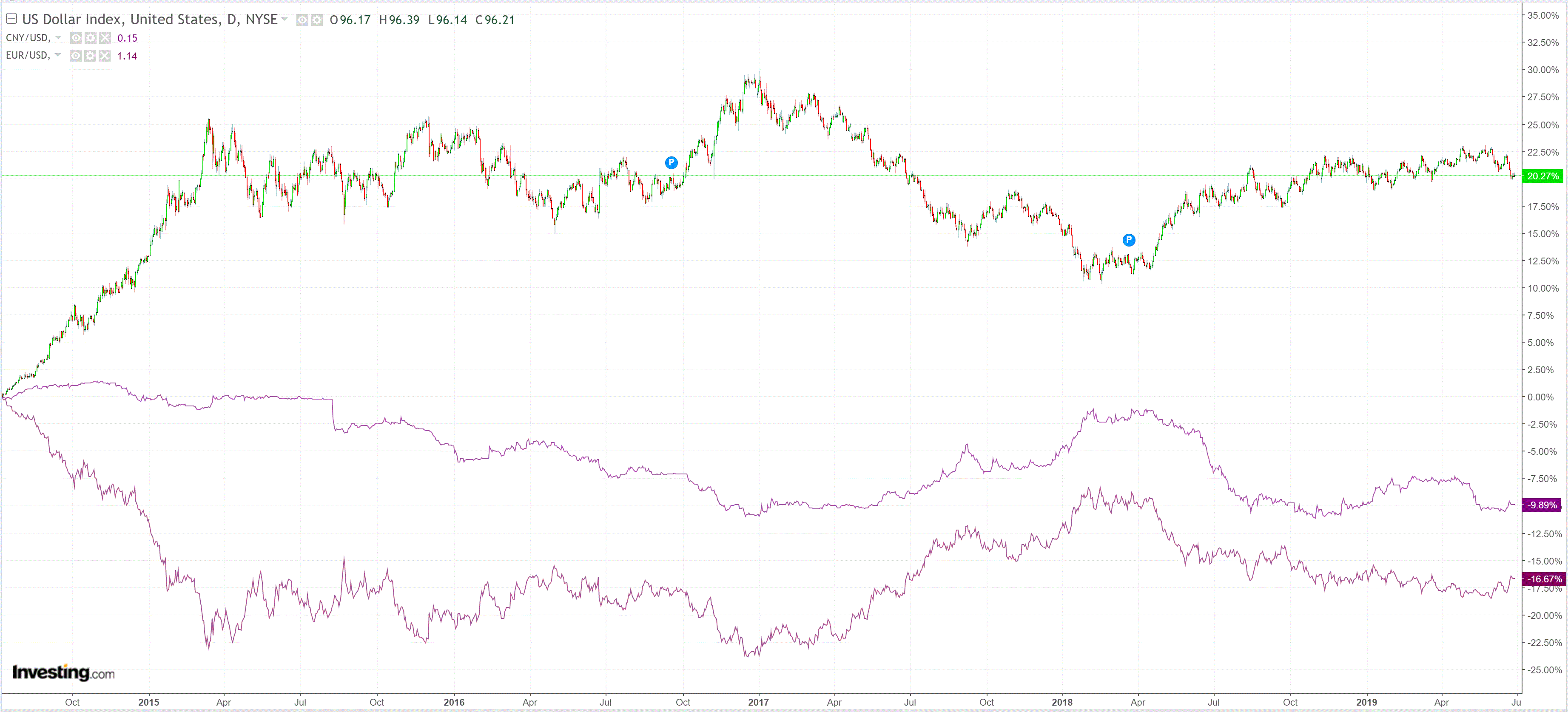 The Australian dollar is suddenly everybody's favourite currency: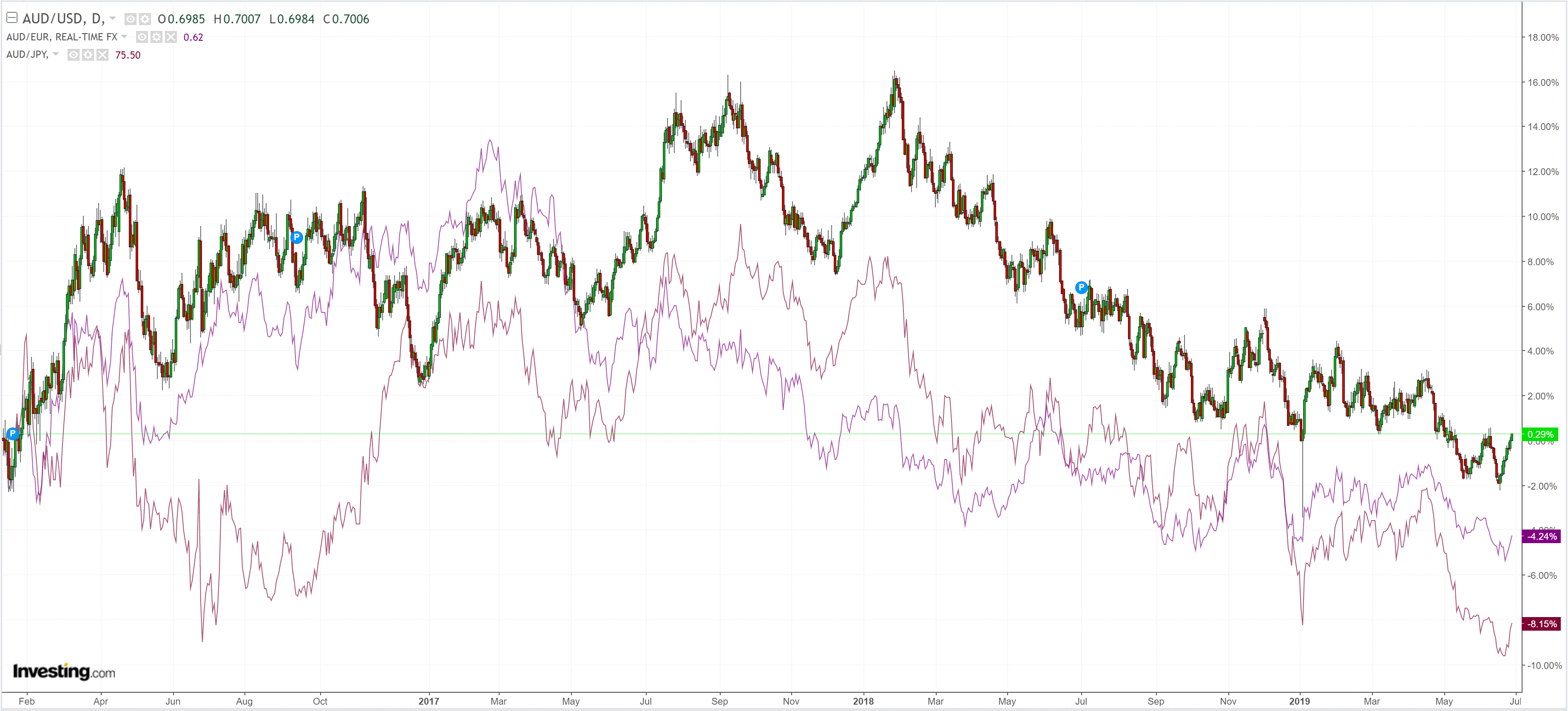 Gold eased: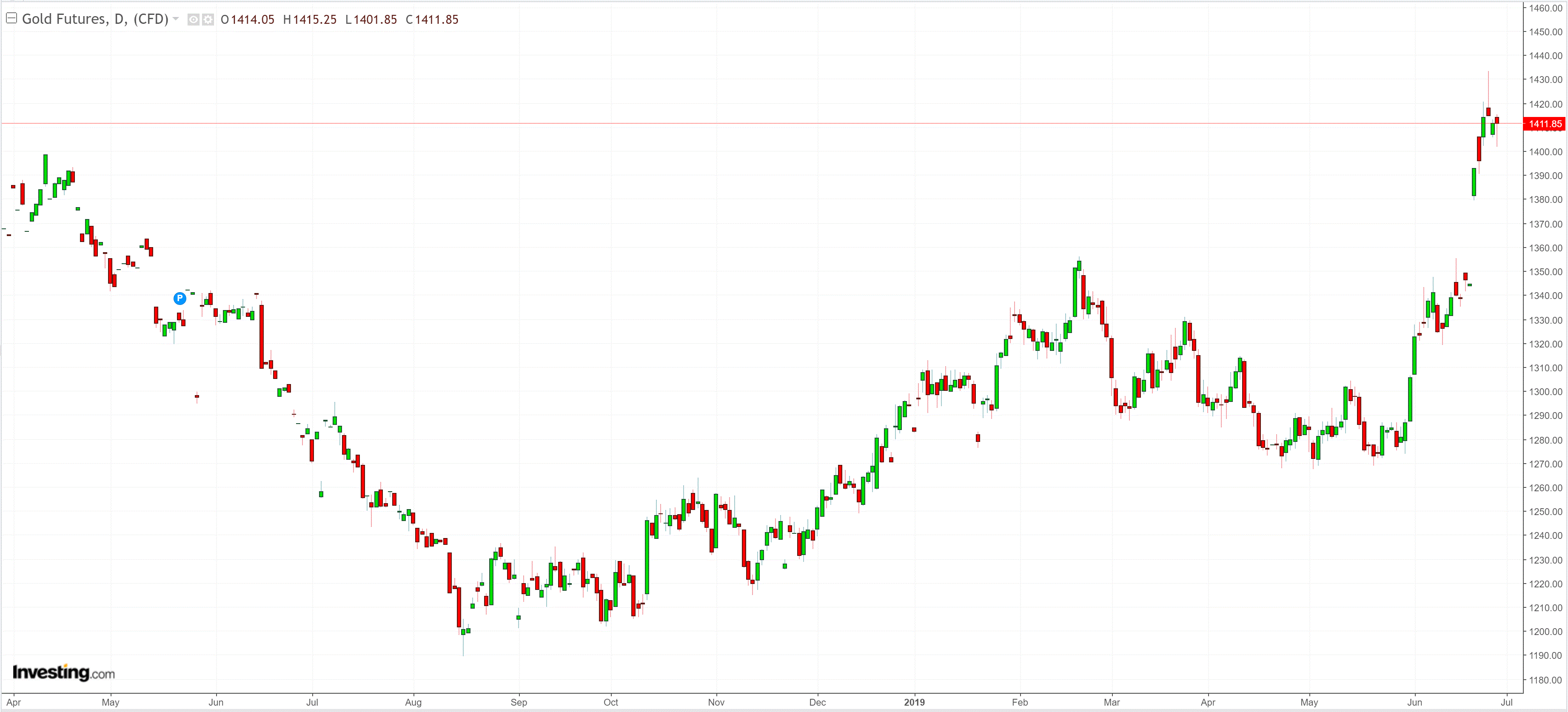 Oil was mixed: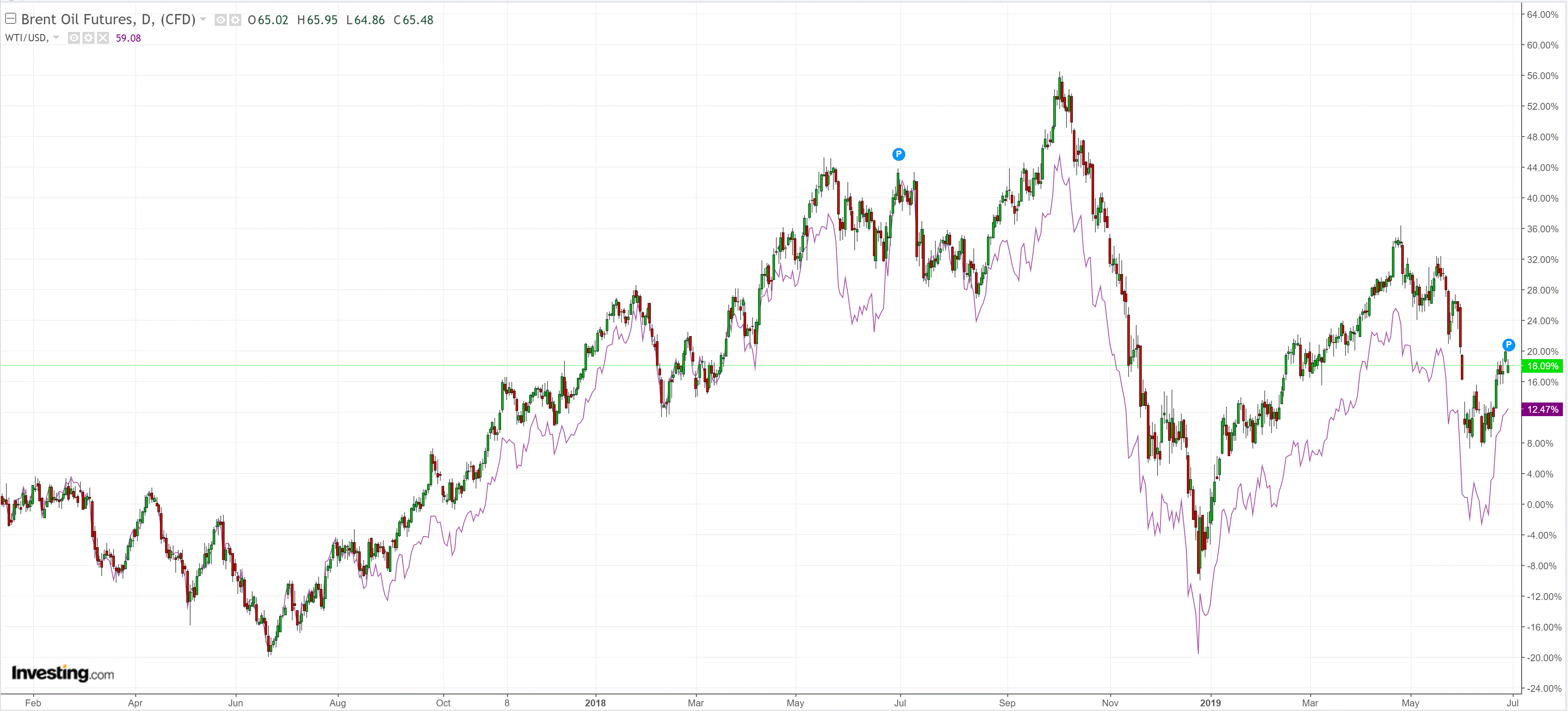 Metals too: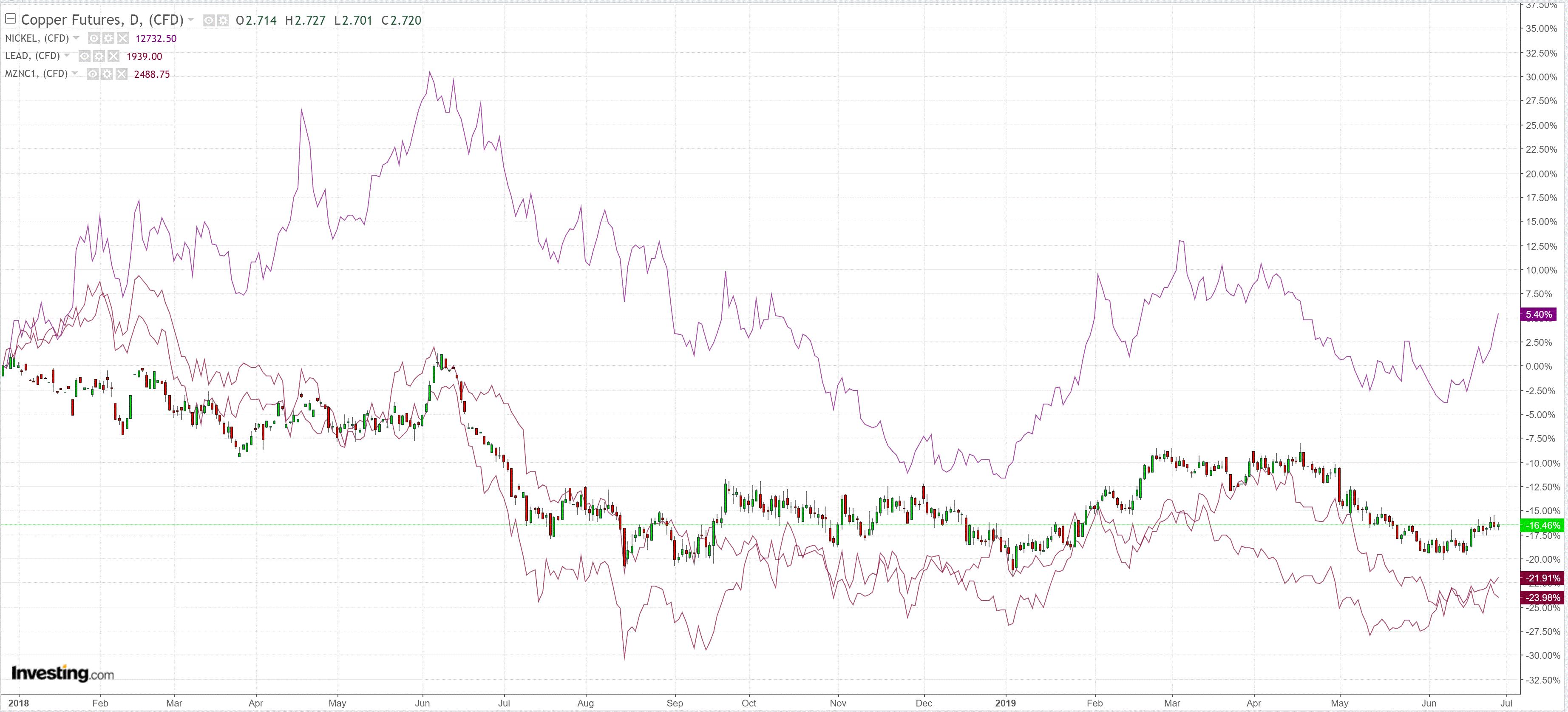 Miners struggled after a GLEN mine collapse in Congo: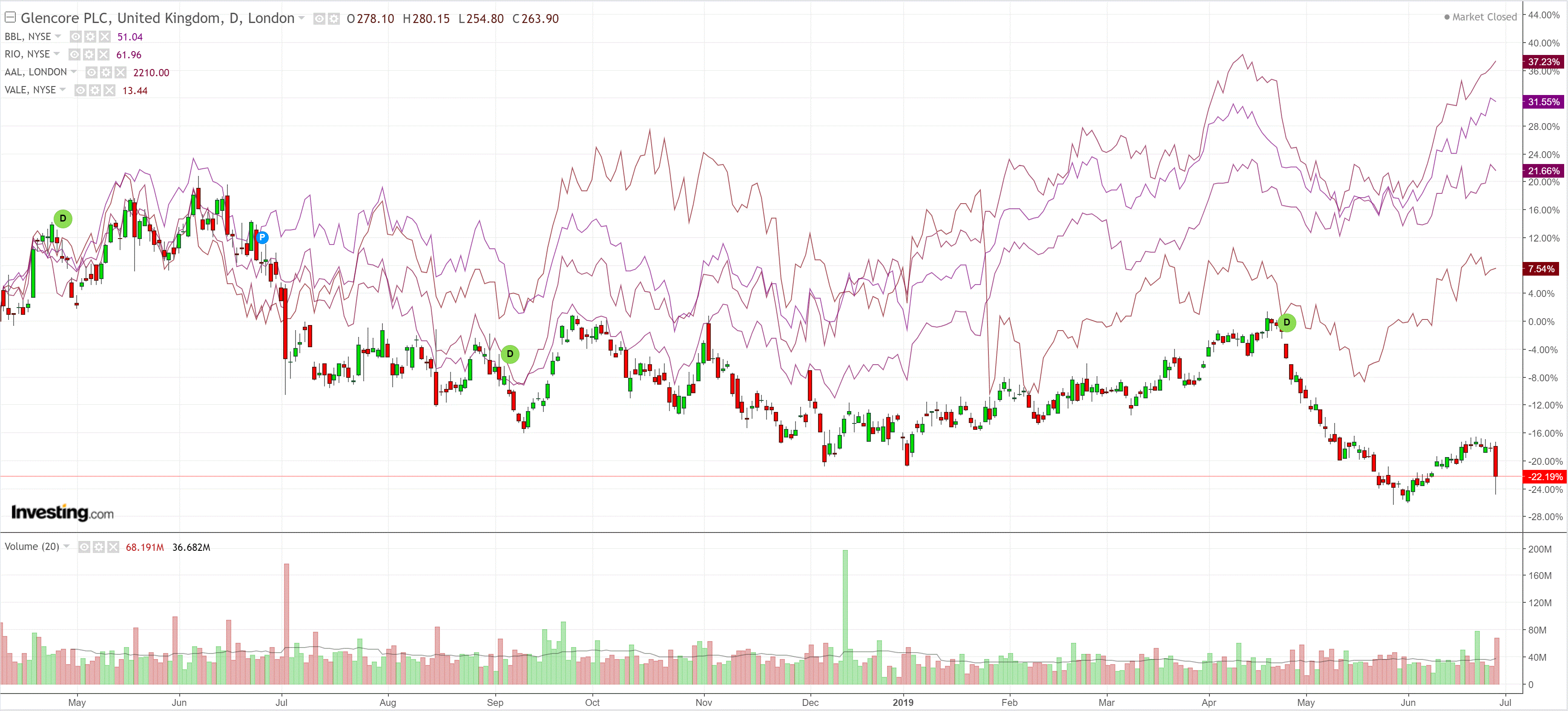 EM stocks are trending higher again: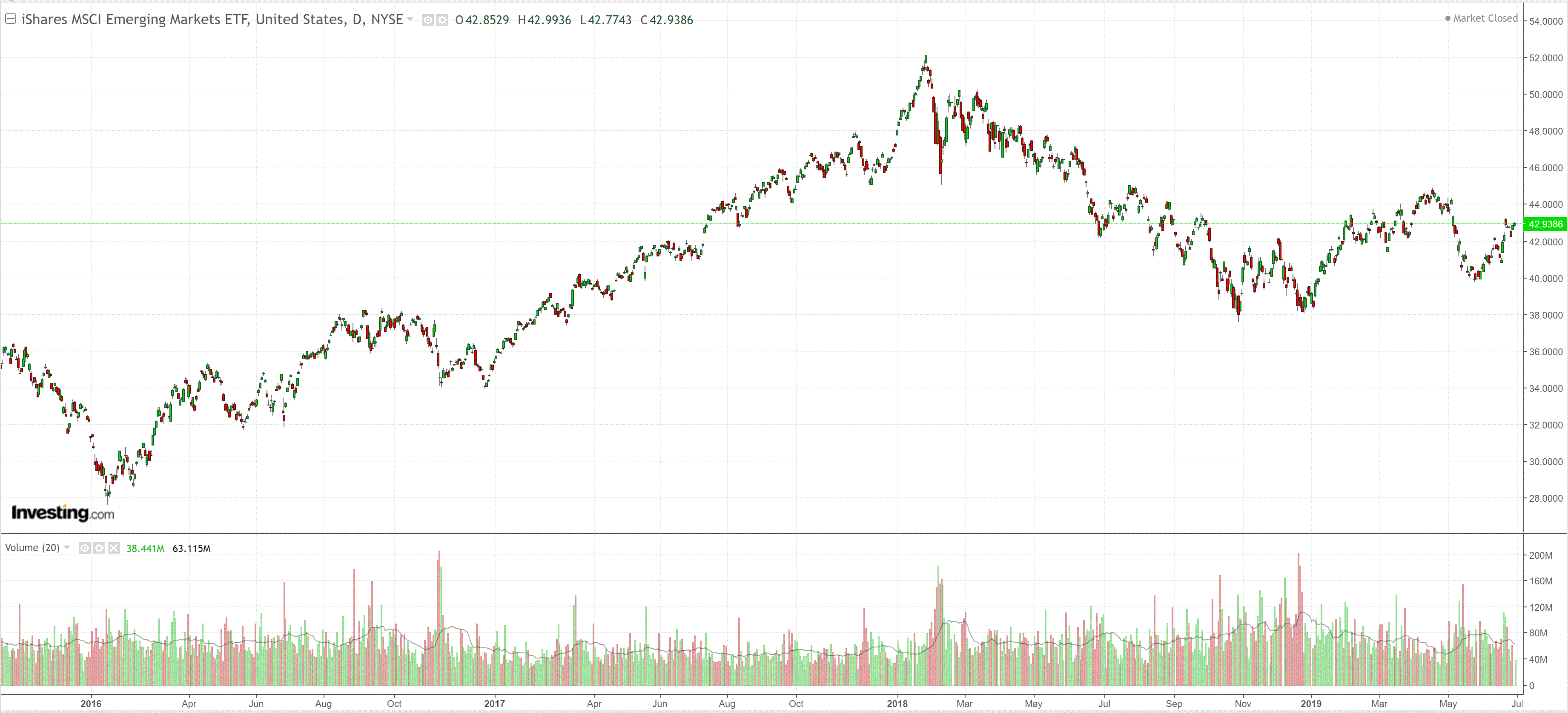 Junk too: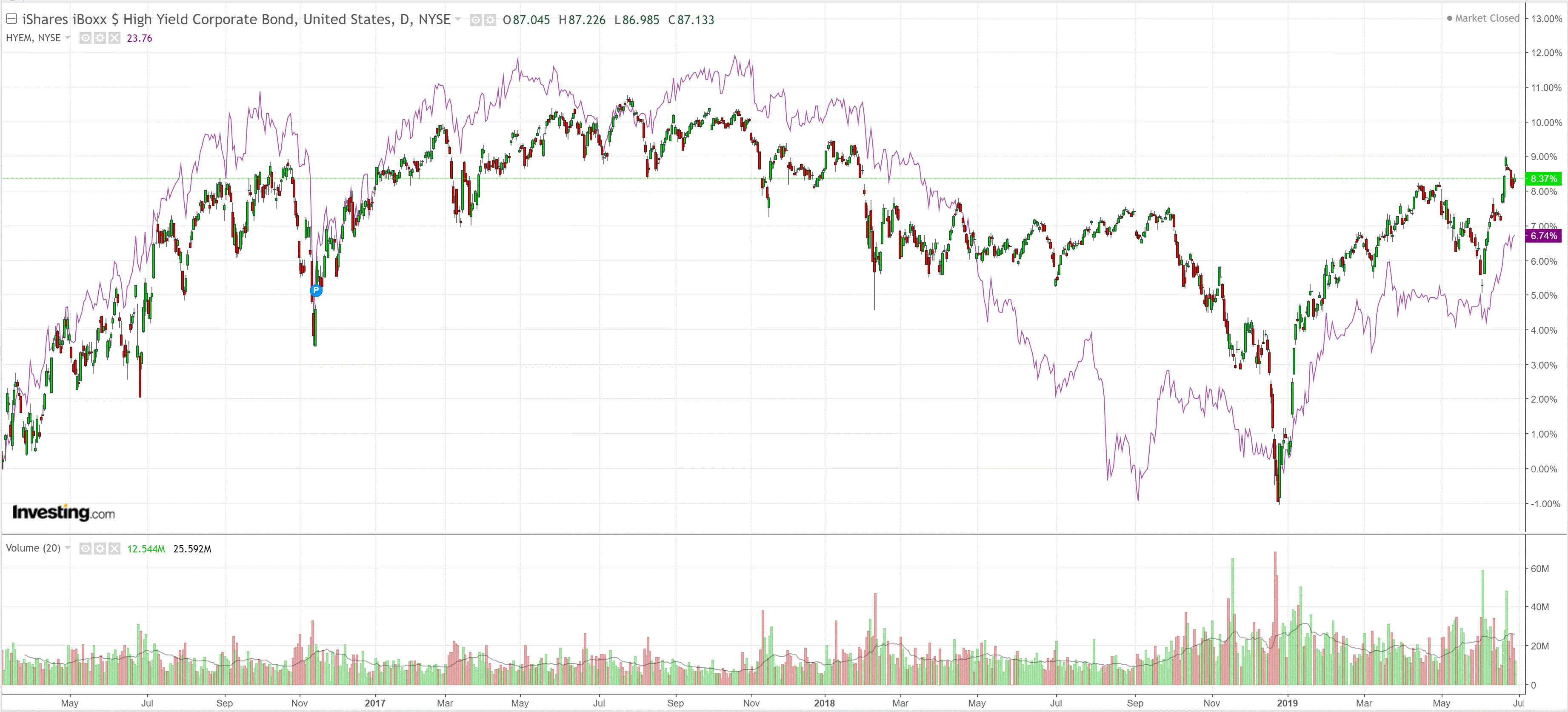 Treasuries were bid: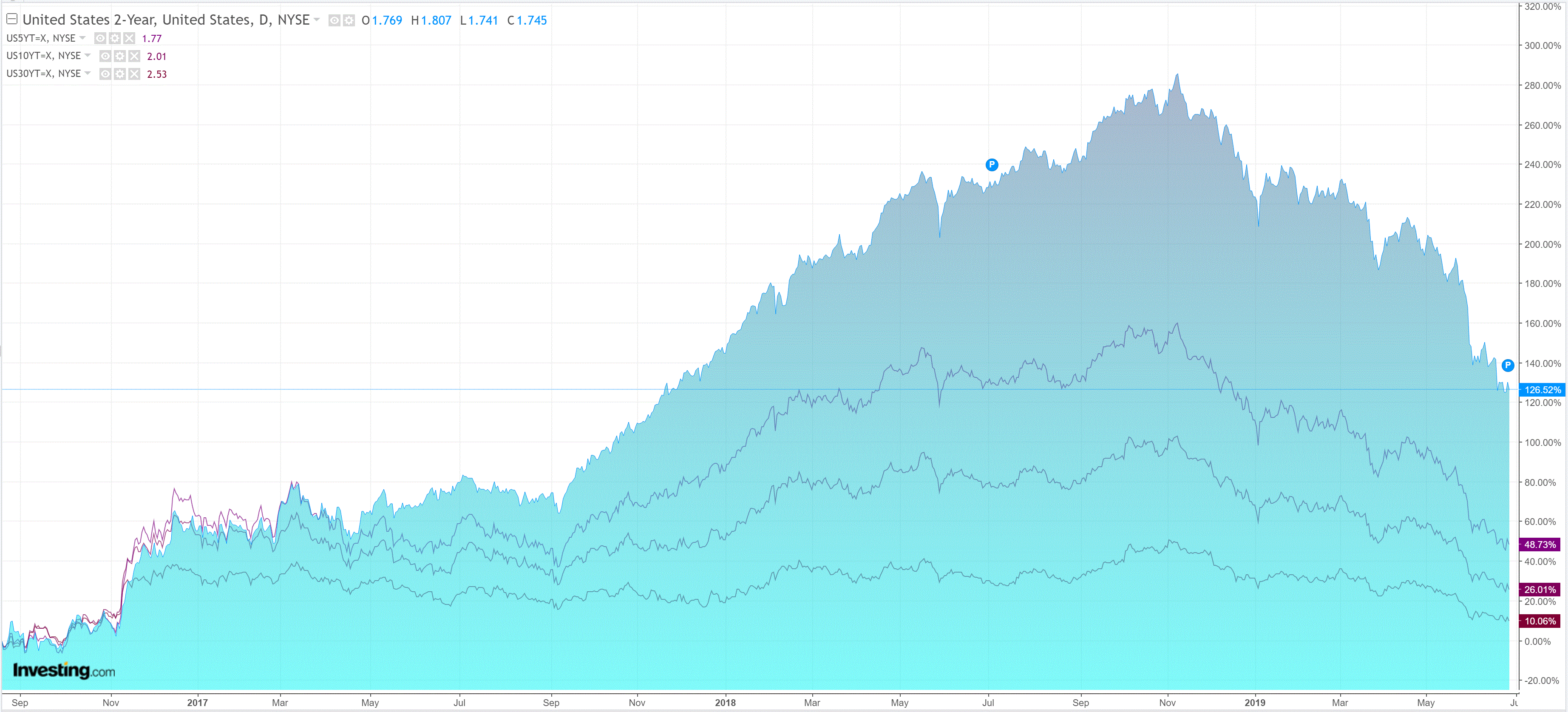 And bunds: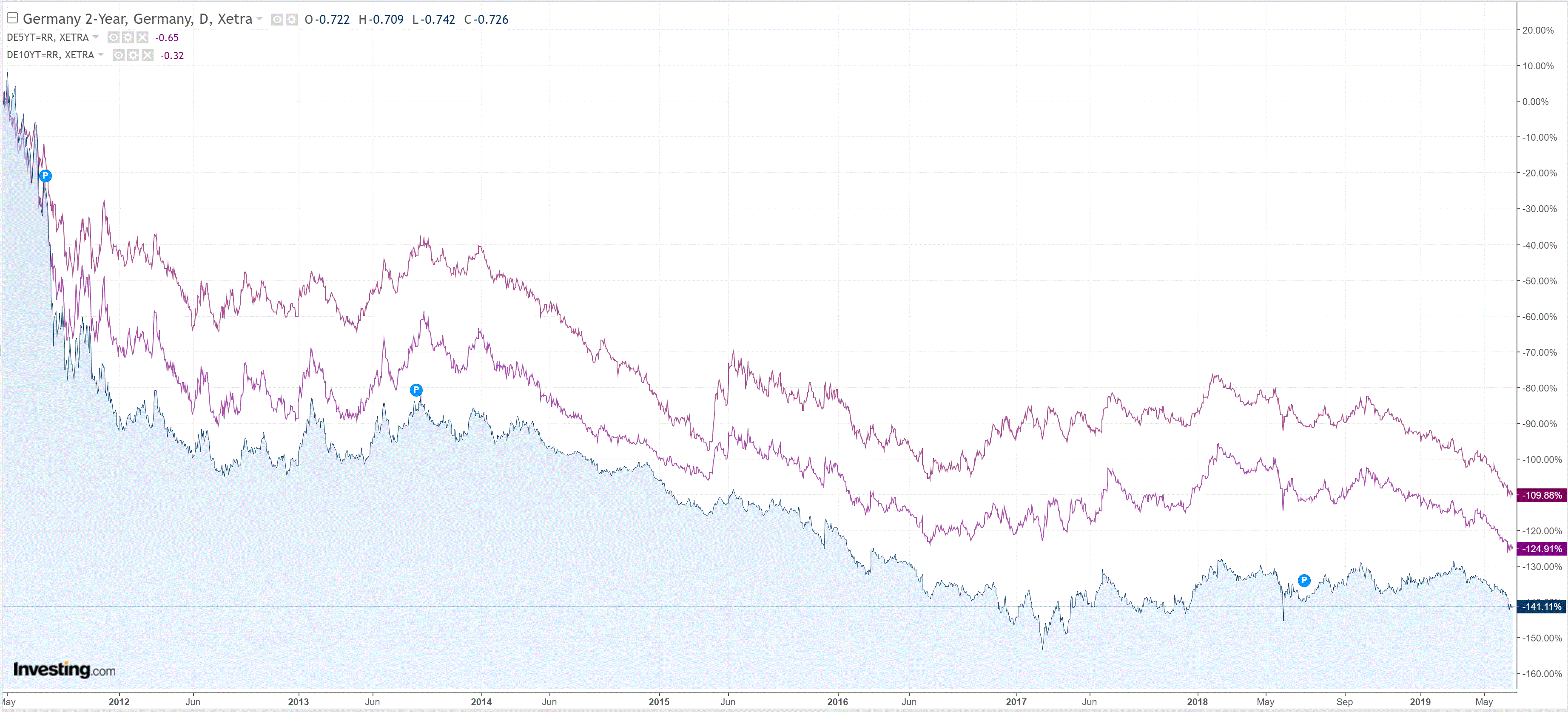 And Aussie bonds. Stocks lifted: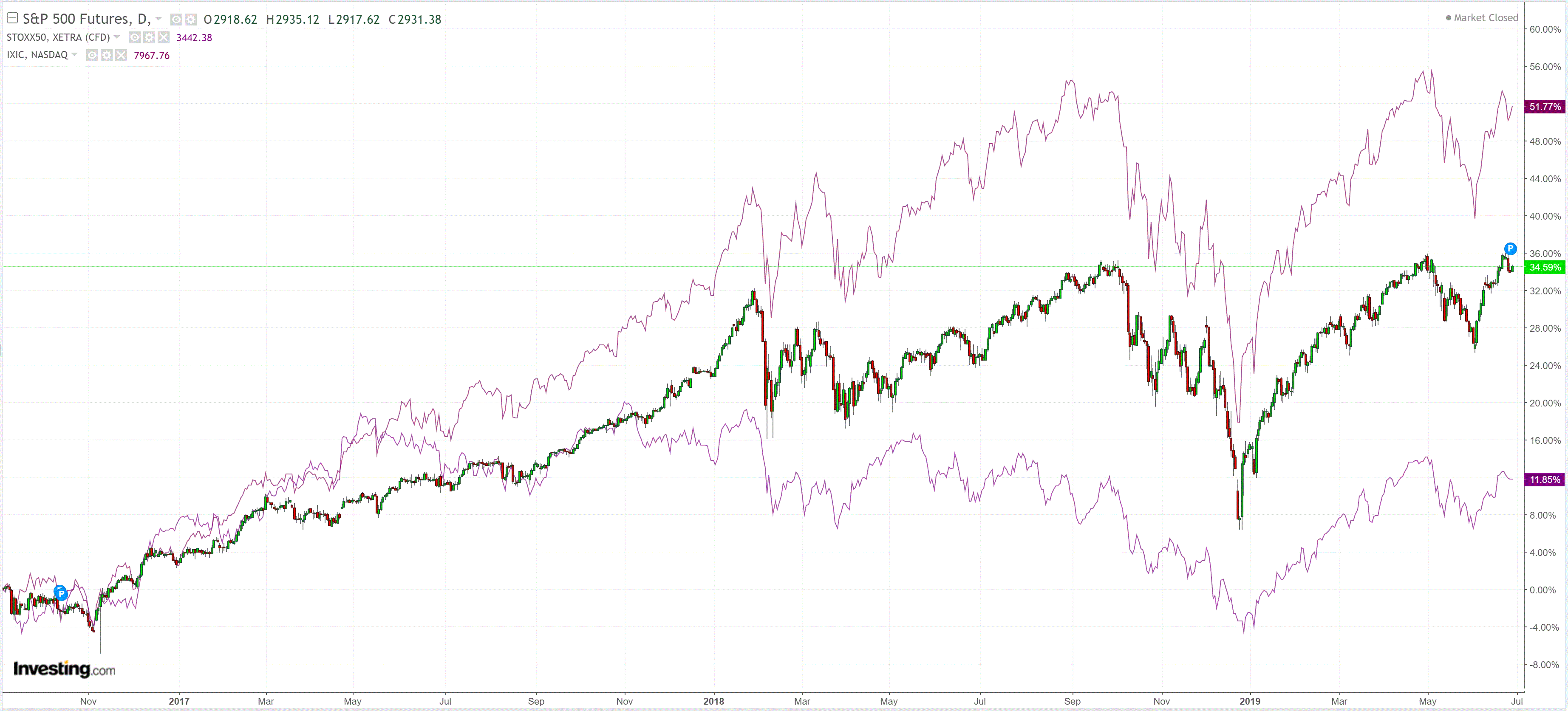 Westpac with the wrap:
Event Wrap

US pending home sales rose 1.1% in May, close to expectations, a welcome gain aided by lower interest rates.

US Q1 GDP growth was left unrevised at a 3.1% annualised pace (vs 3.2% expected); consumer spending was nudged lower while business investment was stronger than previously estimated. The lack of any meaningful revisions leaves Q2 GDP growth tracking estimates largely untouched at around 2%.

The European Commission's economic and business sentiment gauges tumbled to three year lows in June; their main indicator of economic confidence dropped to 103.3 from 105.2, its lowest since August 2016.

German consumer prices accelerated more than expected in June, +0.3%, lifting the annual rate to 1.6%.

Event Outlook

NZ: consumer confidence (ANZ) remains in positive territory, helped by record low mortgage rates and a solid jobs maket.

Australia: May private sector credit is expected to show continued sluggish growth of 0.2%.

Japan: BOJ summary of opinions from the June meeting is released.

China: Q1 current account follows a Q4 surplus of $58.6bn.

Euro Area: Jun CPI preliminary is expected to show annual core inflation returning to 1.0%yr from 0.8%yr.

US: May personal income is anticipated to rise 0.3% with personal spending up 0.5%. The PCE deflator is expected to show both headline and core inflation at 1.5%.

The G20 Summit in Japan begins today and concludes on Saturday. The meeting between Trump and Xi will be the key focus.
It's all trade war hopium. Via Bloomie:
Even a temporary truce could still be in doubt: The Wall Street Journal reported Thursday, citing unidentified Chinese officials, that Xi's terms for a trade truce with Trump will include an insistence that the U.S. lift its ban on the sales of technology to Huawei Technologies Co.

Heading into a meeting at the Group of 20 summit in Japan starting Friday, the world's largest economic engines have a relationship that's now more strained and colored by mistrust than it has been at any time during Trump's presidency. The two sides have had little contact during the stalemate, and plans for this week's meeting between the leaders have come together in a flurry of last-minute phone calls.

…"China's core concerns must be addressed properly," Ministry of Commerce spokesman Gao Feng said at a regular briefing in Beijing Thursday when asked about the three demands laid out by Vice Premier Liu He in May. The U.S. must remove all extra tariffs, set targets for Chinese purchases of goods in line with real demand and ensure that the text of the deal is "balanced" to ensure the "dignity" of both nations, Liu has said.
That is just silly. The CPC is clearly not interested in talks at all. It is aiming to get past El Trumpo to negotiate with Democrats.
Meanwhile, on the ground, things are apparently not good, via Reuters:
More than half Chinese consumers have avoided buying anything made in the United States in support of their country in an escalating trade war, a survey suggests, posing a "significant" risk to U.S. companies.

The poll, conducted by London-based advisory firm Brunswick which surveyed 1,000 Chinese consumers, said 56% of respondents had said they had avoided U.S. products, while 68% said their opinion of American firms had become more negative.
That sounds about as credible as the CPC demands. If we were seeing this then there'd be waves of profit warning in US exposed firms. But it is a standing risk.
Ray Dalio brings some perspective, at the AFR:
"We are approaching a new era in which there is going to be conflicts between China and the US in a number of areas. That issue will affect Australia too."

Dalio says he is "worried because there's been a move from a co-operative relationship to a confrontational relationship, (and) that is a big deal".

"This will go way beyond a trade war. I worry that the ways each side will try to push the other will be rough and encompass all areas."

Mr Dalio does not envisage a de-escalation in tensions even if there is a change in government in the United States.

"Both Republicans and Democrats in the United States have an anti-China perspective," he says.
What would improve is coordination with allies.
The Aussie dollar is now hostage to trade war hopes and fears. Trying to predict that in the short run is impossible. Over the long run it remains a clear negative for the economic and forex outlook.
David Llewellyn-Smith is Chief Strategist at the MB Fund and MB Super. David is the founding publisher and editor of MacroBusiness and was the founding publisher and global economy editor of The Diplomat, the Asia Pacific's leading geo-politics and economics portal.

He is also a former gold trader and economic commentator at The Sydney Morning Herald, The Age, the ABC and Business Spectator. He is the co-author of The Great Crash of 2008 with Ross Garnaut and was the editor of the second Garnaut Climate Change Review.
Latest posts by David Llewellyn-Smith (see all)