See the latest Australian dollar analysis here:
DXY was clubbed lower last night and CNY plus EUR jumped: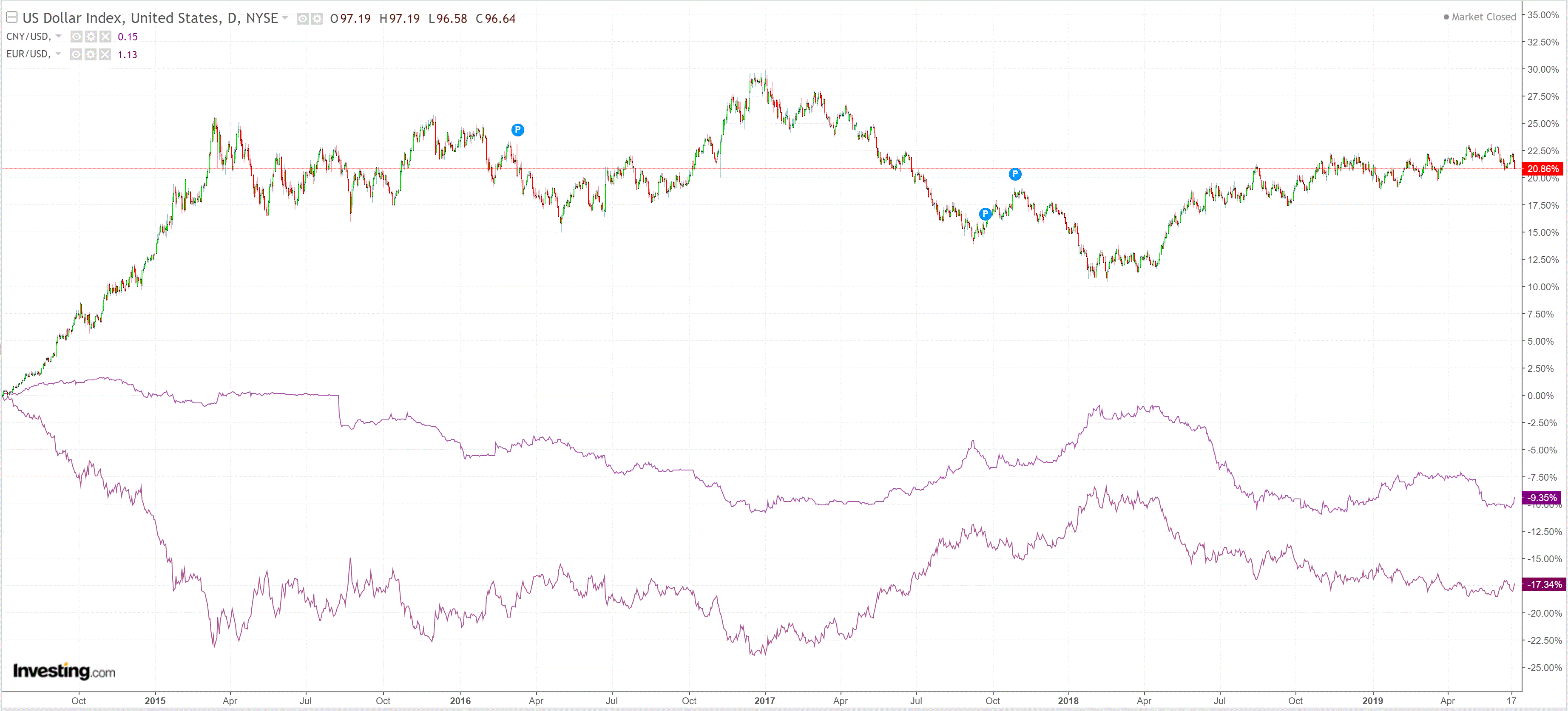 The Australian dollar was mixed against DMs: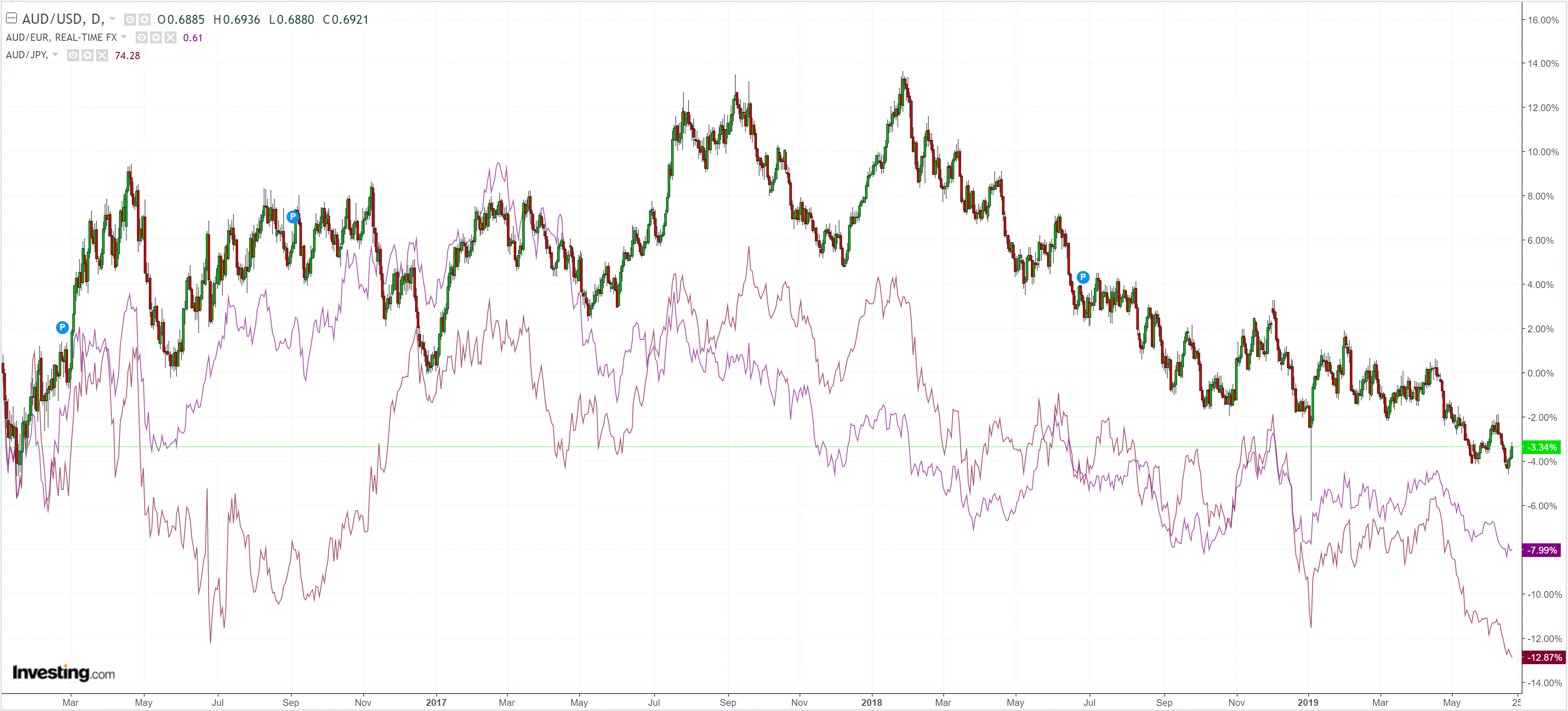 And EMs: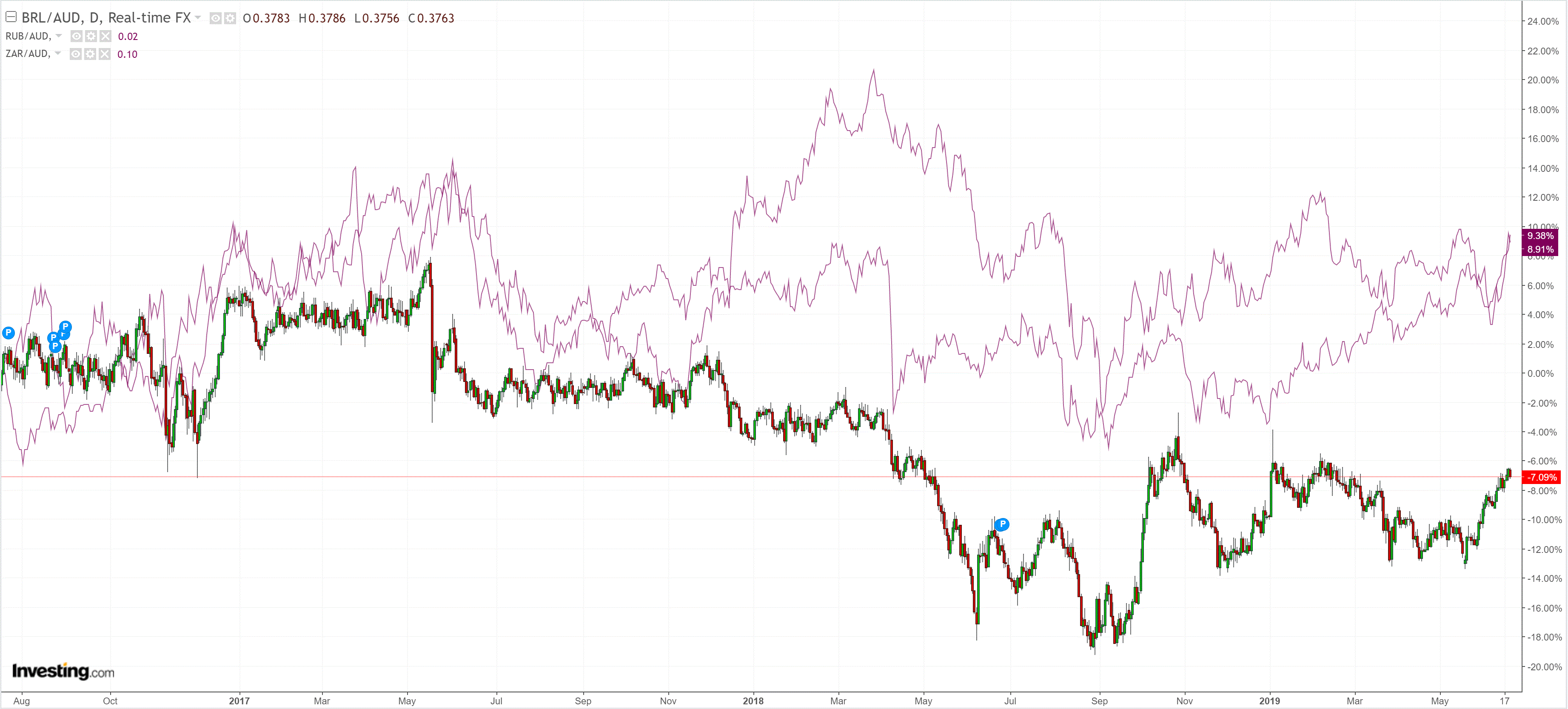 Gold soared but needs to break above $1400 to indicate more gains: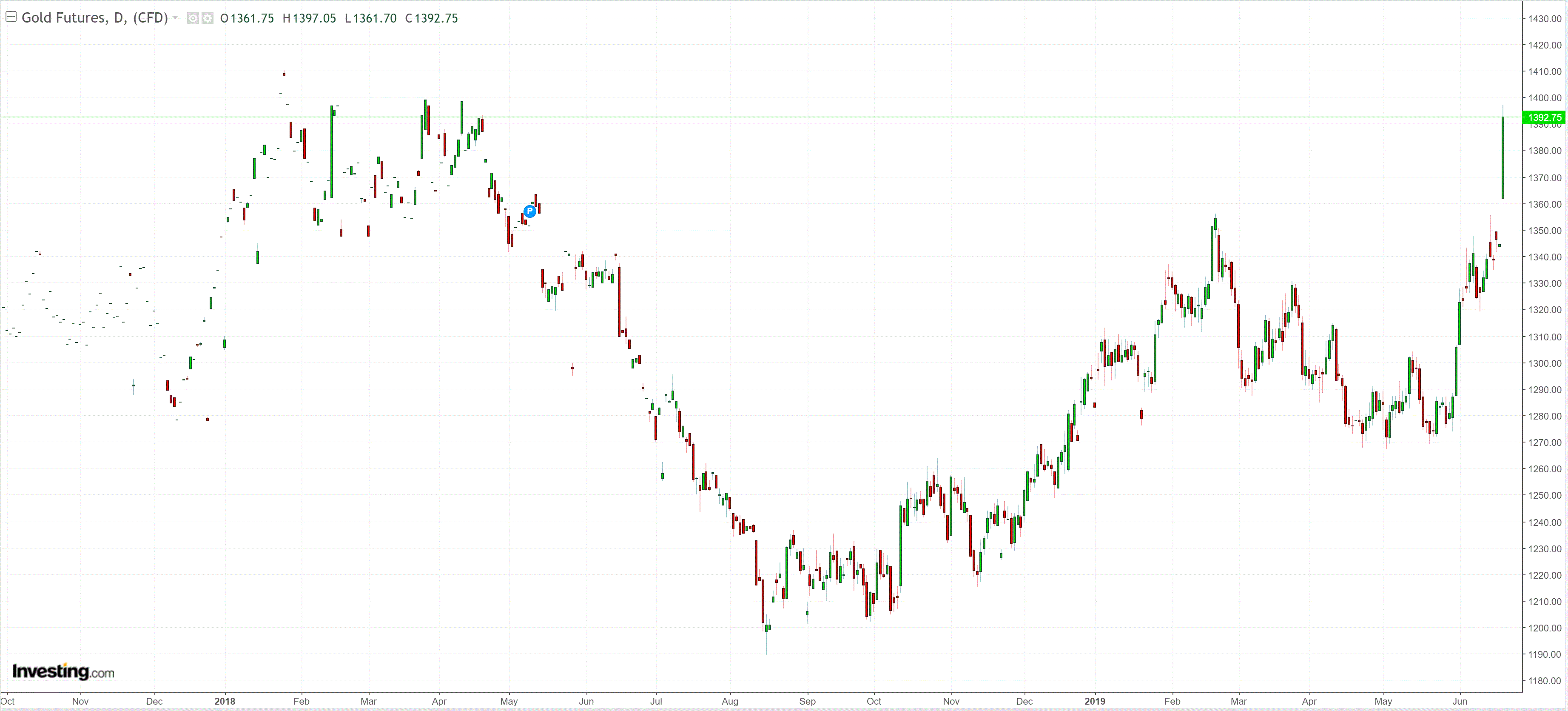 Oil rocketed as the US mulls Iran strikes: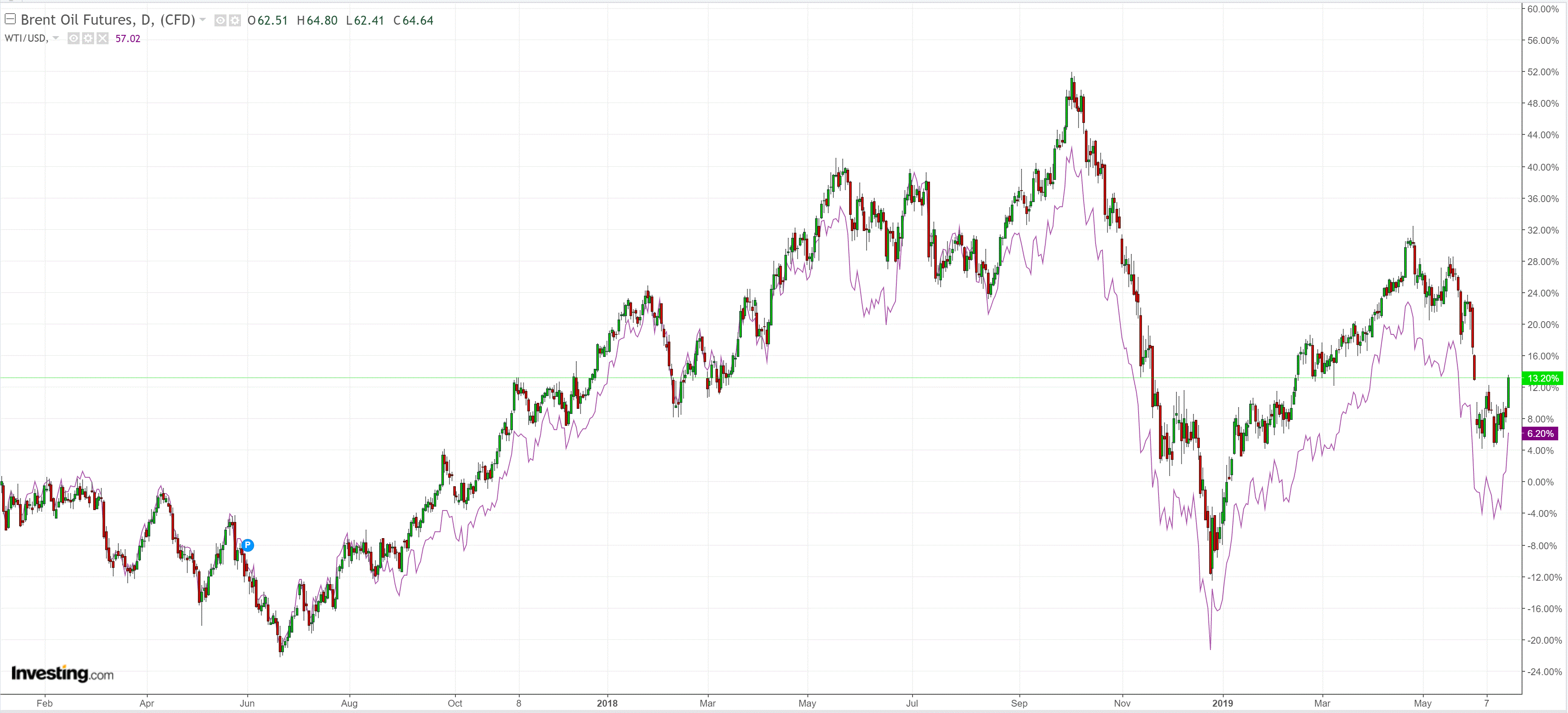 Metals were higher: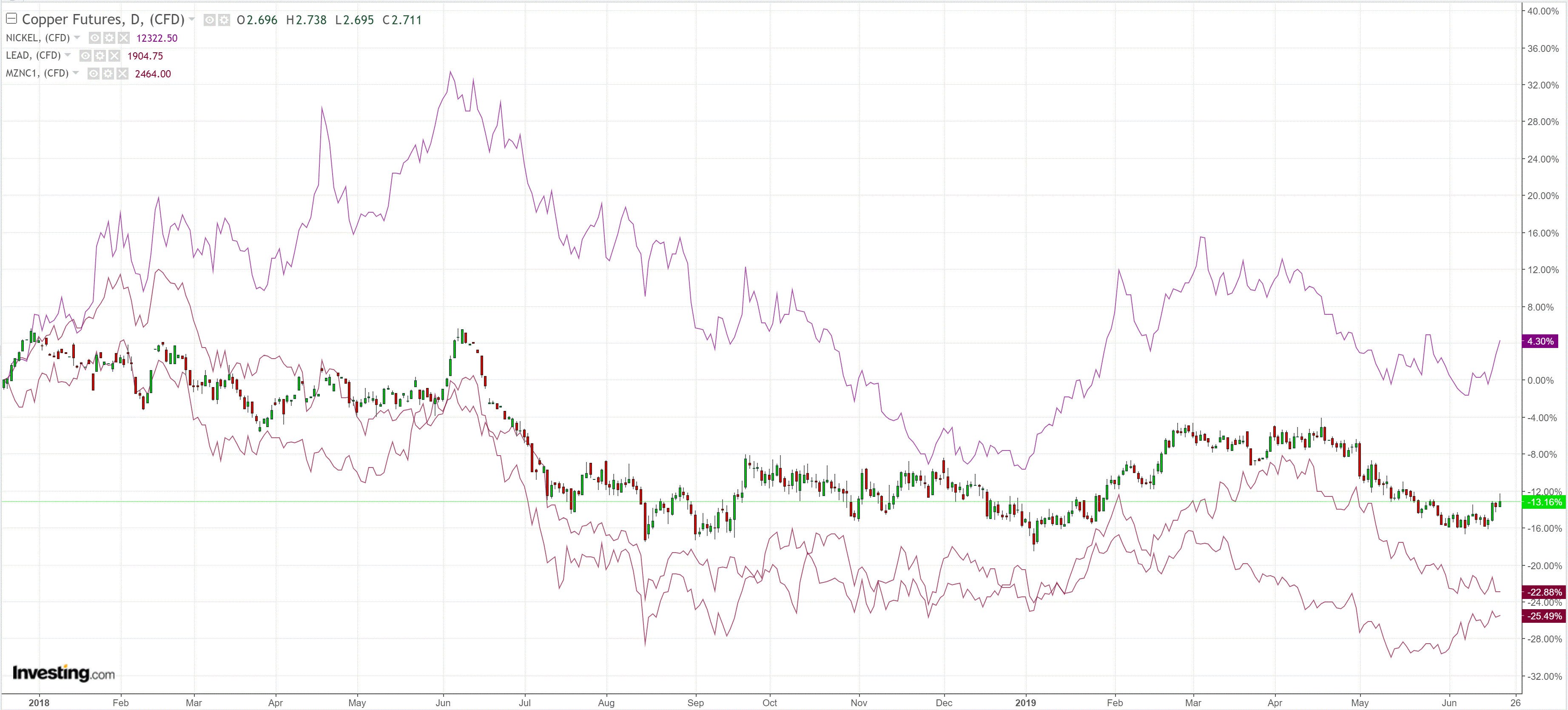 Big miners too: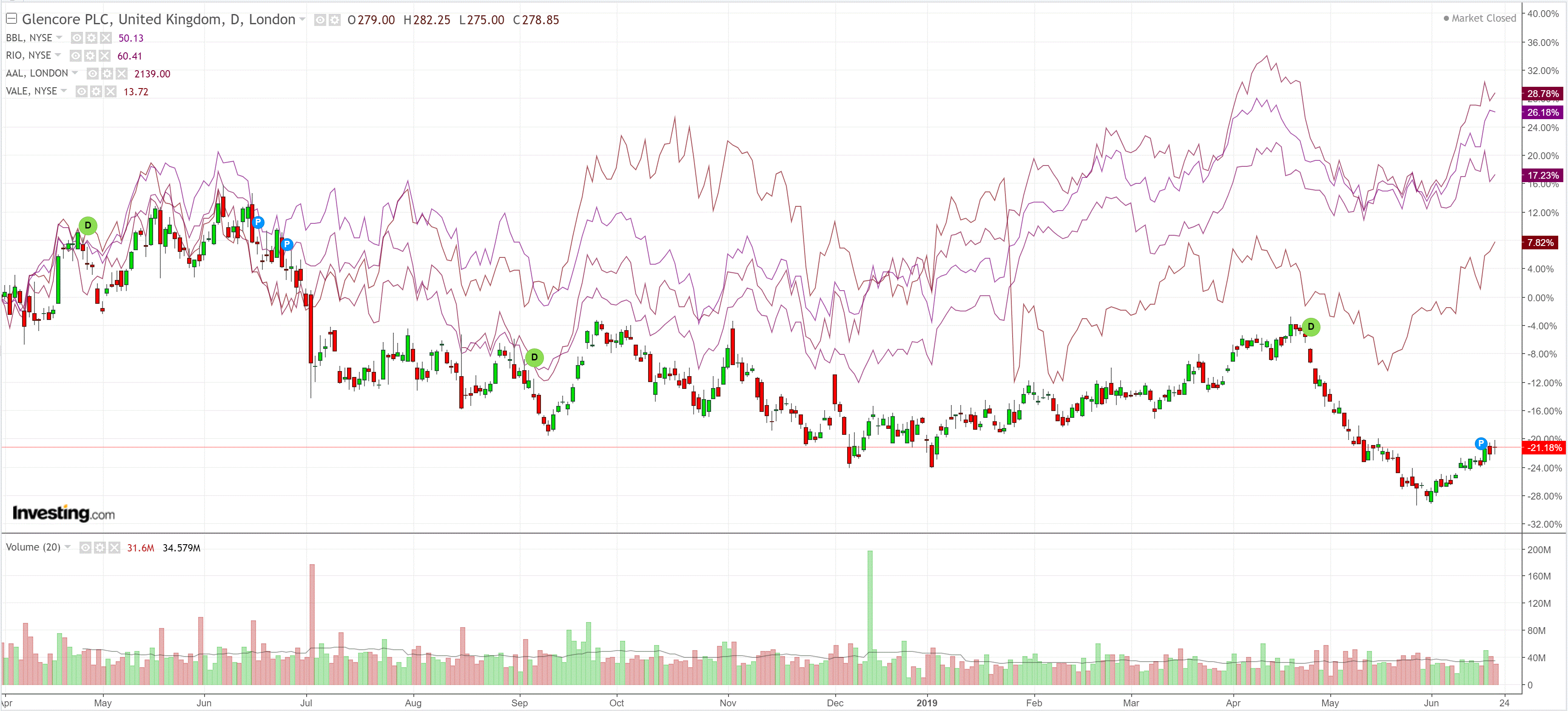 EM stocks jumped: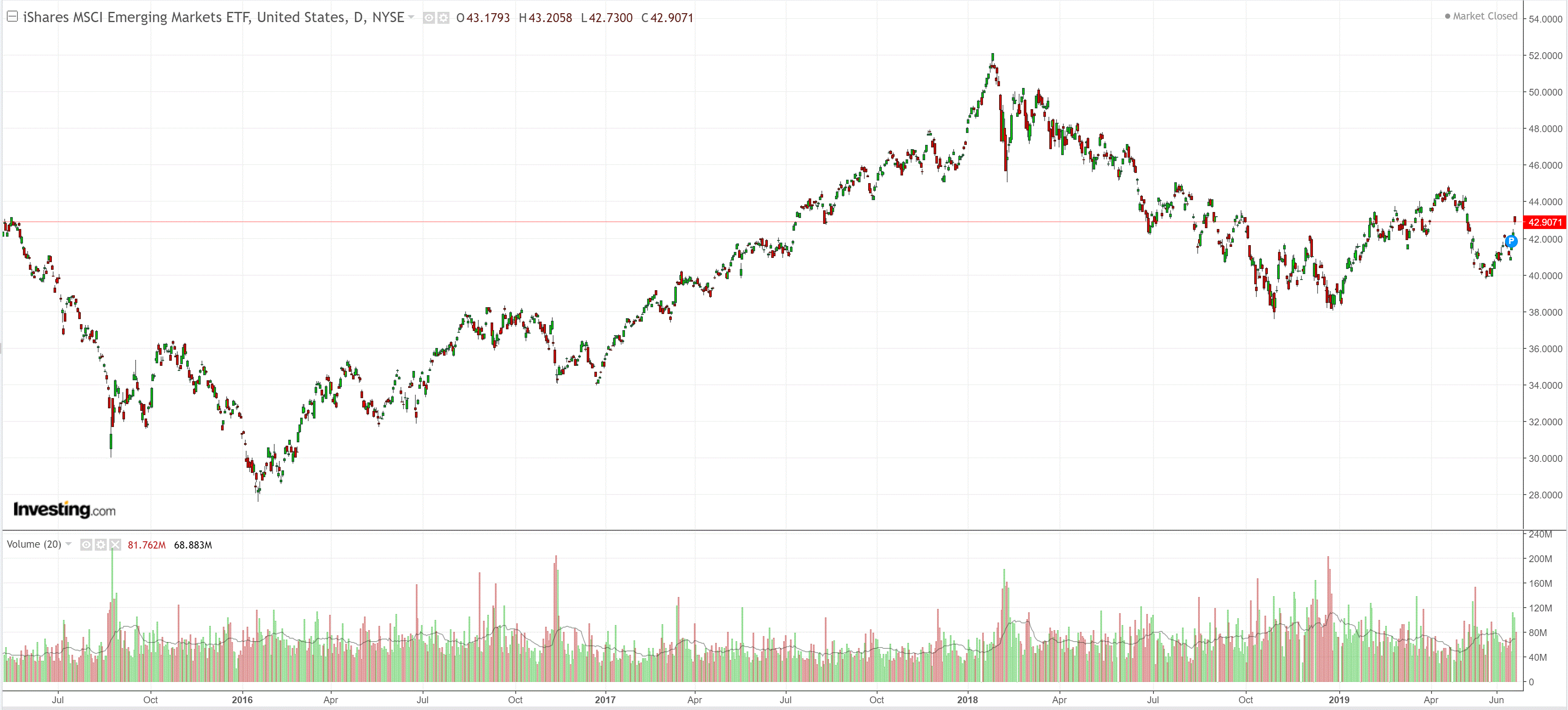 Plus junk: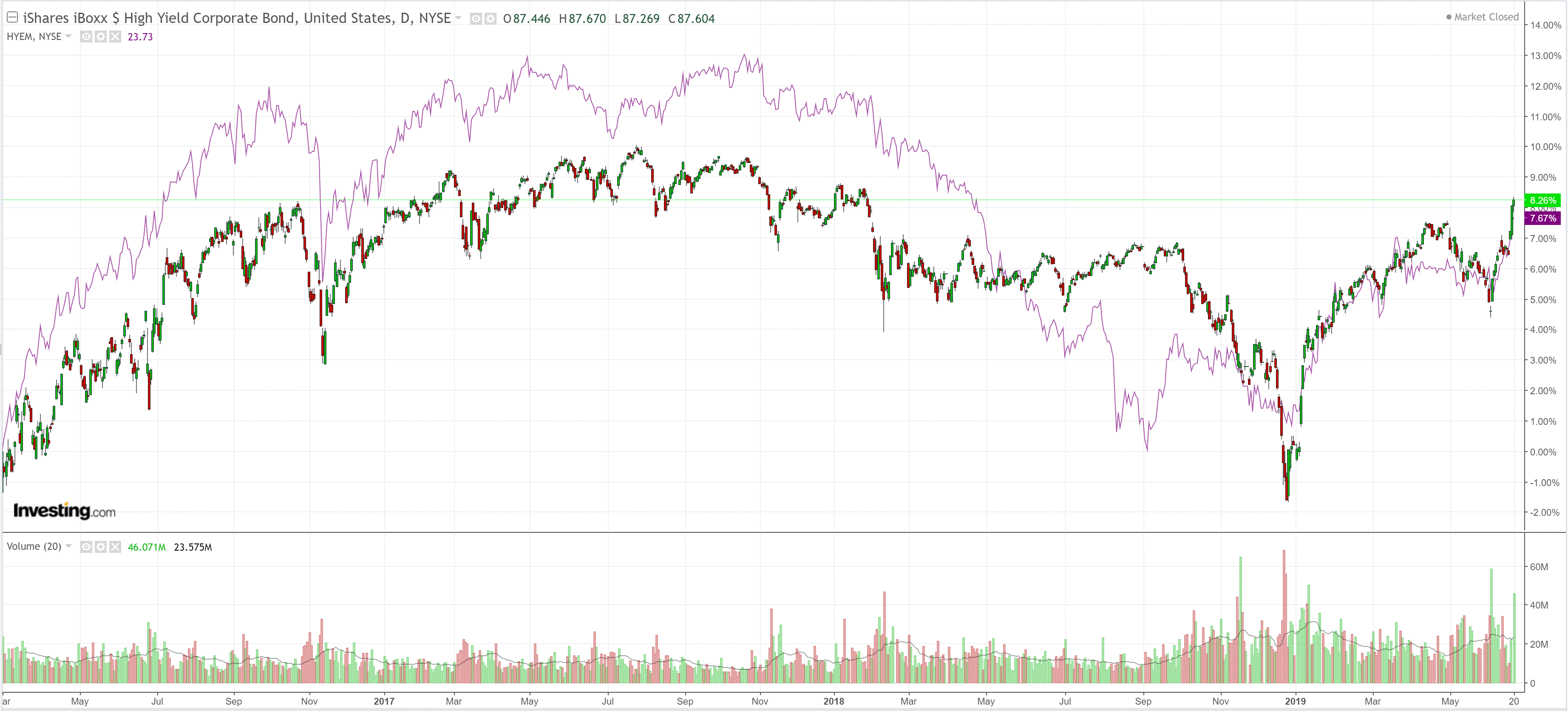 The Treasury curve was crushed: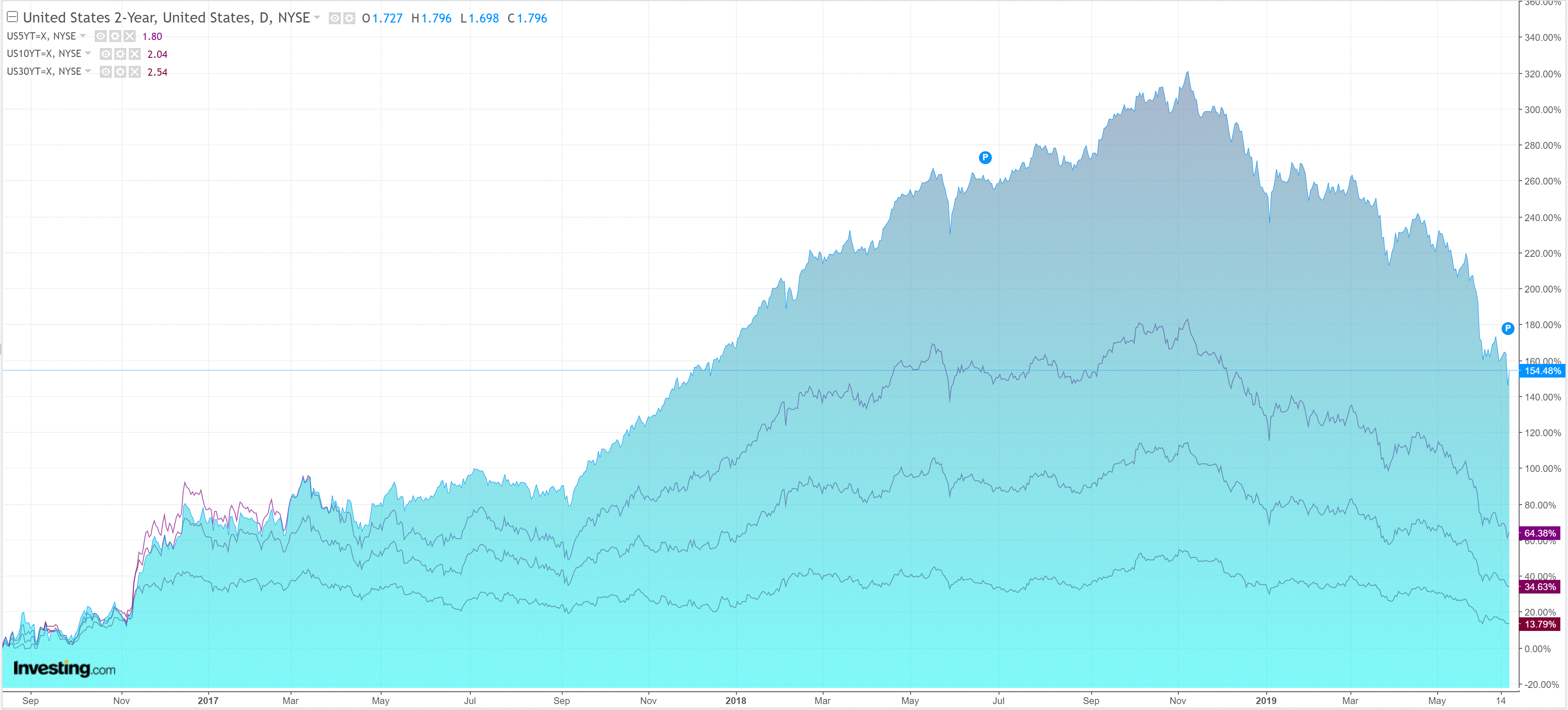 Bunds too: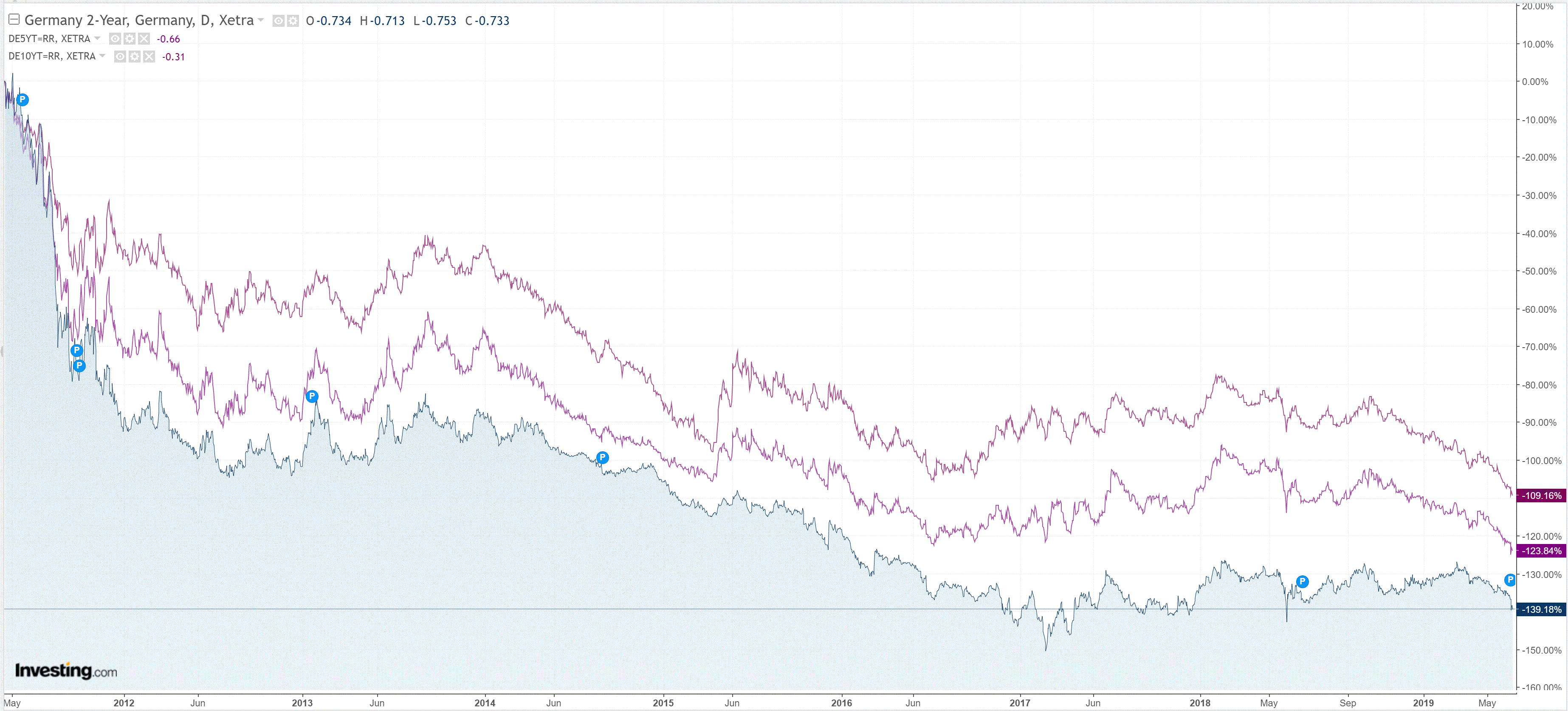 Aussie bonds pulled back: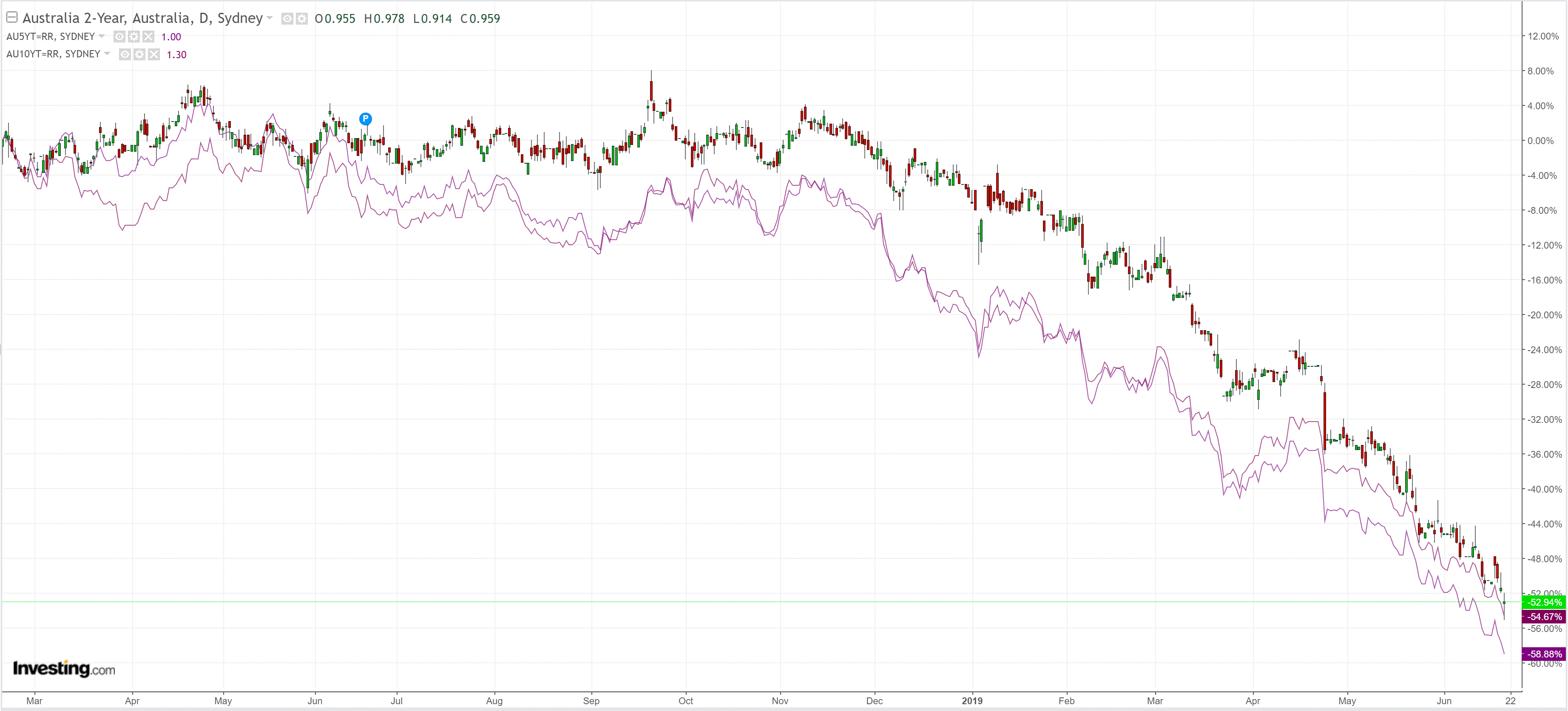 Westpac has the wrap:
Event Wrap

The Philadelphia Fed activity survey headline fell sharply (from 16.6 to 0.3, vs 10.4 expected), like its NY Fed Empire cousin, though not all the detail was weak – new orders and employment eased but only slightly. All that said, risks of a sub-50 June manufacturing ISM in two weeks' time are high.

The BoE kept policy firmly on hold (unanimous 9-0 decision). Despite acknowledging deterioration in global growth prospects, declining yields, and increased Brexit uncertainties which have lowered 2Q'19 growth expectations to zero (from +0.2%q/q), the MPC still see consistency with the projections from the May Inflation Report. Household income and demand remain firm and are seen to offset weak business investment. There are still concerns around a no-deal Brexit, but if it proves to be smooth, BoE still expect rates will need to rise.

UK retail sales for May were in-line with expectations on m/m basis (headline -0.5%m/m, ex-F&E -0.3%m/m) but weakness in revised previous data caused the y/y levels to pullback (headline +2.3% vs est. +2.7%) from the apparent strength in early 2019.

US officials confirmed that a navy surveillance drone was shot down by an Iranian surface-to-air missile system while operating in international airspace over the Strait of Hormuz.

Event Outlook

Japan: May CPI is expected to show annual headline inflation declining to 0.7%yr from 0.9%yr.

Jun Markit Flash PMI's are released for Japan, Europe and the US. The previous read on manufacturing showed the US declining to 50.5, joining softness seen in Japan (49.8) and Europe (47.7).  Services have so far held up a bit better, Europe last at 52.9 and the US at 50.9.
All the usual daisy chain when the Fed cuts and the US dollar falls. So. how many cuts are coming? Daily Shot gives us useful snapshot:
Seven FOMC members expect a 50 basis point rate reduction this year (two cuts), and one sees rates 25 basis points lower. Just one member still expects a hike, while the rest see rates staying flat. Below is the dot plot for 2019 and 2020 (each set of dots represents a specific FOMC meeting).

Here are the historical rate path forecasts vs. the latest one.

The Committee continues to downgrade its long-term target rate prediction.

The long-term forecast is now the same as the upper bound of the fed funds target range.

The FOMC lowered its near-term inflation estimates:

… and pushed the unemployment rate projections further down.

Longer-run GDP growth estimates (second chart) remain below 2%.

The market is now pricing in a 70% probability of three or more rate cuts this year (with two cuts a near-certainty).

Is the market overshooting on its rate cut expectations? US consumers, for example, don't seem to need a rate cut.

Another example is mortgage applications which have been at multi-year highs.

And the 'mini' refinancing wave is already adding cash to US households.

But the weakness is more on the supply side:
My view of this is that there will be no trade deal, especially so now that the Fed has Trump's back, but that will take time play out and for markets to weaken again. In the meantime record high asset prices should support US consumption through a slowing economic period. There's no imminent US recession.
So, the Fed cuts twice then waits a little until markets pull back again and it is forced to cut again. Although inflation is undershooting, the US will have more than anywhere else.
This presents a scenarios in which the US dollar is more likely to be under chronic than acute pressure. This is further underlined by the Fed easing being trailed by cuts everywhere else, including China, so the US dollar will have to compete to fall.
The Australian dollar, therefore, still has the opportunity to also fall further so long as the RBA keeps cutting and the iron ore boom ends through H2.
The obvious risk is that the Fed is more aggressive and blows everything higher in H2, including the AUD.
Latest posts by David Llewellyn-Smith (see all)