See the latest Australian dollar analysis here:
DXY rebounded strongly overnight. EUR eased and CNY was belted: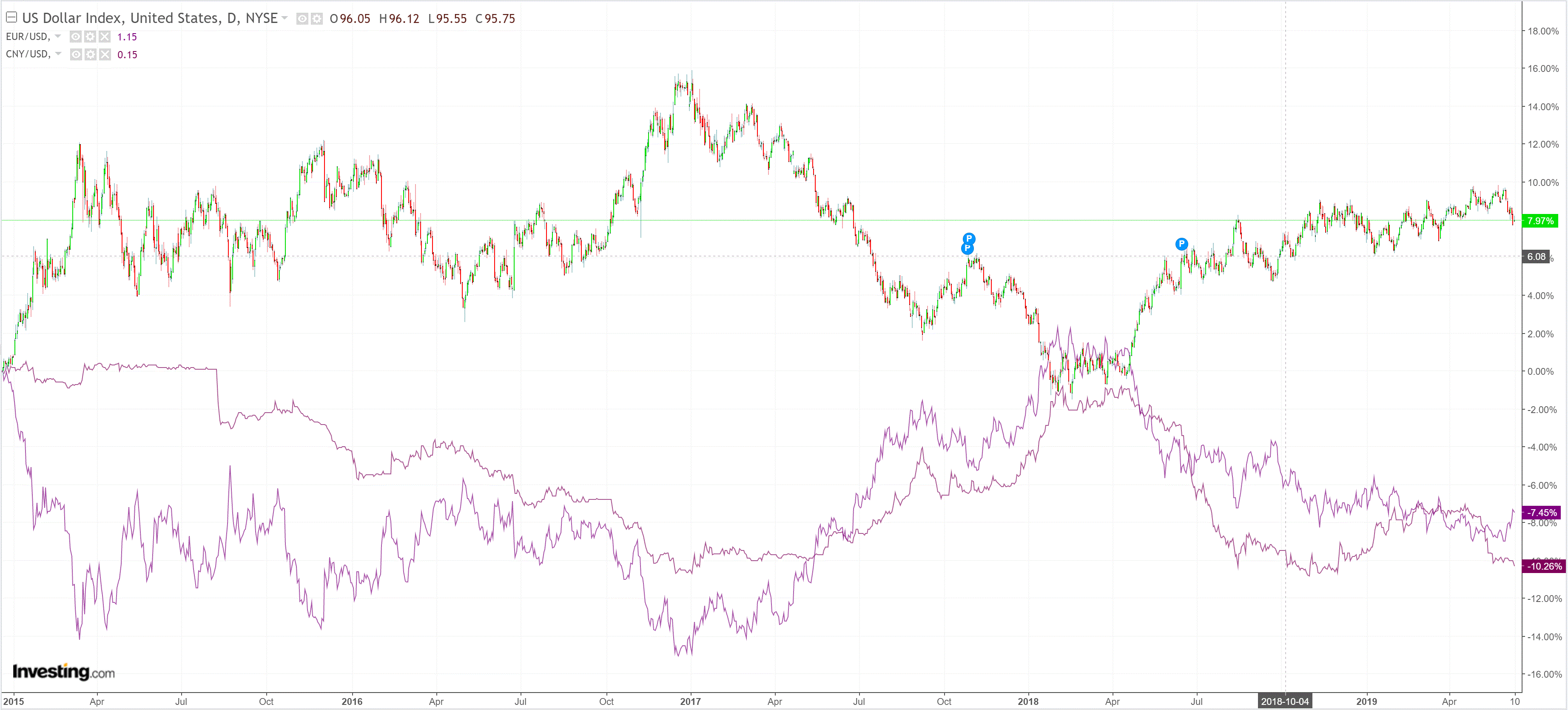 The Australian dollar was clubbed across the board: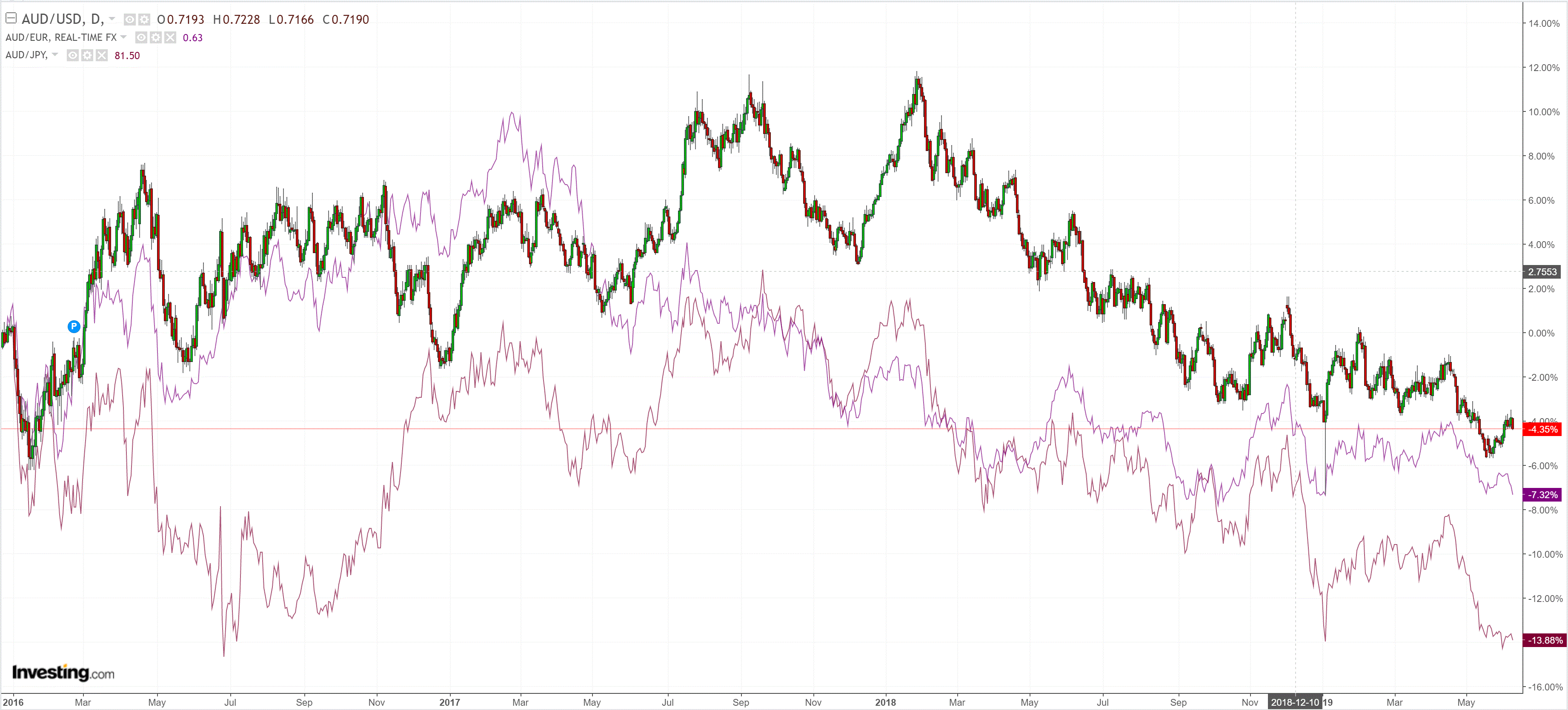 Gold sank: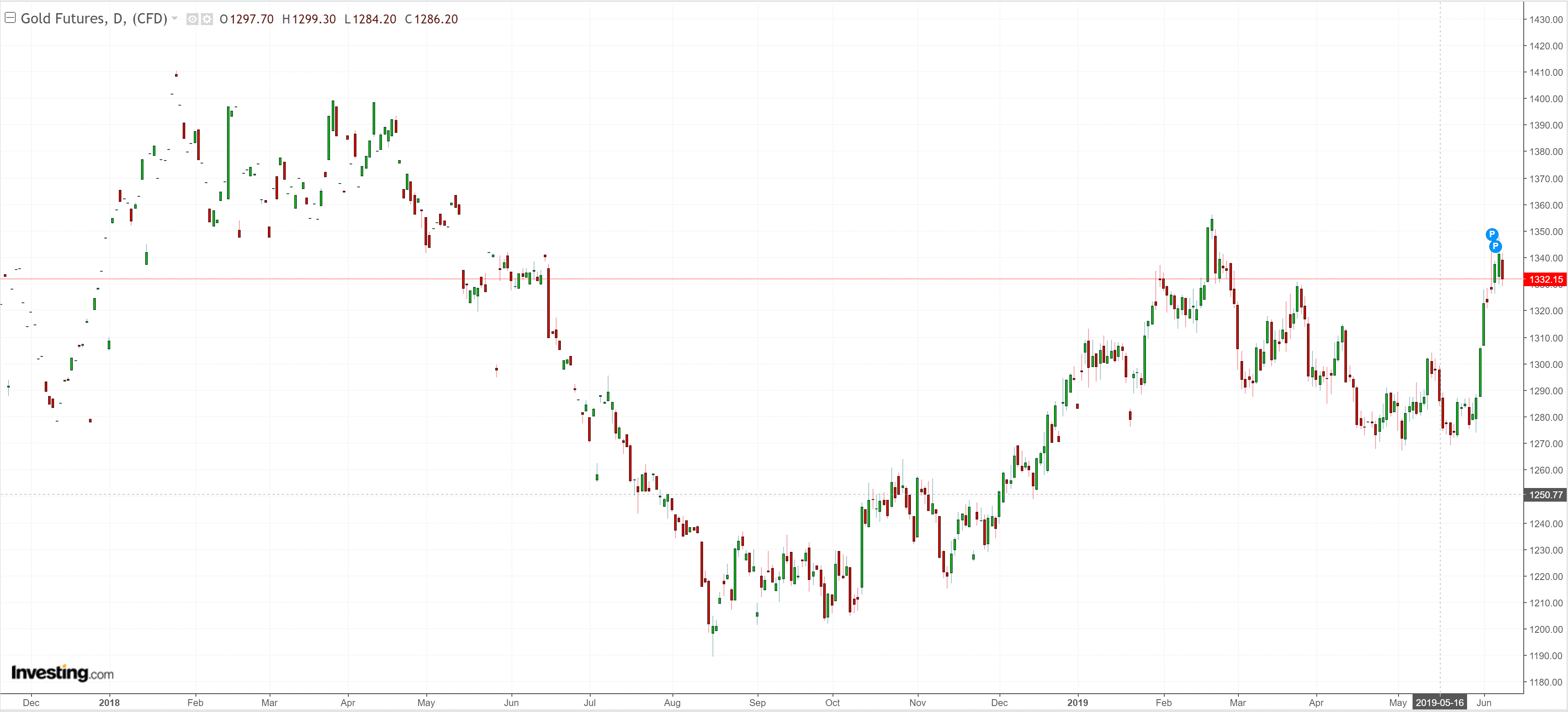 Oil too: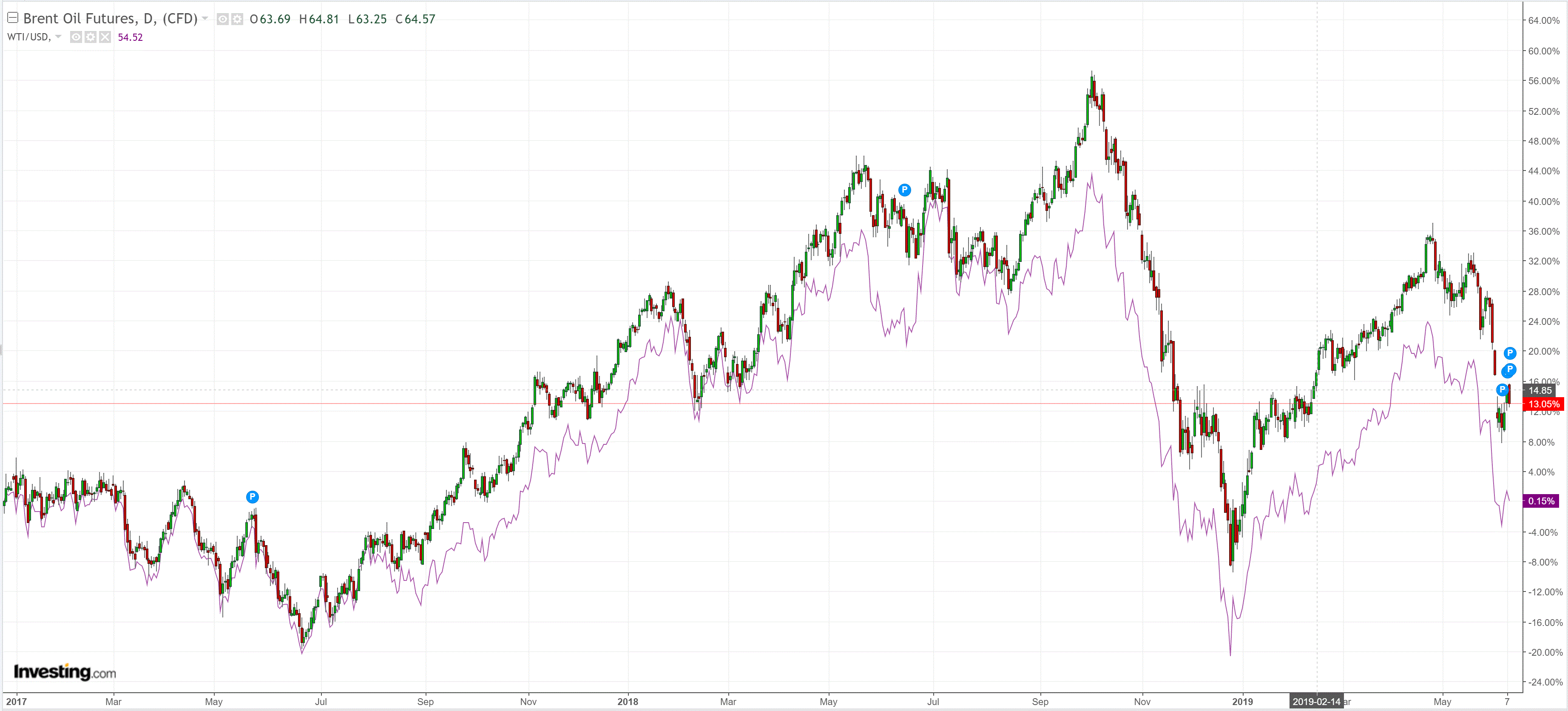 Metals were better: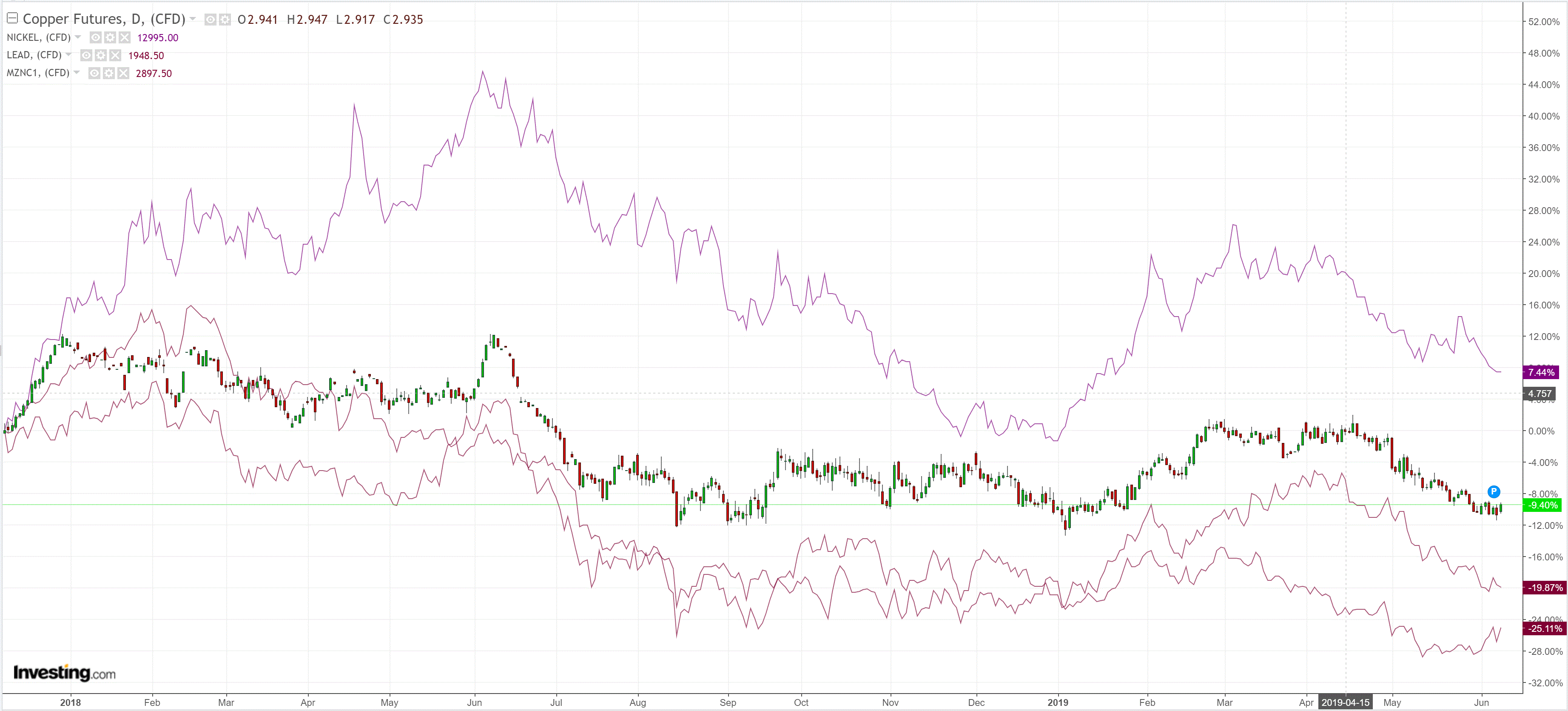 Big miners were strong: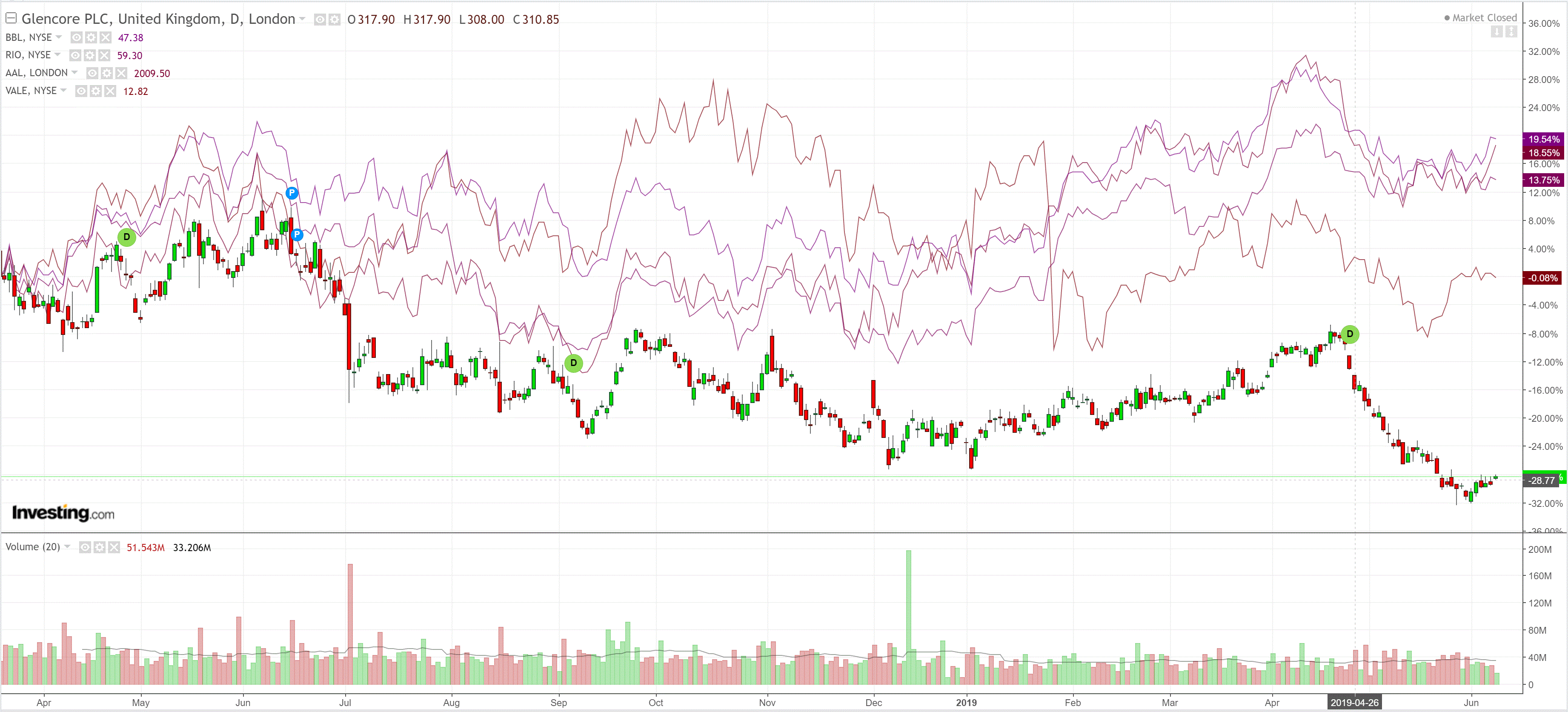 EM stocks struggled: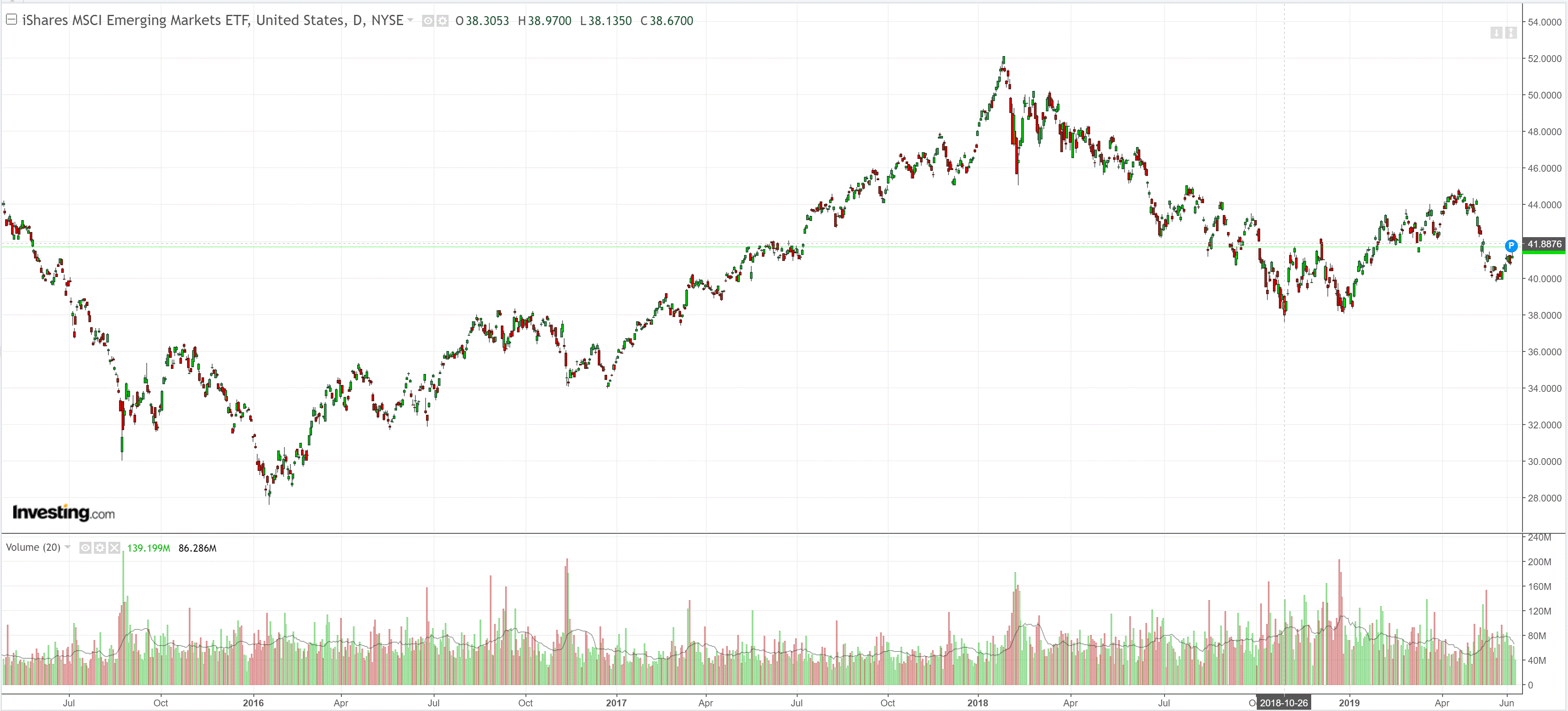 But junk is back big: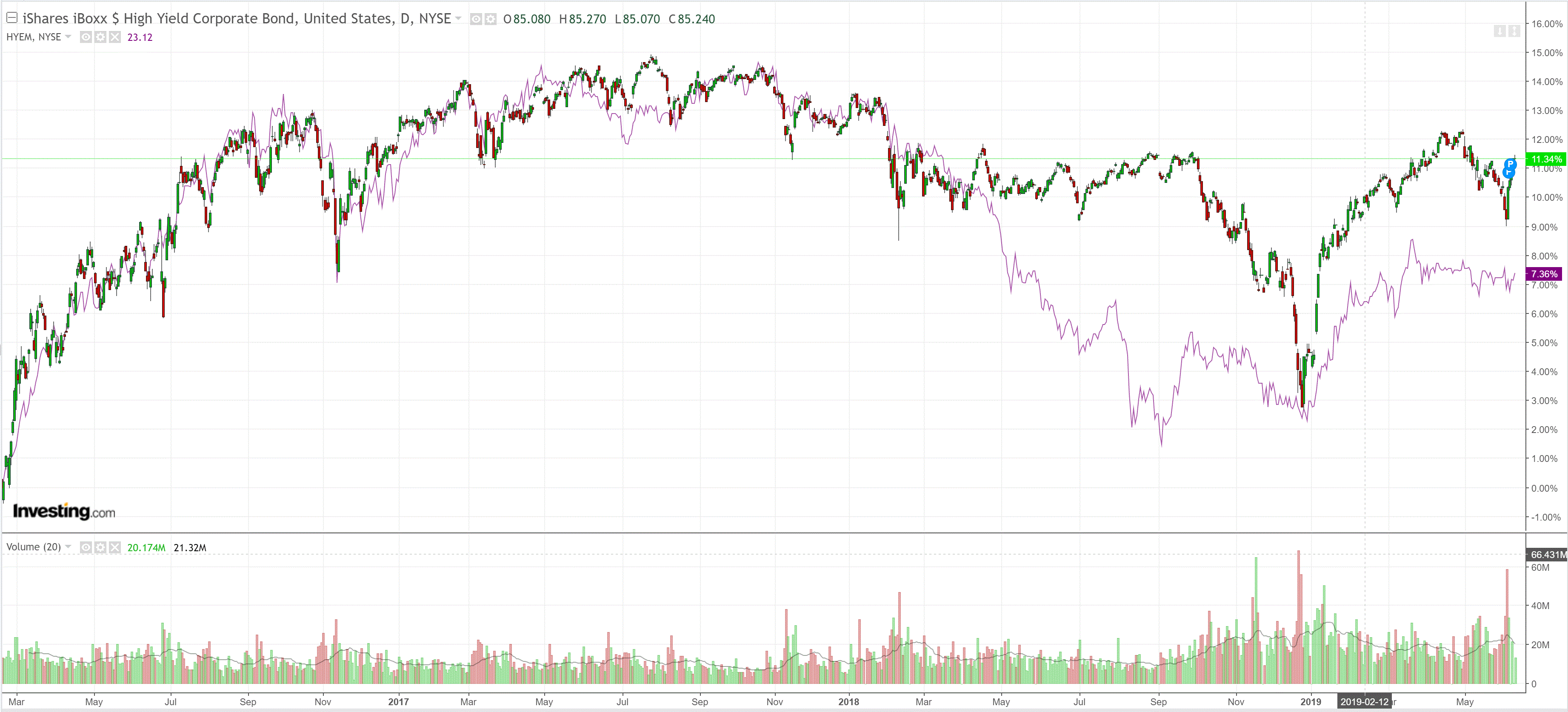 Treasuries were sold: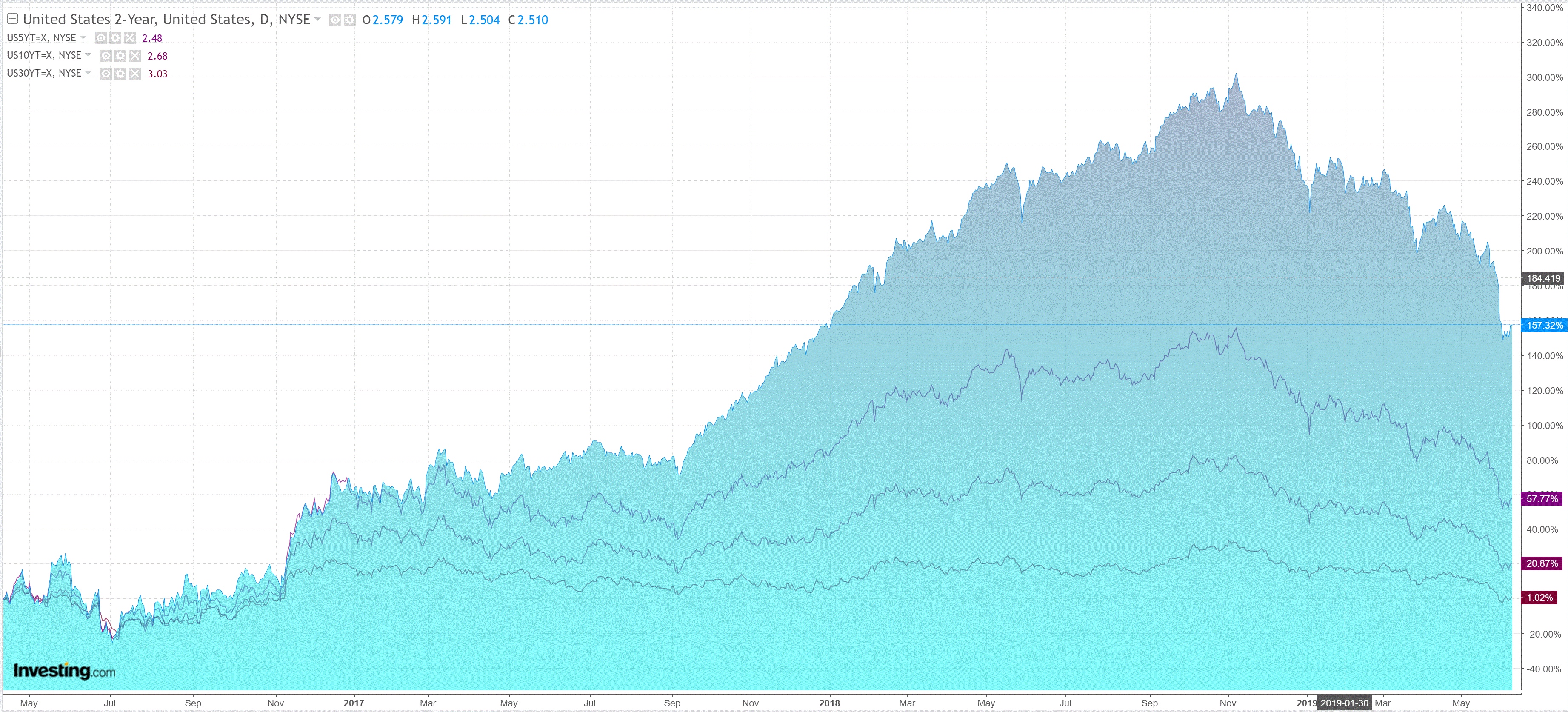 And bunds: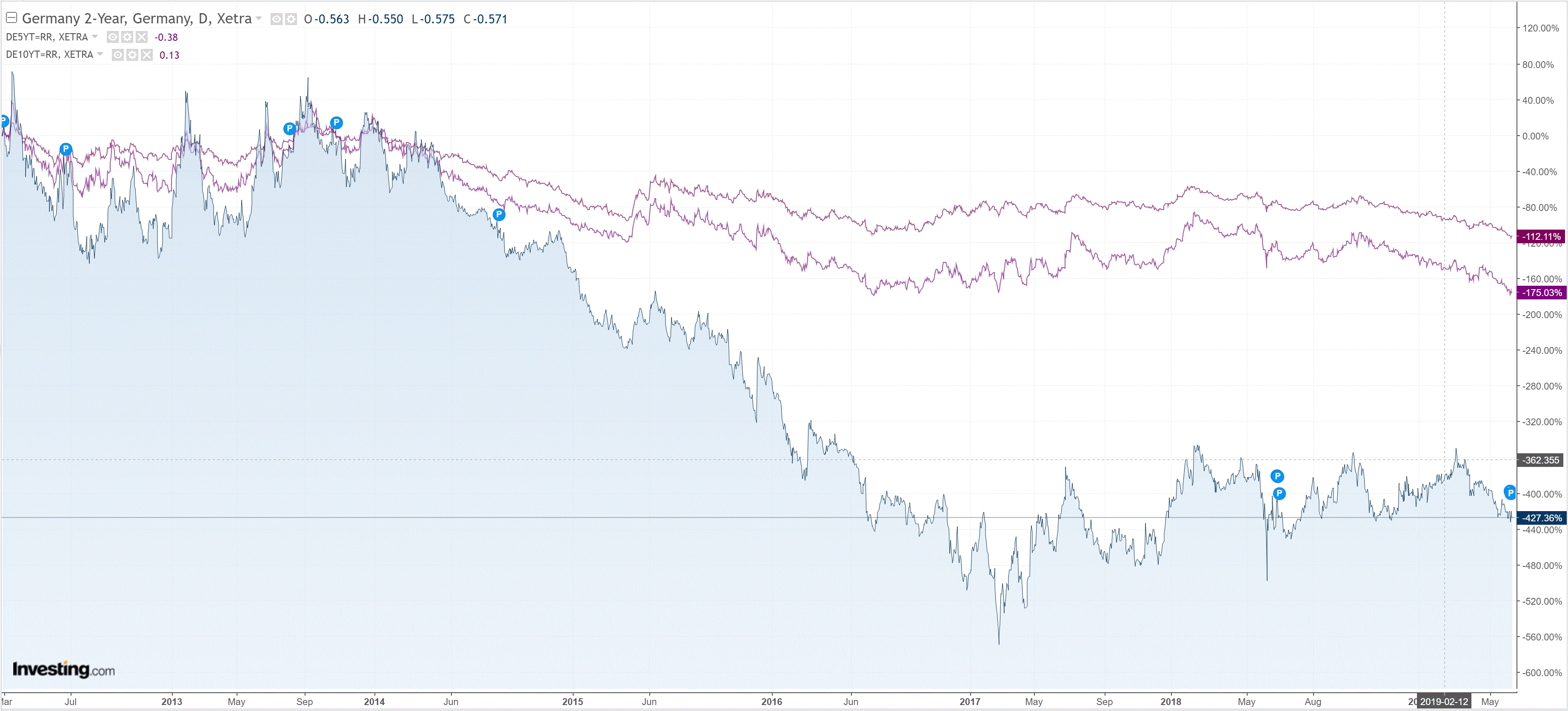 Plus Aussie bonds: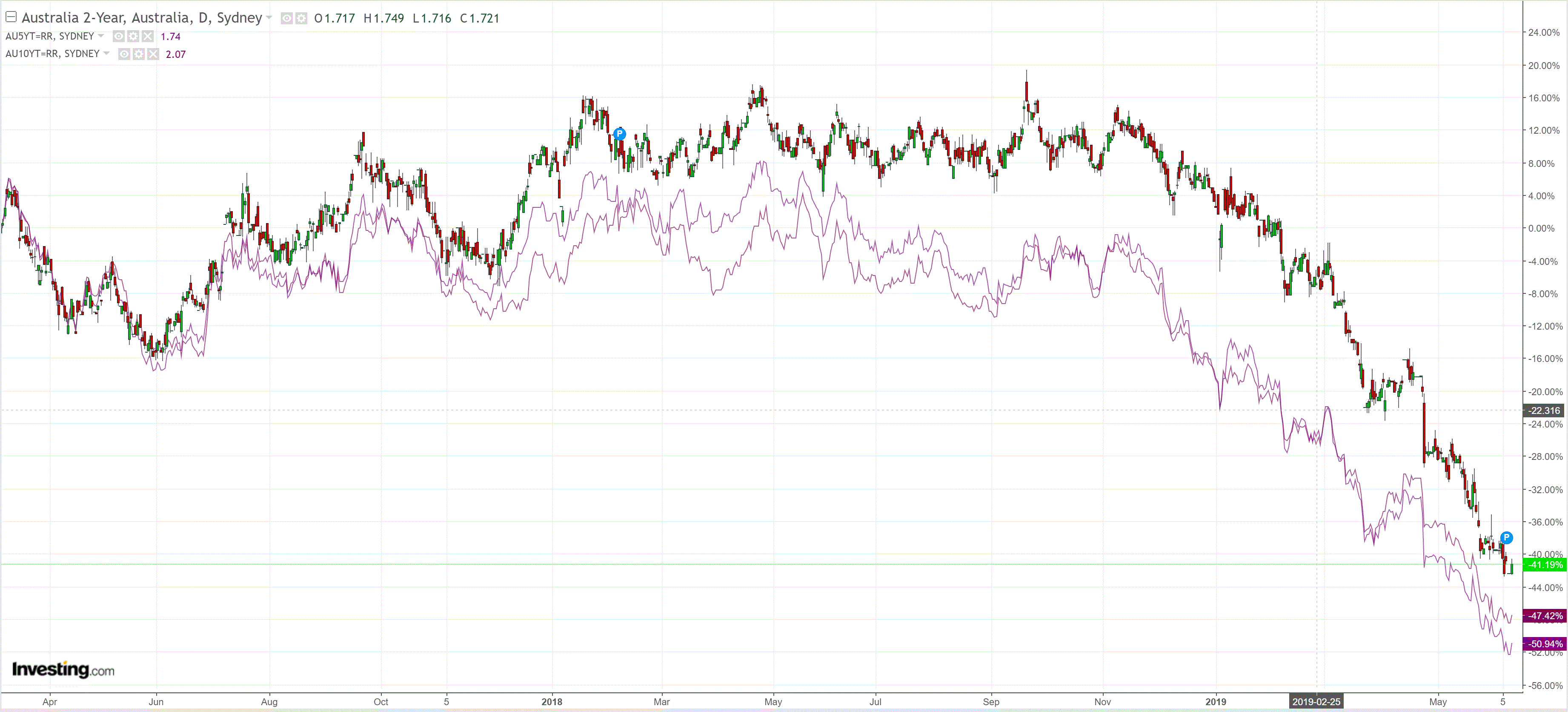 Stocks are cock-a-whoop again: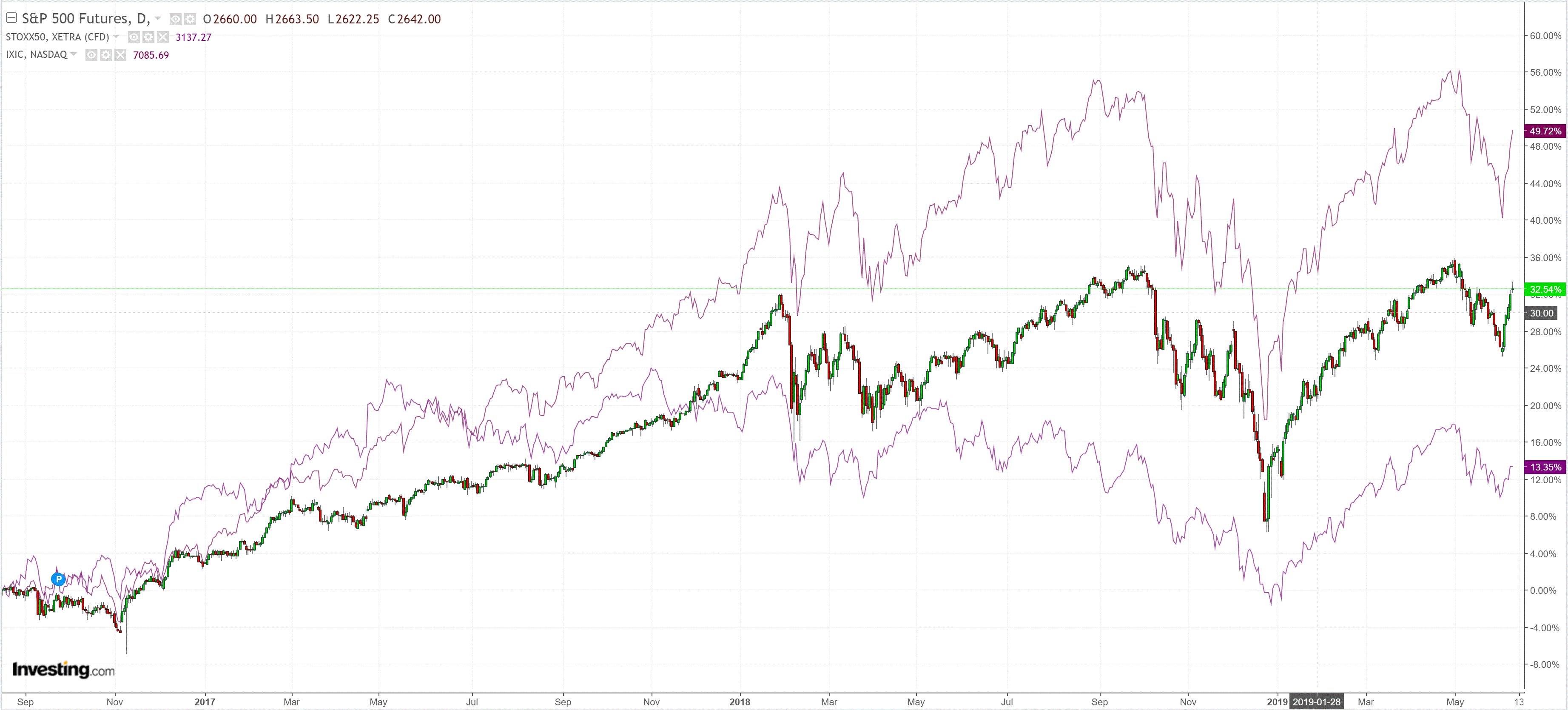 Westpac has the wrap:
Event Wrap

US: Despite the sharp slowing in US jobs growth in May job openings continue to hover at historically elevated levels, the Labor Department's Job Openings and Labor Turnover Survey (JOLTS) showing 7.45mn in job openings in April, little changed from the prior month. The quit rate held at a solid 2.3%, indicative of high confidence in jobs prospects. The number of open positions continues to significantly exceed the number of unemployed, by 1.63mn.

UK industrial and manufacturing production for April fell much more than expected (industrial -2.9%m/m, est. -1.0%; manufacturing. -3.9%m/m, est. -1.4%). A halt to pre-Brexit stockpiling and coordinated plant vacation periods were attributed to the fall with a notable vehicle production fall of a record -24%m/m. Consequently, April GDP fell -0.4%m/m (est. 0.1%m/m).
Italian April industrial production also fell more than expected, -0.7%m/m (est. flat), putting further pressure on growth potential on the eve of the key coalition leaders meeting to discuss budget and tax proposals after EU's recent rebukes.

Event Outlook

NZ: Q1 manufacturing volume will inform estimates of Q1 GDP (out on 20th). REINZ housing data for May could be released.

Australia: May NAB business survey last showed conditions at +3, having trended down since mid-2018. This survey will contain post-election responses – conditions and confidence may bounce.

Euro Area: Jun Sentix investor confidence was last at 5.3. Although the last few results have been more positive, heightened trade disputes are likely to weigh on sentiment.

UK: Apr ILO unemployment rate is expected to hold at 3.8%.

US: May NFIB small business optimism is anticipated to remain elevated at 102.8 from 103.5 in Apr.
The key data release on the night was US JOLTS which remain quite strong:
The number of job openings was little changed at 7.4 million on the last business day of April, the U.S. Bureau of Labor Statistics reported today. Over the month, hires edged up to 5.9 million, and separations were little changed at 5.6 million. Within separations, the quits rate was unchanged at 2.3 percent and the layoffs and discharges rate was little changed at 1.2 percent. …

The number of quits was little changed in April at 3.5 million. The quits rate was 2.3 percent. The quits level was little changed for total private and for government.
Despite broader data fading fast versus expectations: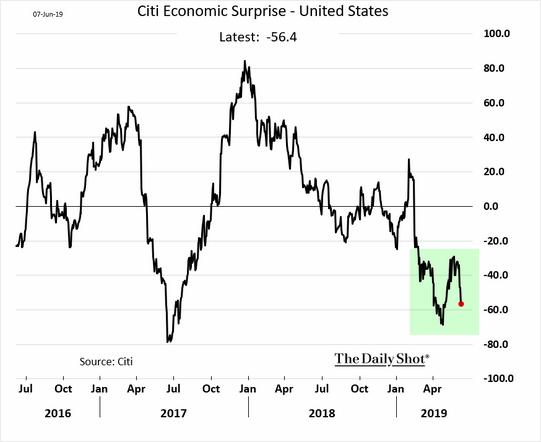 But the Fed is ahead of the game and the trade war sell-off is history for now. Indeed, the trade war is now good news for markets. Gavyn Davies wraps it up with a bow on top at the FT:
As the financial markets worry about a broadening of US tariffs on imported goods from China and possibly Mexico, the Federal Reserve is debating the appropriate policy response to the developing trade shock.

The key question is whether it will view the shock mainly as a contraction in demand, or as an adverse supply shock (akin to the 1973 oil shock), which could raise consumer prices by a full percentage point. It is coming round to the view that it can ignore the inflationary risks from higher tariffs and cut policy rates as an insurance against rising recession risks. This is similar to what it did in 1995.

…There is little doubt that the doves on the FOMC, including Mr Clarida and Charles Evans, are moving towards a 1995-style "insurance" cut in policy rates. Then, the Greenspan Fed cut rates by 75bp over an eight-month period, arguing that these cuts were justified by success in bringing inflation under control, at a time when downside risks to economic activity appeared to be on the increase. An economic soft landing followed.

Mr Powell is likely to reflect this thinking in his press conference after the next policy meeting on June 19. The committee will probably not implement a rate cut on that date, because of its earlier promise to be "patient". But it might use the interest rate "dot" plot to foreshadow one or more rate cuts before year end.

In the absence of outright recession, this action would remove much of the downside risk facing the equity market. In fact, bulls will point out that the equity market surged 14 per cent in the six months that followed Alan Greenspan's first "insurance" cut in 1995.
And he engendered the greatest stock bubble in the history of the world when he repeated the dose during the 1998 Asian Financial Crisis and LTCM debacle. That appears to be an imminent risk of a repeat here.
But, it will still come down to earnings, which boomed in the post-1995 tech build-out. That will be much more difficult today, via Bloomberg
While investors have priced in a fair amount of good news in terms of lower interest rates, they're yet to factor in enough of the bad news on global trade. Historically, S&P's EPS estimates track global trade volume fairly closely.
Analysts are expecting earnings to grow a little less than 5%. Based on regression, that would require trade to increase 2% to 3% this year after, contracting 1% in 2018. That seems optimistic as exports from open economies, such as South Korea and Taiwan, continue to shrink.

Sure, President Trump dropped plans for tariffs on Mexican exports Friday night, a moved welcomed by his own Republican party. But the trade war against China is a different story because it has bipartisan support. The standoff between the world's two largest economies shows no signs of easing.
Indeed, via WaPo:
President Trump on Monday threatened to impose large tariffs on $300 billion in imports if Chinese leader Xi Jinping did not meet with him in Japan later this month, showing how he plans to immediately pivot from his trade war with Mexico back to Beijing.

Trump, in a wide-ranging and apparently impromptu interview with CNBC, said he was "scheduled to have a meeting" with Xi during the Group of 20 summit in Osaka, but Chinese officials have refused to publicly confirm the gathering.

"We do not want a trade war, but we are not afraid of fighting one," said Geng Shuang, spokesman for China's Ministry of Foreign Affairs. "If the U.S. is ready to have equal consultations, our door is wide open. But if it insists on escalating trade frictions, we will respond to it with resolution and perseverance."
But even if things get worse, the Fed can just keep cutting so it is 'risk on' for now with rampaging US stocks powering up the USD and, by extension, sinking the AUD. With added weight for the Battler from a sinking CNY as the PBOC will almost certainly follow the Fed.
I'm not convinced the AUD bounce is over yet but, as said all along, it's not going to get very far in this environment regardless.
Latest posts by David Llewellyn-Smith (see all)