See the latest Australian dollar analysis here:
DXY took off last night as EUR rolled with CNY: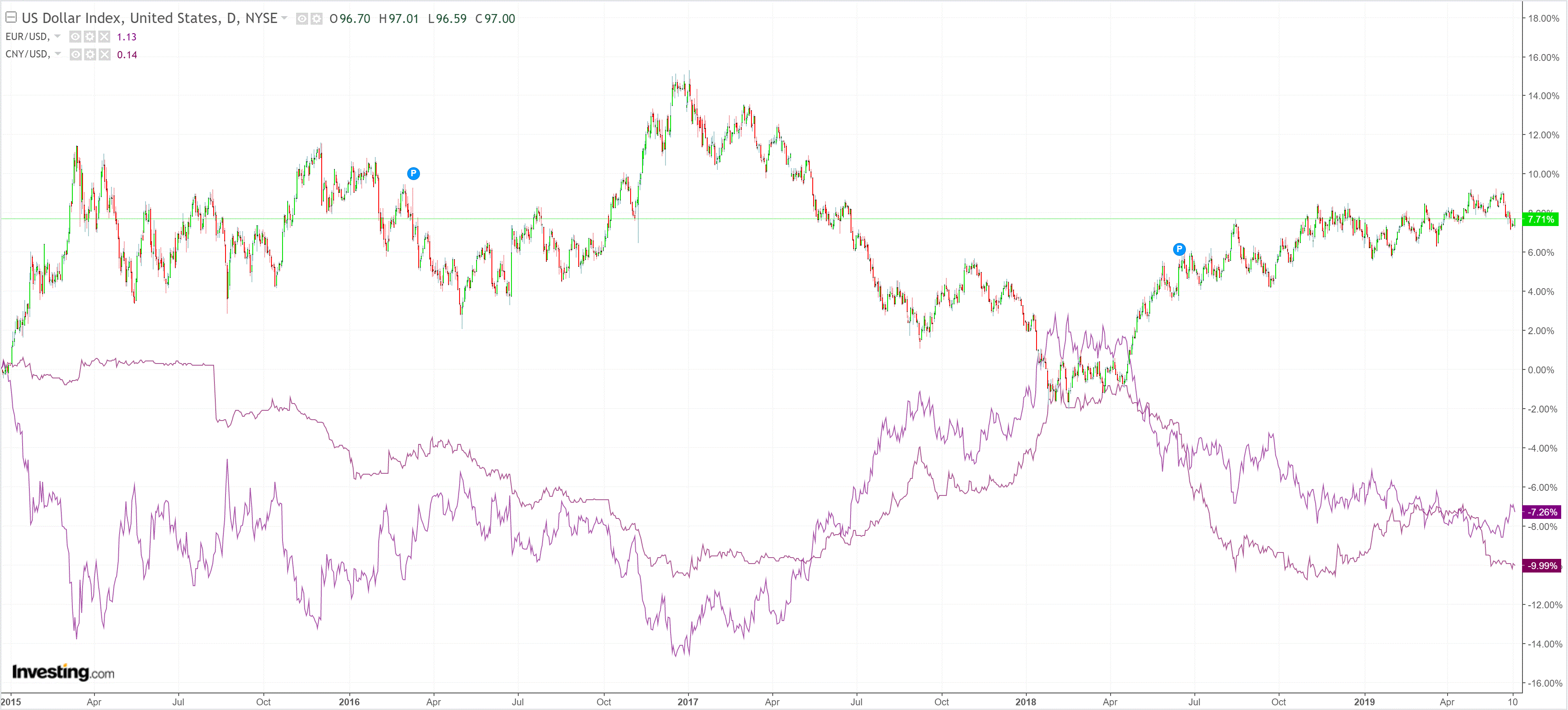 The Australian dollar was belted across DMs: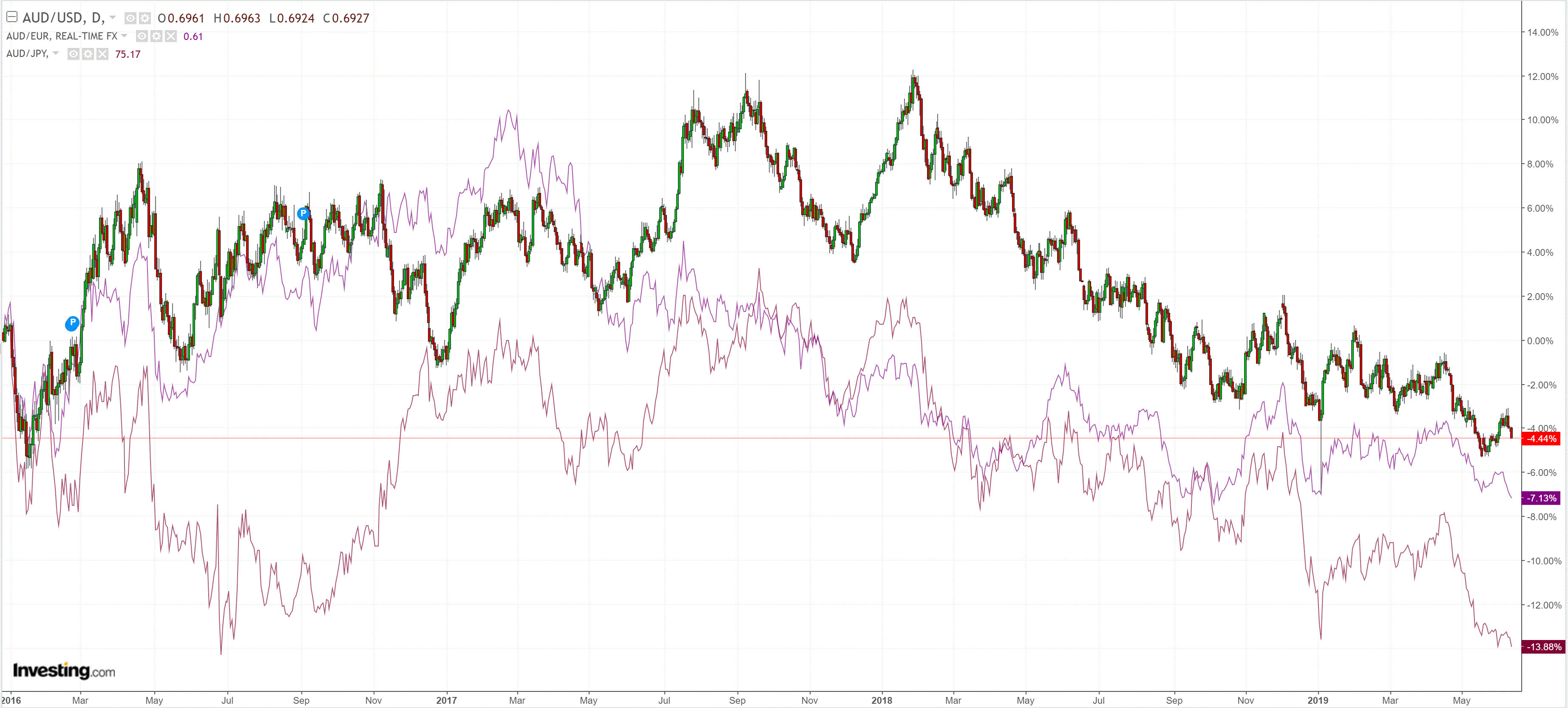 And EMs: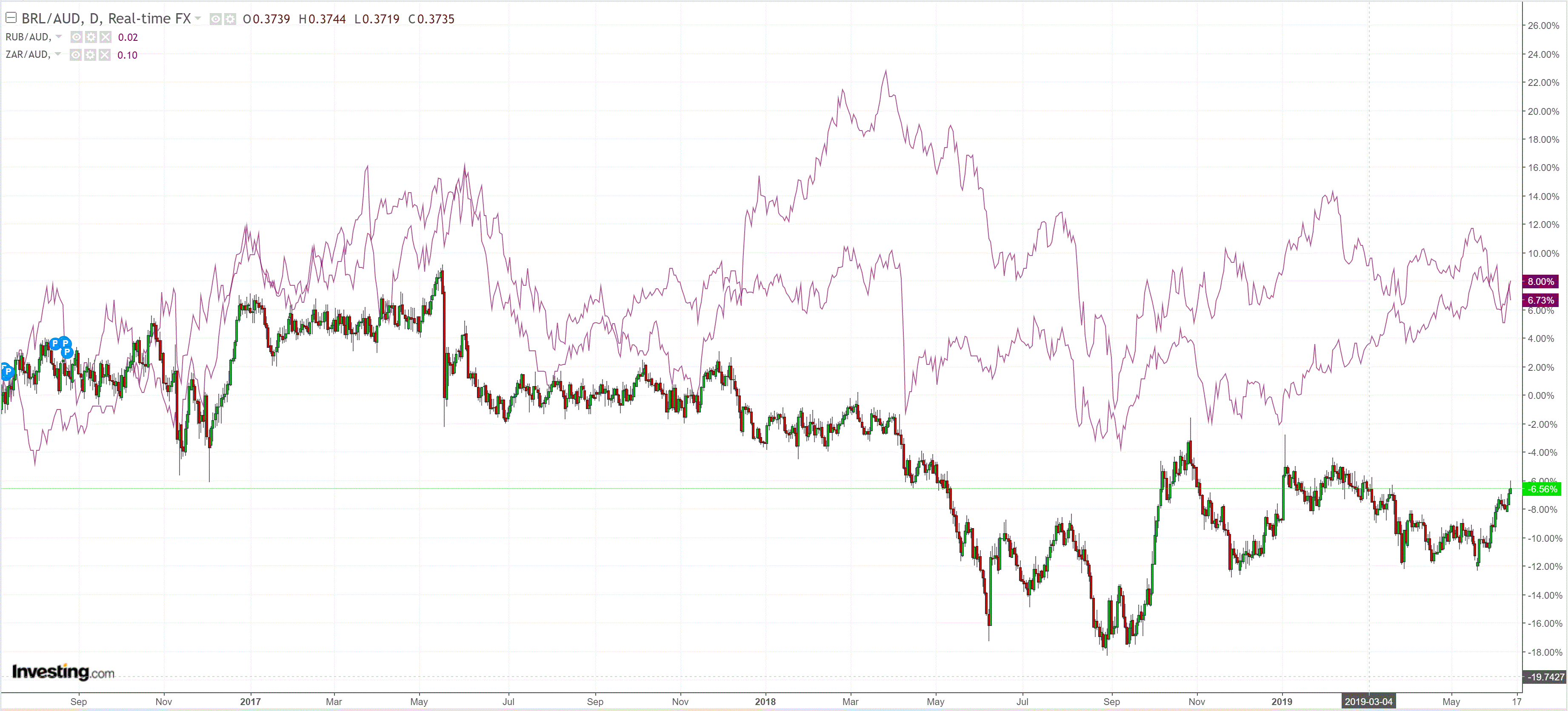 Gold jumped despite the strong USD: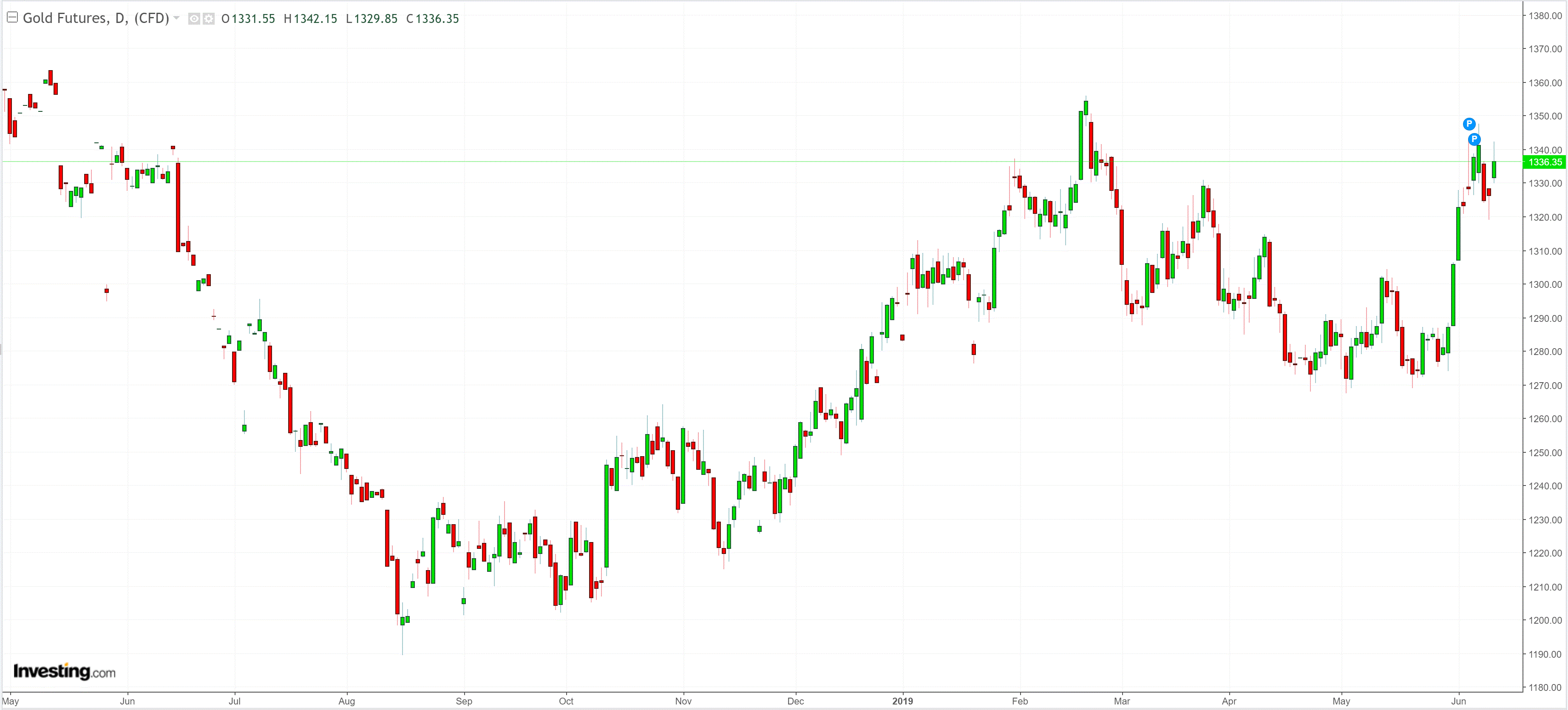 Oil was smashed: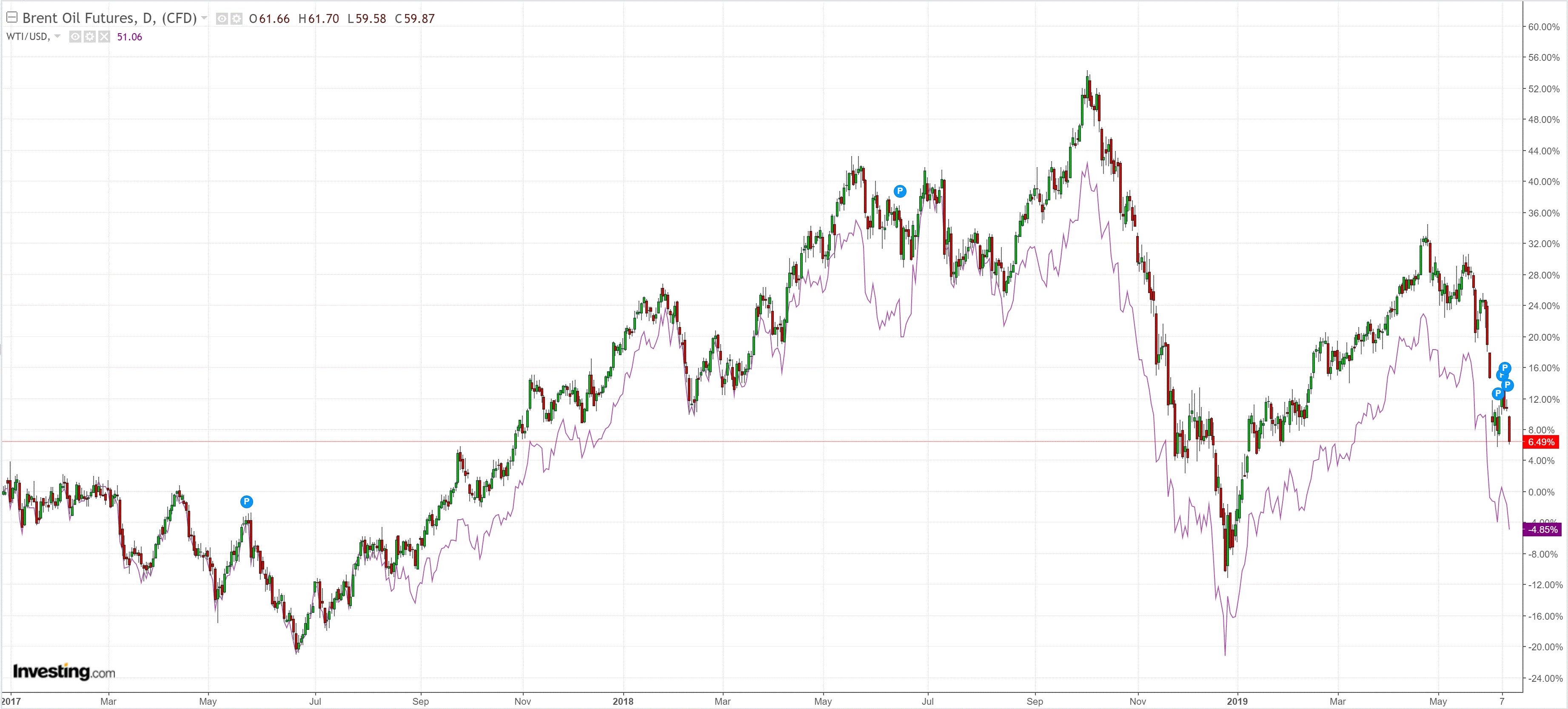 Metals rolled: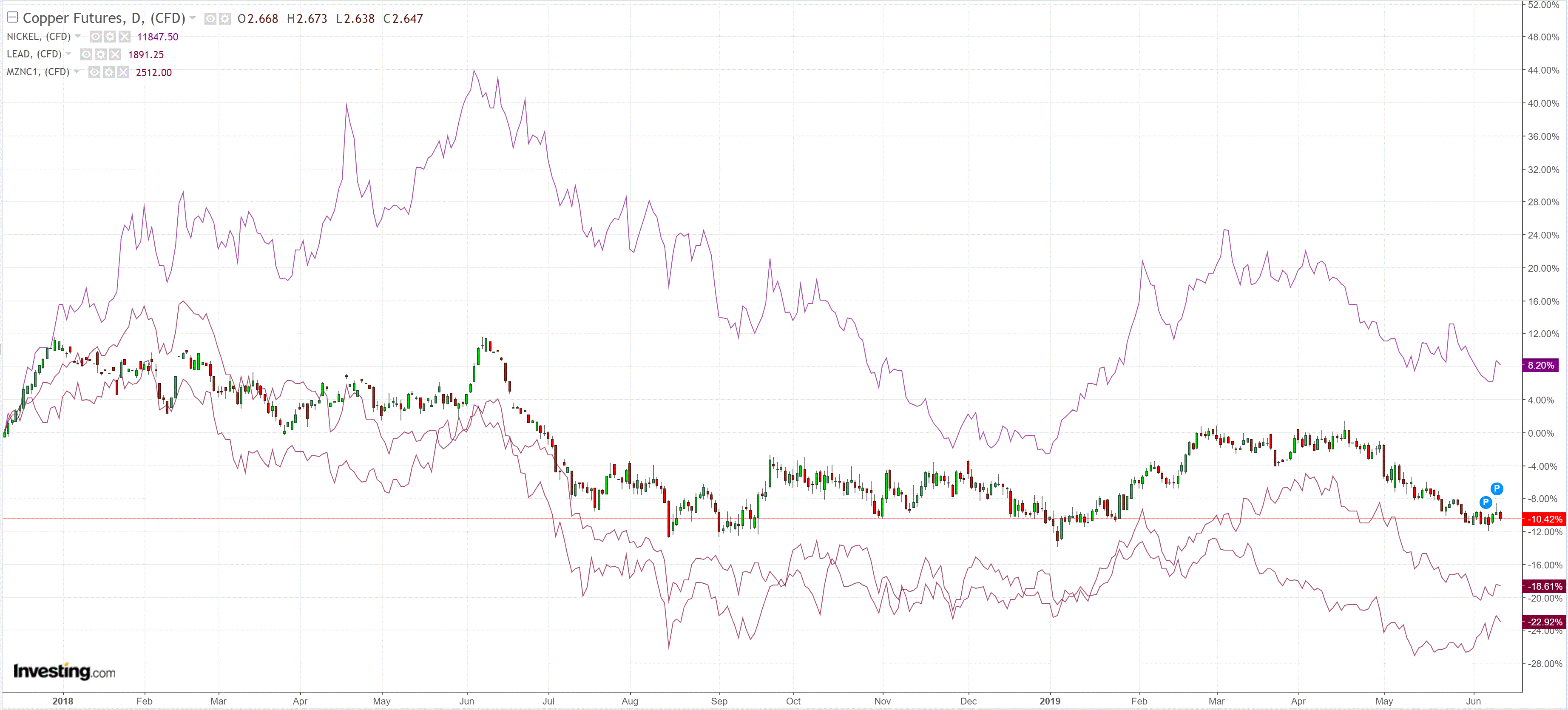 Big miners were OK: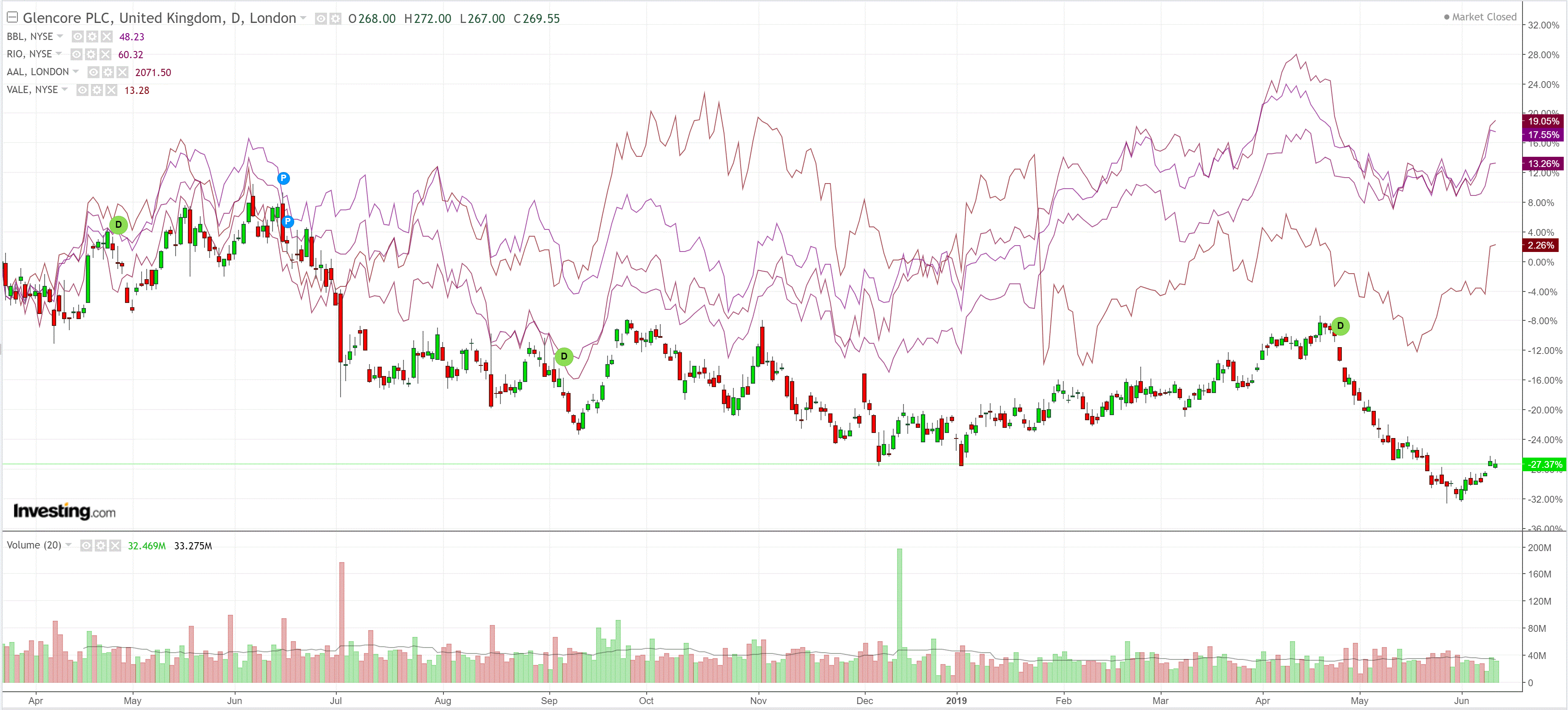 EM stocks rolled: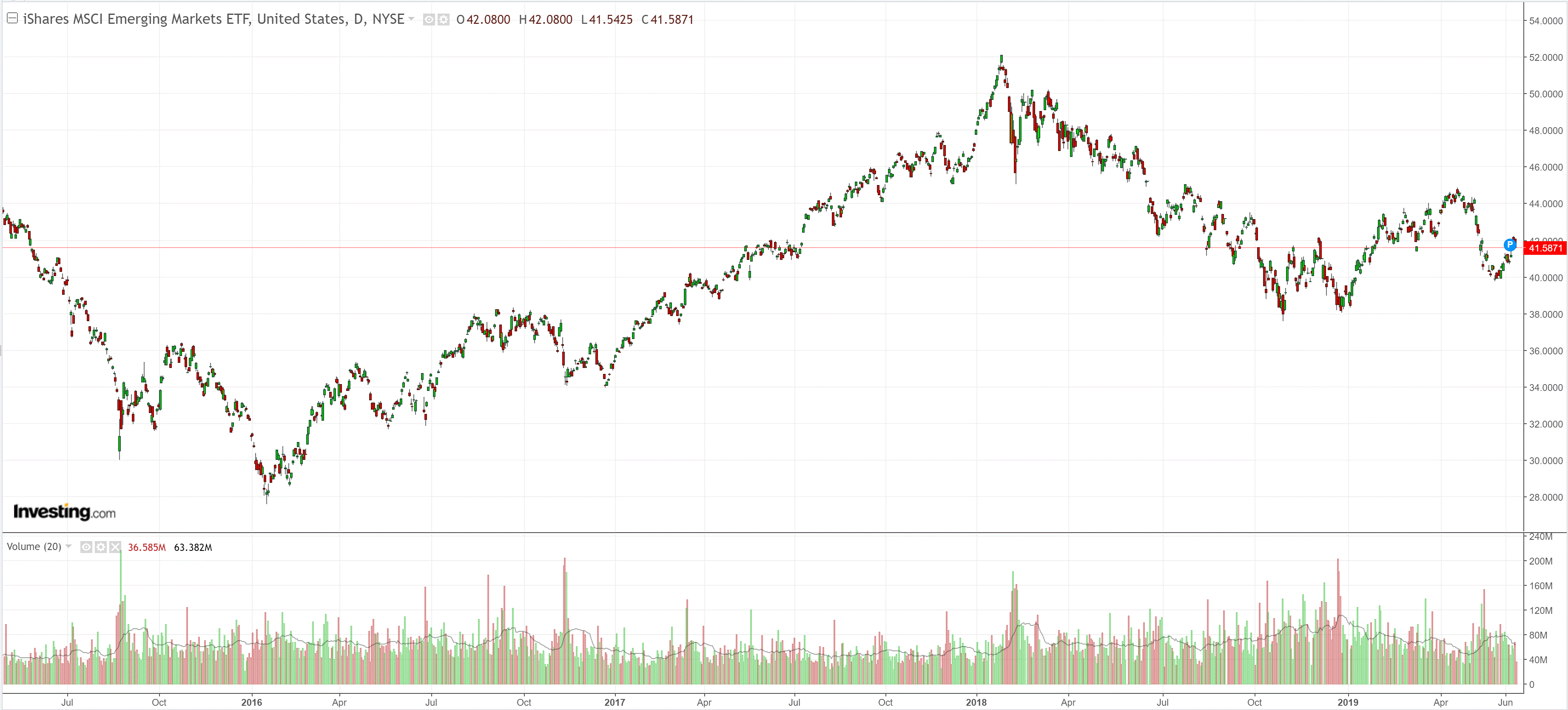 But junk is strong, supported by the big bond bid: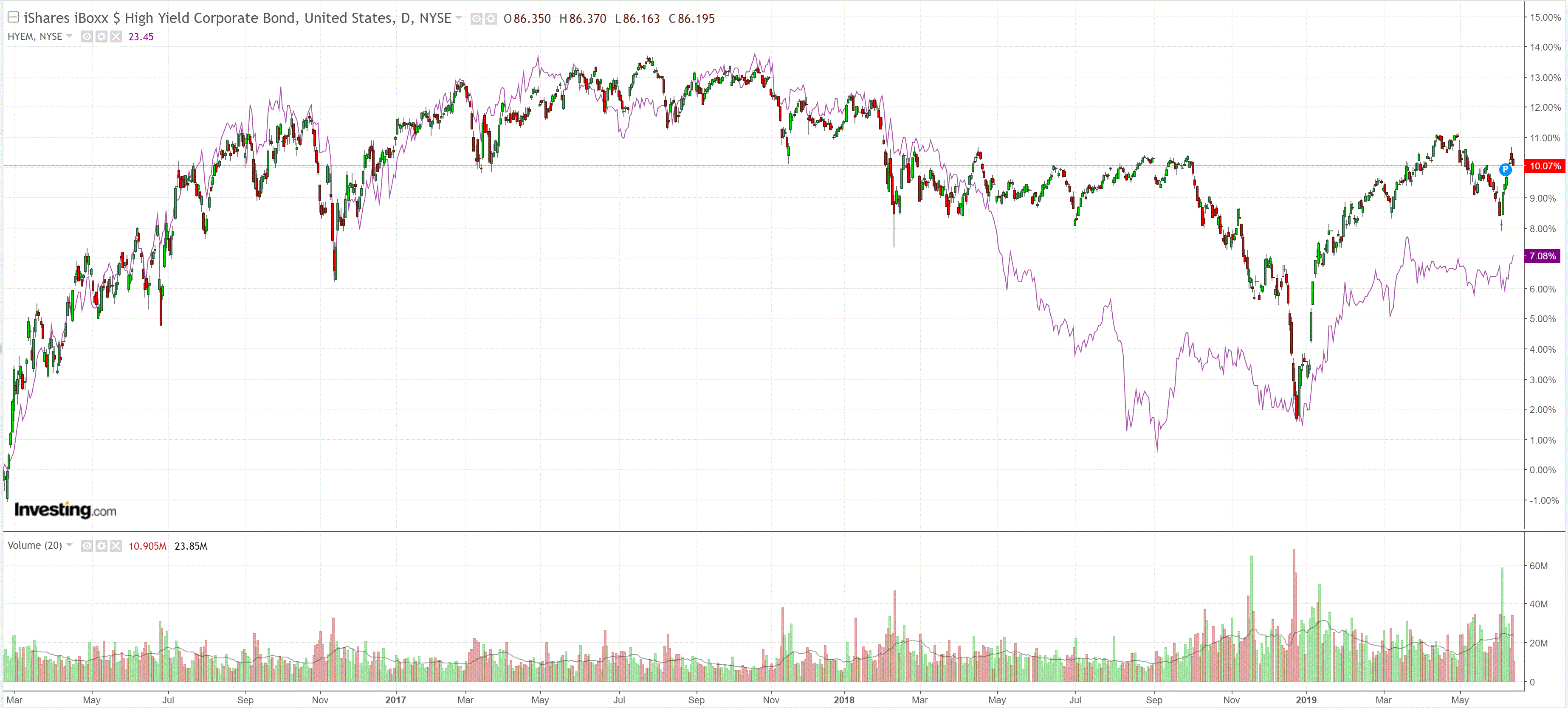 Treasuries roared: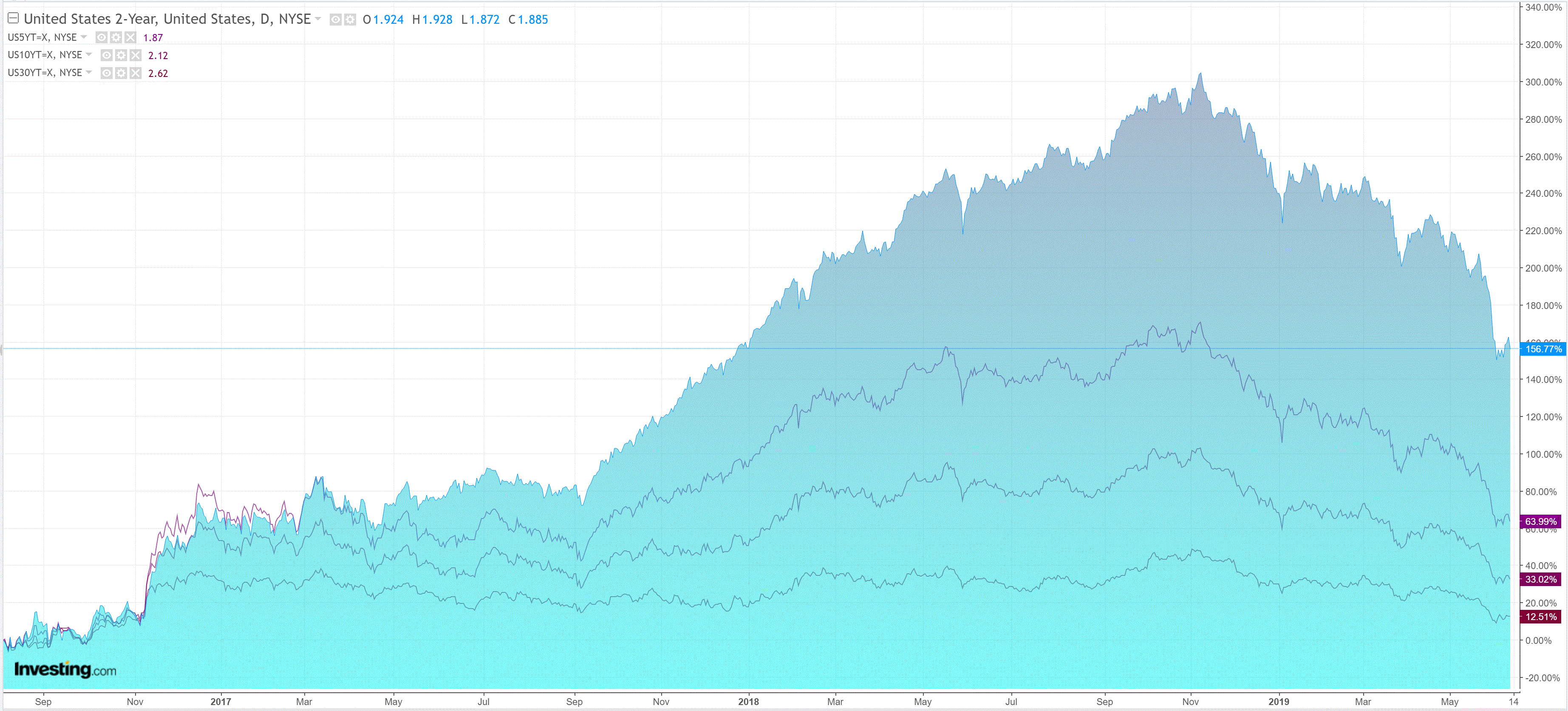 German long bonds hit their lowest yields ever: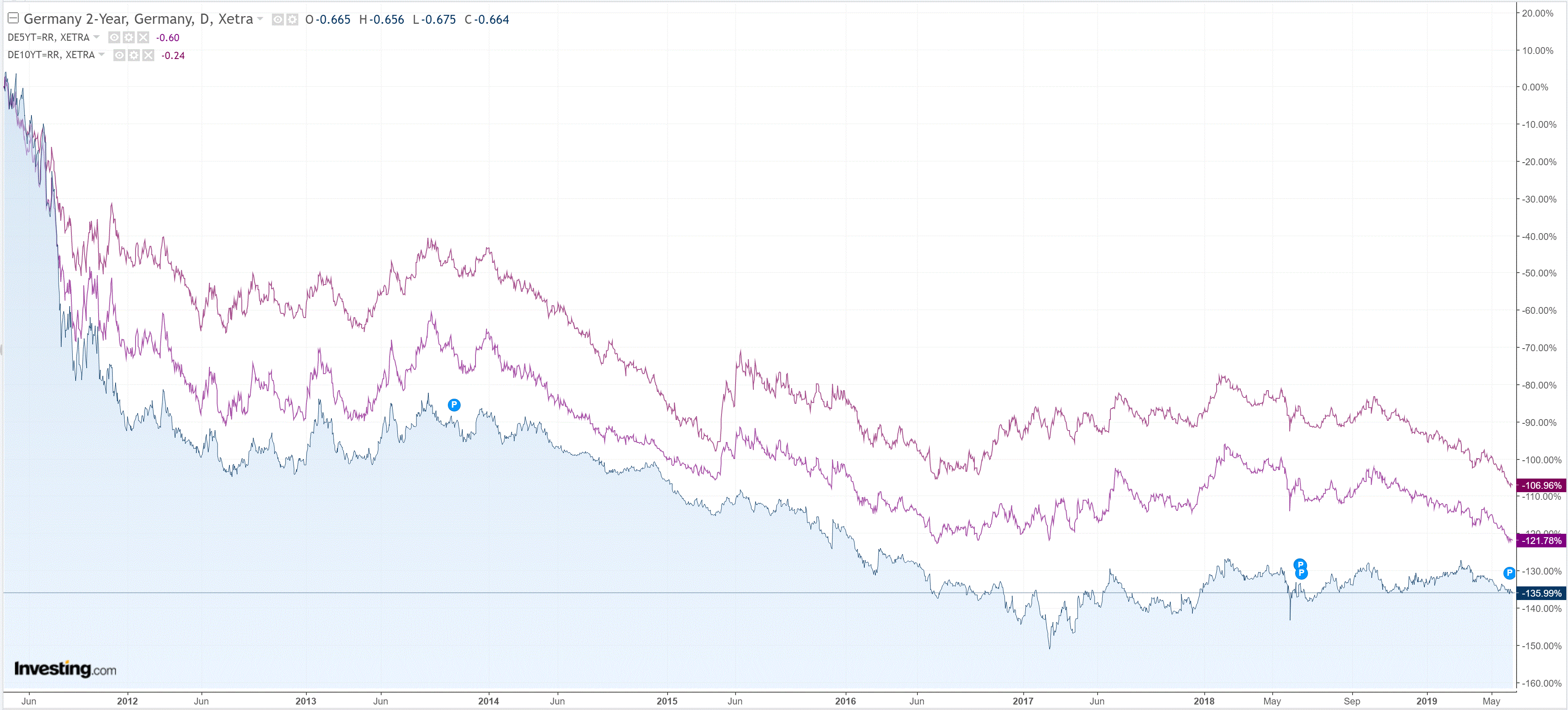 Same in Australia: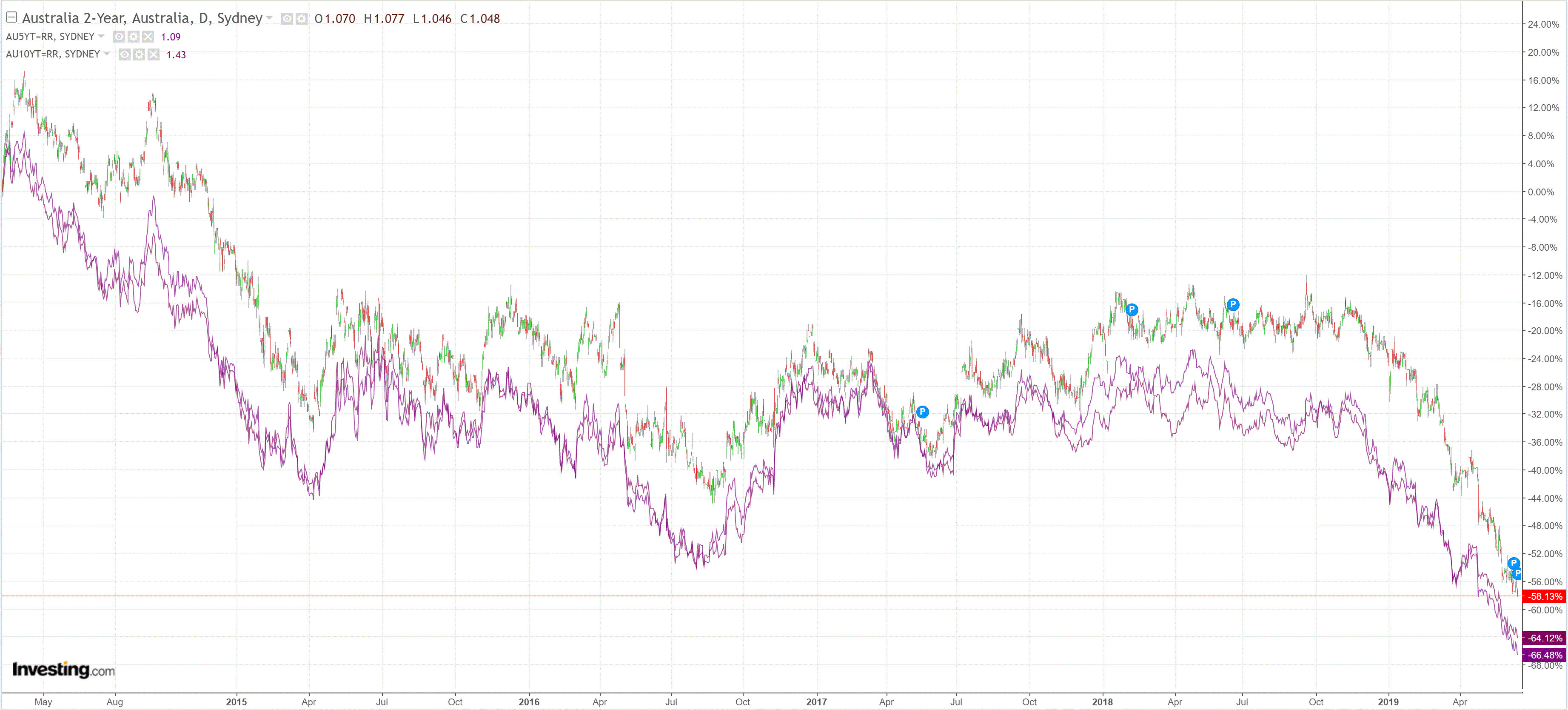 Stocks fell modestly:
Westpac has the wrap:
Event Wrap

US consumer prices extended their soft streak in May. Headline inflation rose 0.1%, the annual pace easing to 1.8% from 2%. Core inflation lifted just 0.1% too, its fourth consecutive 0.1% monthly increase, pushing the annual rate down from 2.1% to 2.0%.

US President Trump threatened sanctions on Germany over its continued support for a gas pipeline (Nord Stream 2) from Russia, adding that he could withdraw troops from the NATO ally over its defence spending.

Event Outlook

Australia: May employment is expected to rise by 16k and see the unemployment edge down to 5.1% following Apr's lift to 5.2% from 5.0% in Mar. Westpac sees a more muted 5k employment gain in May and the unemployment rate holding at 5.2%.

Euro Area: Apr industrial production is anticipated to decline 0.2% following a 0.3% decrease in Mar.
The major data release on the night was US inflation which remains quiescent:
According to the Federal Reserve Bank of Cleveland, the median Consumer Price Index rose 0.2% (2.3% annualized rate) in May. The 16% trimmed-mean Consumer Price Index also rose 0.1% (1.3% annualized rate) during the month. The median CPI and 16% trimmed-mean CPI are measures of core inflation calculated by the Federal Reserve Bank of Cleveland based on data released in the Bureau of Labor Statistics' (BLS) monthly CPI report.

Earlier today, the BLS reported that the seasonally adjusted CPI for all urban consumers rose 0.1% (0.9% annualized rate) in May. The CPI less food and energy rose 0.1% (1.4% annualized rate) on a seasonally adjusted basis.
Core PCE is the Fed's favourite measure and it remains well below target. There is nothing here to stop Fed rate cuts.
But DXY rallied anyway and the Australian dollar got singularly belted. The reason was pretty obvious: Hong Kong. Via Bloomie:
Hong Kong leader Carrie Lam urged a return to order at the close of a day that saw police use tear gas to stop protesters from storming the legislative chamber where lawmakers intended to take up a bill allowing extraditions to China.

The Legislative Council delayed its debate on the proposal after thousands of demonstrators — most clad in black or white — swarmed the government complex in central Hong Kong, eventually prompting scuffles with police at the chamber doors. The protesters called for Lam to withdraw the bill, which they argue would blow up the legal wall intended to keep the former British colony's justice system separate from China's.
Over 70 people have been injured as rioters confronted tear gas, water canon and rubber bullets.
As if the issues on the ground aren't enough, the larger risk for markets is HK becoming some kind of proxy war for US/China relations. Senior lawmakers were vociferous in their support of HK:
House Speaker Nancy Pelosi, a Democrat, issued a statement Wednesday calling for legislative action in the U.S. Congress to "reassess" whether Hong Kong is "sufficiently autonomous" under the One Country, Two Systems framework that guides its relations with Beijing. She said she looked forward to the introduction of legislation in coming days that she referred to as the Hong Kong Human Rights and Democracy Act.

"The extradition bill imperils the strong U.S.-Hong Kong relationship that has flourished for two decades," Pelosi said. "If it passes, the Congress has no choice but to reassess whether Hong Kong is 'sufficiently autonomous.'"

Senate Majority Leader Mitch McConnell, a Republican, issued a similar statement saying that Hong Kong residents "rightly view" the extradition bill "as another erosion of the rule of law and tightening of Beijing's grip on their imperiled autonomy."
The CPC wasted no time in responding:
China hit back at US House Speaker Nancy Pelosi on Wednesday over what it called "erroneous remarks" about Hong Kong's controversial extradition bill, calling on Washington to stop interfering in Beijing's affairs.
"The affairs of Hong Kong are purely the internal affairs of China. No other nation, organisation and individual can intervene," Chinese foreign ministry spokesman Geng Shuang said when asked about a statement by Pelosi on Tuesday night.
"China expresses strong dissatisfaction and resolute opposition to some people in the US for making irresponsible and incorrect remarks on the amendment to the extradition bill.
"We demand the United States view the [bill] objectively and impartially, and be cautious in making remarks, stop interfering in Hong Kong affairs and the internal affairs of China."
Though POTUS was cool:
President Donald Trump said Wednesday that he hopes things work out between the Chinese central government and Hong Kong demonstrators protesting changes to an extradition bill.

"I looked today and that really is a million people. A lot of times people talk about, they had 2,000 people but it was really 1,000 or it was 200. I see it all the time … but when you look at this demonstration, they said it was a million people. That was a million people," Trump told reporters in the Oval Office.

"That was as big a demonstration as I've ever seen, so I hope it all works out for China and for Hong Kong," he continued.

Asked if protesters are sending a message to China with these demonstrations, Trump said, "I don't know what they're sending them. That's a demonstration that they're having. I understand the reason for the demonstration, but I'm sure they'll be able to work it out. I hope they'll be able to work it out with China."

At least 72 people have been injured in Hong Kong protests over the bill.

The proposed law would allow Hong Kong to extradite fugitives to territories where it doesn't have formal extradition deals, including mainland China, Taiwan and Macau.

Opponents of the bill say it could mean democracy activists, journalists and foreign business owners could be surrendered to mainland China.
As we know, Jacksonian Presidents do not rush into foreign wars of any kind.
Yet, obviously enough, HK could easily fashion itself into a Cold War 2.0 wedge of immense proportions, challenging both the US and China. It is in HK protesters interests to do just that even if neither the US nor China want them to. For China it is a test of how it will shape its wider Asian hegemonic ambitions. It could go very pear shaped indeed if it turns violent.  And all US allies across the region will look on this as a test case for the strength of their democractic allegiances within the liberal empire.
Such a tension brings to the surface all of Australia's worst fears and vulnerabilities. Would we support HK freedom? At what cost? What happens to ANZUS if HK is allowed to die? What happens if it refuses to die and China is forced into open repression? How will any and all of these factors play into the ongoing trade war?
While these uncertainties mushroom it is hard to see the Australian dollar do anything but sell.
Latest posts by David Llewellyn-Smith (see all)