CoreLogic has released its preliminary auction report, which reported a sharp drop in the national clearance rate driven by the smaller capitals.
The preliminary national auction clearance rate was 51.3%, well below last week's preliminary clearance rate of 61.5% and also below the 53.8% final clearance rate recorded in the same weekend of last year: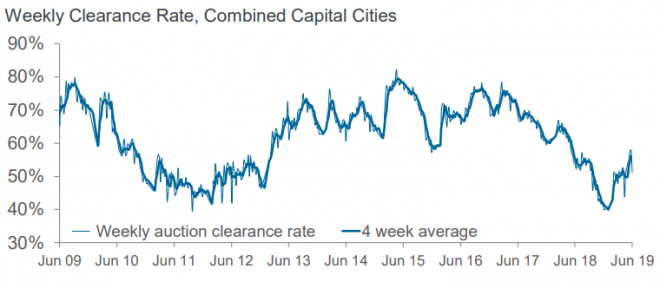 Auction volumes nationally (803) were well also below last year's 904 auctions:


However, as shown above, both Sydney's and Melbourne's preliminary clearance rates were above 60%, although they will likely come down to the high-50s (Sydney) and low-60s (Melbourne) once the final result is released on Thursday.
Domain's auction clearance rates were similar, albeit on a smaller sample:

As we keep saying, the past several weeks has seen massive changes for the market. Negative gearing and capital gains tax reform is dead. Interest rates have been cut, with more to come. First home buyer deposit subsidies are scheduled to come into effect. And APRA has announced cuts to both its interest-rate buffer and smaller ADI mortgage capital requirements, and will likely announce additional measures.
Accordingly, we think the housing market is likely to bottom-out some time in the second half.