The AFR's war on rate cuts has shifted gear today, first Jonathon Shapiro:
For those who are ultra-careful with their money, the billboards outside bank branches in 2009 advertising 8 per cent deposit rates must have felt like a welcome reward for conservatism.

…for now, the savers may lament they are being forced to subsidise the rescue of profligate borrowers who were lent too much.

Either way their interests, and interest, are again being neglected.
Second, James Frost:
Savers collectively will be $1.3 billion worse off if banks pass on the full 25-basis-point cut to at-call cash accounts – and face even more pain as economists forecast further cuts by the end of the year.

AMP, Suncorp, Bendigo and Adelaide Bank, Bank Australia and others have already hit customers with cuts to interest rates for at-call cash accounts of between 7 bps and 30 bps, according to research house Canstar.

Reserve Bank of Australia governor Philip Lowe said last week the central bank recognised many Australians relied on interest payments and understood why they would be disappointed with its decision to cut rates.
First, where was the AFR and RBA when "profligate borrowers" were running amok for the past decade (or more)? Where were they during the election campaign when Labor was proposing to end the reign of profligate borrowers? Where were they before and after the Royal Commission into profligate borrowers?
The same place they are today. Running campaigns in support of big bank profits. This is no different. Now that banks are running out of rate cuts owing to their past lending profligacy, they want to see APRA cuts and fiscal spending boosted so that their profits are protected while the wider economy suffers. As Goldman has previously observed:
…if the cash rate was to fall below 1.50%, every additional rate cut thereafter would shave about 5 bp off sector margins. The sensitivity of margins to falling rates accelerates once the cash rate falls below 1.50% because the various levers the banks have at their disposal become less flexible as the cash rate approaches zero and we would particularly highlight the following:

Our expectation is that term deposit (and cash management to a lesser degree) pricing will become quite sticky as the cash rate falls below 2.0%, as was the experience in the both the United Kingdom and Canada in 2008/09. This will particularly be the case as the domestic banking regulator, APRA, shifts its focus in 2016 towards the Net Stable Funding Ratio (NSFR), which is likely to place pressure on the banks to both term out and improve the quality of their funding (i.e. preference for deposits over wholesale). Furthermore, we note that the recent move out in funding costs has historically correlated with higher rates being paid by the banks on deposits (Exhibit 2).

We estimate that the replicating portfolio represents about a 5bp p.a. margin headwind for the banks over the next 2-3 years.
Ironically, this 11th hour campaign on behalf of savers comes about just as the Australian economy is threatening to re-adjust away from consumption towards tradables. The lower AUD resulting from house prices weakness squashing imports plus the bulk commodities boom has triggered a huge adjustment in the current account deficit. Australia is on the verge of its first current account surplus – an excess of saving over investment – in fifty years: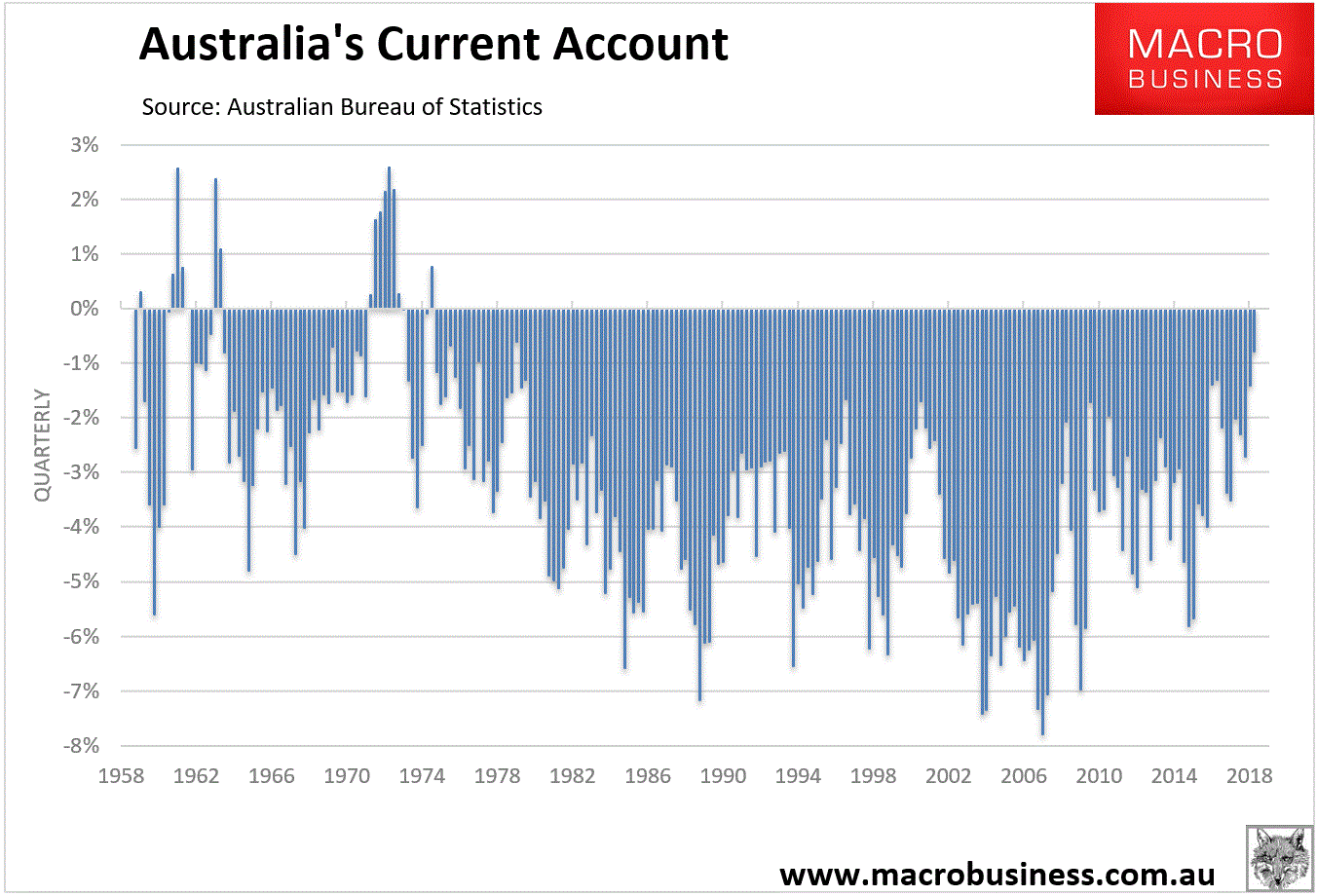 To cry poor for savers at this juncture after decades of profiteering at their expense is preposterous.
To be clear, I am not arguing for any return to excess lending and consumption. Good grief no. I am simply observing that the damage is done, by those now arguing that savers must saved.
What we need instead is one of two things:
either, more rate cuts and more macroprudential to lower the dollar further while preventing any asset price rebound such that the adjustment in the external accounts continues, or
RBA unconventional policy (such as helicopter money) strong to ensure that the fiscal pulse can hold interest rates where they are while also sinking the AUD to continue the adjustment in the external accounts.
To hold rates in an effort to protect bank profits at the expense of letting the AUD rise while the Fed and other central banks cut into the global downturn is to once again prevent the national interest adjustment we have needed for twenty years.
Savers were damned long ago. If you're going to save them now then do it properly.