More cult of CEO clap trap today from the AFR:
When Brett Redman met Philip Graham, then at Citigroup, for a beer at a North Sydney pub in late 2011, the merchant banker wanted to work on AGL's exit from the financially troubled Loy Yang brown coal plant in Victoria.

But Redman, then AGL's group head of strategy and finance and a representative director on the board of the debt-laden Loy Yang venture, had a surprise in store.

"I took him out for a beer, and he was already trying to advise me on how to sell our stake," Redman recalls. "I said, 'No Philip, I want to buy it. I want to buy it all. Let's talk about how we do that.' "

…Redman names rebuilding trust and finding a pathway to reducing energy prices as his two biggest challenges in the near term. Longer term looks just as demanding after years of political wrangling over climate and energy policy and with AGL caught in the middle.

"Climate change, the cost of power, power reliability, these things change governments," Redman reflects.

…"I can work with either side or either set of policies," he says. "I'll put my faith in market fundamentals."
No, you don't. You put your faith in market failure. AGL is an egregious beneficiary of the great gas cartel gouge. Let me explain.
A few years ago it had a lively gas exploration and production business. But through 2016/17 it closed it and sold the assets to the east coast LNG export cartel. Why would it do such a thing, given it has some gas-fired power generators? Isn't that raising its own costs?
No. Owing to our peculiar wholesale electricity bidding system, the price of gas sets the marginal price of electricity in the National Electricity Market where AGL has most of assets. So by helping drive up the cost of gas, it also drove up the price at which it can sell electricity. And given it has a suite of legacy coal assets, as well as shiny new renewables, both of which operate at much lower cost than today's gas-juiced power prices, AGL's profits boomed.
Indeed, AGL's share price almost perfectly tracked the gas price higher from 2015 and it didn't flame out until we installed the Australian Domestic Gas Reservation Mechanism (ADGSM) in mid-2017 which halved the gas contract price from $20Gj to $10Gj, though it was still 300% higher than the historical average: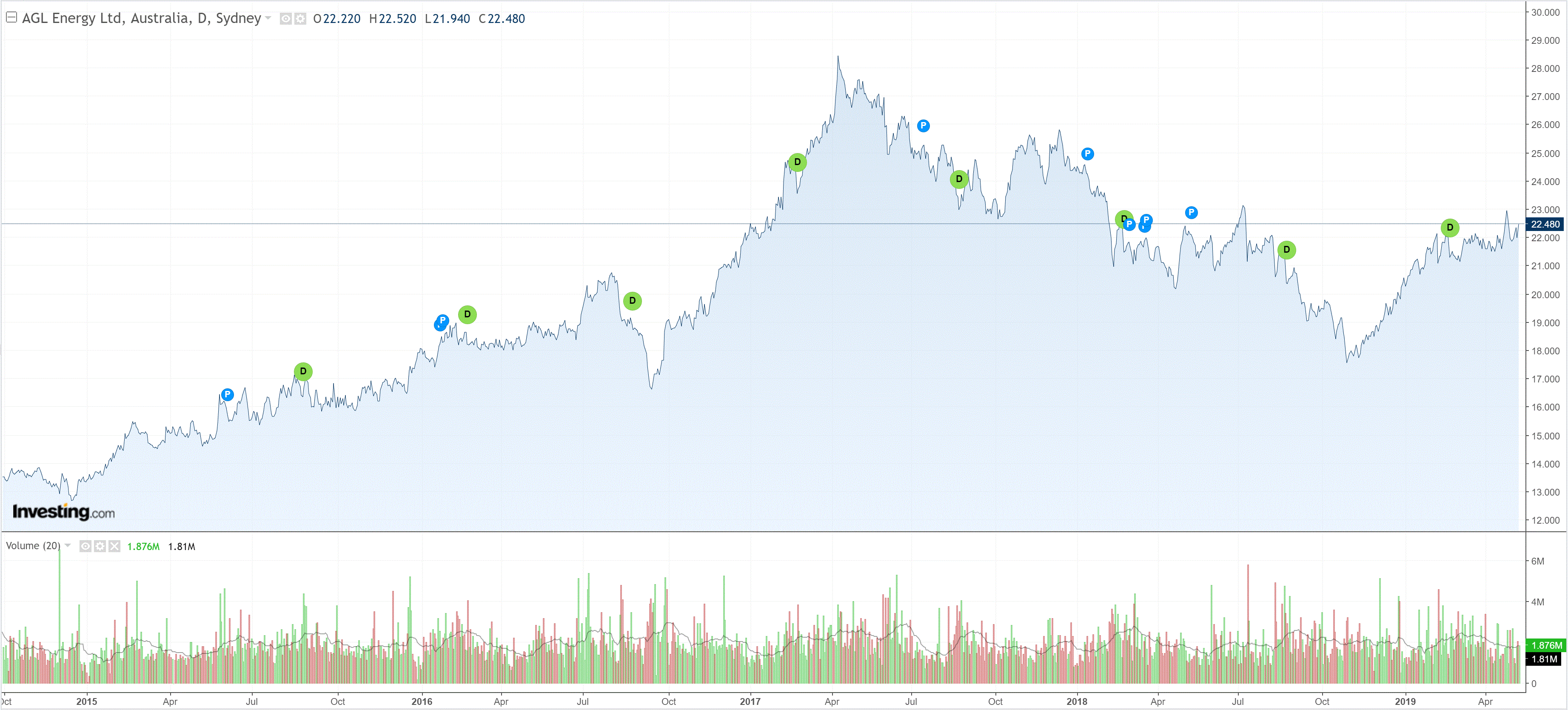 But is not the end. Now AGL is planning to import LNG via a regasification plant in Victoria to fill the supply hole it helped create. It likes to argue that this is about market forces to stop the gas price going too high. But nothing could be further from the truth.
LNG imports are expensive. The gas will come in at around $10Gj, even with Asian gas prices very low today. The future will see those prices rise with the Asian gas price and even more as the Australian dollar falls.
As well, once imports begin, AGL will argue that the ADGSM is defunct, that the market has got it 'sorted', and lobby for reservation to be killed off. Once that happens, LNG imports will become the marginal price setter in the Australian gas market which will very likely mean much higher prices ahead. AGL will then be able to charge for the importation of the very gas that is delivering its power assets rentier returns.
It is a truly marvelous vision of vertically integrated energy gouging, up there with Enron for rat-cunning.
But, sadly, it will also destroy the local economy, to the tune of roughly $15bn ripped out in economic rents, so there are casualties. Cue Alberto Calderon, via The Australian:
Australia's next prime minister must enforce a domestic gas reservation policy to save local manufacturing, according to Orica boss Alberto Calderon.

…"We've been able to secure gas contracts now, and we're fully covered for both Yarwun and Kooragang Island until 2020 and most of 2021. Still, everything I've said publicly stands," he said.

"It is absolutely wrong that in a country rich in gas that domestic manufacturing has to pay prices that are the highest in the world.

The Orica boss said he would push the winner of the election to enact a domestic gas reservation policy similar to Western Australia's to ensure gas supplies were available to the local market.
So simple. So clear. So right: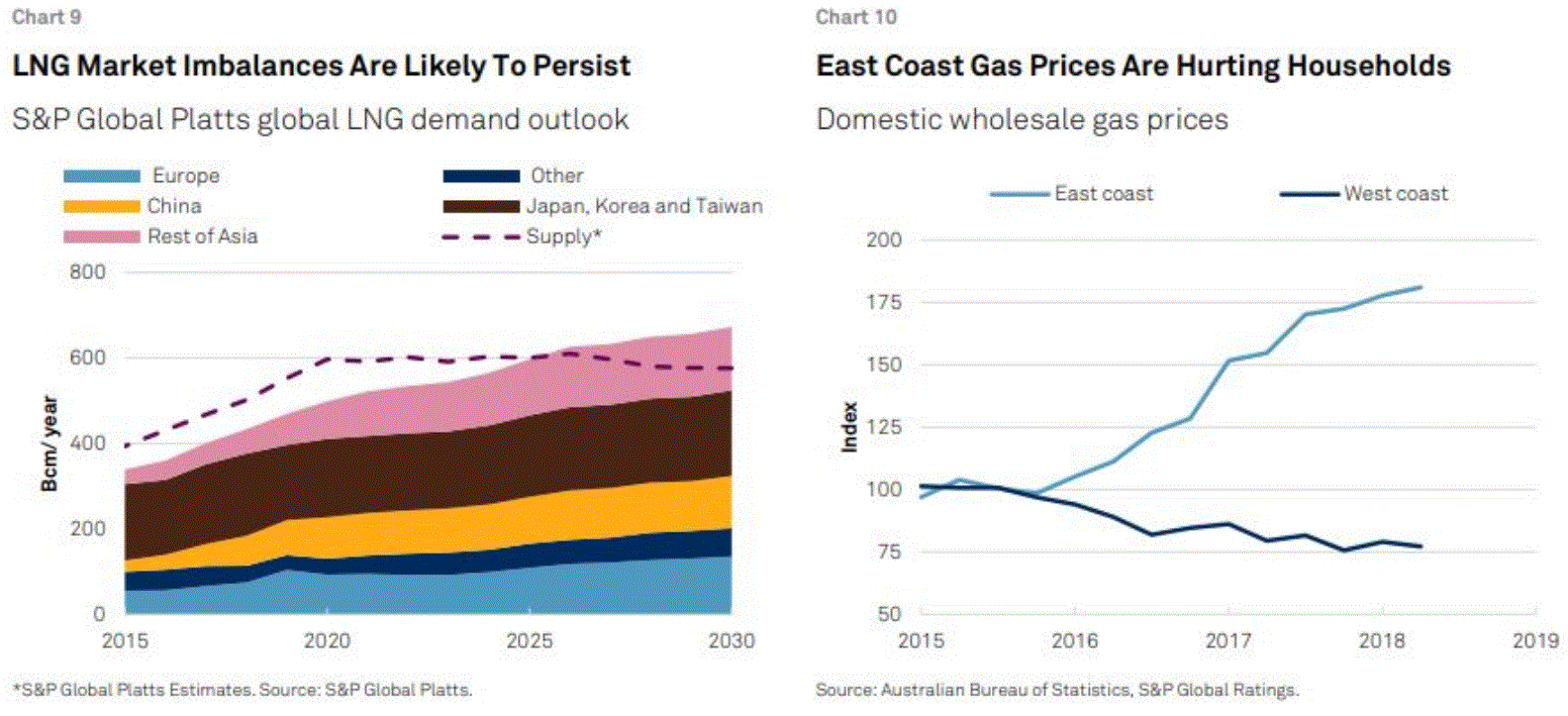 The mechanism already exists so our choice is simple. We can toughen the ADGSM (by including LNG exporter capital costs in the net back benchmark and a cap at $6Gj). Add use it or lose it rules to force the gas to be developed and a regulator to enforce it. That will keep enough Aussie gas here at half recent price ranges and electricity prices will tumble by 30% over time, rescuing climate change politics almost overnight.
Or, we can let AGL fulfill its malign vision and import LNG, permanently embedding higher gas and power prices, and destroy climate change politics entirely.