From Westpac senior economist, Matthew Hassan:
Given the intense focus on Australia's housing markets at the moment and in light of our recent commentary around the best way to interpret auction market results (see here) we are now putting out short previews each Friday and summary updates the following Monday setting out how results should be viewed.

Preliminary assessment of auction clearance rates, weekend of May 11-12 –

preliminary 'unadjusted' clearance rates: Sydney 65.6%; Melbourne 56.8%
assumed slippage between preliminary and final estimates: Sydney -5.5pts; Melbourne -1.5pts
seasonal adjustment: Sydney -0.9ppts; Melbourne -0.8ppts
'withdrawal rate': Sydney 13.9%; Melbourne 4.2%
'withdrawal rate' adjustment, difference between observed withdrawal rate and average: Sydney 0ppts; Melbourne -1ppts
estimated final 'withdrawal adjusted' clearance rate: Sydney 59.3%; Melbourne 53.4%

Preliminary auction results continue to show promising signs of improvement although they still need to be treated with caution due to high mark downs once final figures are in (last weekend this was a 9.4pt downward revision for Sydney vs the average 5.5pt reduction our analysis is based on). The preliminary figures this week suggest final clearance rates will again be comfortably in 50-55% range, the starting point for both being slightly above this range that historically has been broadly consistent with stabilising prices. Withdrawal rates area again back in the more normal range compared to late last year.

Note that all figures are based on preliminary and final auction results provided by CoreLogic.

For more detailed commentary on Australian Housing market, see our latest report: Westpac Housing Pulse (753kb).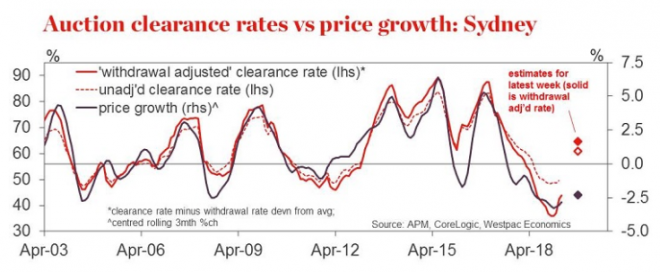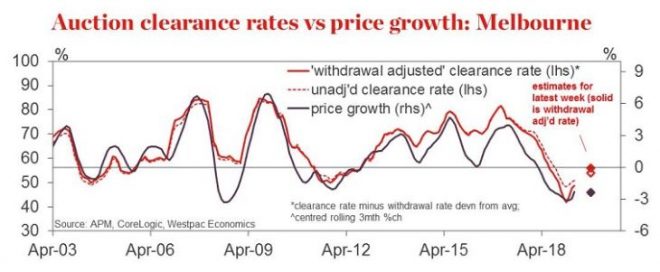 I have two points of disagreement. First, final auction clearance rates are still running below the same time last year when prices were also falling. Second, auction volumes are down about 60% from last year. Neither suggests "stabilising prices".