DXY and CNY were up overnight, EUR down: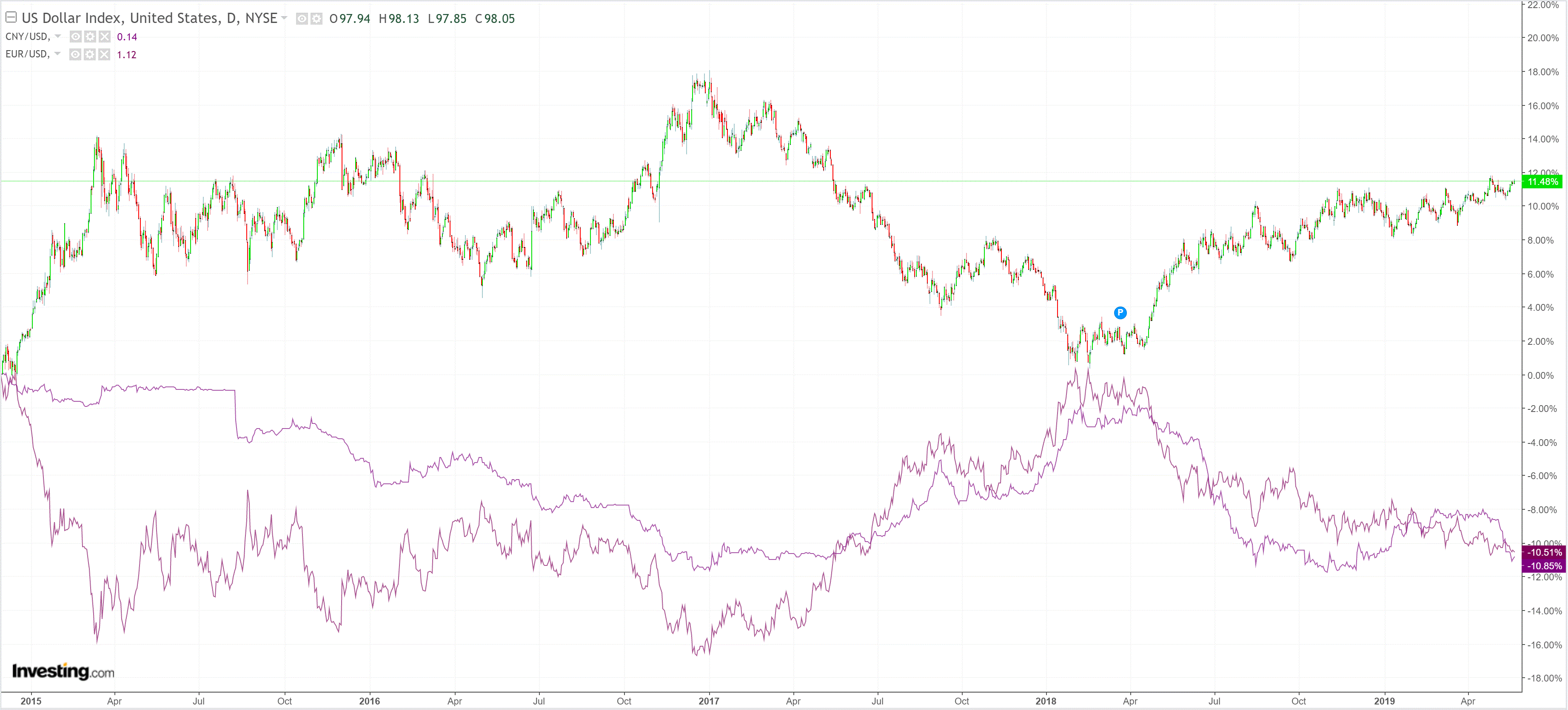 The Australian dollar held near the lows versus DMs: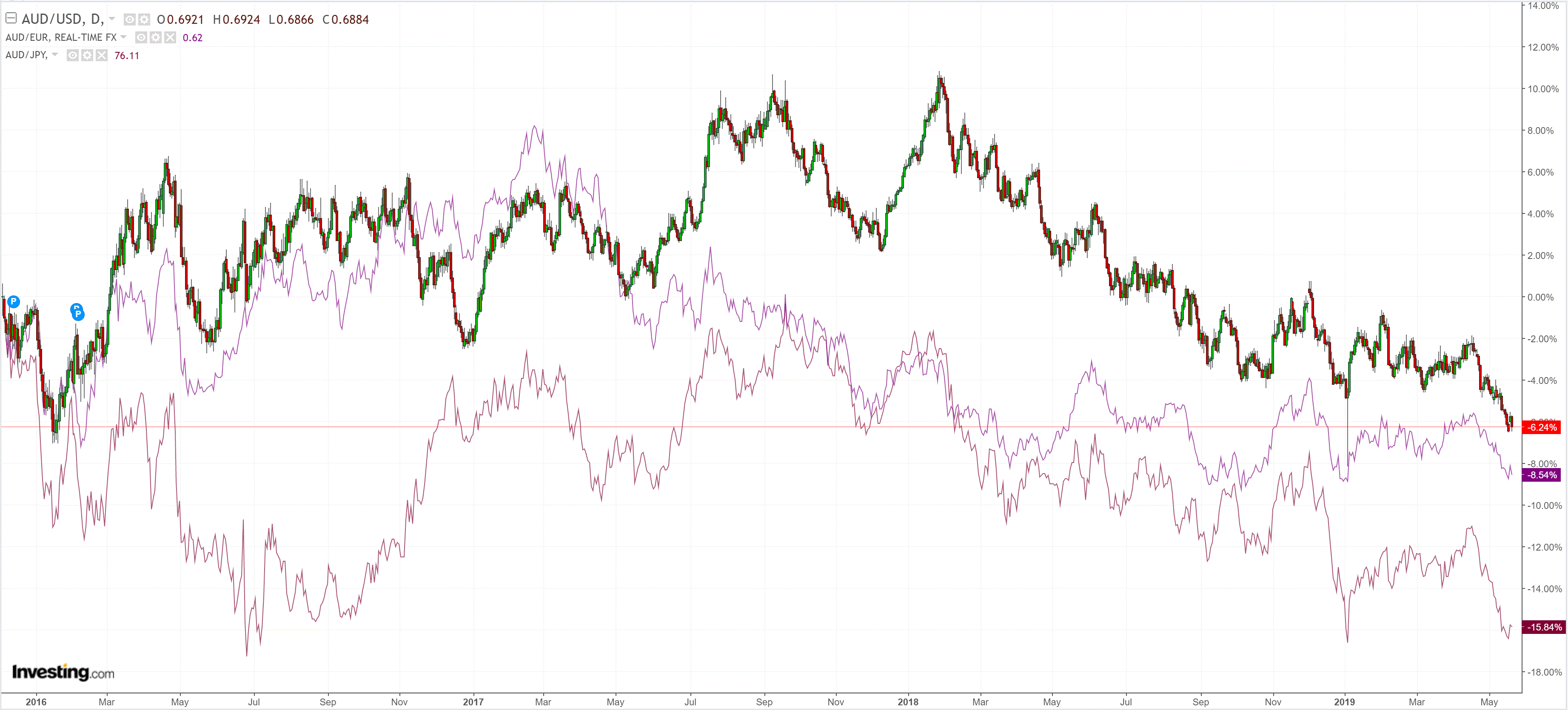 EM's continue to outperform it: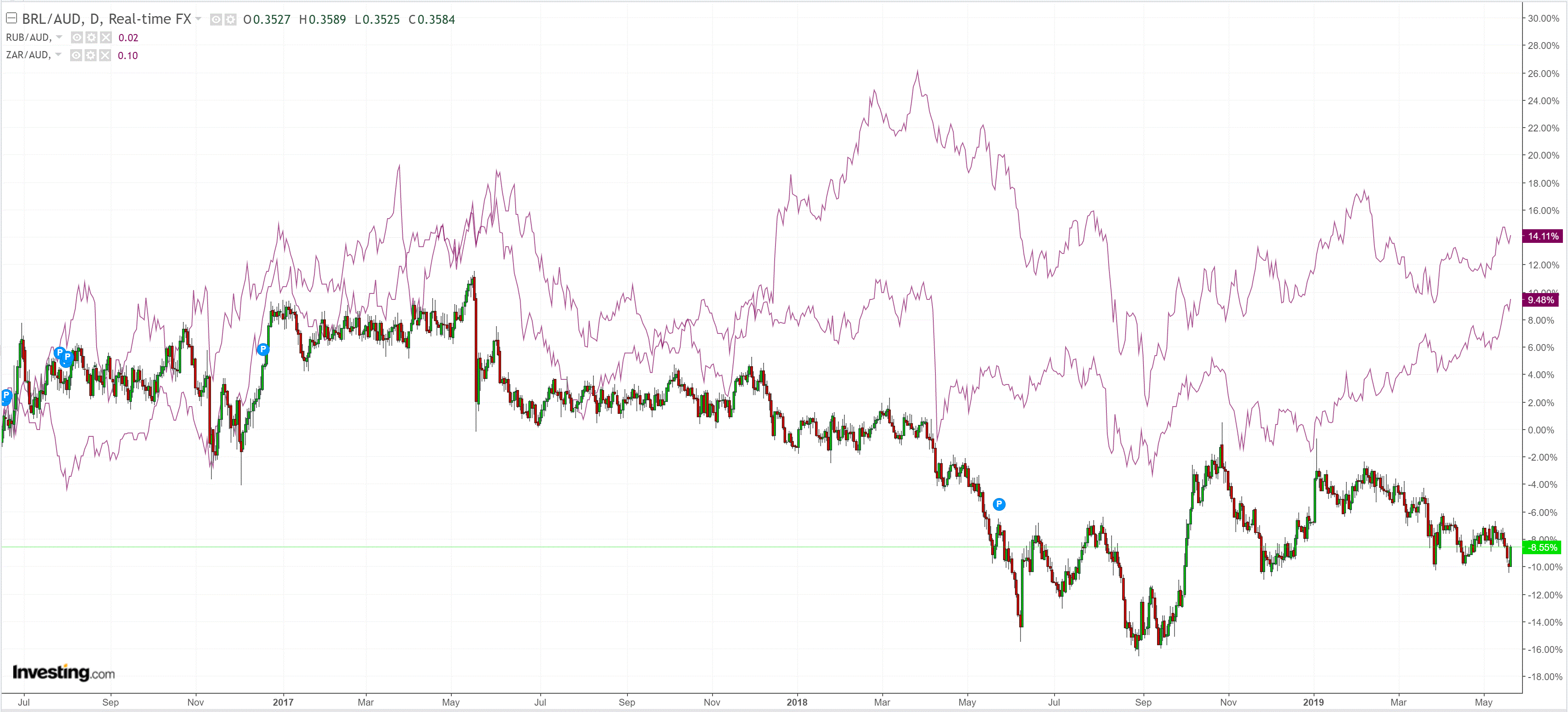 Gold was stable: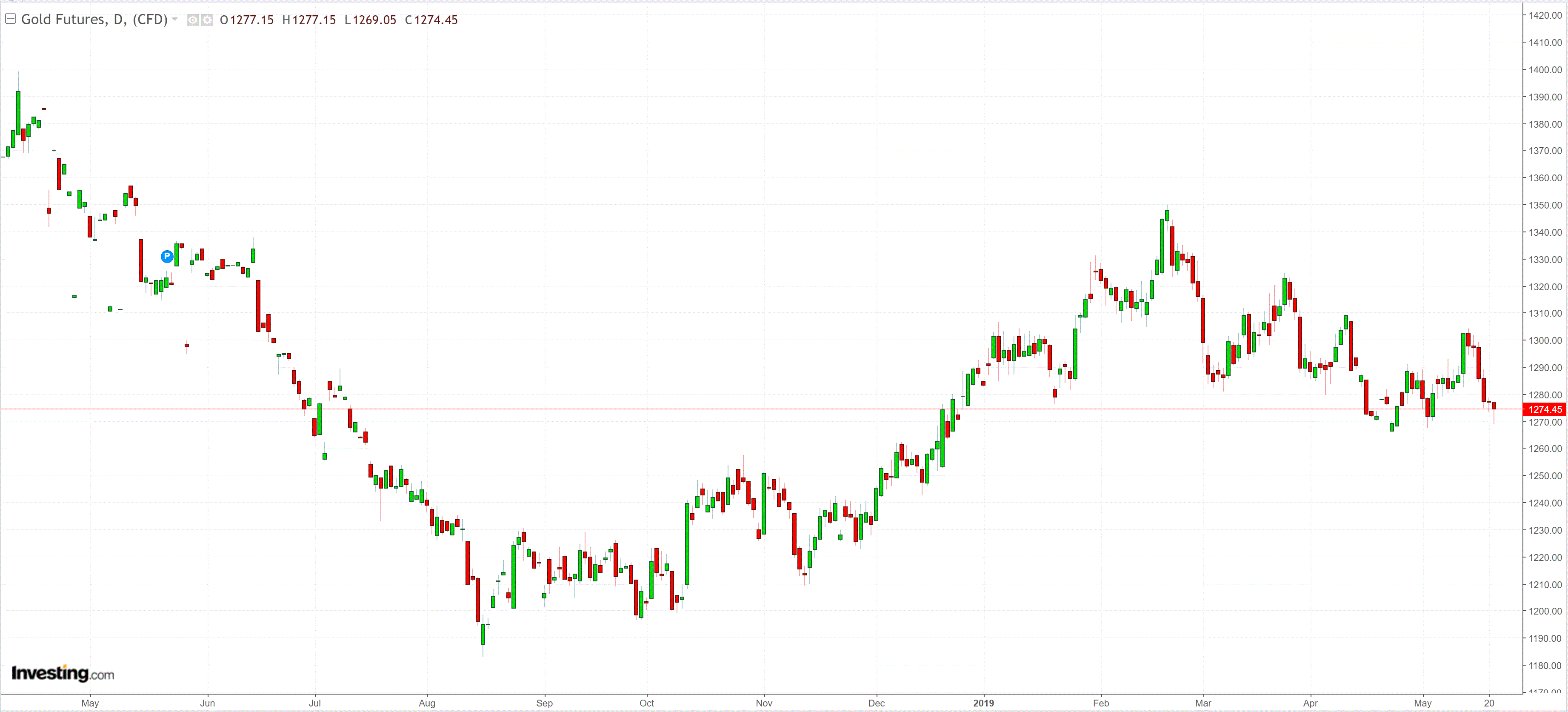 Oil too: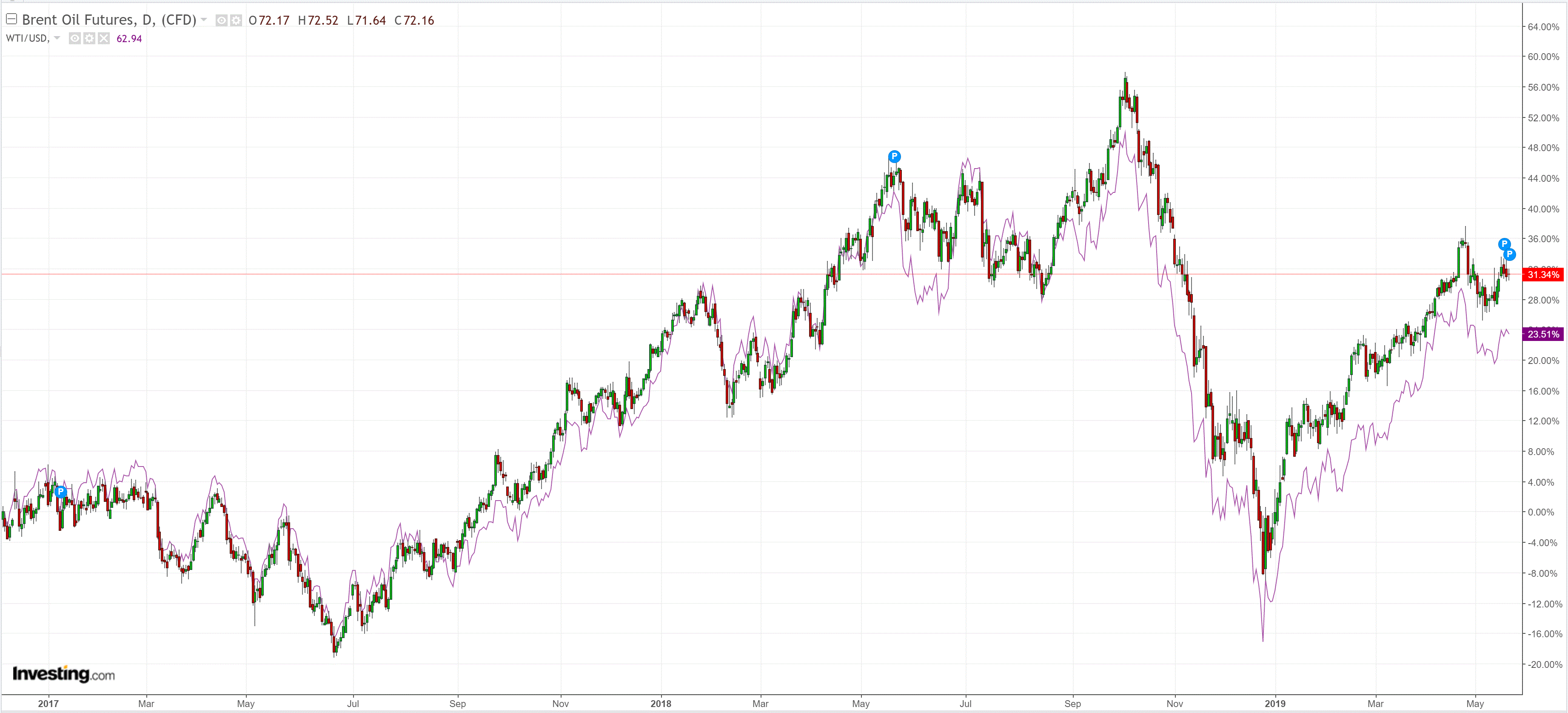 Metals lifted a little: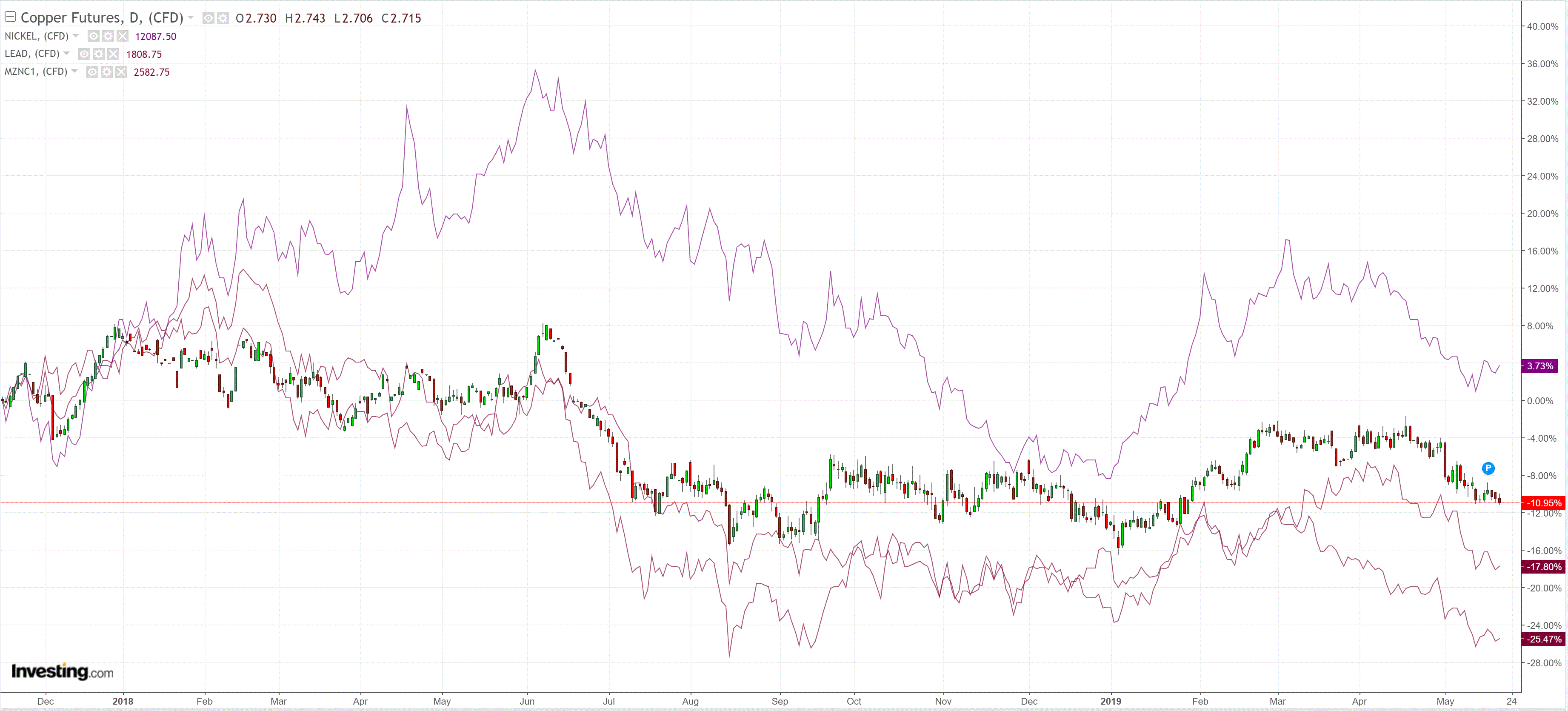 Miners more so: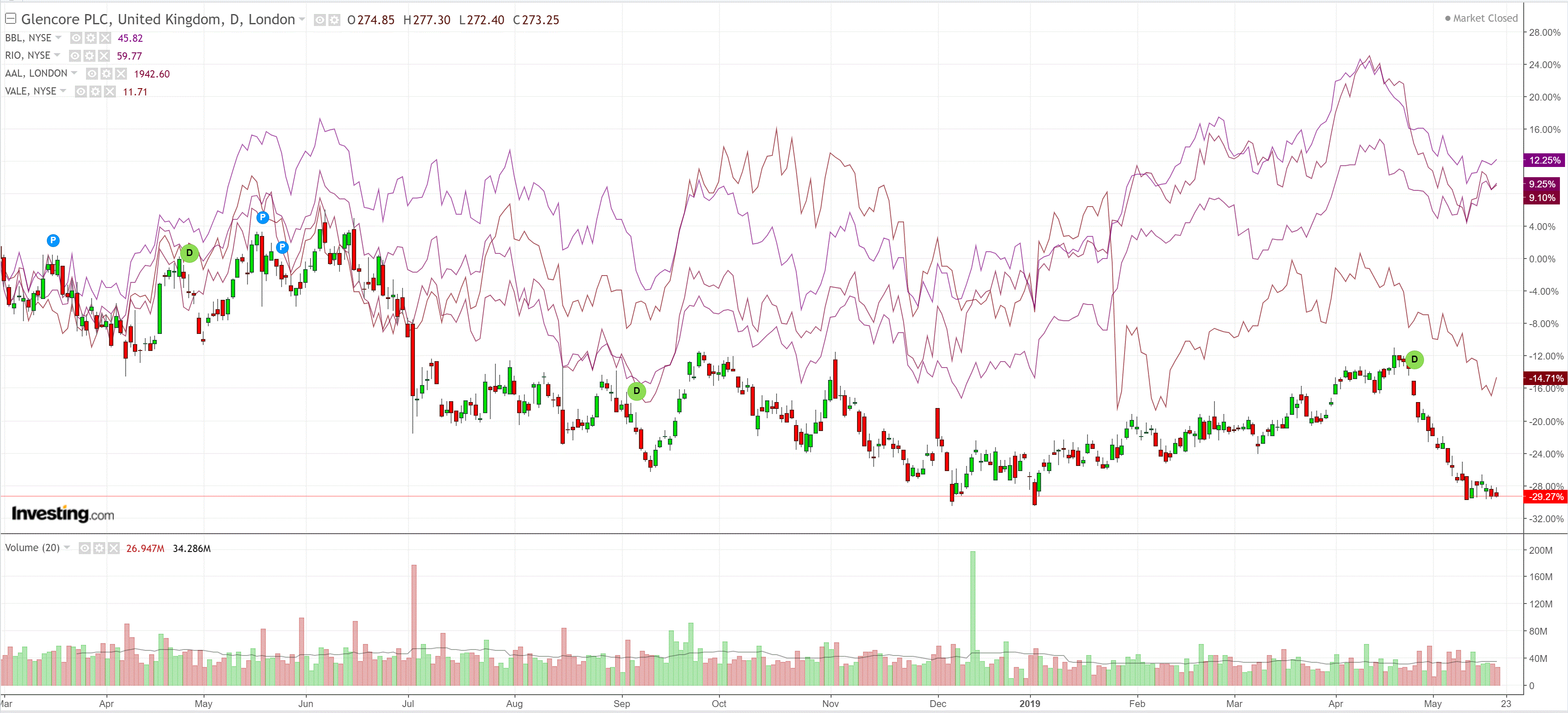 And EM stocks: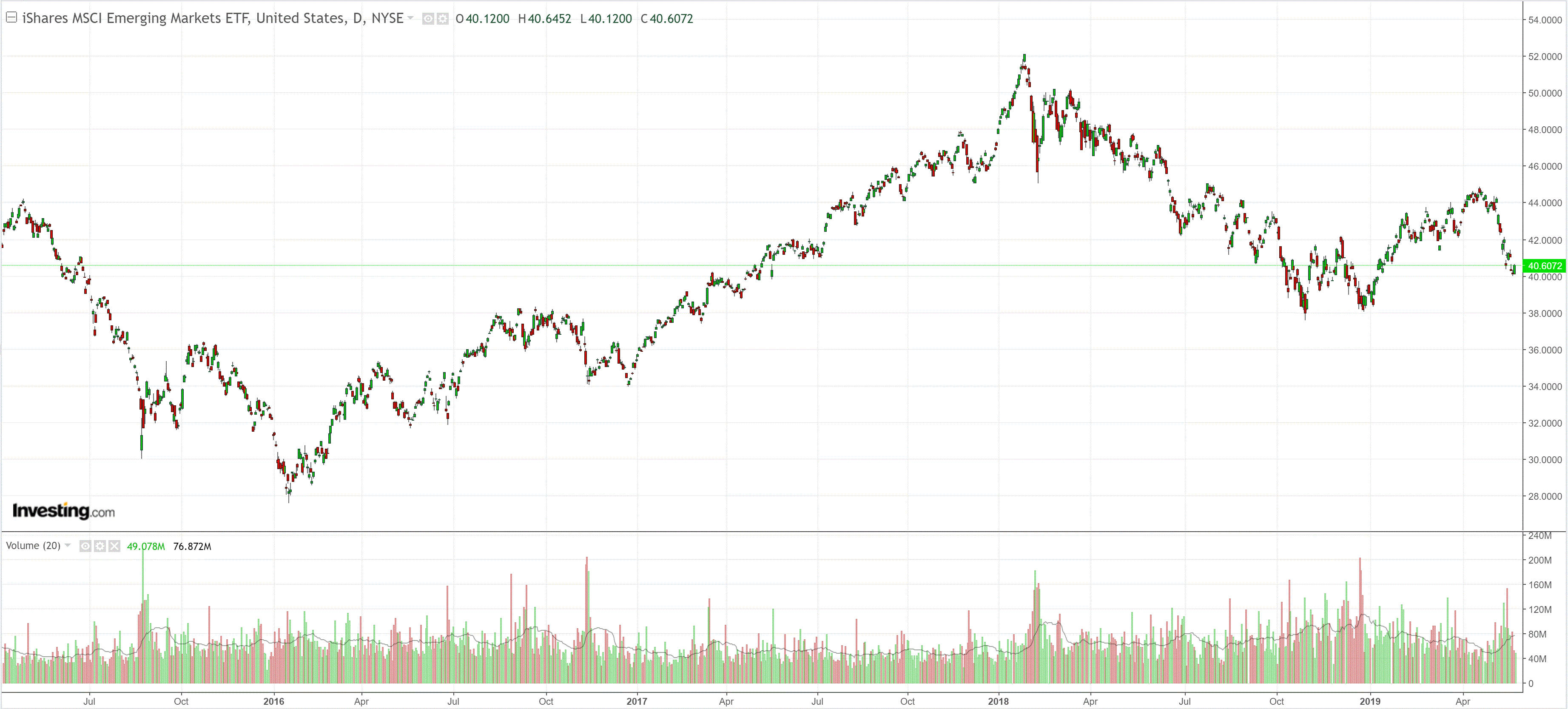 US junk was also firm, EM not so much:
Treasuries were belted: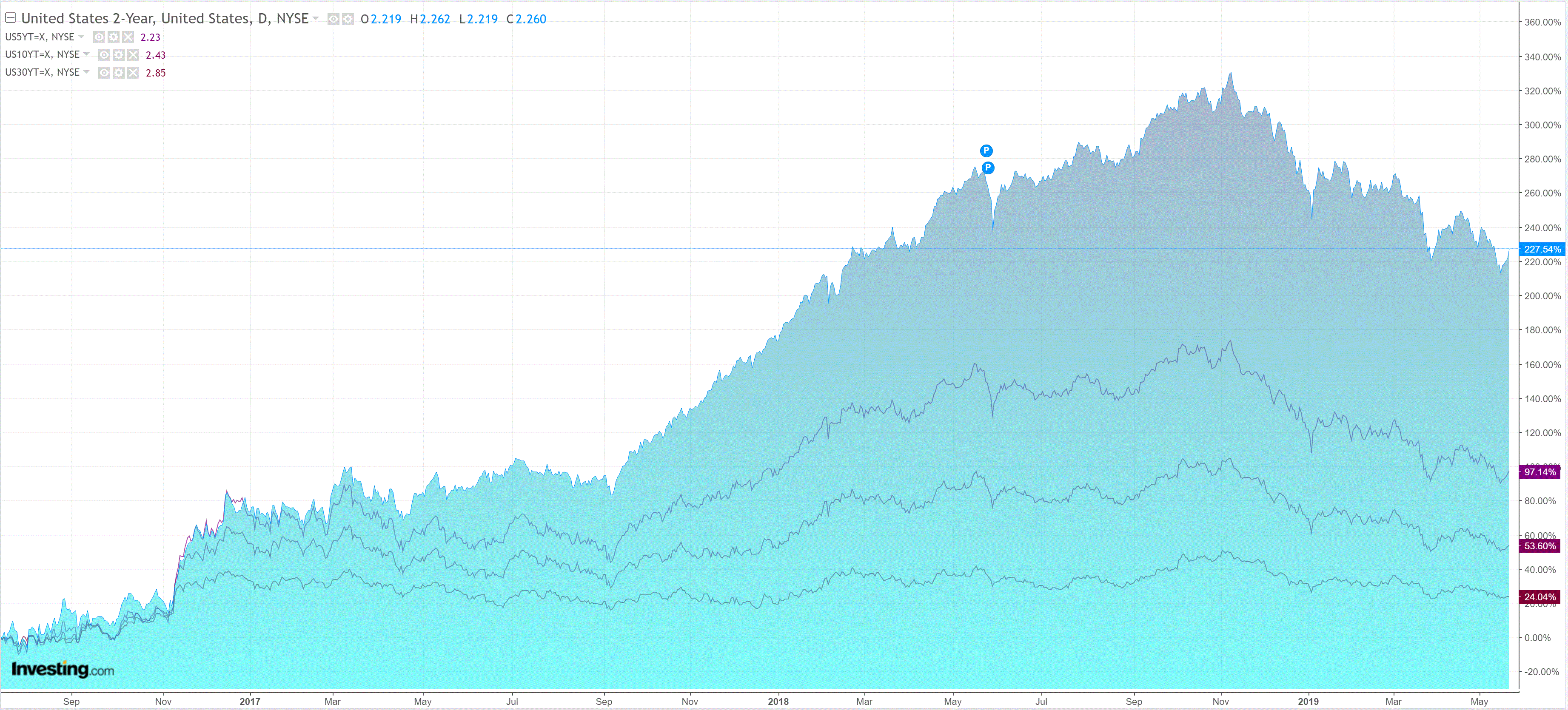 Bunds too: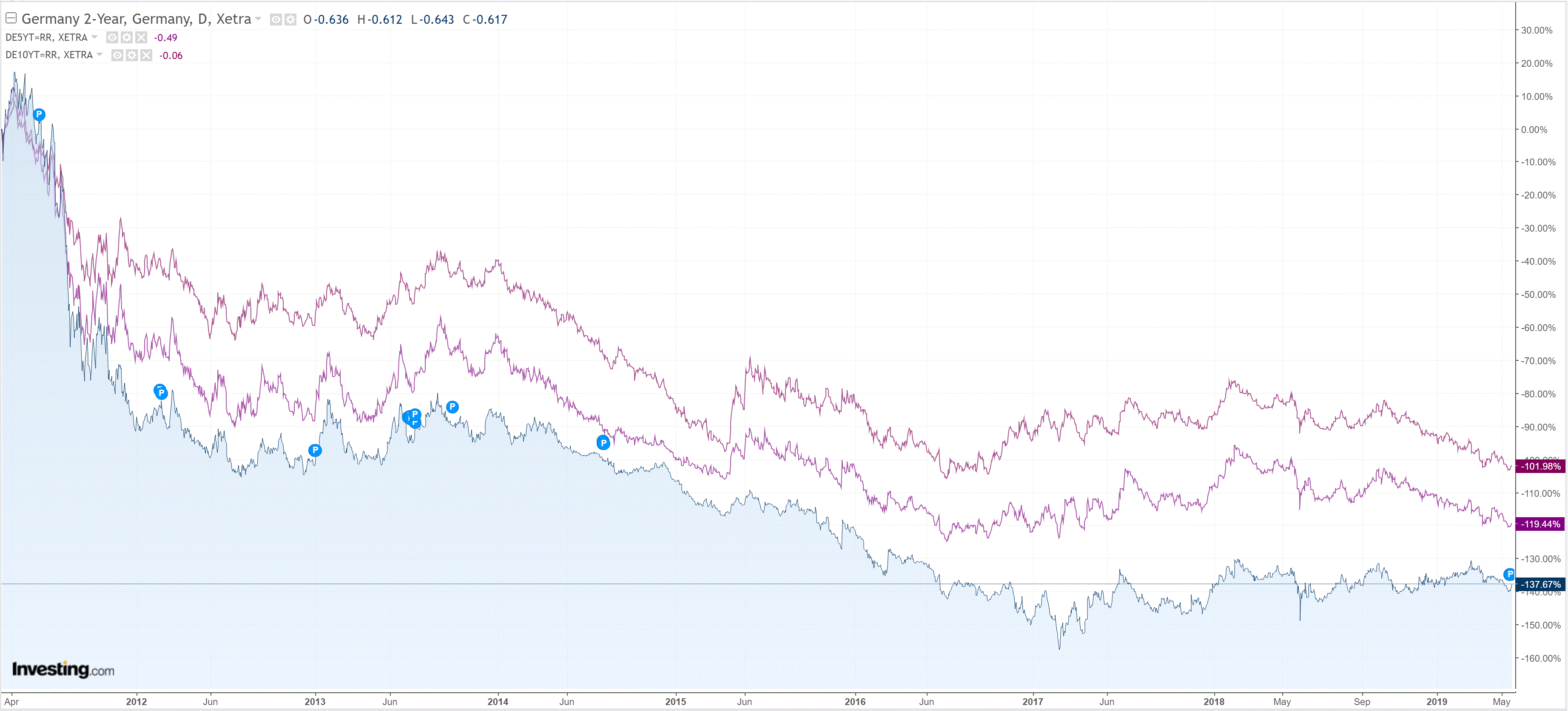 Aussie bonds held near the highs: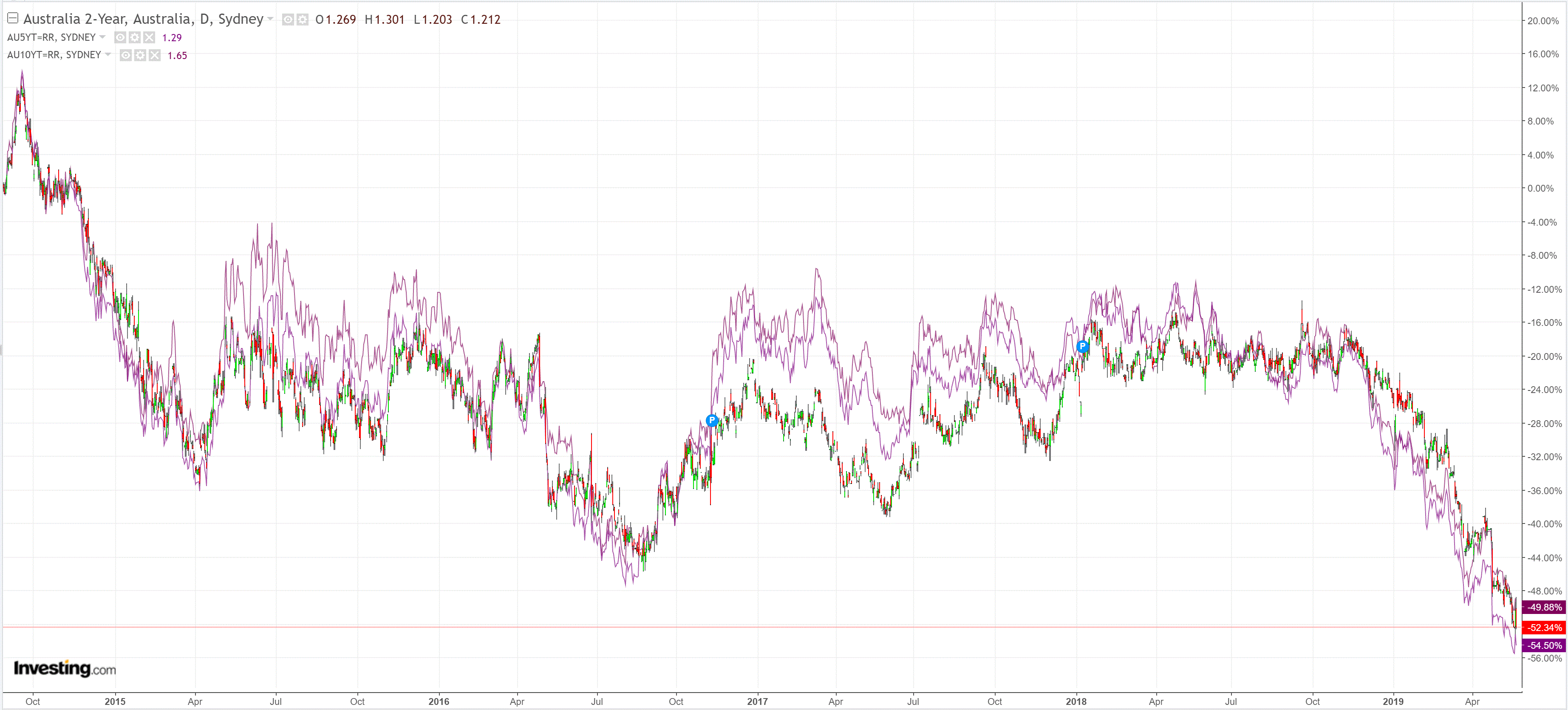 As stocks rebounded solidly: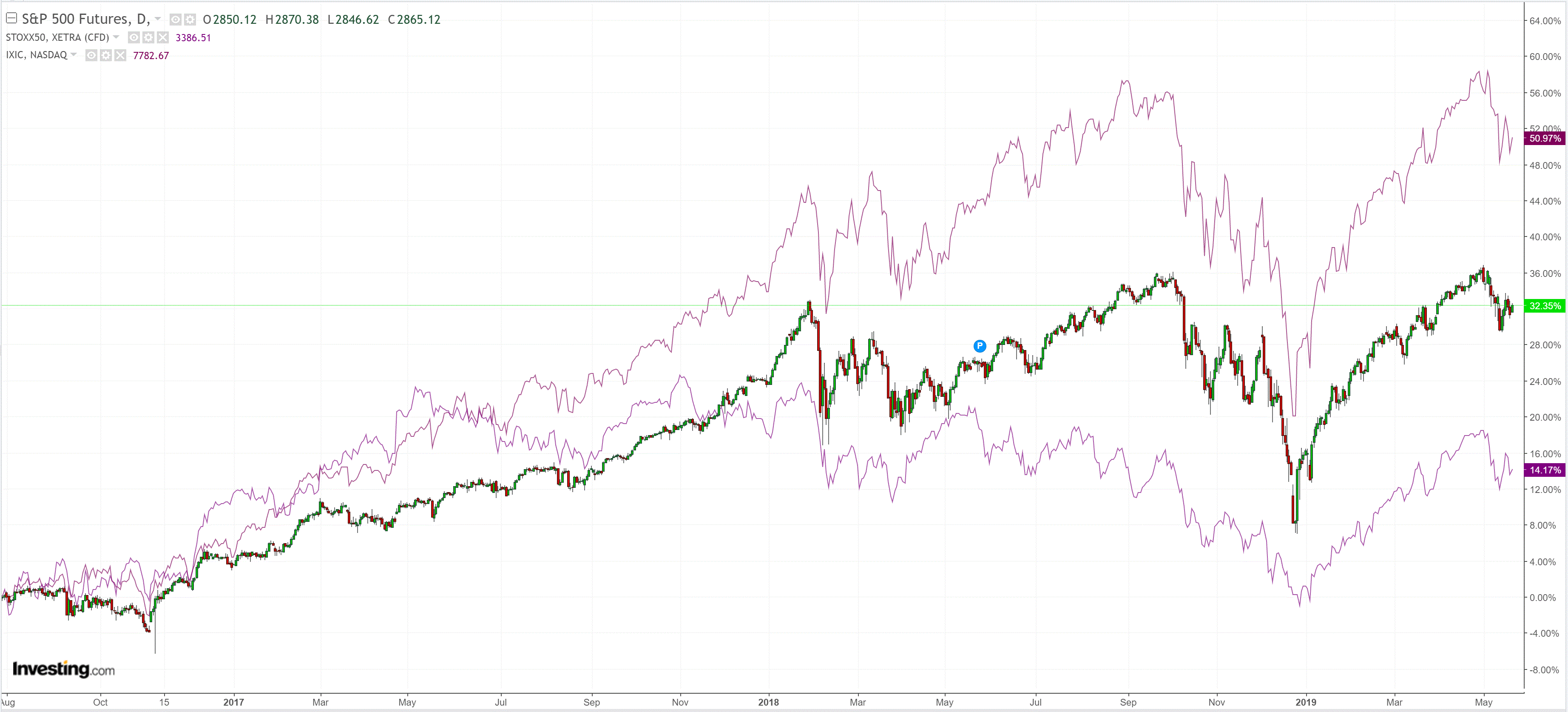 As usual it is all trade war, this time better news for markets, via AFP:
US officials have issued a 90-day reprieve on their ban on dealing with Chinese tech giant Huawei, saying breathing space was needed to avoid huge disruption.

A Commerce Department filing said the delay does not change the ban imposed by President Donald Trump on national security grounds, an action with major implications for US and Chinese technology firms.

Instead, it grants a temporary license that will allow Huawei to continue doing business with American firms.
Underneath that, the ripples are everywhere, at Bloomie:
Huawei has already been excluded from the "cores'' of many European telecommunication networks — that is, the layer privy to sensitive information and control privileges. But it's become a dominant force in the lucrative remaining segment mainly made up of radio antennas.

The new sanctions have inflamed the dilemma faced by phone companies: whether to stick with Huawei through the growing storm, or bite the bullet and abandon it in favor of other vendors like Nokia Oyj, Ericsson AB or Samsung Electronics Co.

Ditching the Chinese company and switching to these firms could mean ripping out the Huawei-built 4G foundations they'd planned to bolt its 5G radios onto, a move that they say would cost billions as well as choke competition and innovation in the market.
More at Bloomie:
Plans to target the Chinese telecommunications equipment maker over security concerns had been on the table for months and included possibly subjecting Huawei to economic sanctions, according to the people, who asked not to be identified discussing internal deliberations. But the decision to curtail the Shenzhen-based company's access to American suppliers unfolded quickly once trade talks broke down, setting off a scramble to implement the measures, the people said.

The Commerce Department action last week requires American suppliers of Huawei, a crown jewel of Chinese manufacturing, to seek U.S. government permission to do business with the company.

The decision touched off a massive disruption in technology supply chains, hitting some of the biggest component-makers as Intel Corp., Qualcomm Inc. and Broadcom Inc. told their employees they won't provide products to Huawei until further notice.
Banned. Not banned. Banned. Everybody is going to have to risk manage Huawei henceforth. It's business is in deep trouble.
Which is not making China happy. Mad Xi is on the war path, at SCMP:
Chinese President Xi Jinping has called for the nation to embark on a new Long March and "start all over again", in the most dramatic sign to date that Beijing has given up hope of reaching a trade deal with the United States in the near term.

Xi is in Jiangxi province for his first domestic tour since the escalation of the trade war two weeks ago. Jiangxi is where China's defeated Red Army started its fabled Long March in 1934, and Xi's choice of destination is being viewed as an effort to invoke a spirit of endurance and to rally public spirit amid rising tensions with Washington.

"We are here at the starting point of the Long March to remember the time when the Red Army began its journey," Xi told cheering crowds on Monday, in footage posted on state broadcaster CCTV's website on Tuesday. "We are now embarking on a new Long March, and we must start all over again."
And Bloomie:
Meanwhile, the US has plenty more tariff bullets to fire as well: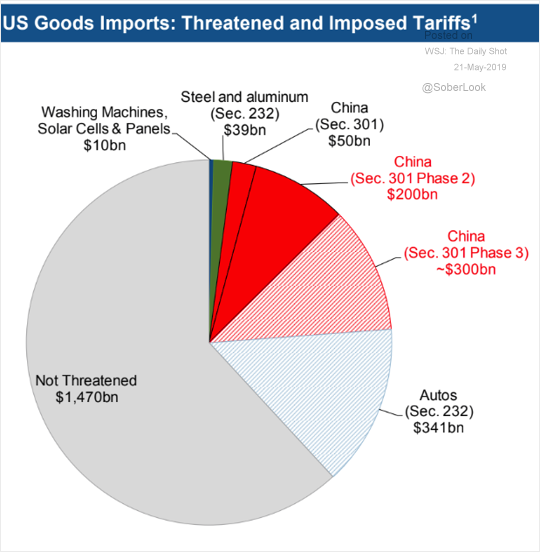 Martin Wolf summarises for us
The trade war is also turning the US into a significantly protectionist country, with weighted-average tariffs possibly soon higher than India's. A paper from the Peterson Institute for International Economics states, that "Trump is . . . threatening tariffs on China that are not far from the average level of duties the United States imposed with the Smoot-Hawley Tariff Act of 1930." Tariffs may even stay this high, because the US's negotiating demands are too humiliating for China to accept. These levies will also lead to diversion to other suppliers. Tariffs may then spread to the latter, too: bilateralism is often a contagious disease. Contrary to Mr Trump's protestations, the costs are also being borne by Americans, especially consumers and farm exporters. Ironically, many of the worst hit counties are in Republican control.

Some might conclude that the high costs mean that the conflict cannot be sustained, particularly if stock markets are disrupted. An alternative and more plausible outcome is that Mr Trump and China's Xi Jinping are "strongmen" leaders who cannot be seen to yield. The conflict will then either remain frozen or, more likely, worsen as relations between the two superpowers become increasingly poisoned.
I agree with that though I'm more sympathetic to US motives. China has shown for many years that it uses trade deals as a way to cheat. If it won't sign up to more binding constraints then what else can the US do? This is about more than just El Trumpo's pride. It is a systemic clash.
So, Chinese growth will remain under pressure. It must ease monetary policy. The yuan will fall, making things worse in the trade war, and taking the Australian dollar down with it.