Via S&P:
Australian prime home-loan arrears rose in March, according to a recently published report by S&P Global Ratings. The Standard & Poor's Performance Index (SPIN) for Australian prime mortgages increased to 1.51% in March from 1.48% a month earlier. Arrears are up by 14 basis points year on year.

Across the country, arrears movements were mixed. The Northern Territory, Australian Capital Territory, and Western Australia recorded the largest year-on-year changes. Tasmania was the only state that recorded a year-on-year decline in arrears. Across the more populous states, New South Wales recorded the largest year-on-year increase in arrears at 0.22% followed by Victoria at 0.18% and Queensland at 0.16%. As around 80% of loans underlying Australian residential mortgage-backed securities (RMBS) portfolios are domiciled in the more populous states, their arrears movements have a larger impact on the SPIN.

Investment arrears increased at a faster rate than owner-occupied arrears over the past 12 months, rising to 1.46% in March from 1.19% a year earlier. Some of this increase will reflect the expiration of interest-only periods, which are more common in investor loans than in owner-occupied arrears. Owner-occupier arrears increased to 1.73% in March from 1.56% a year earlier.

Arrears have continued to edge upward over the past 12 months, albeit from low levels, despite low interest rates and stable employment conditions. In our view, macroeconomic factors that are weighing on mortgage arrears include low income growth, cost of living challenges, underemployment, and high household debt.

We expect arrears to remain elevated over the next 12 months. The current lending environment will add to mortgage pressures as it will weigh on refinancing prospects for some borrowers.
What is unsettling about these numbers is they are all still WA which is the leading indicator given it led the economic downturn which is is only just arriving in the east.
Low doc is breaking:

And the major banks are seeing most of the damage: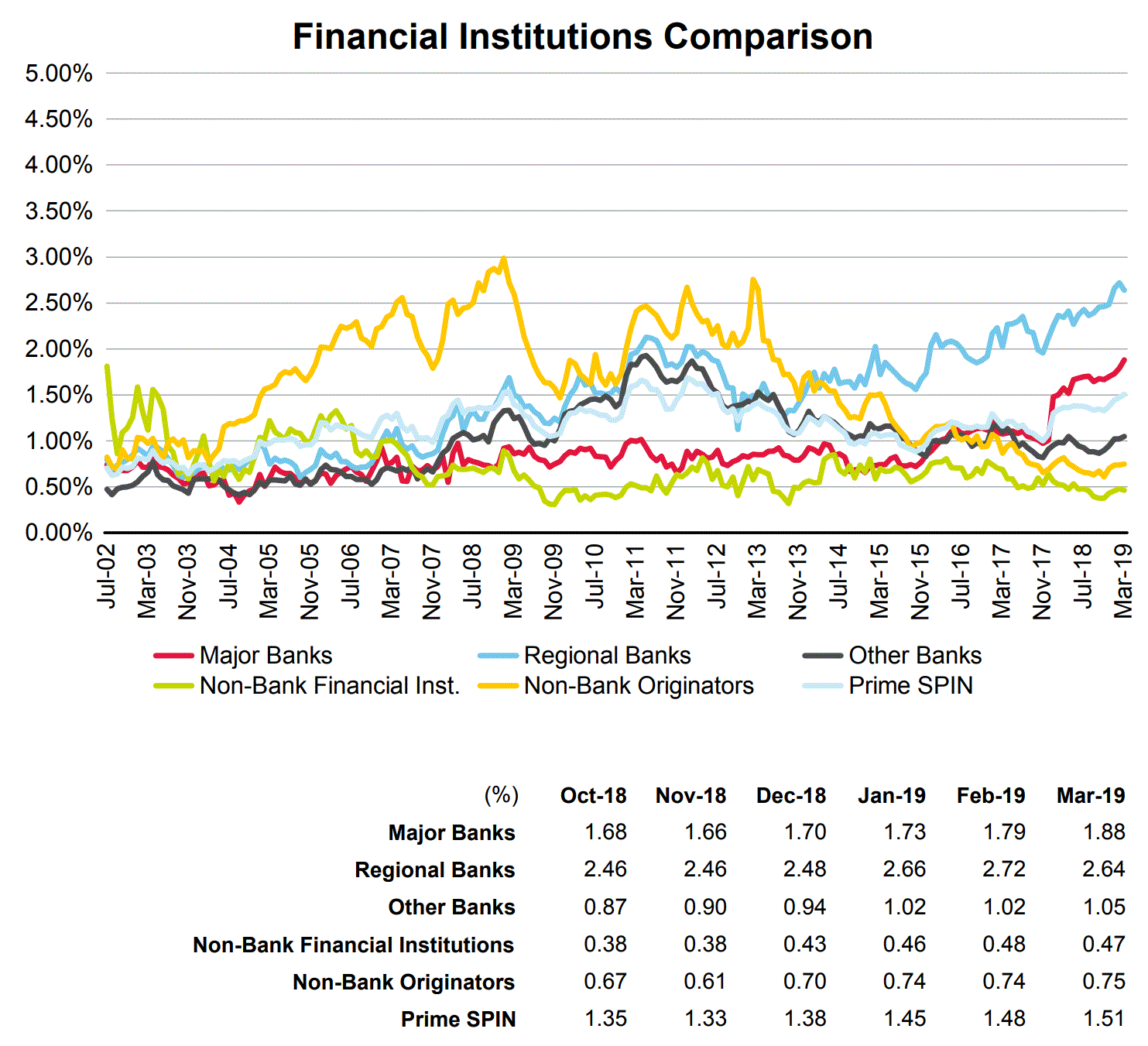 This is the seasonally weakest period and the overall level is still low but the trend is not our friend. Full report.
Latest posts by David Llewellyn-Smith (see all)