Simon Kuestenmacher is the Director of Research at The Demographics Group and is described as "a rising star in the world of demography". The Demographics Group is the private enterprise headed by self-proclaimed "unabashed supporter of a bigger Australia" Bernard Salt, who has spent years lobbying for mass immigration.
Last month, Kuestenmacher penned a shockingly bad article attempted to argue that cutting immigration (and population growth) would have no impact on congestion.
Kuestenmacher has returned today arguing that Australia's cities are high-skilled jobs growth machines. From The Australian:
Over the past few decades the Australian workforce shifted away from so-called middle skill jobs to highly skilled jobs. Along with this, our cities changed too…

The Australian Bureau of Statistics assigns each job a skill level. Jobs that require a lot of university study (for example doctors and engineers) are ranked as skill level 1, typical blue-collar jobs (such as manufacturing and trades) are ranked as skill level 3, while jobs that require no formal training (such as cleaners and cafe workers) are ranked as skill level 5.

In the past five years almost half of all net new jobs (46 per cent) were skill level 1, while only 1 per cent were middle-skilled.

…For starters, skill level 1 jobs love to cluster. Knowledge workers benefit from working close to other knowledge workers. This is why we've seen so many office towers pop up in the central business districts of our largest cities…
The below chart from the ABS, which tracks jobs growth by industry since the Global Financial Crisis, tells the real story: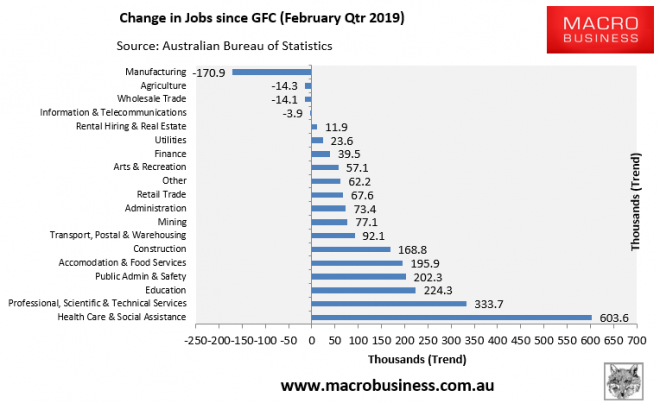 The boom in 'caring' jobs relates to a large extent to the ageing of the population and the rollout of programs like the NDIS and the increasing demand for childcare, as well as the expansion of Australia's university system brought about by the explosion of domestic students from the demand-driven system and the explosion of foreign students.
We've experienced a boom in public servants, as well as a population-led boom in construction jobs boom via record apartment construction as well as public infrastructure investment.
The types of services jobs that have been created are more about shifting wealth around the economy, rather than creating new wealth. These jobs typically rely on never-ending population growth, exhibit low productivity, are non-tradable, and are paid for to a large extent via taxation, asset sales and debt accumulation.
By contrast, those trade-exposed sectors that truly create wealth in the economy are under the most pressure. The end result is that private sector wages growth is stuck in the doldrums and significant under-employment.
In August last year, the Department of Employment released its 2018 Employment Projections, which projects these sectors will generate two-thirds of Australia's jobs growth over the next five years:
The long term structural shift in employment towards services industries is projected to continue over the coming five years. Health Care and Social Assistance is projected to make the largest contribution to employment growth (increasing by 250,300), followed by Construction (118,800), Education and Training (113,000) and Professional, Scientific and Technical Services (106,600). Together, these four industries are projected to provide almost two-thirds (or 66.4 per cent) of total employment growth over the five years to May 2023.

Employment in Health Care and Social Assistance, the primary provider of new jobs in the Australian labour market since the 1990s, is projected to increase by 250,300 (or 14.9 per cent) over the next five years. While the resulting increase in this industry's share of total projected employment growth will be largely due to the full implementation of the National Disability Insurance Scheme (scheduled for 2019-20), Australia's ageing population and increasing demand for childcare and home-based care services also contribute to this strong projected growth.

Construction industry employment is projected to grow by 118,800 (or 10.0 per cent) over the five years to May 2023. Employment growth in the engineering construction sector, supported by continued infrastructure investment, is expected to be stronger than that in Residential construction, which is expected to grow at a pace more in line with population growth.

Employment in Education and Training is projected to increase by 113,000 (or 11.2 per cent) over the five years to May 2023. This growth is expected to be supported by growth in the school aged population, continued strength in the international education sector, growing demand for adult and community education and continuing growth in part-time workers and non-teaching staff in the industry.

Employment in Professional, Scientific and Technical Services is projected to increase by 106,600 (or 10.2 per cent) over the five years to May 2023, reflecting ongoing strength in demand for the services of qualified and highly educated workers throughout the economy.
Clearly, the Australian economy's growth levers are not operating properly, and it has become overly reliant on government spending, ponzi growth, and 'bullshit' jobs.
Basically, Australia is running an infernal perpetual motion machine that force feeds a fat population high-caloric donuts while pushing it to run on an out of control treadmill. Wages stall, purchasing power falls, houses are unaffordable, debt keeps rising, public services are crush-loaded, brand new infrastructure is clogged soon after it opens, but the machine itself keeps on chugging so that a few elites can cream the government cash. Everyone else just stuffs in the empty calories until seized by an economic infarction.
The only thing holding this thing together is the bullshit of the bullshit jobs masters. Simon Kuestenmacher being one outstanding example.