The New South Wales Treasury's analysis indicates that the state would receive an additional 37,000 aged migrants under Labor's family visa program, putting pressure on its hospitals. From The Australian:
Hospitals in Australia's biggest destination for migrants could be swamped as more than 37,000 aged parents arrive from overseas under Bill Shorten's family visa program, according to NSW Treasury analysis.
"Federal Labor cannot leave state governments to pick up the tab for their expensive immigration policies," NSW Treasurer Dominic Perrottet said…

There is pent-up demand for permanent parent visas, with a backlog of almost 100,000 appli­cations nationwide, mostly from Chinese-Australians, and some with no hope of a visa before 2040-50. Most of these migrant families would be expected to switch to a quick and easy temporary parent visa.

NSW Treasury based its estimate of parent arrivals under Labor's policy on the 100,000 waiting list figure and the fact that the state accounts for 37 per cent of current family visa settlements.

The Treasury estimate is conservative because it does not ­reflect much of the potential ­demand among the fast-growing Indian and Middle-Eastern diaspora, where devotion to parents is also part of the culture.
Conservative is an understatement. While there is an estimated 100,000 permanent parents on the visa waiting list, there are potentially millions waiting in the shadows, given the size of Australia's migrant population: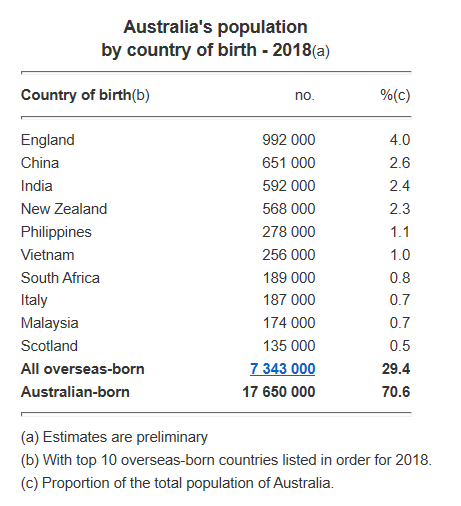 Under Labor's policy, each migrant will be allowed to bring two elderly parents into Australia – the stock of which will grow rapidly over time as Australia's permanent migrant population grows: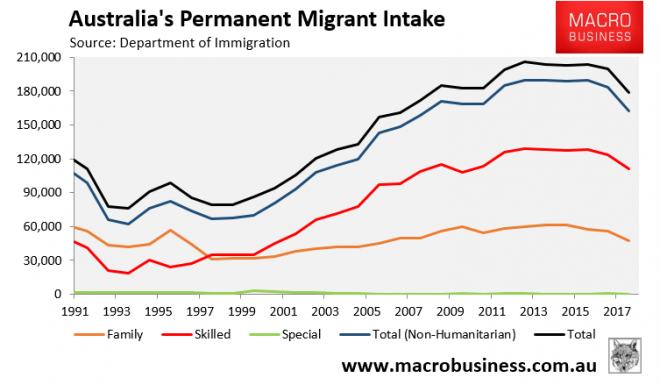 Think about it from a migrant's perspective: for only $500 a year you can buy yourself access to Australia's lifestyle, infrastructure and services. Who wouldn't take up this generous offer?
Labor's policy will be particularly enticing for Chinese parents. In addition to being reunited with their children, they can escape the tyrannical Chinese Government, while also gaining easy access to Australia's housing market.
Remember, most of these elderly parents will come to Sydney and Melbourne, given this is where migrant populations from Asia and the Middle-East are greatest. Hospitals, infrastructure and services in these two cities are already crush-loaded, which is about to get much worse under Labor's brain-dead policy.