We already know that Melbourne has experienced insane levels of population growth over the past 14 years, driven by mass immigration: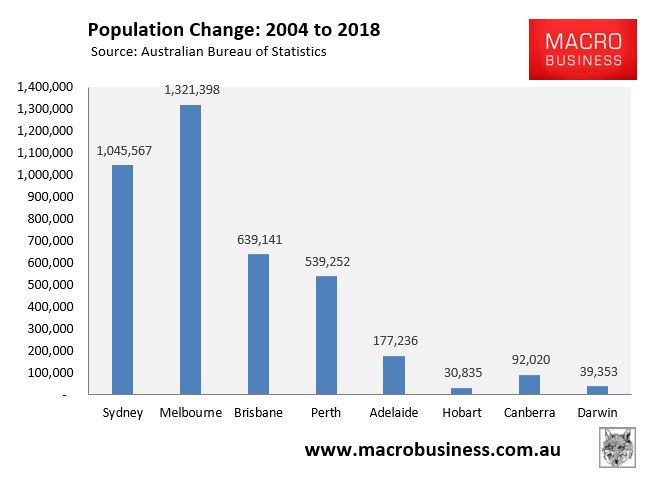 And that the lion's share of this population growth has taken place in the outer suburbs of the city: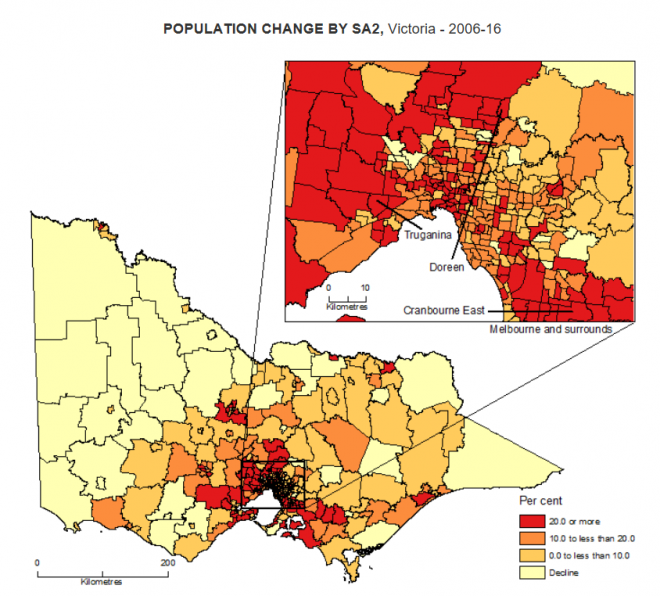 Last year, Infrastructure Australia reported that 1.4 million people in the outer-suburbs of Melbourne are not located within a reasonable distance of public transport.
Now, economist Peter Brain, transport expert Professor John Stanley and social resilience researcher Janet Stanley from Melbourne University have presented research warning that Melbourne has become divided into 'haves' and 'have nots', again with the migrant-stuffed outer-suburban areas most disadvantaged:
Melbourne is growing faster than most cities of similar size in developed countries. Population growth averaged more than 2.5 per cent a year between 2011 and 2018…

Melbourne is also fast becoming an economically and socially polarised city…

If Melbourne is divided into inner, middle and outer urban areas, each containing about one-third of the city's jobs, the greatest share of the city's population (46.6 per cent) lives in the outer local government areas (LGAs). This share is increasing as population grows rapidly, accounting for 57.5 per cent of the growth between 2011 and 2016.

At the same time, these outer LGAs have the fewest jobs per 1,000 residents. Many workers have to make long commuting trips, with associated congestion impacts.

Our newly published research examines the capacity of Melbourne residents to capture income, as well as the findings on some important social outcomes.

Over the 1992-2017 period, relative to Victorians as a whole, residents in each of the six fastest-growing outer Melbourne LGAs (Cardinia, Casey, Hume, Melton, Whittlesea and Wyndham) went backwards in terms of their share of income from economic activity…

Increasing inequality, social, congestion and productivity costs are linked with infrastructure spending that has been too low to meet the needs of the rapidly growing population. The research suggests a backlog of around A$125 billion to enable the six fastest-growing outer LGAs to achieve growth in gross regional product per resident of working-age population in line with the state average. Additional spending will be needed to cater for subsequent population growth and to tackle problems beyond the six outer growth LGAs, such as traffic congestion and crowded public transport…

The research does not take account of many other impacts of high population growth. Among these are the loss of ecosystem services, the loss of food-growing land through urban sprawl, increasing freshwater scarcity, and the transport sector's greenhouse gas emissions. These issues all have impacts on productivity, health and well-being.
When I worked at the Victorian Treasury in 2006, the Government had recently released "Melbourne 2030", which projected that Melbourne's population would reach 5 million people by 2030. In 2010, the Government released "Melbourne Beyond 5 million", which projected that Melbourne would add one million people in 15 years and warned that the city was not ready for this growth.
As we all know, Melbourne has smashed those projections, hitting 5 million people in 2018, 12 years earlier than projected in Melbourne 2030, after adding nearly 600,000 people in just the five years to 2018, thanks primarily to the federal government's mass immigration 'Big Australia' policy: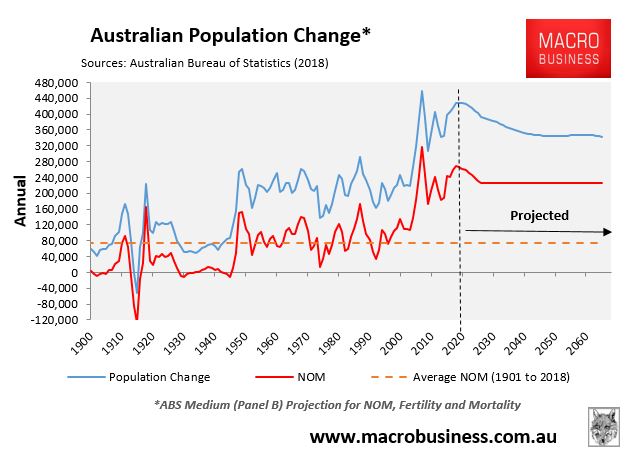 Mass immigration economic apartheid is dividing Melbourne. And it's only going to get worse according to Infrastructure Australia's recent modelling, which shows that as Melbourne's population surges to a projected 7.3 million people by 2046, traffic congestion and access to jobs, schools, hospitals and green space will all materially worsen regardless of how the city is built-out: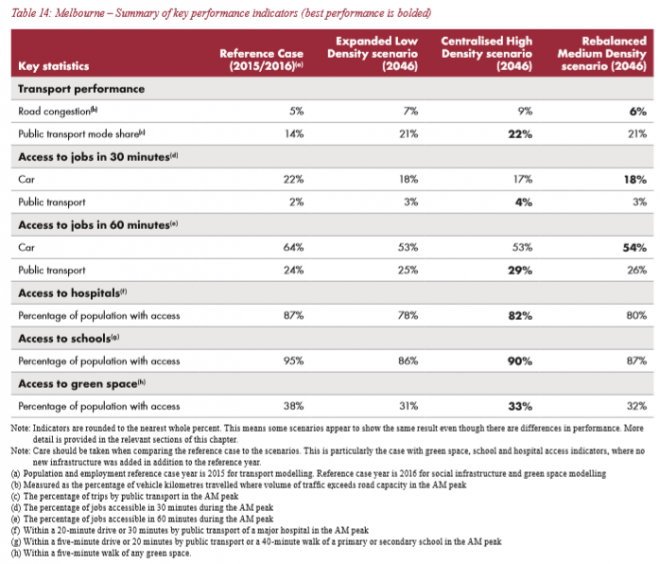 The only genuine solution to protecting Melbourne's liveability and preventing further inequality is to lower immigration and prevent the city from transforming into a giant ghetto.