Here's the chart that has destroyed the credibility of the Reserve Bank of Australia: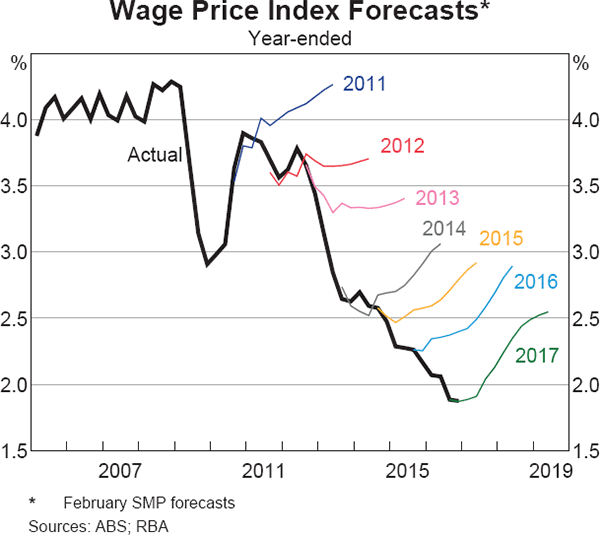 And here is the very obvious reason why it failed so horribly: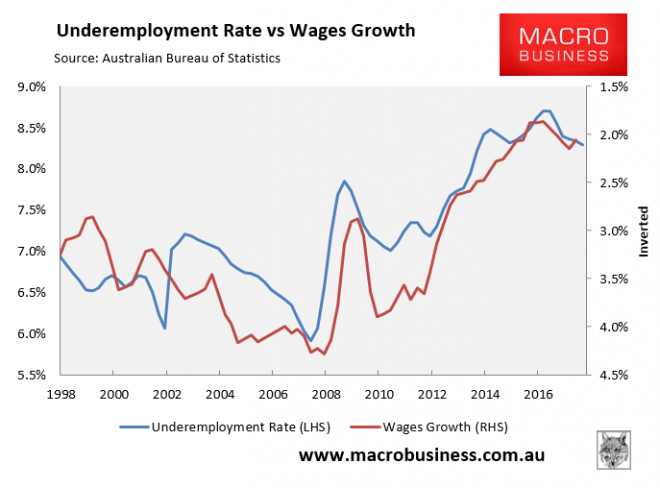 The bank focused on unemployment when it should have been watching underemployment.
Now, here is a sample of the lives that the RBA has made much worse than they needed to be, via the ABC:
Julian Evans is juggling several casual jobs but desperately needs more work.

His main job is at a hospital, where he works 15 hours a week as a theatre orderly.

The taekwondo black belt also runs some martial arts classes for five to six hours a week, and for extra cash he does a newspaper round on the weekend.

He also occasionally volunteers for an advocacy group for jobless people.

"Working at the hospital gives me a reasonable number of hours," he said.

"But because it's casual, and it's based on need, I don't always have a shift that's as long as I might like."

With about 26 hours of work each week, Mr Evans is not unemployed – but he is one of more than one million Australians who are underemployed.

He cannot get the hours he needs to get by.

With three kids, two nephews, the rent and the bills it means money is quite tight.

To get a bit more cash, Mr Evans said he collected empty refundable bottles.

"I have $7.30 from cashing in bottles yesterday," he said.

Over the Easter and Anzac Day week, Mr Evans said he watched as his bank balance shrank to zero.

"Just to maintain basic living – I'm just not getting there at the moment," he said.

"Not quite poverty line but I'm nudging it, definitely."

Demand for part-time jobs growing

Heading into the federal election, Australia's unemployment rate is 5 per cent, around the lowest it has been in five years.

But to be counted in the official employment figures, a worker only needs to be in paid work for as little as one hour a week – so the  unemployment rate does not tell the full story.

The rate of underemployment – which measures workers who have jobs, but are not being offered the hours they need – sits at 8.2 per cent.

"We don't have a good understanding of why underemployment has risen so much," Professor Roger Wilkins, of the University of Melbourne, said.

"It seems that employers and their demand for part-time jobs has been growing."

While unemployment goes up and down over time, underemployment has been rising steadily for the past 40 years.

Lately, it has trended down slightly, but since 2002 there have been more people underemployed than unemployed, and it is women and younger workers who are the hardest hit.

The rate of underemployment for women of working age is above 10 per cent.

For younger workers aged between 15 and 24 years, nearly 20 per cent are ready and able to work more.

'I wish for the phone to ring for more hours'

Skye De Jarlais has a casual job in retail in Frankston, Melbourne, but still wants more work.

"I don't know a single person that actually has a full-time job at this point, except for a handful," the 18-year-old said.

"And even then, they don't get paid a lot because it's an apprenticeship. That's hard to live on."

She said she was only working 10 hours a week.

"Obviously, I do sit next to my phone and I do wish for the phone to ring for more hours," she said.

"I'm not doing much [else in order] to make sure I'm available for the work."

Rebecca Willmott, who works in Youth Transitions to Work with the Brotherhood of St Laurence, said a different approach by employers could have a big impact.

"Employers need to think more carefully about how many people they're advertising jobs to," she said.

"Recently we saw an employer advertise 20 positions for 10 to 15 hours.

"Now that could have been five full-time opportunities for a young person which would have been a far better outcome."
The RBA needs to be held to account for the more than one millions Australians that it has failed, as well as for the wider nation. The forces that have killed Australian wage and wider inflation are getting stronger not weaker and the RBA does not understand them.
Yet we know exactly why underemployment has mushroomed:
household debt has ended the consumption boom;
fading Chinese growth and terrible tax policy has ended the mining boom;
this, in turn, has created a chronic Australian output gap;
Australian businesses tend use a European style kurzarbeit system of reduced hours to share pain rather the more ruthless head count chops of the US;
this has been re-enforced by the rise of the gig economy, especially ride-sharing services, as worker backstop;
a rampant mass immigration program has entrenched wage theft, FIFO and easier hire and fire;
and, finally, weaker unions, though that's probably the least of it.
In short the structure of the entire labour market has changed while the RBA sat around drinking its own Cool Aid. Indeed, it cheered it all on while completely failing to grasp the implications for its own job.
So, how should we fix such a broken institution? Independence is not supposed to be an excuse for ineptitude. This is a crucial question for the incoming Labor Government which has promised to lift wages.
First, call an inquiry into the failure of Australian monetary policy. Have it run by a complete outsider like Frank Milne from the Reserve Bank of Canada, or someone that got the lowflation environment right in advance like Ross Garnaut. Make sure in advance that whomever it is will deliver an outcome that underlines the need for reform, new leadership plus endorse a shift in the RBA mandate to include underemployment.
Second, do not renew current RBA leadership contracts. Phil Lowe has to go when his first term is up. Aside from anything else, they were all there as the bank's businesses bribed their way around the globe.
Third, appoint somebody from outside the bank as new governor. I suggest Graeme Wheeler but it can be anybody who has a clue about contemporary lowflation and the wasteland that is the Aussie labour market, as well as the clean and simple functioning of integrated monetary and prudential policy. I'll do it if you like.
Fourth, empowered by the inquiry findings, encourage the new Governor to sack all existing governors and bring in his own, disband the corporate parasites board, wipe away the bank's toxic group think culture, and re-integrate the bank with APRA (whose leadership must also be unceremoniously booted).
You may think that this sounds extreme, Mr Bowen, but believe me, if you do not gut this busted institution fast, it will gut your government even faster. And just in case you think this is a partisan comment, five slain prime ministers across both parties in seven years says otherwise.