Following the crashing headline and underlying inflation over the March quarter: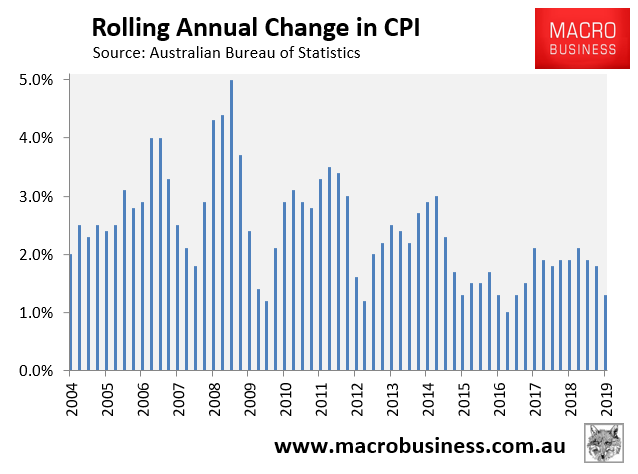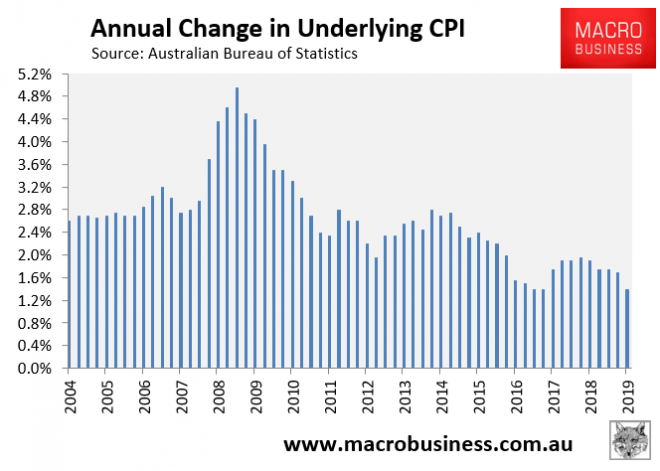 Roy Morgan has released its Inflation Expectations Index, which has plunged to the lowest level on record:
In April, Australians expected inflation of only 3.7% per year over the next two years – a new record low for the indicator. This is down 0.3% on March and down a substantial 0.8% on a year ago in April 2018…

Inflation Expectations have now dropped to 1.2% points below the nine year average of 4.9% in April, the largest gap below average since late 2015. Inflation Expectations are based on personally interviewing a nationwide sample of 4,154 Australians aged 14+ face-to -face in their own homes…

Analysis of Inflation Expectations by State shows Inflation Expectations falling in most States in April with the exception of WA. Inflation Expectations in WA increased by 0.2% in April to 4.0% and are now just behind Tasmania on 4.1% – the highest Inflation Expectations of any State.

In contrast Inflation Expectations fell in all other States including by a significant 0.5% in both Victoria and South Australia. Inflation Expectations in Victoria and South Australia are now the lowest in Australia at only 3.5% in April.

Inflation Expectations in New South Wales were virtually unchanged at 3.8%, down 0.1% from a month ago, and were down 0.4% to 3.9% in Queensland. Inflation Expectations in both of these States remained marginally above the national average of 3.7%.
Rate cuts cometh!
Leith van Onselen is Chief Economist at the MB Fund and MB Super. Leith has previously worked at the Australian Treasury, Victorian Treasury and Goldman Sachs.
Latest posts by Unconventional Economist (see all)