The Australian Bureau of Statistics (ABS) yesterday released its short-term arrivals and departures data for March 2019, which posted new record highs for international students arrivals.
As shown in the next chart, Australian education arrivals hit an all-time high 610,000 in the year to March, up a whopping 240,000 since September 2014: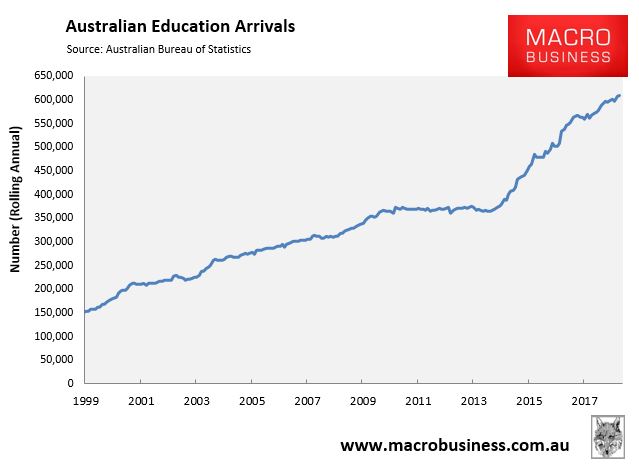 Separate quarterly data from the Department of Home Affairs also shows that the stock of international students in Australia ballooned from around 300,000 in mid-2013 to around 500,000 as at the end of 2018: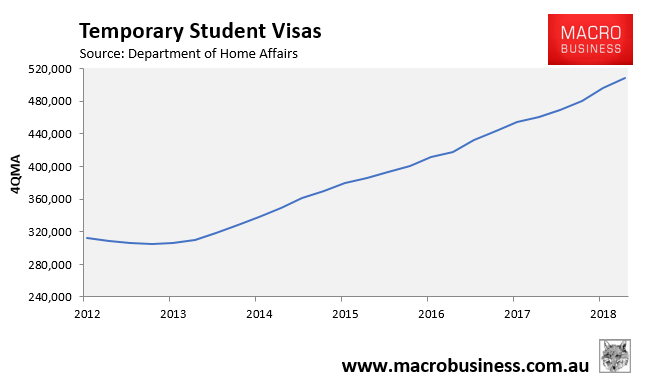 Either way, international student numbers continue to surge, which means that the share of foreign students at Australia's universities will continue to rise from already extreme levels, as illustrated in the below table: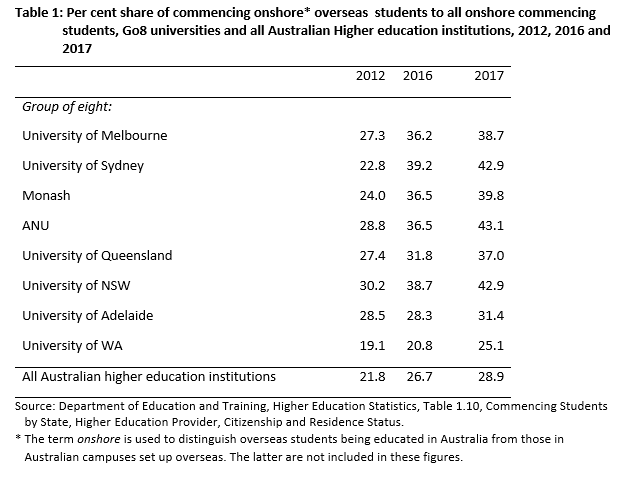 Yesterday, Labor's education spokesman and the women in line to become Australia's next Education Minister, Tanya Plibersek, warned that Australia's universities must not damage education standards in pursuit of international students:
Ms Plibersek said reports of "students being passed with lower than you would expect English proficiency really affect the reputation of all Australian higher education providers".

"We need to be very vigilant about maintaining our standards because we don't want to rip people off, but also we don't want to develop a reputation as a hit and miss provider of university education," she said…

Ms Plibersek praised international education as an important export for Australia but cautioned that emerging competition from other countries, including China itself, underlined a need to diversify source countries.
Talk about empty words. The scandals surrounding international students has been known for many years and wilfully ignored by Australia's policy makers.
The issue burst into the spotlight in 2011 when economist Gigi Foster published damning empirical evidence proving that tertiary education standards are being lowered by high numbers of Non-English Speaking international students.
In 2014 a large-scale essay ghostwriting service targeting Chinese students made national headlines, as did whistleblowing academics, who accused their universities of contributing to systemic cheating by welcoming "functionally illiterate" international students.
In 2015, both the ABC and Fairfax revealed that international student colleges had taken cash kickbacks for helping international students and migrant workers win Australian visas using fake qualifications.
Also in 2015, Four Corners aired a report entitled "Degrees of Deception", which documented widespread cheating and plagiarism across Australia's universities, driven by international students.
Last year, an  ABC investigation "uncovered an abundance of international students who describe struggling to communicate effectively in English, participate in class, or complete assignments adequately". Academics, employers and education experts also told the ABC that "English language standards are often too low or can be sidestepped via loopholes, and that students are often put in stressful classroom situations that can lead to cheating".
In January this year, academics "inundated" Fairfax claiming they had been forced to lower education standards and pass failing international students in order to maintain numbers.
Finally, last week's Four Corners' expose blew the issue wide open, exposing a tertiary education system riddled with rorts and academic misconduct, brought about by universities lowering entry standards in order to push through as many full-fee paying students as possible in order to maximise profits.
Instead of empty words, Tanya Plibersek needs to task the Productivity Commission with undertaking a sweeping public review of the university system, including a detailed cost-benefit assessment of the international student trade.
Labor must take stock of the situation and not allow the problems to mushroom further out of control.