Victorian Premier, Dan Andrews, is under assault on multiple fronts for refusing to allow the Morrison Government to build the controversial East-West Link, which was dumped by Andrews after the 2014 State Election.
Federal Treasurer Josh Frydenberg has urged the Victorian Government to approve the East West Link toll road project, arguing that it will create 3,700 jobs and that it is vitally-needed infrastructure:
"I see that Daniel Andrews is holding back on giving the approval for that project," he said. "That would create 3,700 jobs and we are putting $4 billion to work to make it a reality."

Mr Tudge said on Tuesday that their $4 billion combined with a contribution from the private sector would fully fund the $7 billion project.

"We want this road to be built. Infrastructure Australia says it has to be built," he told ABC radio.

"Infrastructure Victoria says it has to be built. The 100,000 commuters who take the eastern freeway every single day know it has to be built.

"Now we are simply saying to Daniel Andrews, just green light it, we will pay for the government contribution for it and let's just get on with the job."
A powerful alliance of transport and industry groups have also called on the Premier to approve the road:
…the RACV says multiple major projects can be built at once and "if there is money on the table it would be unwise not to take it".

The Master Builders Association said the PM and Premier should agree on a full suite of necessary ­infrastructure projects and "build it now"…

The Victorian head of the Australian Industry Group, Tim Piper, said… the East West Link would probably have a more significant impact on the Melbourne transport system than the airport rail link…

State Opposition Leader Michael O'Brien said "Daniel Andrews is effectively being offered a free road" and shouldn't say no.
The full business case on the original East West Link project was estimated to deliver a benefit to cost ratio of just 0.45, and would have taken an estimated 56 years to pay-off, thus delivering negative economic outcomes to Victorians.
That said, Melbourne's population is projected to grow by around 110,000 people a year indefinitely, more than doubling in size over 50 years, thanks to the federal government's mass immigration policy. This means that congestion will unambiguously worsen unless swathes of new infrastructure projects are built.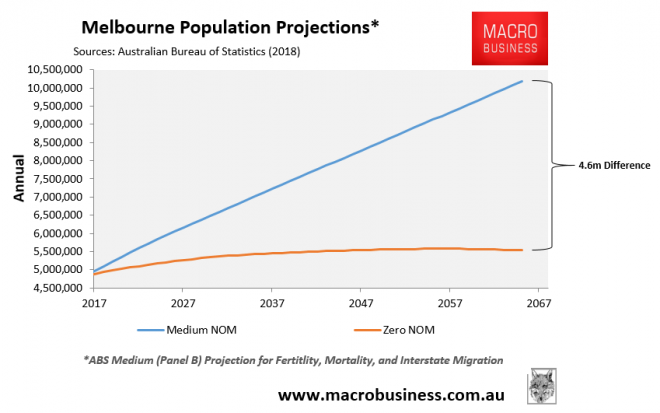 Given the federal government has committed to putting up the funding, and Melbourne's population will balloon regardless, the Victorian Government might as well stand aside and let East-West Link be built.
The reality is that Australia's infrastructure delivery system is busted beyond repair, with politics trumping evidenced-based policy. It's become one giant scab-grab. Victoria might as well join in. Because if we don't build it, they (migrants) will still come en masse.