CoreLogic's Quarterly Housing Market Review revealed a large increase in days on market, with the typical capital city homes typically taking 67 days to sell compared to 40 days at the same time a year earlier: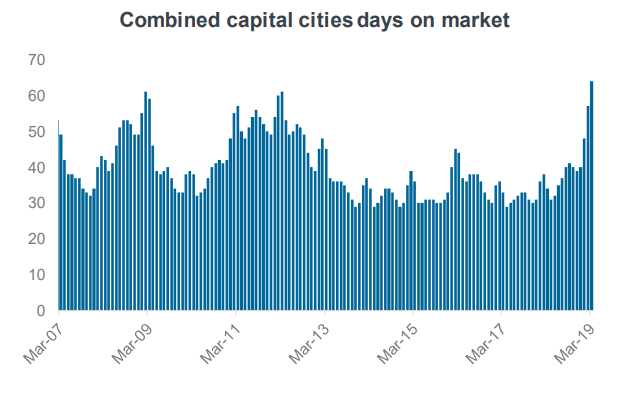 Properties are currently taking longer to sell now than they were a year ago across all individual capital cities, at 74 days in Sydney, 61 days in Melbourne, 68 days in Brisbane, 54 days in Adelaide, 72 days in Perth, 34 days in Hobart, 76 days in Darwin and 56 days in Canberra.
The Quarterly Review also showed that monthly settled sales fell 11.3% in the year to March and were down 14.2% across the combined capital cities:


Across the individual capital cities, the annual change in settled transactions was recorded at: -19.1% in Sydney, -24.3% in Melbourne, -5.6% in Brisbane, 4.0% in Adelaide, -2.5% in Perth, -4.3% in Hobart, 9.7% in Darwin and 2.9% in Canberra.
Now, CoreLogic has released data comparing the run rate of settled sales transactions with the volume of stock advertised for sale to determine how much stock is for sale across the capital cities.
Across the combined capital cities, there is currently 5.3 months of housing supply available for sale, which for this time of year is by far the highest months of supply figure any time since 2012: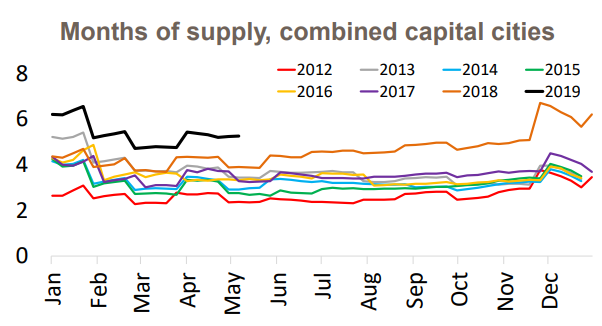 There is currently 4.1 months of supply in Sydney and 5.9 months of supply in Melbourne, which are also the highest levels for this time of year: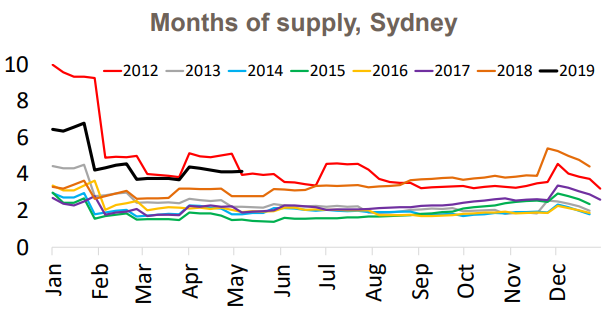 At 7.7 months of supply in Perth, supply is also at its highest at this time of year, and also one of the highest amongst the capital cities: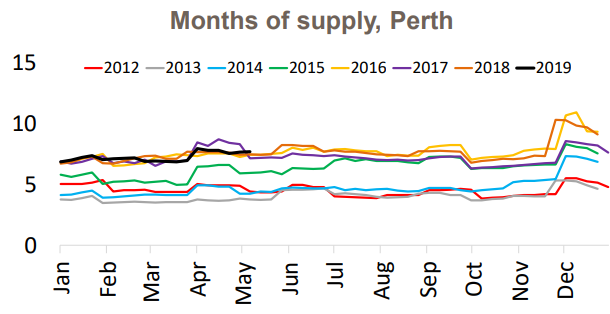 Australia's housing market remains in the gutter.